Today was like any other day on the Florida trail. Two miles of trail, two miles of bicycle trail, and 18 miles of road walks.
Cold Morning Start
I still had plenty of food from my Piggly wiggly run left, so breakfast was a feast. Sausage dog, hot pocket, grapefruit wedges, and an egg roll.I got rolling by 7:30 and there were still tons of clouds in the sky. It looked like more rain.
The first obstacle out of town was crossing the Apalachicola river on a very long bridge. The floodplain for the river is very wide. It started raining lightly about half way over the bridge. My umbrella was able to keep me dry and I was happy because I did not want to start the day soaking wet.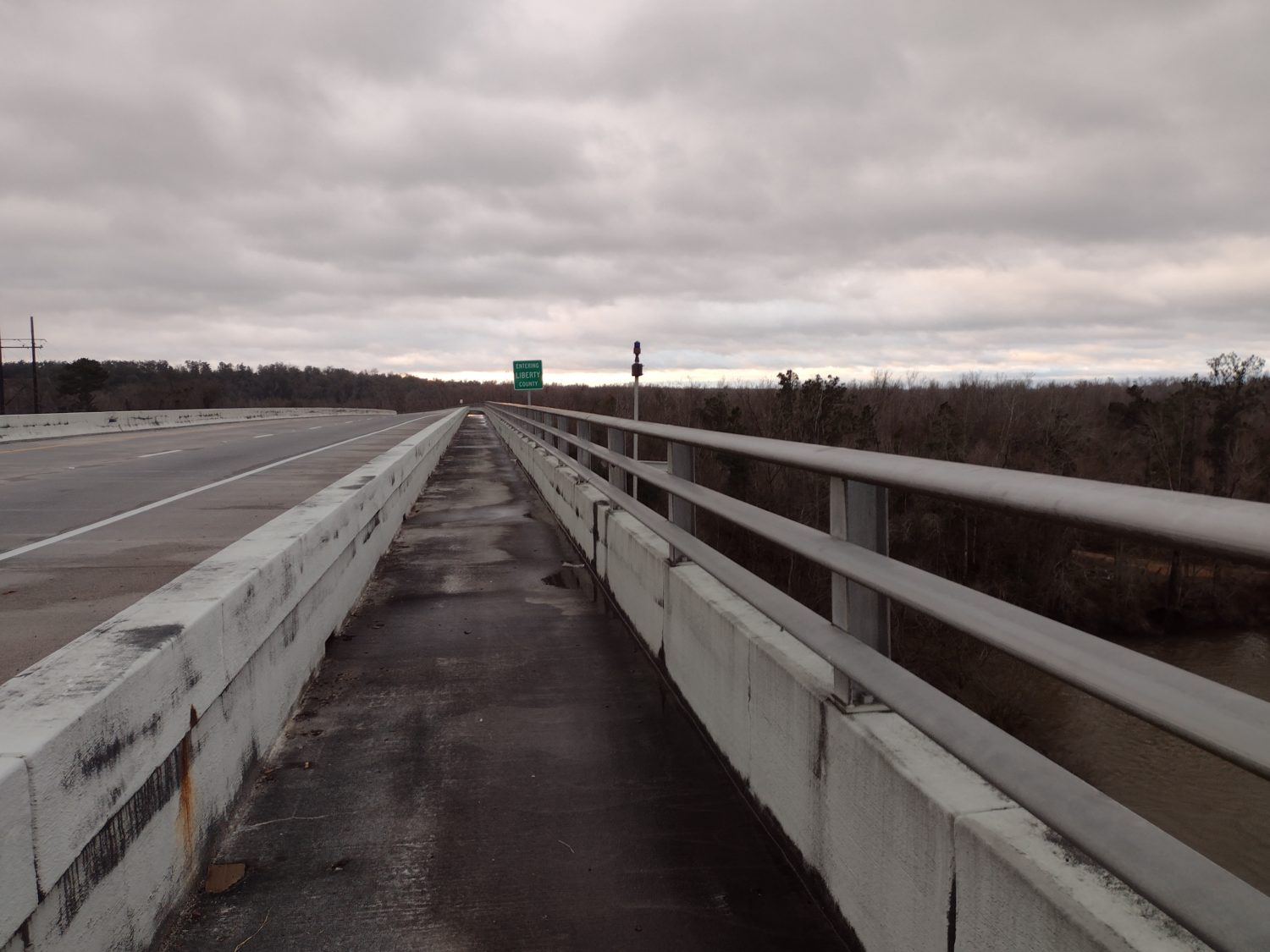 The significance of crossing this river is that it is the border between Eastern and Central Time. My phone switched almost immediately as it connected to a cell tower from Blountstown. My watch changed several hours later. It is GPS based and they probably just use a straight line and not bother with the contours of the river.
Coming into Blountstown, the trail immediately goes into a rail trail around the edge of town. The map shows the trail immediately transitioning between a bridge overpass directly to the trail below. But there is a buzzard circle trail that loops you around to it like an interstate would. Another map inaccuracy.
The pavement on the rail trail was very slippery. I don't think it gets used very much. It had a light covering of mold over the surface.
It passed by a park with bathrooms, a train and caboose, and a few restaurants which were closed for the weekend.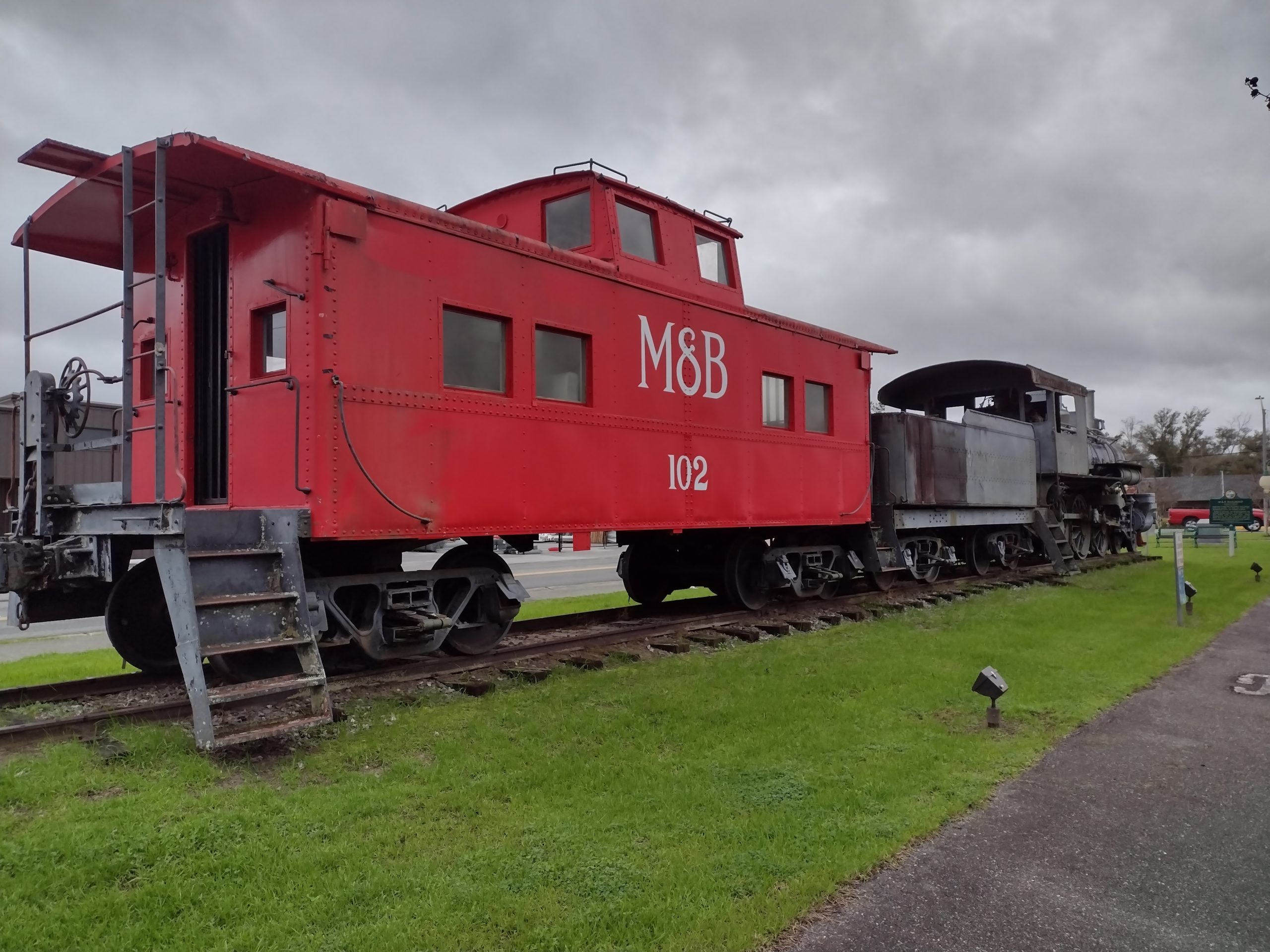 More Road Walking
After about two miles, it was onto another county road, CR 71. This was a two lane road with quite a bit of high speed traffic, but being a Sunday, no big trucks. I would be on this road for nearly eight miles.
The shoulder was very narrow and very sloped in most places. My feet were getting sore from having to get onto that slope so often to try to walk. I put a heel lift insert in only my left shoe to try to compensate for the slope. It did seem to help a little bit.
The highlight of this road is when it ends. There is a convenience store. The cashier saw me coming and opened the door for me. She was very friendly.
The food selection was very thin, but I found a few things to buy to make a lunch from. As I watched people come and go, I saw the cashier outside the store as much as inside. I think she is very bored.
Leaving the store, the trail goes into a much smaller road, then eventually through a neighborhood. Lots of barking dogs, but only one mean one. They were all fenced.
Finally, a Trail
The neighborhood leads to a Wildlife Management Unit around the Chipola River. The forest here still shows massive damage from Hurricane Michael. Many trees are pushed over or leaning heavily and much of the forest has been clear cut.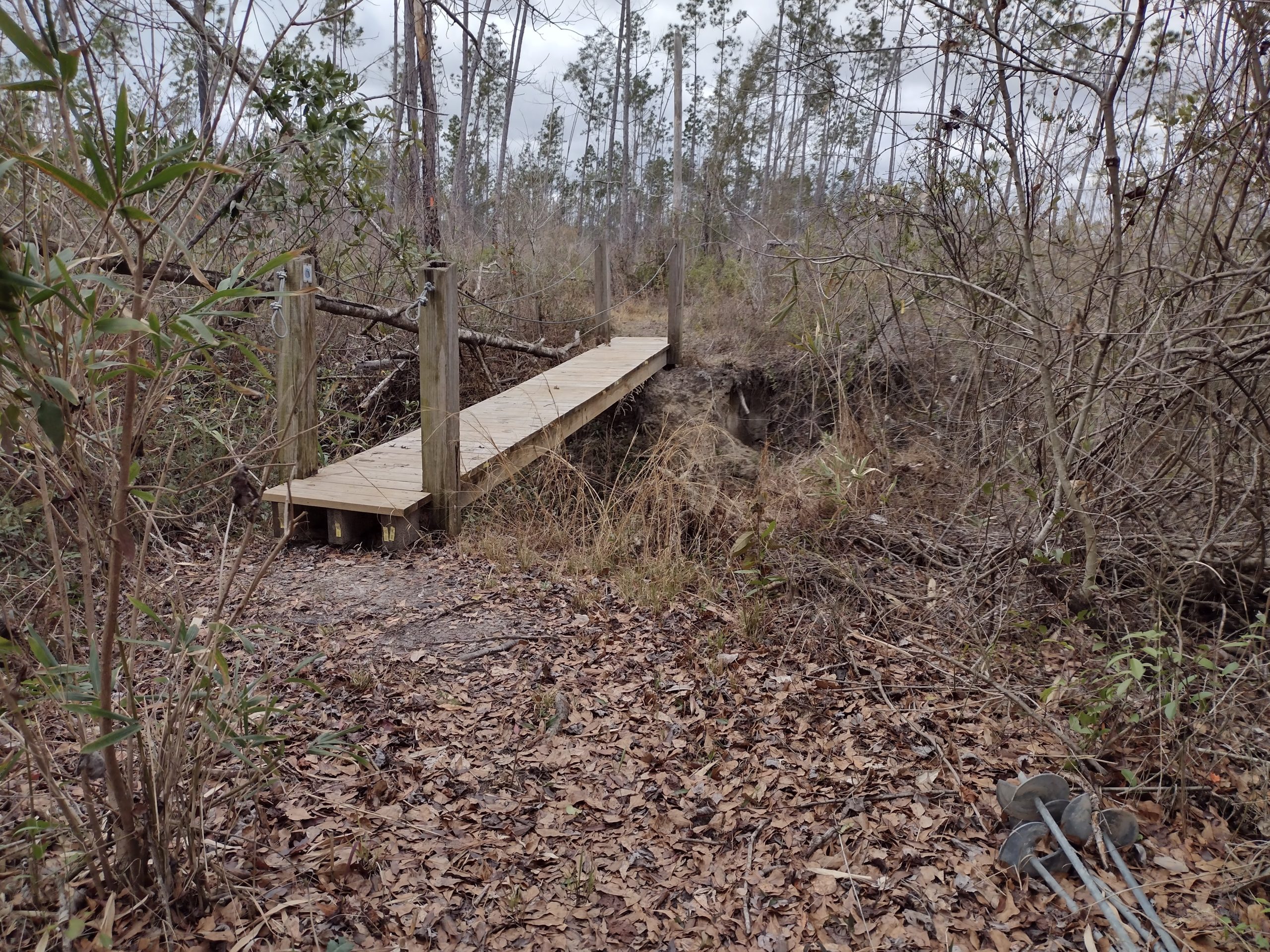 The trail is muddy in only a few sections leading up to the river. I am able to skirt around all of it and keep my feet dry.
The river itself is nice. It looks a little high, but not too bad. The trail zigs along it like a mini Suwannee.
More Road Walking (again)
The trail only lasts a mile and a half before popping out to cross the bridge on another highway, so it is back to highway walking. I think it is seven miles to the Baptist Church. I should be there shortly after 3 pm.
This road has slightly less traffic and a much better shoulder. It is far more pleasant than the one from Blountstown.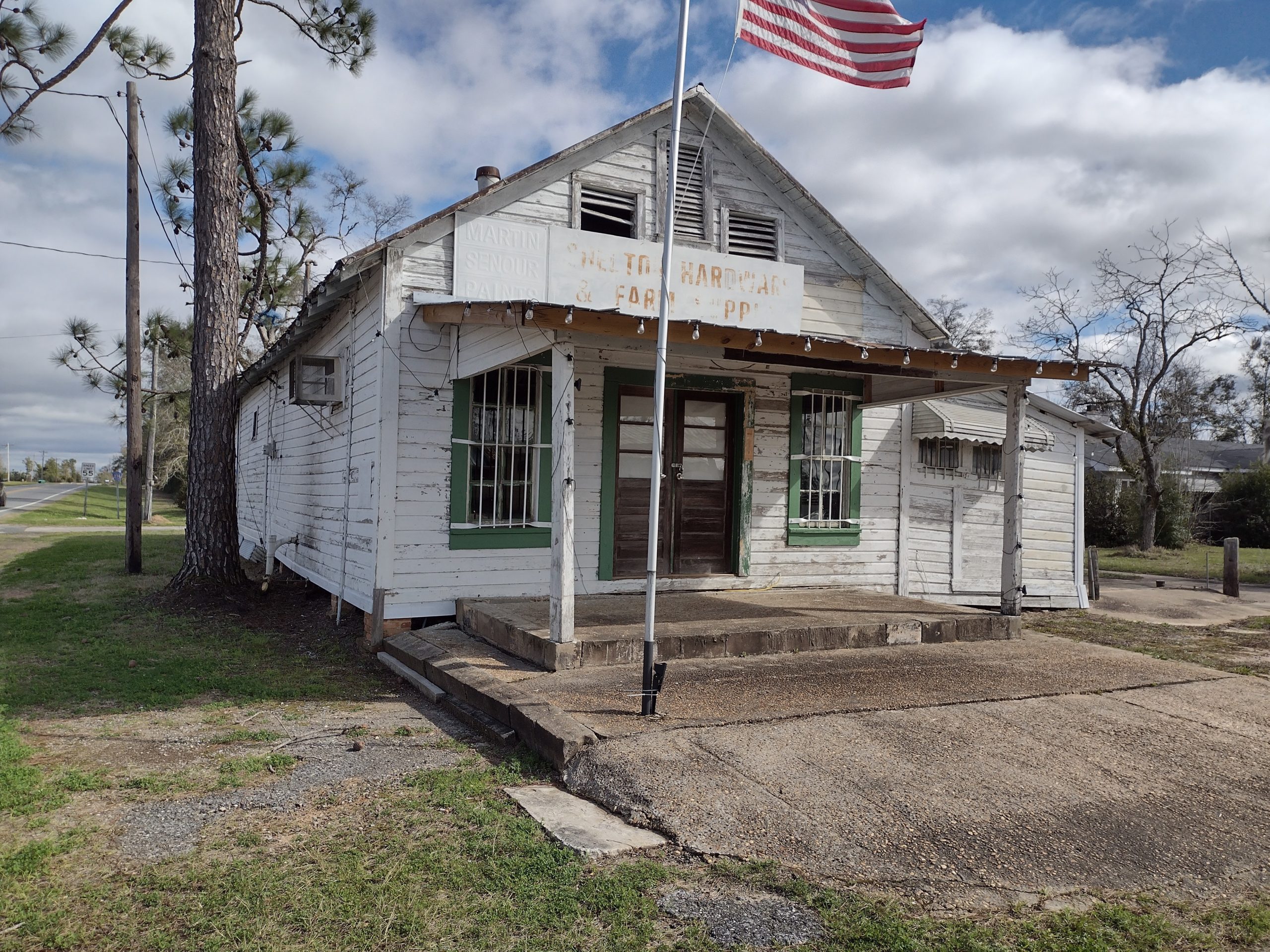 There used to be a convenience store on this road, but it was destroyed by the hurricane and is now just an empty parking lot. That's too bad. I take a break there to text the Pastor of the church that I should arrive at about 3:15.
While I am doing that, Jack and Mickey show up. We hike the remaining four and a half miles together.
Hillcrest Baptist Church
The church is an amazing complex of buildings. The main hiker building has two bunks, a small kitchen, and a sofa area. Another building has another bunk, a shower, and laundry. The main church has a large kitchen, bathrooms, and more rooms to sleep in. There is a refrigerator full of food in each building. I have no idea why I did not take a single picture of any of the buildings.
The first order of business is a shower and laundry. I think this might be my first real laundry since the 88 store. The rest of the day is nibbling on food and chatting with other hikers.
One of the hikers here, Eric, has hiked this trail five times already. We talk to him quite a bit about upcoming trail conditions. There will be more mud and water, but nothing that sounds outrageous. He is the unofficial Mayor of Hillcrest Baptist Church.
More importantly, Jack has let me borrow his double sleeping pads to test out tonight. I am eager to see if it could be a future solution for me since I am having so much trouble with inflatables. Stay tuned.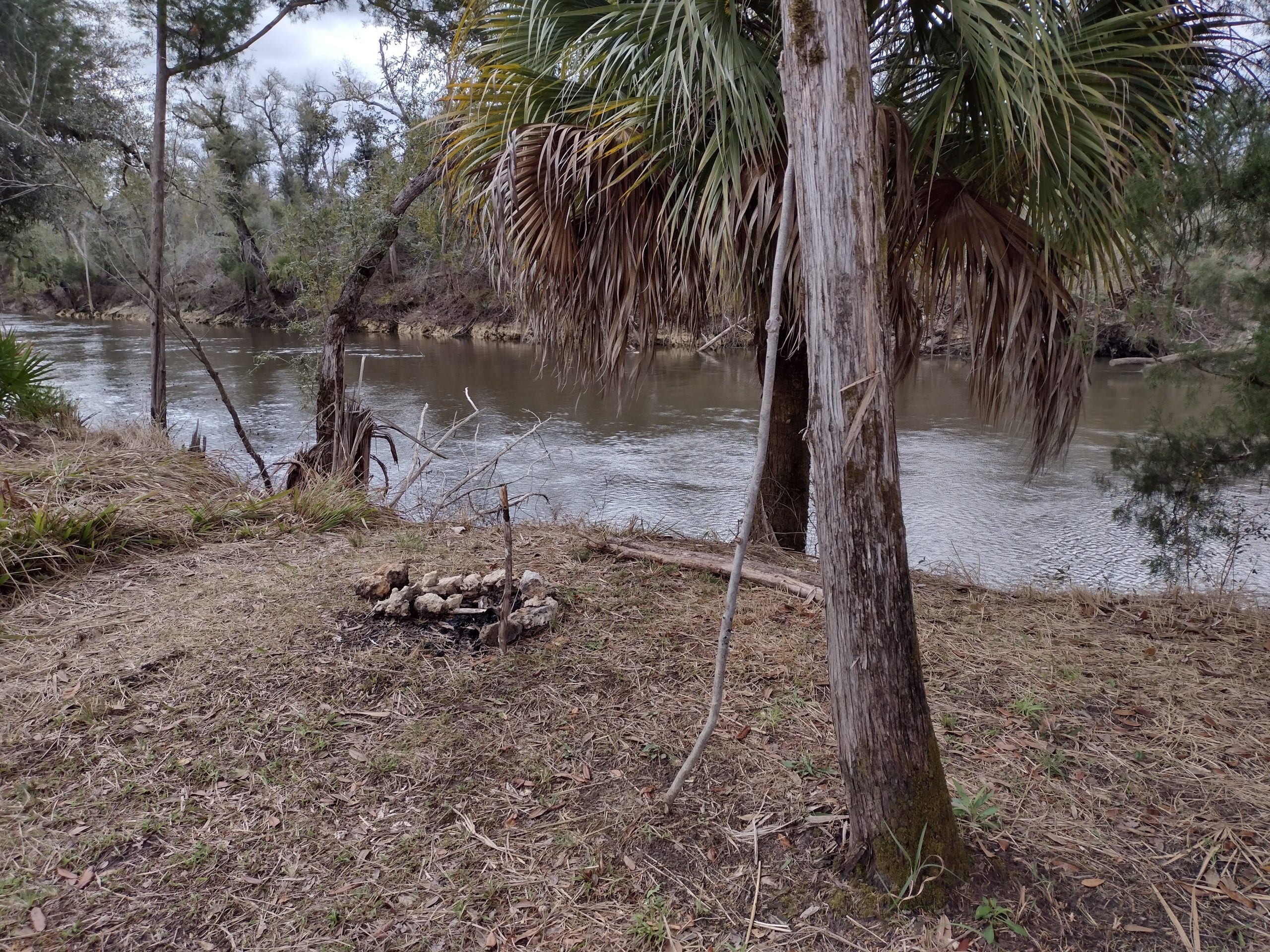 Emotion of the Day
I think nostalgia is what I will pick today.
The rail trail around Blountstown reminded me of trails in other cities, and the hostel reminds me of the kind of thing you would see on the Appalachian Trail.
With other hikers around, it finally feels like a national scenic trail.
I am the only one leaving northbound tomorrow, so it will be back to feeling like the Florida Trail again.