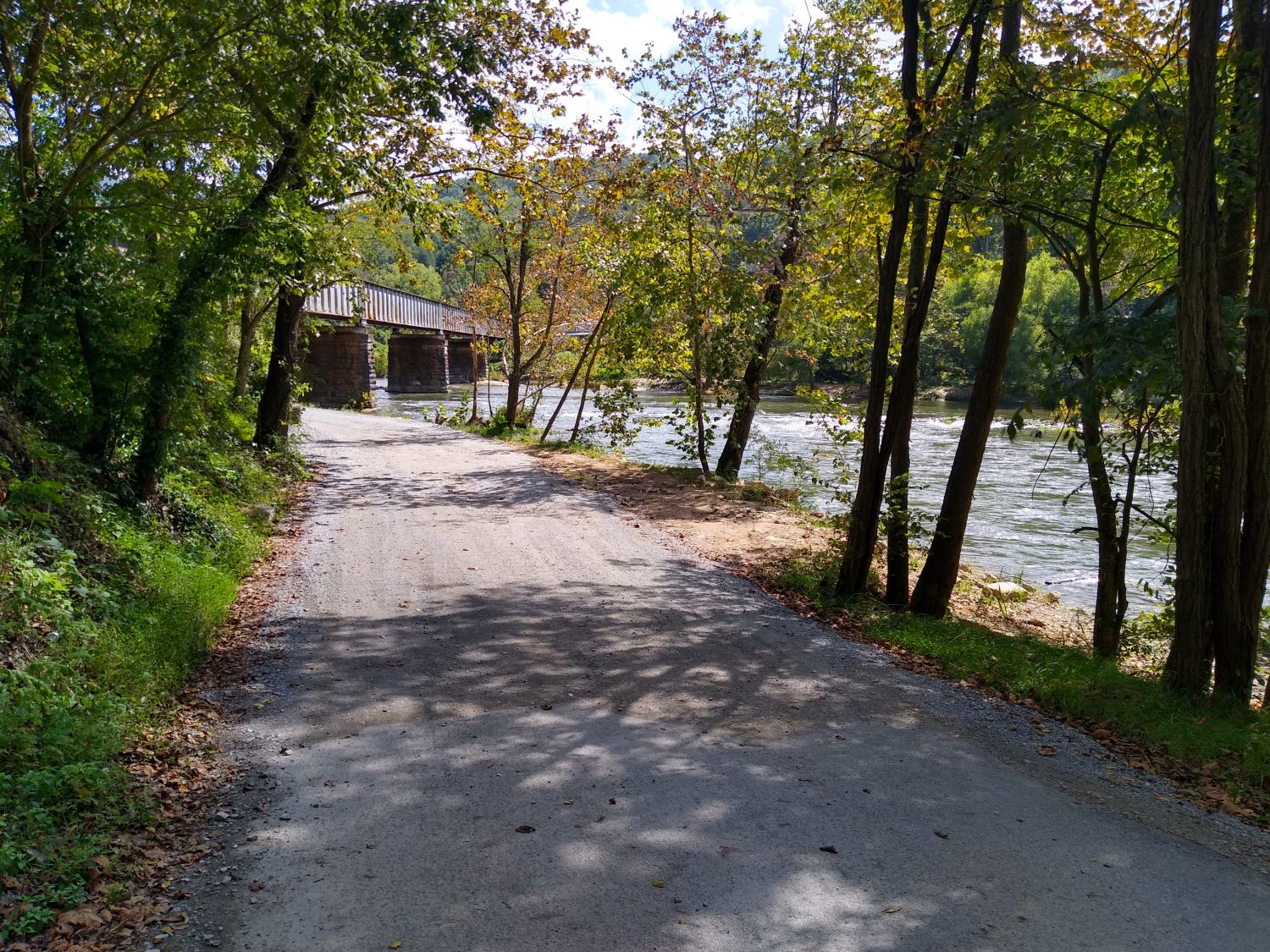 Today was a great day to not hike.  It started raining at sunrise and has been raining all day.  I have too many things to take care of to be able to hike for more than half a day anyway, so better to just take the whole day off and take my time to get everything done.
First up was to try a quick repair to the pockets of the Quest to add elastic cord where the old cord has completely failed.  Twenty minutes later, I had repaired one side, but it was only marginally better.  These pockets are just too low and too far gone.  Time to buck up and get a new pack.
So off we set to Hot Springs, after stopping by the Post Office in Burnsville where Karen had the dehydrated dinners sent last week.  We picked them up and scooted off to Hot Springs in the rain.  It was raining pretty heavily when we got there, but we got a parking spot right in front of the outfitter.  I wanted to check their food section again since I did have some food resupply to do later on, and picked up some more Nuun with caffeine and a tiny bottle of Sriracha.  Fire makes anything taste better.  They had the exact pack I was wanting – a ULA Circuit in the exact size I needed (and others) and had a hipbelt in the right size I needed.  Bingo bango bongo – I'm set.  This pack has all the features I want except for a top lid, but I've been doing without one for three weeks now and can continue to do so for another month.
None of the restaurants in town were open yet, it was so early, and we weren't really hungry, so we headed into Asheville to a BBQ place I have been told I need to try – Buxtons.  We got there and it was take-out only so we ordered and picked up our order and headed back home after stopping by the grocery store to finish the food resupply I needed for the next 4 days plus topping off the next two boxes to mail.
We got home and ate our BBQ.  It was good, but not great – definitely did not live up to the hype nor was it worth the price.  We still like Luella's better.  Their collard greens were to die for, though.
So now all the food boxes are packed, the food bag for the next section stuffed, and all the other equipment swapped out into the new pack.  Other changes I am making are to add a fleece top and base layer bottoms, and swap out one of the short sleeve tees for a long sleeve one.  I also decided to switch from the alcohol stove to the isobutane one and trade a little weight for convenience.  With the dehydrated dinners you need to make sure your water is at a roiling boil or sometimes the beans or noodles won't rehydrate fully and remain crunchy.  Crunchy beans suck.  Crunchy noodles aren't much better.
So the gear is packed; the truck is packed.  Karen will drop me off at Indian Grave Gap for one last goodbye in the morning, then she and the dog are back off to Florida for a few weeks, until it is time to repeat the process to come get me in Virginia.