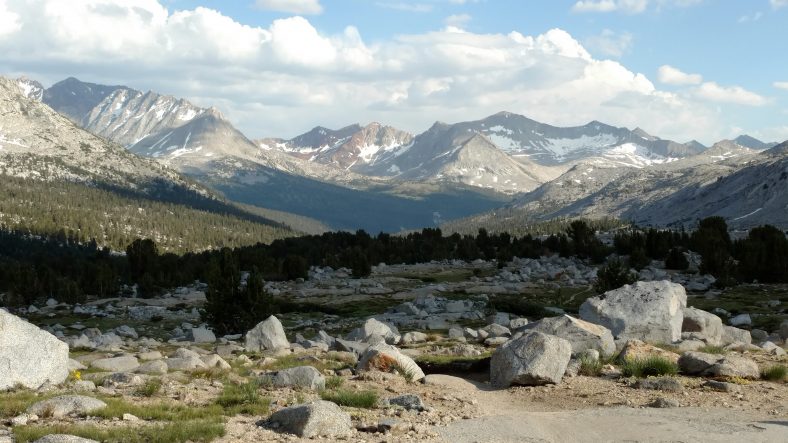 This is the crown jewel of the PCT for most hikers.  They have spent a month hiking across the hot southern California desert, and now the cool high Sierra mountains await with an abundance of trees and water everywhere.  It is also the highest and most remote section of the PCT and not surprisingly boasts the most visitors.
One major characteristic of this region is that bear canisters are required to be carried by all hikers.  There is a list of approved canisters and the rangers do check for hikers carrying both canisters and proper permits.  I was checked three times.  The canisters are to protect the bears, not your food.  A bear that is able to steal food from a hiker is a bear that then associates food with hikers and becomes a problem bear that must be relocated or euthenized.
This next section is the Sierra's proper.  You are in national parks, national forests, and wilderness areas nearly the entire time.  You pass through Sequoia NF, Inyo NF, Sequoia -Kings Canyon NP, Sierra NF.  You hit your highest point on the PCT at Forester pass, which is 13,153 ft.  You have the option to take a side trip to My Whitney, the highest point in the contiguous 48 states at 14,505 ft.
Section 5 – Kennedy Meadows to Mammoth Lakes
This section is a continuation of the previous one.  You are still in national parks, national forests, and wilderness areas nearly the entire time.  You pass through Devils Postpile NM, Yosemite NP,  Stanislaus NF, and Eldorado NF.  Mammoth Lakes is such a great town and so easy to get to, that it's pretty much a mandatory stop for all hikers.  The draw of the nearby town of Reno and the gambling buffets lure many hikers into South Lake Tahoe and beyond for a little R&R.
Section 6 – Mammoth Lakes to Lake Tahoe, CA
This section is still part of the Sierras, but a much less traveled section.  Nearly the entire trail here is also in national forests – Humbolt-Toiyabe NF, Tahoe NF, and Plumas NF.  Water is still plentiful here, but the elevations a little lower, and the towns a little closer together.  The scenery also does not disappoint.  South Lake Tahoe is a popular stop, and many hungry hikers will also venture further into the casinos in Carson City.  You pass over Donner Pass and can visit Truckee, CA.  From Belden, you can hitch into Chico, CA and visit the Sierra Nevada brewery.  Or from anywhere in this section, take a big hitch all the way to Sacramento or San Francisco.
Section 7 – Lake Tahoe to Belden, CA