It's going to be hard to leave the bed and breakfast and the town of Saint Marks. And that's because the B&B does not serve breakfast and the only place that does doesn't open till 9:00. So I literally cannot leave until after 9:00 and that will be hard.
A Good Night of Sleep
It's hard to beat a big old four poster bed with cushy pillows and a fluffy comforter. I woke up at my usual time, so I made a cup of decaf coffee and had some fruit and a fig bar.
I spent most of the morning just looking at the maps and figuring out what lies ahead for the next miles or so. The next point of interest is the town of Bristol, which has one hotel and probably no laundry. They have a grocery store and only one restaurant will be open over the weekend when I will be there.
But between here and Bristol is a hundred miles of Apalachicola National Forest and Bradwell Bay. Both of these places are well known as the muddiest and wettest sections of trail outside the Everglades. Today will probably be my last day of dry feet for the next few days.
I also took a look at the weather forecast. It will be sunny and dry for the next two days and then overcast and raining for the two following days. So my last two days of the wettest section and doing a 10-mile road walk into Bristol I will be soaking wet. Fun fun.
At a little after 8:00, I am packed and ready to go. I haul everything downstairs and decide to spend one last session in the massage chair. This thing is amazing. It's a chair that actually causes physical pain.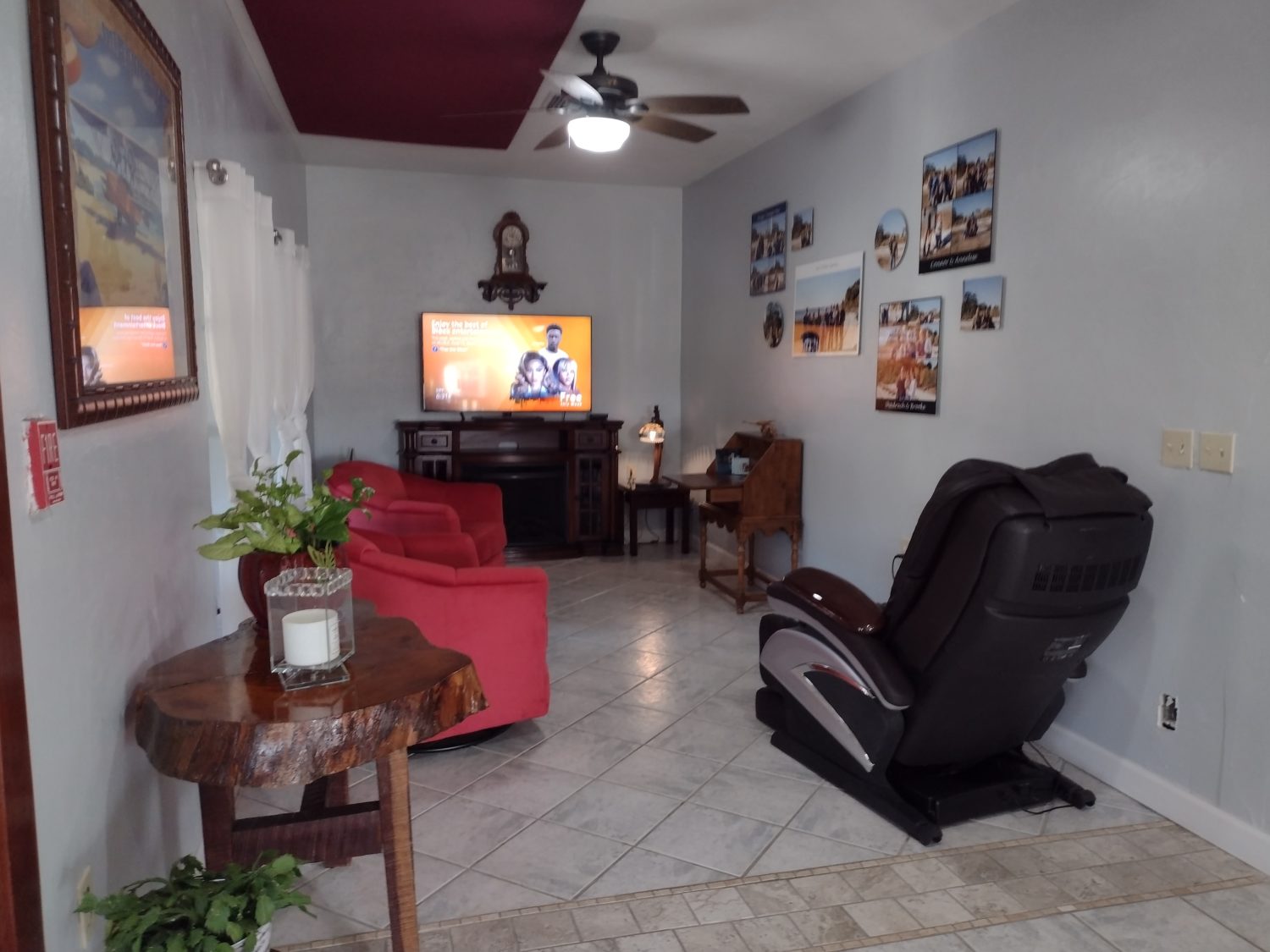 The torture session ends right at 8:30 so it is time to head out. The coffee shop is a mile and a half away and it will take me exactly 30 minutes to get there.
Coffee Time
I have already had two decaf coffees which does have some caffeine. What I want to get at the coffee shop is a decaf Americano but they have no decaf beans. It looks like I will be upping my dose of caffeine today.
I order a bagel sandwich and avocado toast to go with it. I have never had avocado toast before but it is awesomely delicious. It is now permanently on my rotation of breakfast foods.
Jack and Mickey were already at the coffee shop when I arrived. We sat together and talked for 30 or 40 minutes while we ate breakfast.
I didn't leave the coffee shop until 9:45. This is a super late start for me. But I know the trail starts out on the St Mark's bike path and will be a combination of trails, roads, and bike path for most of the day.
A Day of Alternate Trails
The trails today will go in and out of sections that are known to be swampy. There is also one section with a missing bridge and supposedly has signs posting a reroute.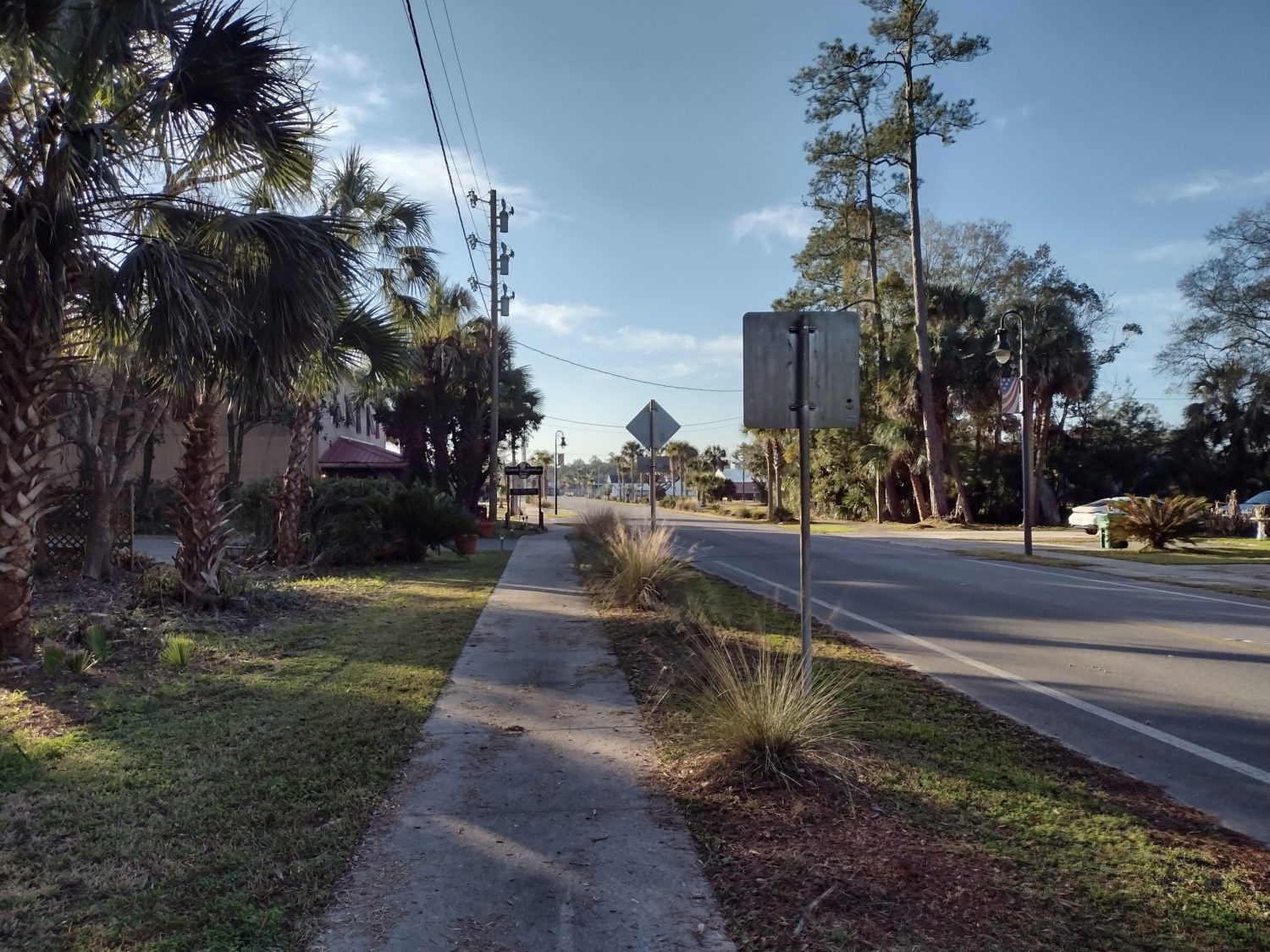 But this section has many high water alternates too. So wherever there is an alternate I just automatically take it. This does add more road walking, but the roads are not too busy and the road walks are not too long. I think the longest one was about four miles.
I noticed that the end of this particular alternate takes me very close to a barbecue restaurant just barely off the path. By my calculations I should arrive there about 5:00 p.m. and that sounds perfect to a hungry hiker.
Throughout the day I cross paths with Jack and Mickey and tell them about my plan. They like the plan too. And much to my surprise the roadwalks were probably shorter than I thought they were going to be, because we arrived there at about 4:00. That may sound early for dinner but it's not too early for hiker dinner.
The name of the restaurant is Hamaknockers BBQ and if you are ever in the town of Medart, Florida, you must stop by this place. I have had a lot of barbecue in my days, and this is some of the best. I will definitely be saving this in Google maps.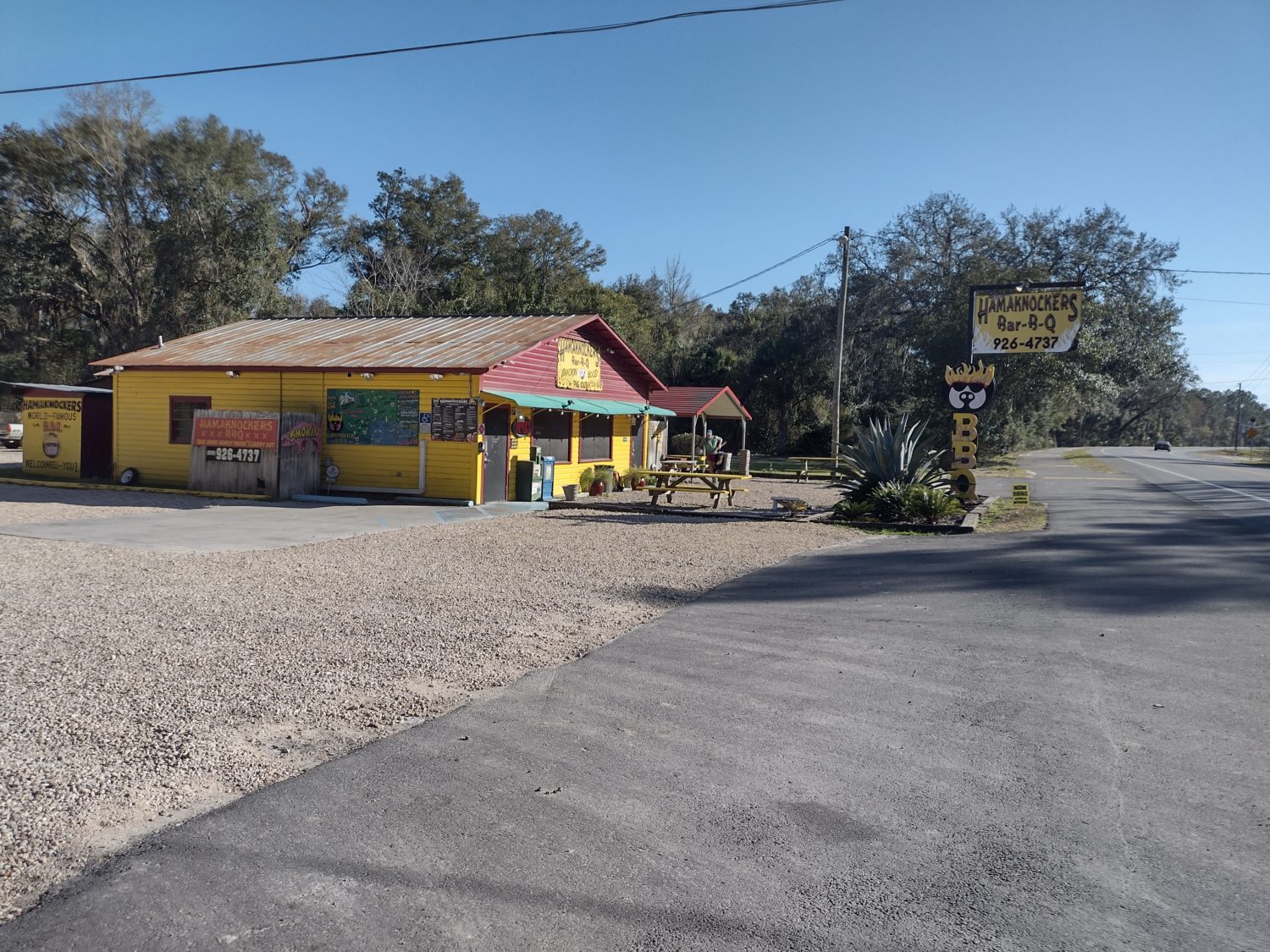 Find a Campsite
When we leave the restaurant, I realize that the restaurant is on the same road that we left St Marks from. If we were so inclined, we could have stayed on the bike path the entire day and gone straight to the restaurant and probably gotten here a few hours earlier. That would have bypassed 15 miles of trail, though.
Once back on the trail, the map indicates there are many road crossings and the pictures show dry sand and pine trees. But interspersed with the road symbols are marsh symbols showing boardwalks over water.
The distance between the symbols is very short so it looks like I should not have too much trouble finding a campsite whenever I want to. Since I don't need to cook dinner, I plan on hiking until 6:00 or possibly even later.
As 5:30 rolls around I come to the end of the map section and have to switch maps. This is a huge milestone as this is the second to last map for the entire trip. It's a bit like finishing another state on the Appalachian Trail.
As I go to the new map section and jump out a mile or two to see where I should be at around 6:00, I notice that there is an official campsite. I guess there is no more guesswork. If I'm going to hit a campsite right about 6:00, then that's where I should go.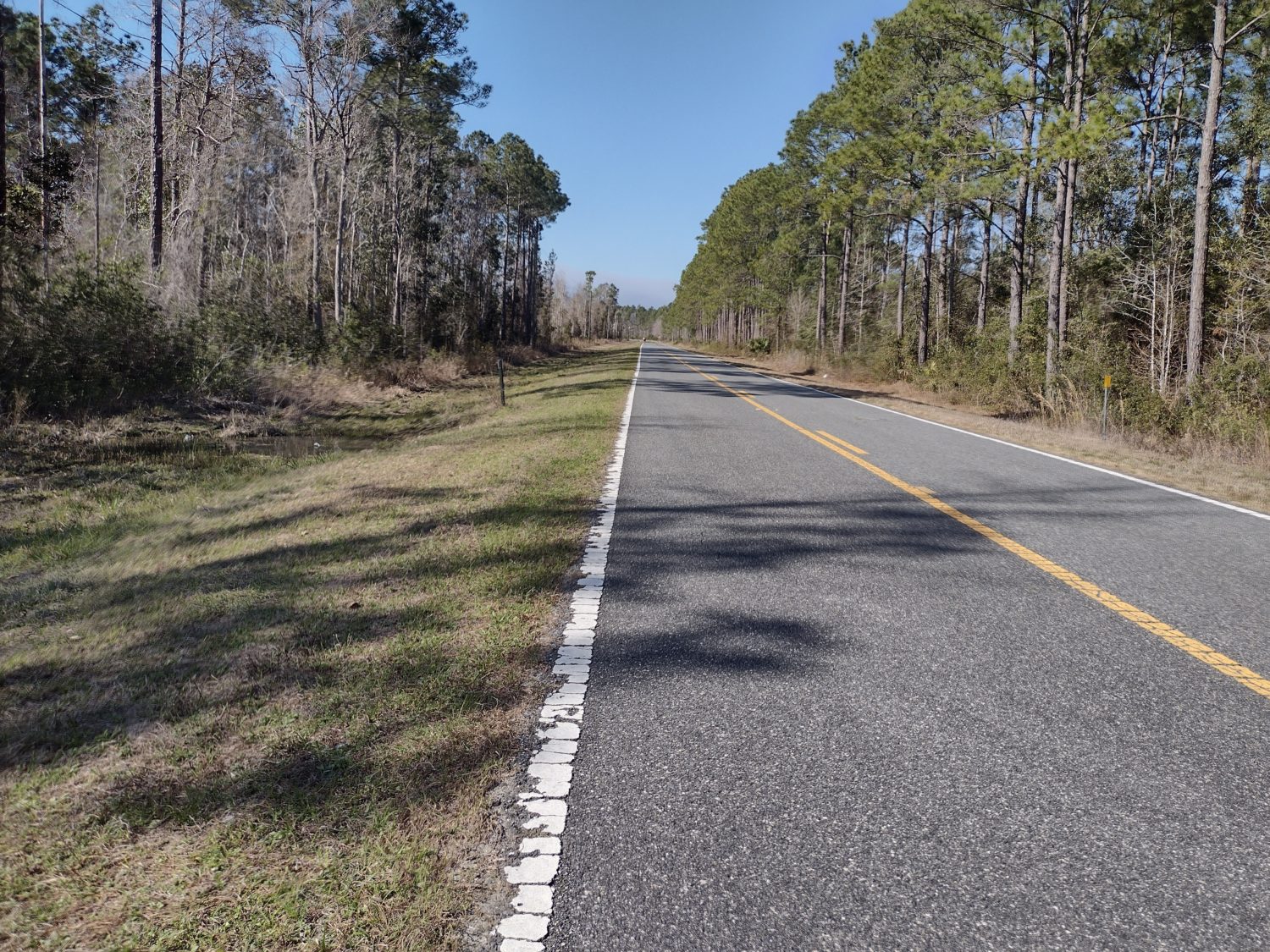 I do get to the Bent Sapling Campsite at about 5 minutes before 6:00. It is a section of pine trees with a few palmettos, but more important to me there are a few oak trees. I always prefer oak trees because they provide better protection from the dew.
These are not big ones, but the space underneath them is ample for my tent. I am here for the night.
Emotion of the Day
I think I will just pick a simple upbeat as my emotion for today.
It wasn't super great because I had to wait so long to leave town. But the B&B was nice and breakfast was nice and dinner was super nice.
Some of the trail was on bike paths, which I love to hike on. Some of it was on forest roads, which I also love to hike on. Some of it was on a road walks, but it was not a bad road.
And anywhere there was water, there were logs or boardwalks to cross the water on.
So even with the late start, the alternate trails, and the road walks, I still went further today than I expected to. And to be on the next map is also a little boost to the spirits.
It was nice crossing paths with Jack and Mickey a few times during the day and sharing dinner with them. I am camped at a dry campsite with oak leaves above me. And the forecast for tomorrow is no rain.
So other than knowing I am dealing with mud and water tomorrow, today has been an easy day.
How could I not feel upbeat on a day like today?