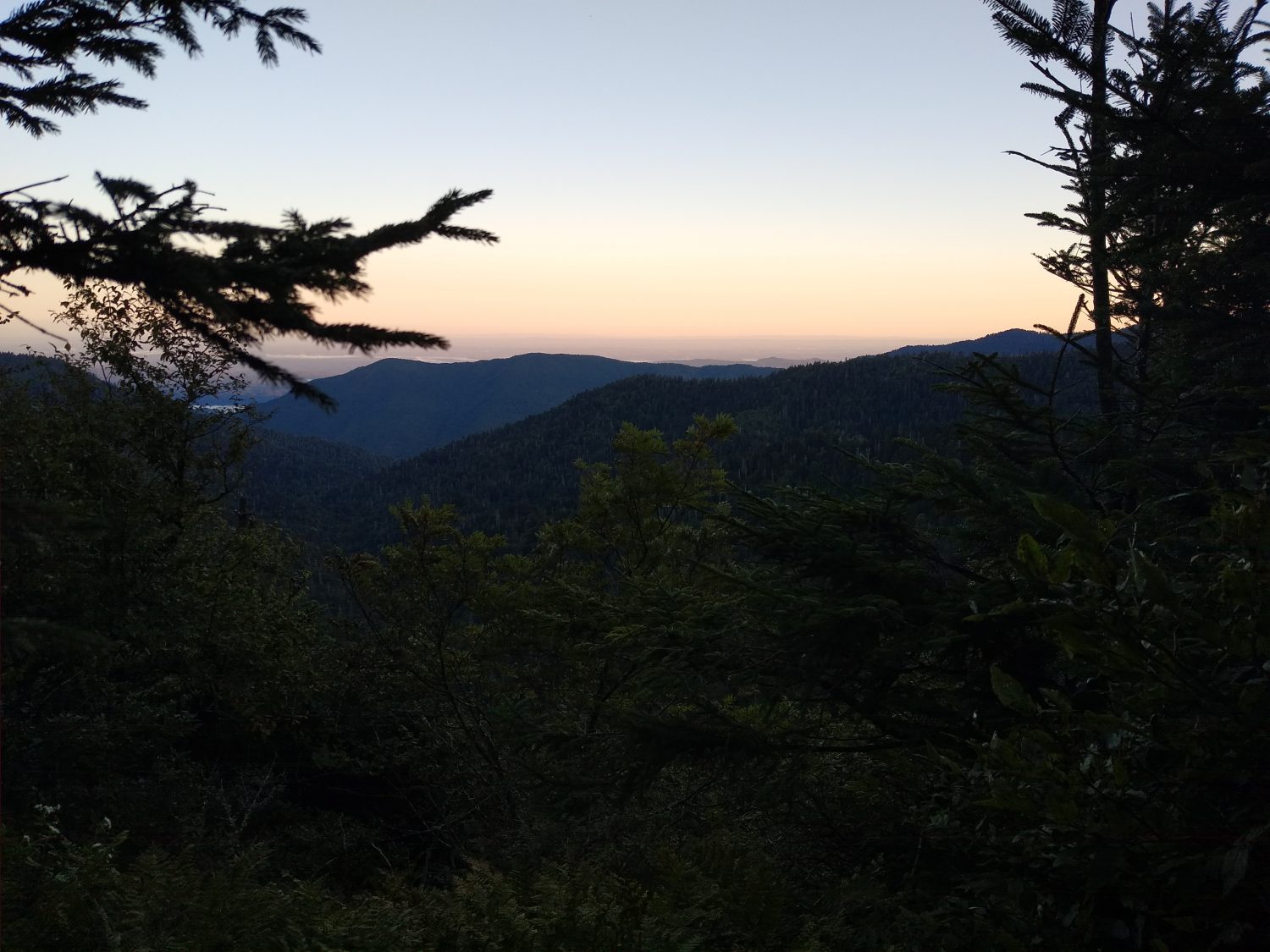 With the border of Great Smokey Mountain National Park just two miles away it's all but behind me. I got to visit some places I remembered and even got a view of a throwback nostalgia shelter.
The crew I was with last night were early risers so I was able to get up at 6:30 and be out hiking by 7:00. It was extremely cold last night until about 1:00 a.m. but I was able to stay warm enough to sleep. Even getting up in the morning and starting hiking the first hour or two was very, very cold. In the sunshine it felt like 80° but in the forest it felt like 50 degrees. My hands were cold most of the time till nearly lunch time.
The hiking stayed high up on the ridge lines. It was a lot more knife-edge hiking. And the forest was mostly Douglas fir and other evergreens. I crossed the helicopter pad on a mountaintop and walked by the site of a plane wreck I had seen in the '80s. It was definitely a military plane but I couldn't tell what kind because there were only a few small parts strewn around.
The highlight of the afternoon was Mount Cammerer Fire Tower. I remembered going to it in my hike in the '80s and it was just the stone structure left; all of the wood was removed. But I read in the '90s they refurbished it again to working order so I was eager to go view it again even though it's a half a mile off the trail. I got there about 4:00 and the view was spectacular with no clouds in the sky anywhere. I have no idea what cities I was looking at but it seems like I could see for 60 or 70 miles.
I have plenty of time to make Davenport Gap Shelter which is the last shelter in the Smokies. I got there shortly after 7:00 and there were no other hikers there so I was able to wash up and start dinner early. But it didn't take too long for the mice to come out. They were actually crawling around my food bag while I was still cooking, the little bastards. I am set up in the center of the shelter to avoid being near any walls where they like to climb around.
I think the mice are so bad in this shelter because it's one of the original designs that still has a chain link fence on the front. Because of that extra sense of security I think people bring food into the shelter and probably cook in the shelter and that attracts more mice than normal. This is the first shelter on the trail where I've actually seen mice even though I know they were probably at some of the others.
Well it's time for lights out. Let's see how many mice come out to visit tonight.