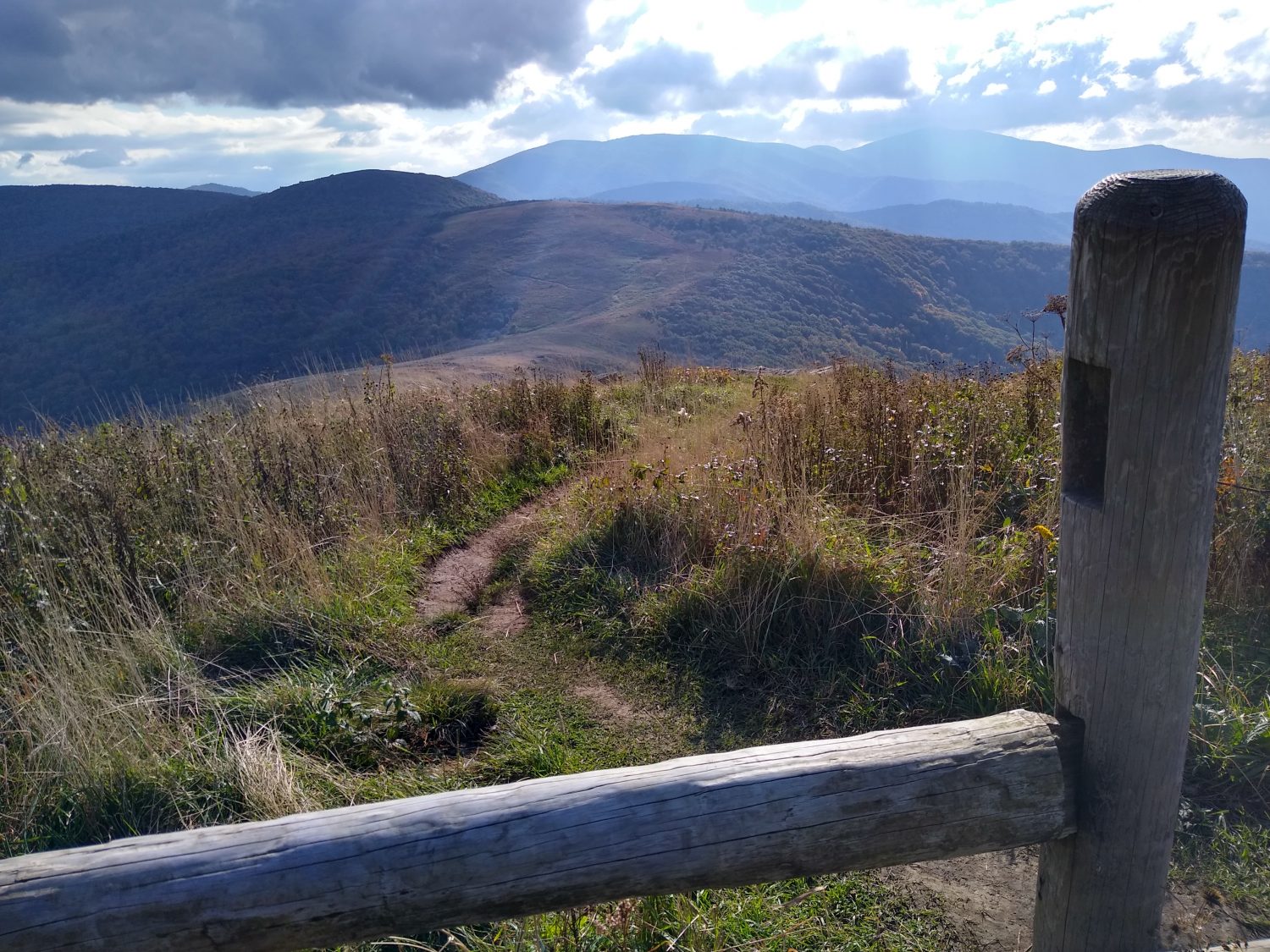 Incredible is the only way to describe today.  I remember North Carolina having lots of balds and I think I found them all today.  Superb weather topped it all off.
Last night was cold.  Where I had camped on a saddle was quite windy all night.  It took me a while to get things situated in the hammock to block the wind and the cold spots, but after a few restless hours I was warm and slept well in the breezy conditions.
I woke up at 6:30 and saw some hiker headlamps headed towards me so I waited a few minutes for them to pass, but they never passed.  Then I realized that I was looking at the setting moon through the trees.  I was sleeping in my hiking clothes so I was able to get on trail shortly after 7:00.
It was breezy and cool again, so I was wearing my long sleeve shirt. I had my buff and gloves too, but at times I was still cold.  I was going up to Roan High Knob Shelter, the highest shelter on the AT at over 6200 feet.  At the higher elevations, it was breezier and definitely colder.
The hike up went quickly.  I stopped at the Cloudland Hotel site for a snack and to check email.  The hike down to Carvers Gap went quickly too, and had many more water sources than were documented.
On the other side of the gap begins the hike of balds.  I remembered Round Bald and Jane Bald from our hike ten years ago, but there was a side trail to a third bald that I decided to take.  It was over a half mile each way and steeper and more difficult than I expected.  This was the highest one and the views were definitely better.
The next stop was Clyde Smith Shelter for a quick snack, then past the Overmountain Shelter.  Karen and I camped there with Loretta on our trip.  It's a neat old barn converted into a shelter, but was condemned last year, so I did not bother to take the side trail to see it.
From there the trail climbed up Little Hump Mountain for spectacular views.  But going up was in the sun and I actually got hot.  I considered switching to the short sleeve but didn't want to take the time.  I'm glad I didn't because ten minutes later I was cold again as the elevation rose and the breeze picked up.  The views here were even better than the other balds and I could see the red barn of the Overmountain Shelter.
Next up was Big Hump Mountain, higher yet.  This one took a while to climb and had me higher yet.  And the views were better yet, too.  And the cool breeze was chilliest of all.  I didn't stay long but the next mile plus was still above treeline so the views continued.
As I checked the map for a place to camp, I realized I was close enough to highway 19E to make it before dark.  There are two hostels there so I decided to call one to see if they were open and had room.  They were and did, so game on.  Time to push another 5 miles before dark.
I remember this section well from 1989 and especially the Apple Orchard Shelter.  The shelter is gone now but it is still a camp site.  Back then we camped there, then walked the half mile to the highway to the restaurant which is no longer there.  That is where I ordered two complete dinners and ate them both, then had pie.  Hiker hunger was in full force and is starting to build a little now.
I made it to the road a little earlier than I expected but still had to use the headlamp for the last fifteen minutes.  7:15 is about the latest I can hike without the headlamp.
The hostel shuttled me in from the trail, I got a shower, then dinner and a beer at the pub.  I will get a ride into town in the morning for breakfast then should be able to get on trail by 9. Now to plan the segment into Damascus.