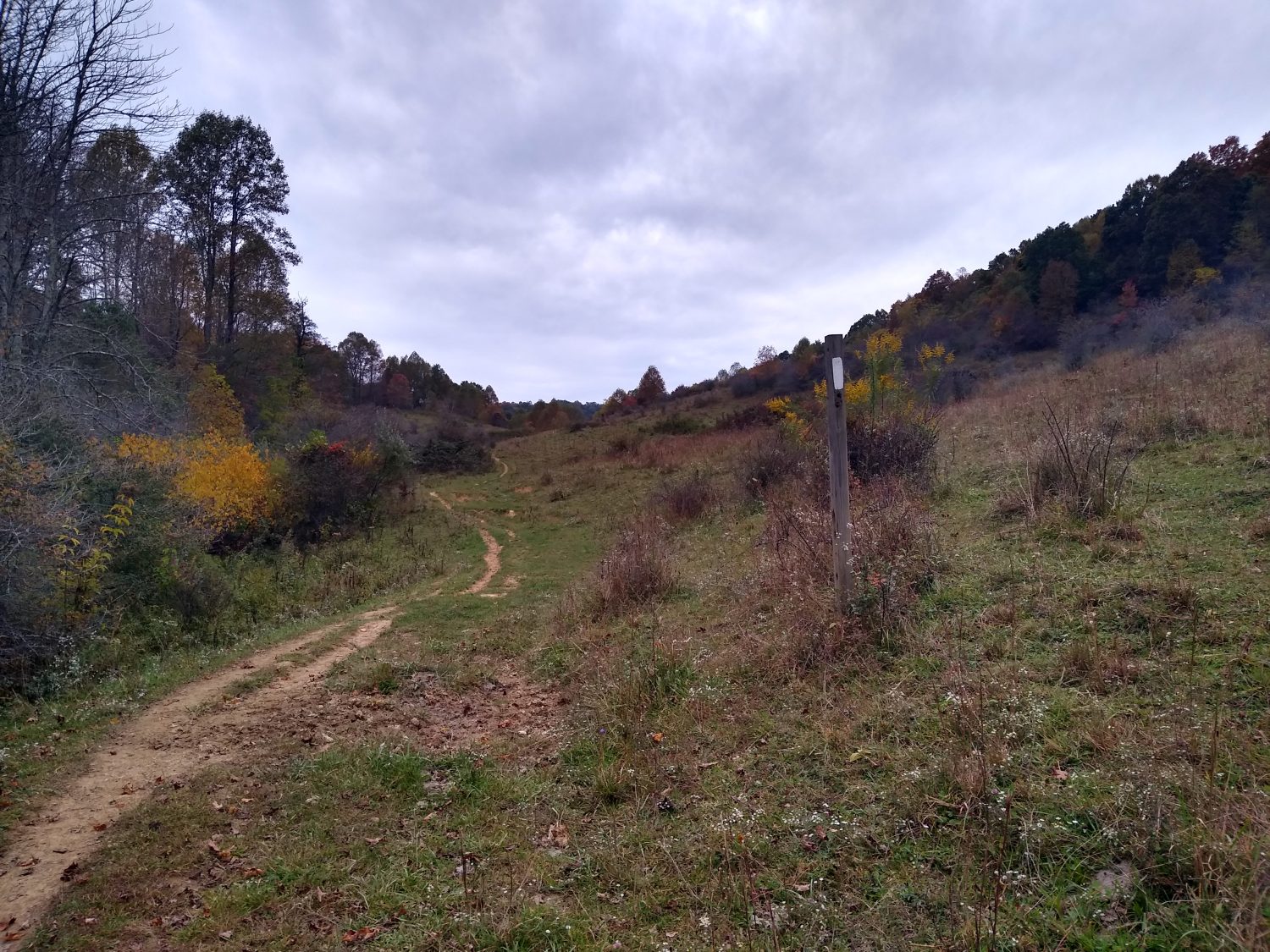 I made it to the Bear Garden Hostel for a shower, laundry, and some food.  Some time tonight or in the morning the rain should start and probably won't stop for three days.  I have planned out the next three nights to be in shelters and a hostel again to avoid having to either pitch or pack up camp in the rain.
My food bag was safe from bears last night and I awoke at 6 am again and after changing into my hiking clothes, I had a chicken wing and French fry breakfast.  Yum.  That took more time than my usual breakfast, so I was not off until 6:50.
The morning was a little chilly and a little breezy like most mornings but most of last night it was pretty warm and I stayed out of my sleeping bag for a good part of it. The morning began with a climb so I was happy to see it a little cool.
I had about 11 miles to get to Atkins where I needed to resupply and try and find a place to eat lunch. Most of the terrain was pretty moderate but there were several climbs that had a lot of rocks up high so those slowed me down and beat up my feet. But I was able to make it into town before noon so I switched to my town shirt and headed straight for the Mexican restaurant. Lunch special number one is the same at every Mexican restaurant in the United States: a chile relleno, refried beans, a taco, and guacamole salad. Wash it down with two Pepsis and now you've got a meal.
The resupply options were pretty slim. I had my choice of the Exxon or the Sunoco. I tried the Exxon first since it was in the same building as the Mexican restaurant. I was able to get morning food and walking snacks but they had no selections for dinner and no tortillas to go with my tuna fish. So I walked back to the Sunoco and tried them. They had a little more to offer in the luncheon dinner department but nothing that would hit the spot. No cheese or tortillas but they did have small quantity packaged meats so I got a few things at that store too including the obligatory ice cream sandwich to walk out of town with.
As soon as I was far enough away from the interstate to be able to make a phone call I tried calling the hostel I plan to go to. The hostel was still 12 miles away so I had a lot of hiking to do before I got there. Rough calculations showed that I should be able to get there by 6:30 but I would tell them seven just to be safe and allow me some extra time for extra rest in case the climbs between here and there were steeper than I thought.
I tried calling the hostel and the call went through but they couldn't hear me. So they immediately called me back but I couldn't hear them. I hiked on another 30 minutes to try to get to a higher spot and did finally get two bars and was able to make the call and find out that, yes, they were open and yes, they had plenty of room. I was surprised on this side of town the cell service was so horrible when on the other side of town it was great for six or eight miles before even getting there.
I had several big climbs to go over so I wanted to make sure I kept my momentum up. I had the two Pepsis at lunch on purpose to make sure I had enough caffeine, sugar, and energy to last me at least 3 hours. I had packed out another Coca-Cola to last the second three hours.
Most of the climbs weren't too bad. The one in the middle was really steep for about 500 ft of climb and really wore me out. I had to stop at the top and eat a granola bar and drink half the Coke. At this point I was still five and a half miles away from the hostel.
The trail crossed several roads and went through several different pastures. When I got to the last road that I knew was only about two miles from the hostel. I took another break to eat the rest of my chicken wings and the rest of my Coke. I was getting thirsty and I could tell I needed more energy. It was just enough to last the last hour of hiking.
I got to the road the hostel was on at 6:15, a lot earlier than I expected. I was also expecting the road walk to be about a quarter mile to get there but was happy to find out it was only a few hundred yards. I got to the bunkhouse and they had a ring doorbell that connected to their telephone. I checked in with him and then immediately set about to get a shower and start laundry.
About an hour later the owner came down and I had a nice chat. The bunk includes cold cereal and toast and jam in the morning. The owner makes the jams herself. They also have a lot of frozen sandwiches and pizzas that you can cook for a reasonable fee. I had a chicken sandwich and put some of the bread and butter pickles that the owner made on the sandwich to make it taste like a Chick-fil-A. The pickles were amazing. That made me want to try the jellies too so I cooked up two pieces of toast and tried blueberry and strawberry jam and they were both outstanding. I can't wait to try apple butter and peach in the morning. The only weird thing about this hostel is that they have an outhouse instead of a bathroom. Beggars can't be choosers as everything else about this place is top-notch.
I've been charging all of my electronics and checking the weather forecast for various cities between now and my destination three or four days from now. Well, the forecast shows continuous chance of rain above 80% for the next 3 days. By looking at the radar it looks like it will be on and off rain and not 100% continuous. I guess I will find out tomorrow.