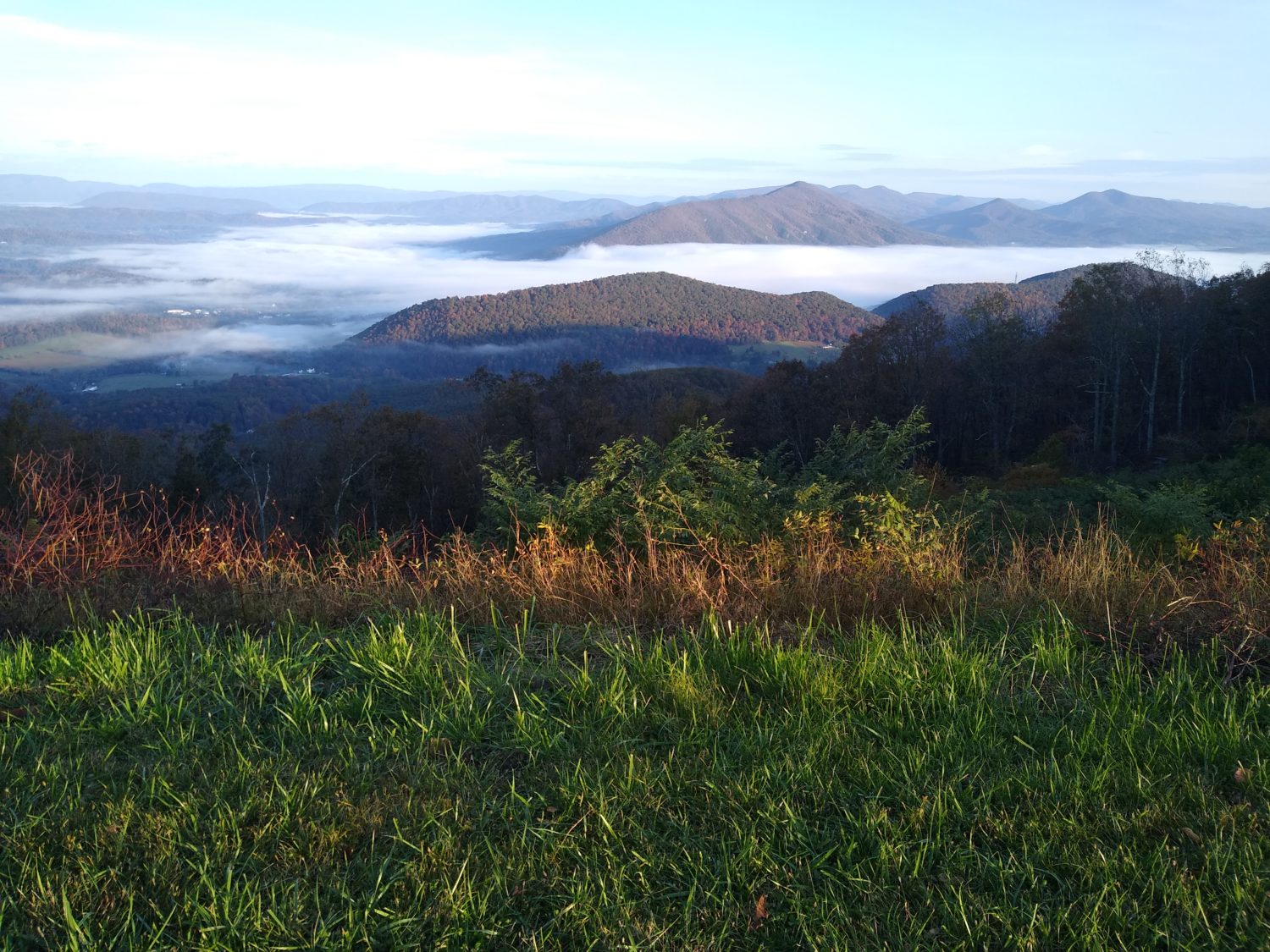 Since it has only been 10 years since I've hiked the section there were a lot of things that looked very familiar to me. And a lot of coincidences that I didn't realize until after they happened.
I got up at what I thought was an early time but ended up getting on trail just after 7:00. I had to use the headlamp for about 15 minutes even though the sun was not quite officially risen but was making the sky a beautiful orange color all around me. I was still near the parkway and the trees around the park were pretty thin so even though I didn't get unobstructed views of the sunrise seeing it through the silhouette of the trees was still a neat experience.
It was close to an hour before the trail actually snaked back on to the parkway which surprised me since the night before it had been every 15 minutes. I never got a good unobstructed view of the sunrise but I did get some unobstructed views of the James River Valley below on the other side. The river produces enough moisture that the entire valley was under cast in fog. It was easy to tell where the river flowed to the valley just by looking at where the fog was. I will be crossing that river in a few days.
After the trail left the parkway it seemed to do a lot more climbing and descending. It seems I'm back in a stretch which is basically just hiking up and down mountains instead of following a road. I know I'm never far from it but I'm not exactly following the parkway anymore and I rarely actually see it.
I came across the shelter just after 10:30 in the morning so I decided to go ahead and stop and have first lunch Even though it was a little early it was important to have a shelter for this lunch because I planned to eat my salad. Fixing a salad on the trail requires a picnic table because you have to slip open the top and bottom of the bag and then slice open the seam and fold out the plastic to make a large place setting to mix and eat the salad. This was a kale salad with lemon vinaigrette and asiago cheese. It was easy to mix up without spilling any and it was quite delicious. I'm kind of sad that it's the first salad on the trail and probably the last for a while.
After the trail left the shelter it went down to Jennings Creek. I remember the name but more importantly I remember that it has a great swimming hole. When I was here 10 years ago it was in June and it was a great place to swim. It October it's not exactly the first thing I want to do.
There was a campground that had a sign at the intersection that listed all the food they had for sale and their telephone number for a ride from the trailhead to the campground. I looked at the comments on the Guthook app and they said that the shuttle wasn't running but they would open the grill and cook great hamburgers and milkshakes. Even though I still had tons of food it's really hard to pass up a cheeseburger and a milkshake. I contemplated doing the road walk and then walking past the campground to rejoin the AT a few miles further but it would mean missing the next shelter which I had planned to stop at to have my normal lunch.
I decided to just stick to the trail and do the next climb which was actually a lot harder than I was expecting. When I finally got to the shelter near 2:00 I was excited and happy that I had not taken the detour to get the cheeseburger. This was one of the most memorable shelters on the AT. It's a two-story shelter but looks like it's a three-story shelter because it has all these sub levels. It was built in 1992 and just has the most interesting design. I didn't stay there in 2010 and I wouldn't stay there this year either but I would love to come back just to sleep in that shelter.
I headed on and the rest of the day was more climbing and descending. I'm already missing the parkway. I was due to hit the next shelter out about 5:30 and then there was another shelter after that 5 mi further that I would love to be able to hit. But the climbs to the next shelter were tougher than I thought and I didn't get to there until a little after six. There was a southbound couple that had just gotten there a few minutes earlier who were resting in the shelter and I needed water because I was almost out. By the time I got my water and got back to the shelter it was close to 6:15 and I only had another 30 minutes of good hiking light and there was no way I was making another 5 mi so I decided to stay at the shelter.
When I walked behind the shelter to check out the privy I recognized the campsites and then realized this was the shelter where back in 2010 a hiker named Sandstone had hiked out a salad kit and prepared it exactly as I had done at this very picnic table. In the 10 years since I had seen him do it I've never done it myself and I thought it was neat that the very day I do decide to do it was the same day I hit the shelter where I learned how to do it. Spooky.
I prepared dinner and had a nice chat with a couple who was southbounding. We talked a lot about the AT and also the PCT.  They decided to pitch their tent and I decided to stay in the shelter so now I'm curled up in my sleeping bag on a hard floor. It's starting to get pretty chilly but I have extra layers in case I get cold. Since I didn't get as far as I wanted to today I'm hoping to get out early tomorrow and have a good day. Maybe the climbs will mellow out again.