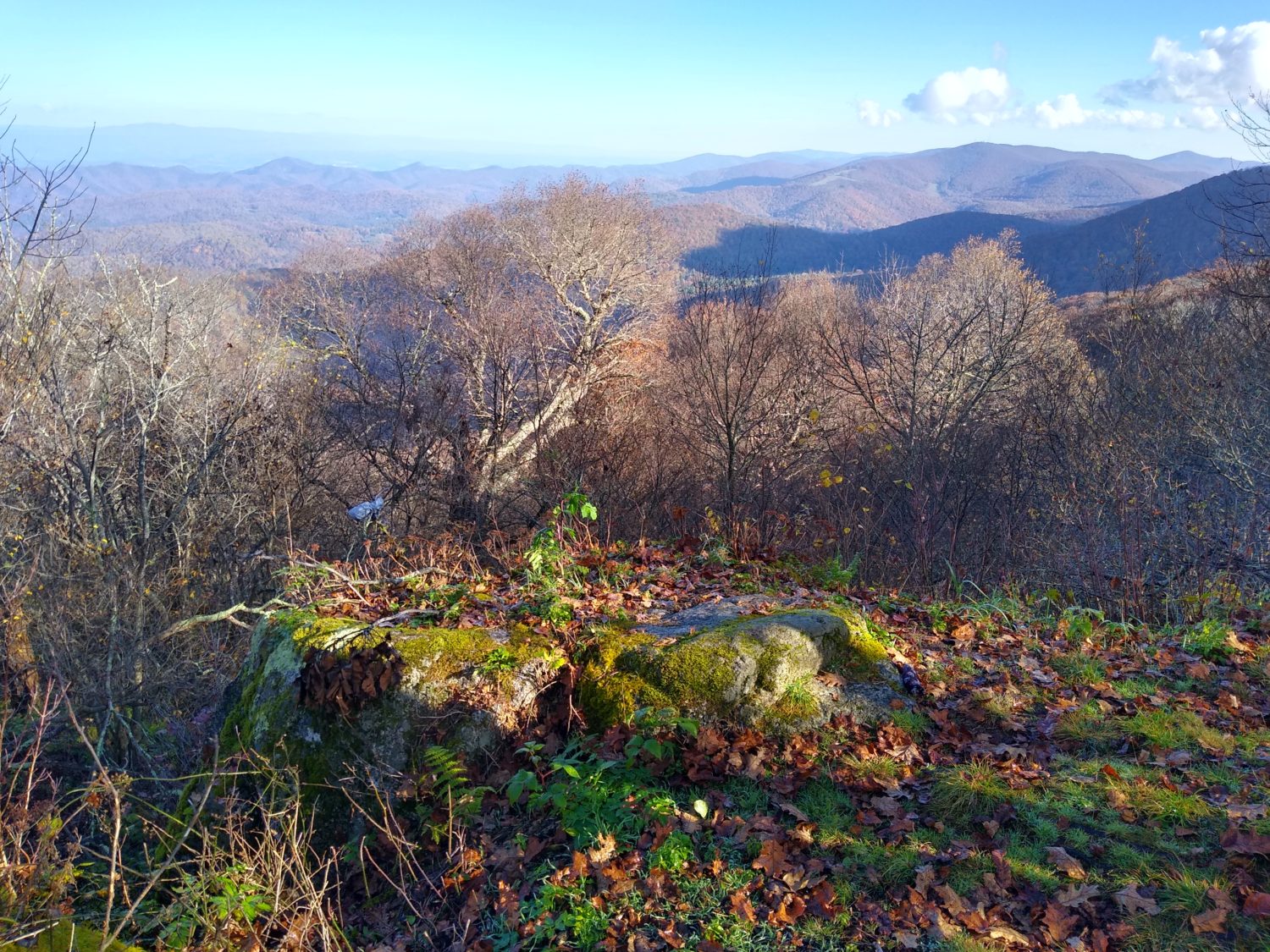 Aside from getting a late start today it ended up being a really positive day. There were several meadows to cross, many ledges with views for 30 miles or more, and the trail was relatively tame.
I picked through the gas station confections I had bought the night before to try to drum up a breakfast. The Jimmy Dean chicken biscuit was about the worst I've ever had in my life. Imagine chicken bologna sliced 3/8 of an inch thick, breaded, and slapped on a crumbly biscuit. I had a hard time eating it. The pecan pie was even worse. I think I took two bites and threw the rest away. And the lemon things that look like they should have been good we're so dry I ate two of them and threw the third one away. The chocolate milk and orange juice were excellent though.
I told the shuttle driver when he dropped me off that I would call him shortly after 7:00 so at 7:15 I tried calling him but his phone was off and it went to voicemail. I called back every 5 minutes till 7:30 and then tried to look up names of other shuttle drivers. I tried once more at 7:38 finally got a hold of him he would be here in 1 minute. 15 minutes later he was there. I think he has been shuttling hikers for nearly 40 years. Some of the stories he tells and some of the people he met are truly amazing. You could probably talk to him for a week and never hear the same story twice.
I finally got to the trailhead and was off at 8:15. This is where the proprietor of the Dutch house B&B was sitting on a picnic bench and took some of my extra gear so that I could select back the rest of the way to his hostel. Many of the places I hiked over were also very familiar from that same 2010 trip. The meadows and things that were still green still look the same but all the woods with the leaves either yellow or totally missing it on the ground look very very different from the lush green of summer.
The climb up from the highway was very steep and very long though. I think it was about 1800 ft of climbing in 2 mi. Once I was at the top the hiking got much easier though. About 3 hours into it I came across a meadow on top of Cole Mountain. It went on for about a half a mile and I remembered it from 2010. It's one of those Sound of Music moments.
Every mile or so it seemed like another ledge appeared and the views from these ledges were very spectacular as opposed to most of the ledges further south which were still obstructed with trees they weren't even really a view at all. The trail in this area seemed to hug the contours instead of just going over every bump in between where I was and where I needed to be. Water was a little scarce but I was expecting that and had plenty on hand. I ended up filling up only 1 liter throughout the day and then one more when I hit camp.
I passed two southbound thru hikers and ten or so day or weekend hikers. There were also at least a dozen people who have hiked up to the meadow on Coal Mountain. I don't blame them; it's a great place to hike and a great view and from where they parked it's not a tough climb. I was surprised however to see as many people who had already set up camp being a Thursday and not a Friday. It was Friday kind of numbers.
From the beginning of the day my goal was always the Priest Shelter which was about 20 miles from the highway. Getting a late start didn't help but the easy terrain did help. Throughout the day the forecast for when I would get there was bouncing between 6:30 and 7:00. So when I did get there at 6:38 I was pretty happy about that.
There was one hiker in the shelter and two more camped nearby. The hiker in the shelter had a fire going and was storing his food in the shelter so I decided I was going to camp out too. I set up the hammock, hung the bear rope, then dragged my food and stove over to picnic table at the shelter to cook. One of the other hikers who is camped out also came over to eat dinner.
The conversation was actually pretty good. The one hiker in the shelter was a south bounder; he started August 1st so he is making good time to be this far south now. The other hiker with sectioning a big chunk of the trail and has also done the John Muir Trail in the past so we had a lot of common things to talk about between the PCT and JMT.
One of the traditions at the Priest Shelter is for hikers to write their confessions in the trail register. I've been thinking all day about what I want to write in there but I got here so late I really didn't have a chance to even read any of the entries much less write my own. Maybe I'll just write it out in the blog instead.
I have 35 miles to go before my pickup point. There is a lot of climbing tomorrow so I am uncertain if I can do more than 20 miles. The area between 20 and 25 mi from here also does not look good for camping. So depending on how tomorrow goes I may have to adjust my pickup point. If I can't make it the full distance it looks like Humpback Rocks Visitor Center right on the Blue Ridge Parkway is the next best place. Let's see how tomorrow plays out.