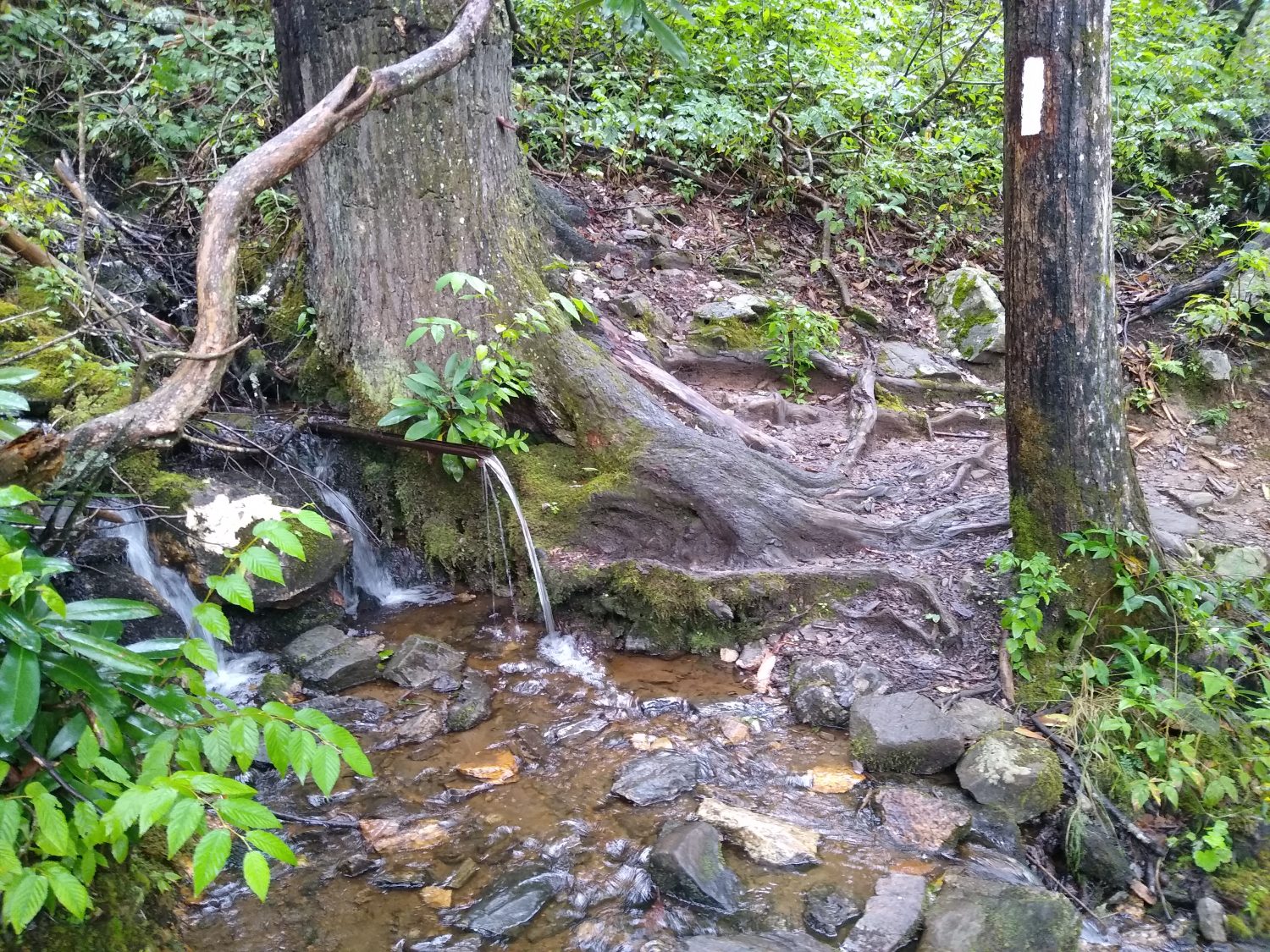 The evening was dominated by fog, the morning and nearly all of the day consumed with rain.  I've been soaking wet for about 24 hours.  The forecast is for five more days of rain.
Last night was a miserable night camped high on Standing Indian Mountain.  The site I found was good; I was able to hang a bear bag, and it was breezy.  The problem was that I was in the clouds most of the night.  And clouds mean water… an endless supply of it.
Just after dark, the fog started to roll in and it got ice cold.  I had to get into my bag quickly.  But I soon noticed that the fog was descending on the netting of the hammock and it started dripping down on me. Between the fog blasting the left side of the hammock and wetting everything on that side and the netting dripping down on me, I was soaking wet in no time flat.  After about an hour of that, the coolness turned warm.
It took me several hours to even fall asleep and then it was damp, hot, and sticky.  I probably slept maybe four hours all night.  I woke up at 6:15 and got rolling by 7:00.  I really had my sights set on hitting Franklin now just to dry out.
It wasn't 15 minutes into the day before the fog turned to rain.  It was light at first, but within 30 minutes my feet were soaking wet.  The entire day was a cycle of thirty minutes of rain followed by an hour of fog.  Nothing dried out.  Especially my feet.
I was basically hopping from shelter to shelter all day to have dry space to make something to eat.  I did not have the time to actually cook so it was all cold food.  I had very little walking snacks left.  Tuna packed in oil with mayo on a tortilla was the highlight.  Oreos and peanut M&Ms rounded out the rest of the day.
By three o'clock my feet were pruned and killing me.  I had no dry socks and even changing socks would last three minutes tops.  It was to be a day of miserable feet for the rest of the day.
At a shelter about six miles out, I found the business card for a local hostel in Franklin and took down the number. When I got to the first peak where I had a signal, I called and made a reservation.  It would be my first day over 20 miles and only possible due to the rain.  Hiking in the rain keeps you cool so you need less water and want to stop less.  But it kills your feet.
I made arrangements to be picked up at the trailhead at 7 pm.  That would give me 15 minutes to spare.  The last 3.5 miles were the hardest of the day because of my feet, but the actual hardest part of the day was going up Albert Mountain.  It's only a short 0.3 miles but it's a huge vertical climb and it started raining just after I began my ascent.
I met two brothers earlier in the day and we bounced from shelter to shelter hiding from the rain.  They were parked at the Gap where I was being picked up, so we chatted some more while I waited for the shuttle to arrive.
The hostel is a welcome break from the rain.  I am showered, my clothes are drying, my gear is laid out to dry, and there is a pizza in my belly.  Let's see what tomorrow brings.