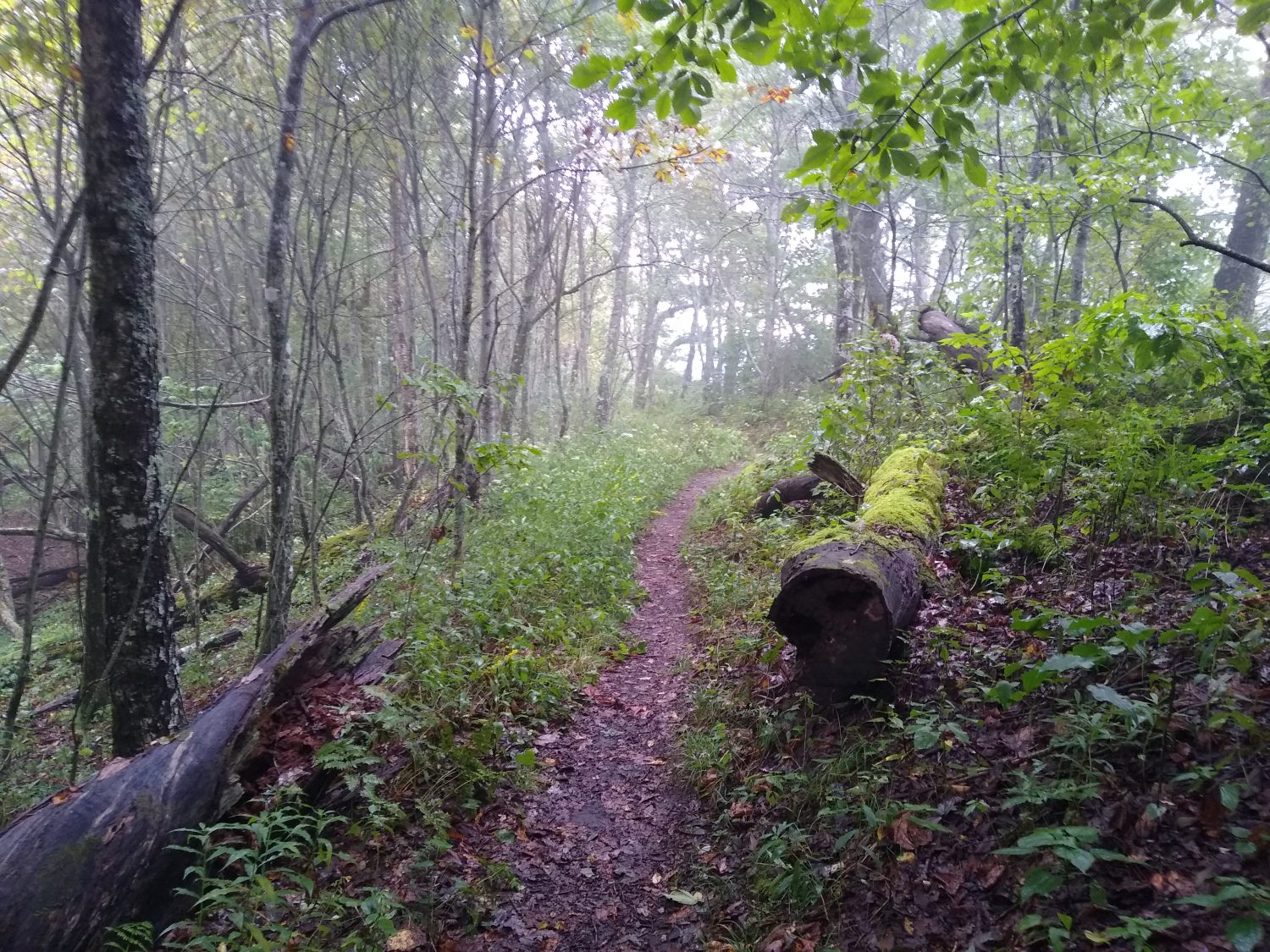 Taking a day off in Franklin ended up being a good call.  The feet are still not in great shape but in the afternoon they started to warm up a bit and make the hiking easier.  Moderate terrain also helped.
I had to wait a little bit for the hostel owner to get rolling, but got off at a decent time.  We stopped by Burger King for some chicken biscuit sandwiches.  One for the car and one for the trail.  The hostel owner was really fun to talk with but it was time to head north again.
I got up trail about 9 am.  It was a cool morning with a gentle breeze and no rain.  The sun was out but the trees kept it filtered.
Within an hour or two I was at Silers Bald, the spot where Karen and I came a few years ago to watch the total solar eclipse.  The place looked the same except the brush had grown up a bit.  I had dry shoes and the weeds looked wet so I did not bother to hike up to the top.
I kept going and stopped for lunch before getting to Wayah Bald.  A quick tuna wrap and some chips.
It took another hour to get to the watch tower but it was a great time to be there.  The visibility was at least thirty miles but clouds were rolling in.  Over the town of Andrews I could see a huge sheet of rain coming.  I had a quick snack and headed on down the trail because I knew that rain was coming for me.
Sure enough about thirty minutes before getting to the shelter it started to rain but not badly.  But by the time I got to the shelter it was coming down hard for over thirty minutes.  About the time it ended, Senor showed up.  He is a thru hiker that shuttled out with me but had to start 3 miles further than where I started.  He is doing about 15 miles in the same amount of time that I am doing 12.  I am not going my full speed yet because of my feet and the terrain today was made for flying.
Senor was totally drenched and decided to stay at that shelter, but it was barely 5 pm and the next shelter was only five more miles.  I decided it was worth it to keep going and get closer to Wesser so I could resupply and leave and not get stuck in another town for a night.  Senor is getting off there to go to a wedding so I won't see him again until north of the Smokies.
I knew if I left then that my feet would get wet from the vegetation but the same thing would happen in the morning anyway.  So I set off for Cold Spring shelter hoping to arrive with about an hour of daylight and did.  There was a gentleman already there about to go to sleep when I arrived.  I asked if he knew where the bear cables were and he did not know.  I asked where he was storing his food and he said in the corner of the shelter.  That's no good.  I offered to hang his food with mine and set off to hang the bear rope before it got dark.
I made dinner of spaghetti and pepperoni and tried to eat quietly as he had already fallen asleep and started snoring.  I cleaned quietly and hung the bear bag.  Even setting my gear out did not disturb his sleep and those compactor bags make a lot of noise.
This guy is planning on going through the Smokies, and if he is, he had better get a little bit more bear training.  I hope to be miles ahead of him at all times.