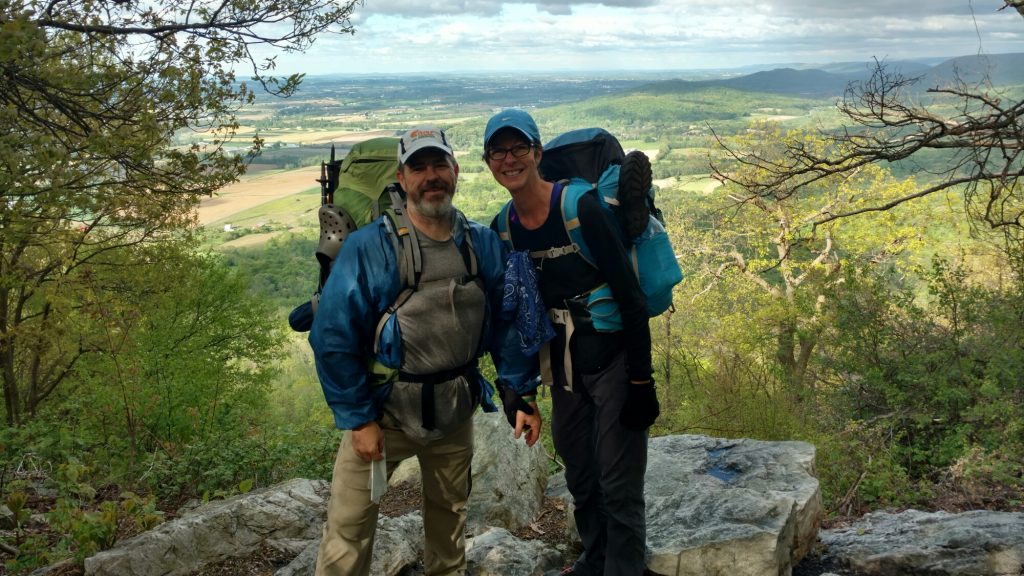 Global warming, huh.  Today started out quite brisk as we left the 501 shelter at 7am to make sure we had plenty of time to get 16 miles to the next shelter.  It was quite cold last night even in a fully enclosed shelter full of people.  Rustling, snoring people.
The morning started off bright and we both had our jackets on.  After about 9 or 10 am, the clouds rolled in and brought brief periods of rain for just a few minutes before it would stop.  Then ten minutes later start back up again.  We must have stopped to either take jackets off or put them on at least 20 times before lunch.
By about 1 PM the rain turned to hail spells and lasted well until after 6 PM.  Most of the hail was very small but one spell it was pea sized.  We ended up getting to the shelter at about 3:30 and even though the shelter was over a quarter mile off the trail, we were grateful to have reached it.  The wind was very gusty all afternoon and still is.
We were planning on camping out tonight but the wind has us holed up in the shelter.  One of the hail spells was actually light snow flurries.
Our leftover pizza from the 501 lasted us for breakfast and two lunches.  We snacked a few times on the way then ate our sub that we had packed out for dinner.  Nothing beats a day old sub when you are in the middle of the woods.  We should have cooked something warm, but meh.
The trail today was all kinds of crazy.  The blazes were quite lacking and the trail so poorly maintained that most of the way there were two or three trails in parallel that you could choose to take based on which one had fewer puddles or rocks.  In most cases the official AT was so littered with roots and sticks and small blowdowns you wouldn't want to take the official one.  It impacts the ecosystem pretty negatively when this happens.  A wide swath of erosion will engulf this place before long.
We are here at Eagles Landing shelter and the shelter itself is pretty decent, but the area around it heavily impacted by mass camping.  The privy has a sign boasting that it is the first moldering privy on the AT in PA, but it's nothing to be proud of.  It is overfull and not a pleasure at all to use.
We are here with two other hikers and one of them has spread a tarp over most of the opening to block some of the wind.  It is supposed to get down to 34 degrees tonight and I am only carrying a 40 degree bag that has already proven to be cold on the 45 degree nights.  I am wearing an extra fleece as protection and will wear my down jacket backwards to try to keep more of its loft rather than having it go to waste by compressing it behind my back.
We are probably going to have to take a zero tomorrow to let Karen's heels heal better.  She doesn't have blisters per se, but it is more like a subdermal blister or bruising.  She can be walking on flat ground and just have shooting pain in her heel for no reason at all.  If we stop for even 30/seconds it flares up as soon as she starts walking again.  The blister packs are still in good shape so we need to take them off tomorrow and see what is up.  The hotel in Port Clinton is closed tomorrow so we will have to walk into Hamburg instead.  It's about ten miles to Port Clinton with a really steep descent then another mile and a half to the Walmart, Cabellas, and Microtel.  The weather tomorrow is supposed to be sunny and breezy and still quite cold.