It is always motivating when you're going to a town. Not only is your pack lighter because you have less food, but the promise of a shower, a soft bed, and laundry puts an extra spring in your step.
Chilly Evening
Last night while I was cooking dinner, I was wearing my rain jacket because it was a little chilly. The forecast said only 42 but it felt a little colder than that.
So I decided to wear my puffy jacket to bed and I'm glad I did. I have been wearing my fleece hat so that I can cover my eyes from the moon while I sleep. But Last night I also wore my gloves. It was the perfect combination and I slept toasty if not a little bit warm.
Since I only have nine miles to go and I can't check in till 4:00 p.m., there's no rush this morning. I don't even start my morning routine until nearly 7:30.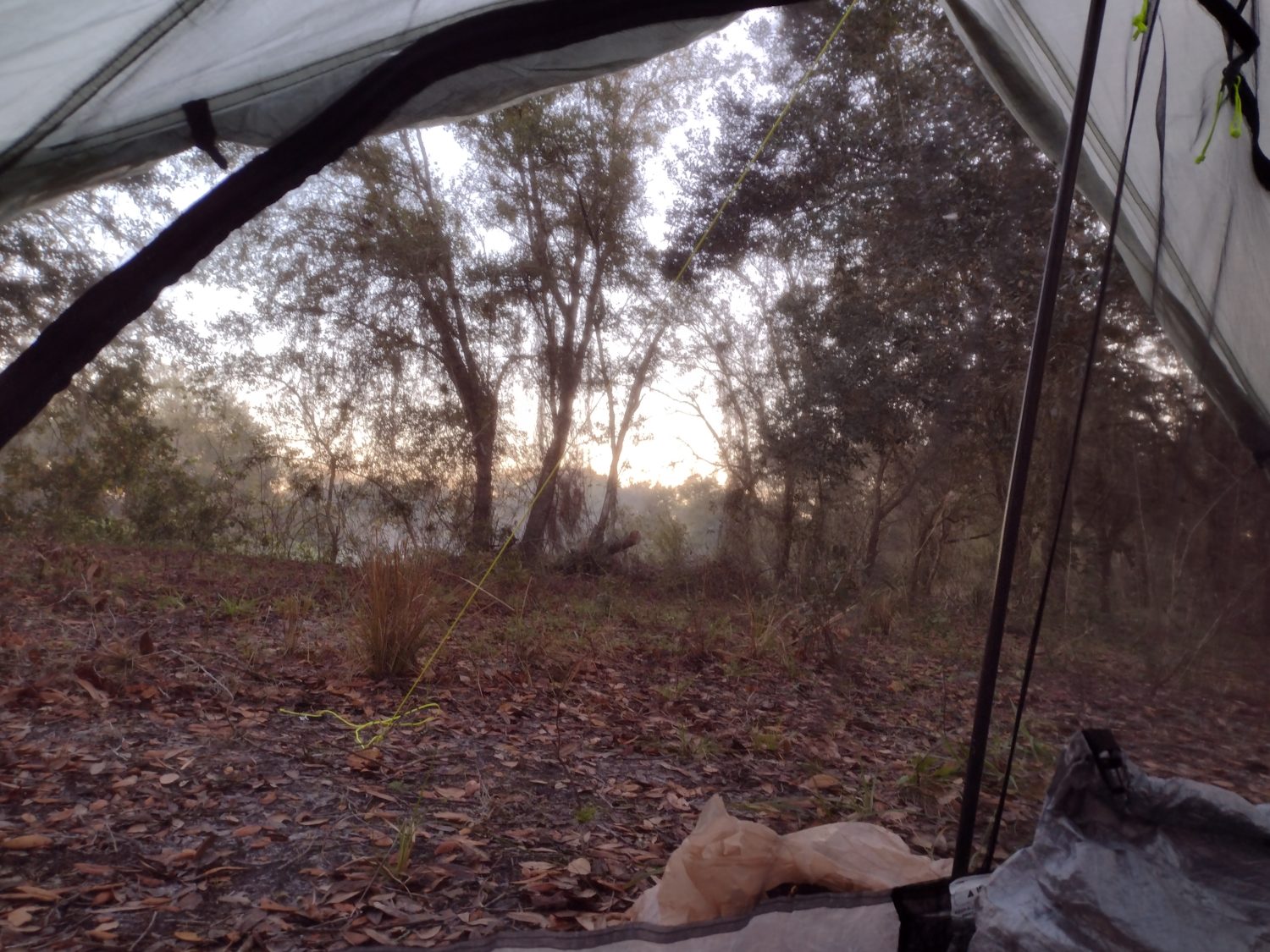 Since I have a leisurely morning, I decide to cook a cup of coffee. Actually, Cafe con leche. The chilly air this morning makes it a perfect antidote for the cold.
It is nearly 8:45 by the time I actually leave camp. This is a full hour and a half past my regular time.
The Road to River Ranch Resort
The trail weaves back and forth across a dirt road for much of the day. This suits me fine because I am wearing my dry shoes.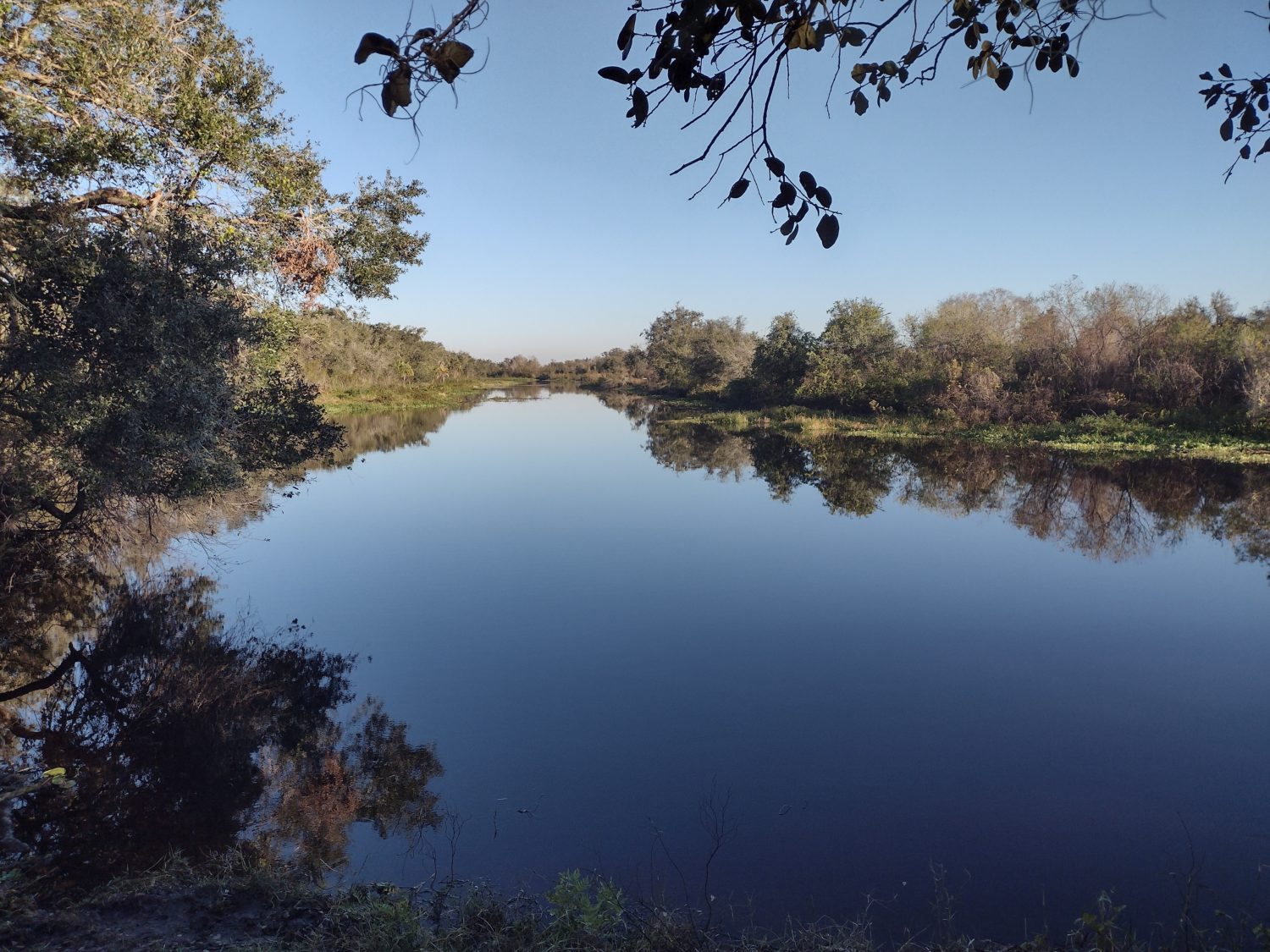 When I went to get water this morning, it felt like my heels were rubbing a little. So before I left, I put on a second pair of socks to add more cushioning and a little more slip. So far it seems to be doing the trick. I really should switch out to a pair of shoes that I would normally wear for this kind of hike.
The trail passes by three or four very large beehives. They also had some other contraption nearby which I think was just water or some kind of nectar food source for them. There were a million bees everywhere so I did not get too close.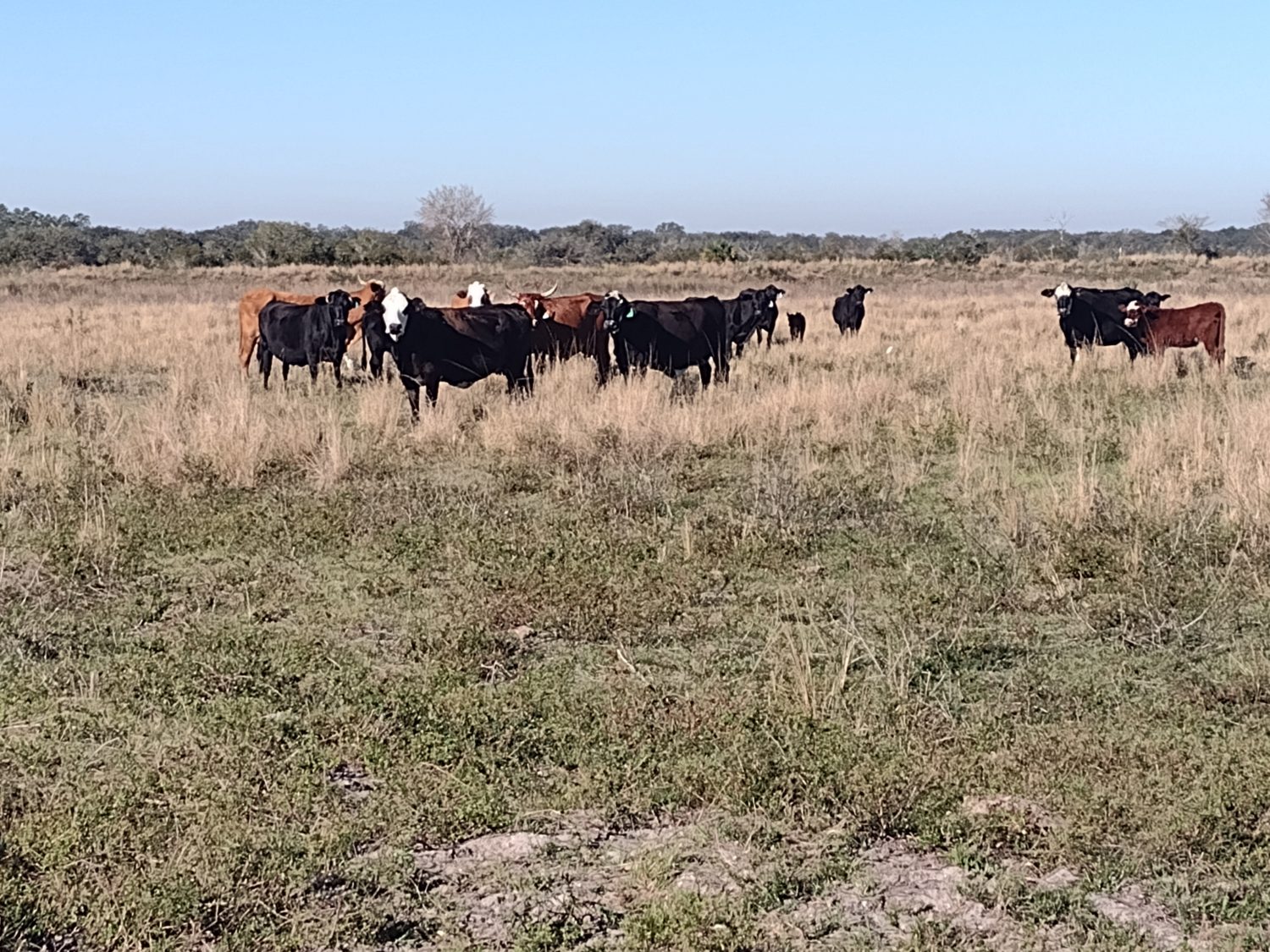 Since this is the road out from the campsite where I stayed last night, there are a few cars coming by throughout the morning. I see the same truck three times. He is in no hurry.
Time for a Little Work
When I glanced down at my phone, I noticed that it is exactly 10:00. This is the time of my normal weekly meeting at work. I checked to see if there is cell service and there seems to be one bar, so let's give it a try.
I dialed into the morning call and I am delighted to find that the audio and video quality is quite good. I spent the morning chatting with my coworkers and showing them some of the sights and sounds I was going through. I think they all expected me to be eaten by alligators by now.
I also find out that we have a company all-hands at 1:00 this afternoon. That is about the time I expecting to be at the resort, so I might try and dial into that too.
Time to Relax
Since I only have nine miles to hike this morning, I am definitely in no rush. I stopped two or three times throughout the morning to sit and drink and snack.
But when I get to the campground host at the end of the road, I know I am only 1 mile from the resort. It is only noon, so I decide I will take an extended break here. I will see what other food is hidden in my food bag that I can snack on. And I will sit and drink some water for a while.
When 1:00 rolls around, I dial into the meeting and find that I still have good signal. I actually feel like I'm no longer hiking at this moment. And I guess I'm not, since I've been sitting at this bench for an hour now.
After the call is over, I pack up and head out. It is much warmer now and I need to get the umbrella out. I can already see the water tower for the resort. And it is so large I can tell I'm already on their property.
Welcome to the River Ranch Resort
This is my first official mail stop. Karen mailed a box full of food to the resort a week ago. It has five days of food and needs to get me to the Orlando area.
Since I have abused my feet pretty badly the last week, I am planning on staying here for two nights. I am only hiking part of the day today. This is considered a nearo, or nearly zero miles. Yes, nine is nearly zero in hiker brains. Tomorrow will be a zero, because I will hike no miles at all.
I will probably spend half the day in the swimming pool and the other half blogging.
I can see the main intersection of the resort is coming up and I notice the Conestoga wagons and teepees on the left. They are very high dollar accommodations. I am just staying in a lodge room.
I turned down the road into the resort facility and start to see more and more buildings appear. There is the primitive camping or rent-a-tent on the left. On the right is the petting zoo. Next on the left is the chapel. Next on the right is the saloon. Are they sure they wanted to put the saloon right across the street from the chapel?
I see signs pointing me to registration so I head that way. It also happens to be the main restaurant, a steakhouse.
I check in even though it is only 2:00 p.m. and they are fine with that. The desk clerk also asks if I need anything and I ask about laundry and Band-Aids. They don't have laundry but she can give me laundry soap to do my laundry in the sink. And she hands me a giant stack of Band-Aids.
When I ask about the box I had shipped here, that's when the confusion begins. She calls to maintenance to get the box and they sound like she has three heads. Just happens to be the same clerk that I called two weeks ago before mailing the package to verify that I could mail it here. She says she will find it and call my cell phone when they locate it. Sounds good.
I go to the room and then immediately start washing my feet. The blisters on the tops of the toes have definitely gotten worse. I will lance them after I have cleaned my feet.
I can now see that new blisters are starting to form on my heels. I think the extra socks and extra insoles is actually causing more harm than good at this point.
It is very fortunate that I am not going to be hiking any miles tomorrow. I definitely need some healing time.
After the feet are clean, then it's full body shower time. Even though I had a shower yesterday, I am amazed at how much filth and slime has accumulated on me in just one day. I guess when you put dirty clothes on a clean body the body isn't really clean anymore.
The next order of business is laundry. Since I don't have an actual dryer, I need to do them quickly so they have time to dry out for using tomorrow. It takes over an hour and a half to wash just 10 articles of clothing. I am glad she gave me two bags of laundry soap.
While I am in the middle of doing laundry, a knock on the door is one of the maintenance guys bringing me my box. Now all the critical items are in place.
Explore the Ranch
After a shower, laundry, and a quick call to home, it is time to find some grub. I have not been eating any of the remaining snacks I have on hand. I have not opened the box yet, but expect to find that I have too much food for the next section. Since the prices at the resort here are very expensive, I don't want to be forced to buy anything I don't need to.
I check out the list of restaurants and I'm sad to find out that the main smokehouse is only open on Friday and Saturday but today is Wednesday. The general store has a deli or the main steakhouse is open. I think I will scope out the deli. I hear they have good pizza.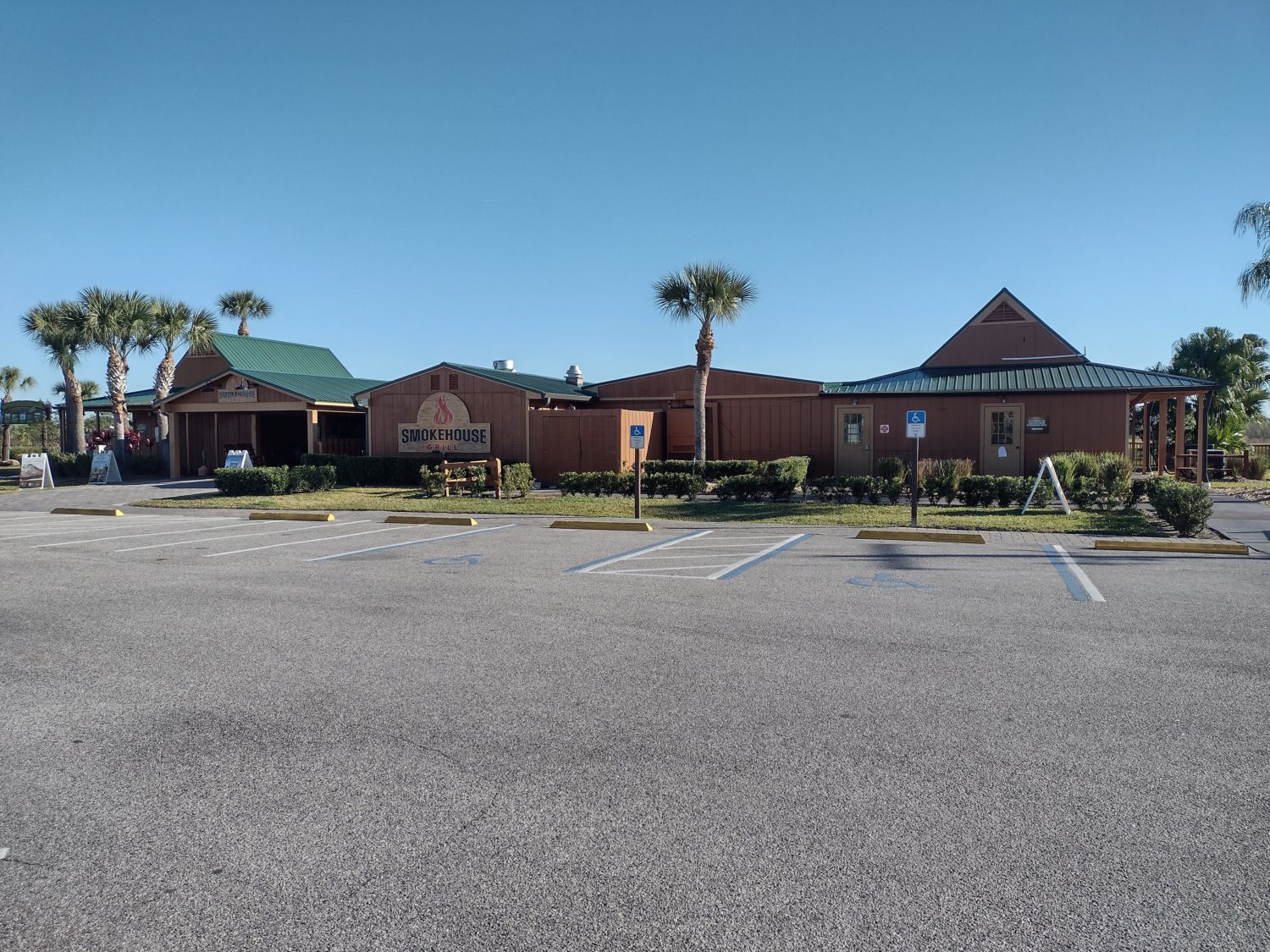 On my way out, I head towards the pool first to check it out. There are only three people in it and it is a pretty large pool. I will definitely be back tomorrow.
I then head in the direction of the general store. It is situated in a little u-shaped arrangement of small stores. Most of the stores are closed, but the general store and the Western Wear store are still open. There is a post office that is only open a few hours a day. I might try and mail a few heavier things back home tomorrow.
I head into the general store and indeed they do serve pizza. So I order a pepperoni pizza and browse around to do some shopping.
All of the laundry rooms are kitchenettes. The food selection at the general store reflects that. It is mostly canned goods, bread, cold cuts, and what I call a car camping food.
My eye spots of fruit smoothie and a bottle of milk. My other eye spots a jar of olives. I miss olives so I grab a jar. I also noticed they have Boar's Head hot dogs and fresh hot dog buns. I think that might end up being a staple of tomorrow's lunch time menu.
When the pizza is ready, I head back to the room. It takes only 5 or 6 minutes. When I began eating, the pizza it is still scalding hot. It is also dripping with grease. A New Yorker would be proud, but it is not New York quality. It will suffice for a hiker.
Emotion of the Day
Relax I think is today's emotion even though I think tomorrow will be absolutely flooded with it.
I felt relaxed when I woke up this morning and just vegged out in my tent. I felt relaxed when I was walking down the road stopping frequently to drink and snack. I felt relaxed when I called in to my morning work meeting. I felt relaxed while I sat at the picnic table for an hour at the camp host.
And I definitely feel relaxed after a hot shower and a big soft bed.
Even though I was just as hot, just as smelly, just as sore, and just as thirsty as any other day, none of it seemed to matter today.
Perhaps tomorrow's emotion will be comatose.