My air mattress is still leaking and I did not sleep well last night. Today has been a tiring day. Hot, too.
You Have to Sleep to be Able to Hike
Last night I did not sleep well at all. The air mattress is still leaking and it was very hard to get comfortable. My back is a little sore and no matter if I'm on my side or back it just isn't comfortable.
The leaking air mattress doesn't contribute too much to the discomfort in sleeping. In my case it's just trying to alleviate the pain in my back.
I did wake up at one point and felt refreshed. I was hoping it was late in the morning and I slept soundly through most of the night. But when I checked my watch it was only 11:00. This is a far cry from morning.
I don't think I slept for more than an hour at a time but I did get some amount of sleep. In the second half of the night my back was hurting less so it was easier to fall asleep.
I started my morning routine at 5:30 and was able to start hiking at 7:00. I now have to walk through the boy scout camp about 2 miles and another 1 mile to get to Paisley this morning.
The walk through the scout camp is gentle rolling hills. There are wild oranges all over the place. Though I know they will all be sour, I still have to taste one from every tree just in case I find one that isn't.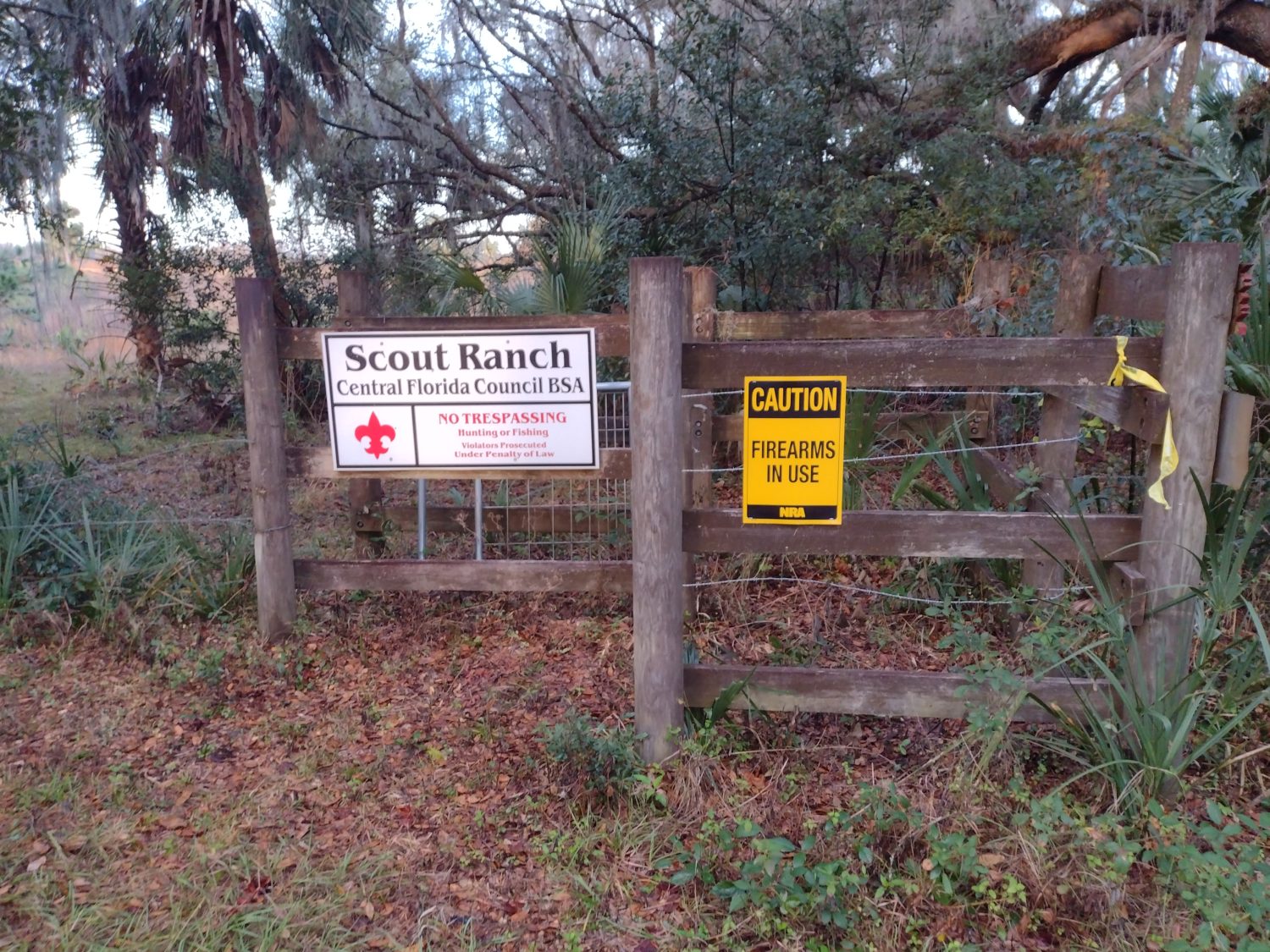 When I get to the main area of the scout camp, I can see that they are having some sort of camping event. There must be a hundred tents all over the place. It brings back memories to when I was in scouting.
The trail stays barely in the woods all the way around the edge of the large field. I could see them, but they could not see me.
Quick trip to Paisley
When I got to the town of Paisley, I couldn't decide if I wanted to go the half a mile to the Dollar General or not. I don't really need any food. But I rarely turn down ice cream or chocolate milk.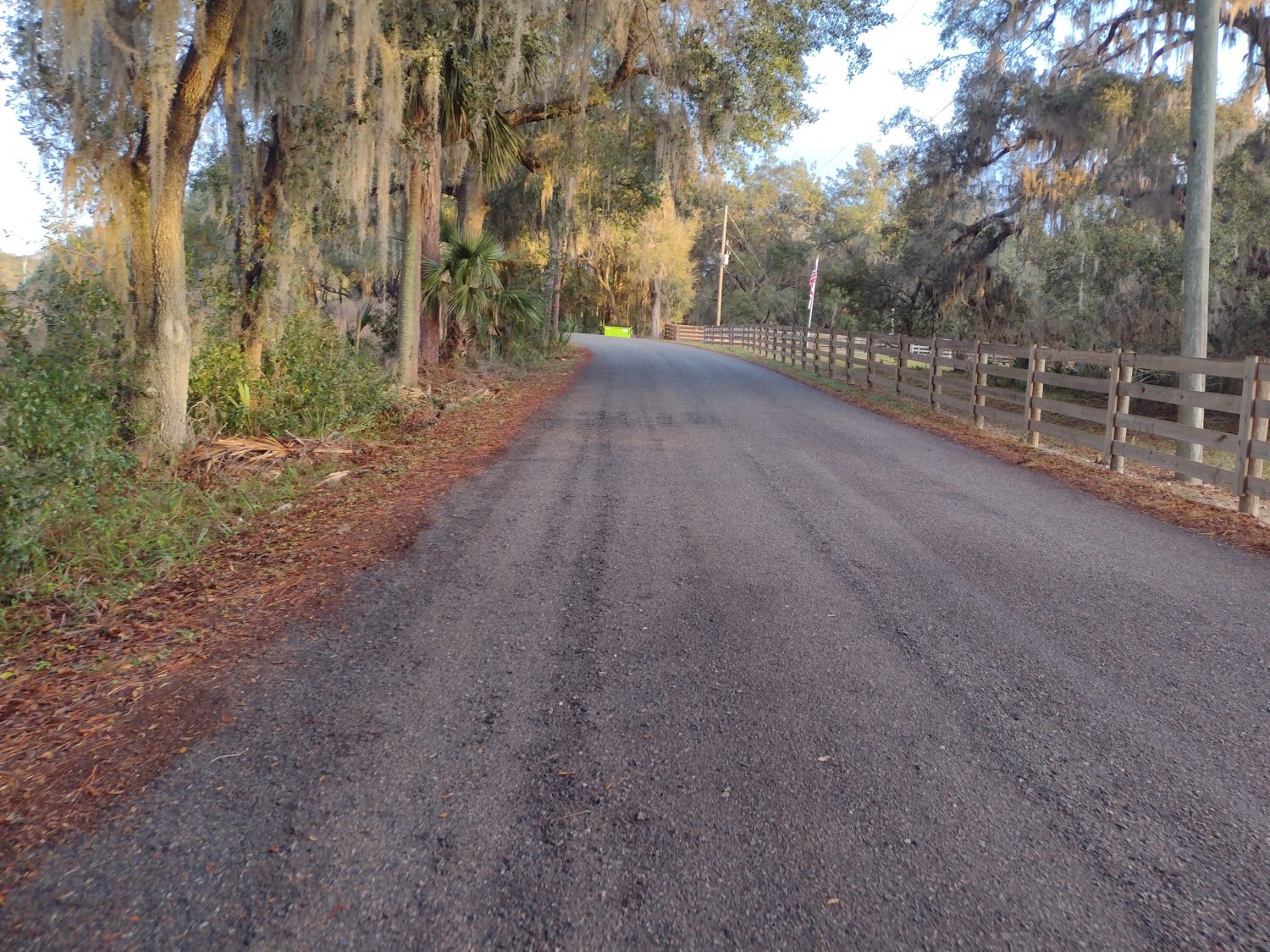 I decide to go ahead and swing in to grab a few walking snacks. The half mile walk isn't too bad. And it will only add 1 mi to today's distance.
The Ocala National Forest at Last
When I turn off the road from Paisley back into the woods, I am officially in the Ocala National Forest. There is a garbage can at the trailhead which is always a welcome sight. There is no bathroom or water, but I am set in both departments.
The Ocala National Forest is two major habitats. It is either palmetto and pine with or without field grasses, or it is sandy scrub oak. Any lakes or prairies usually butt up to the palmetto and pine habitat with more grass.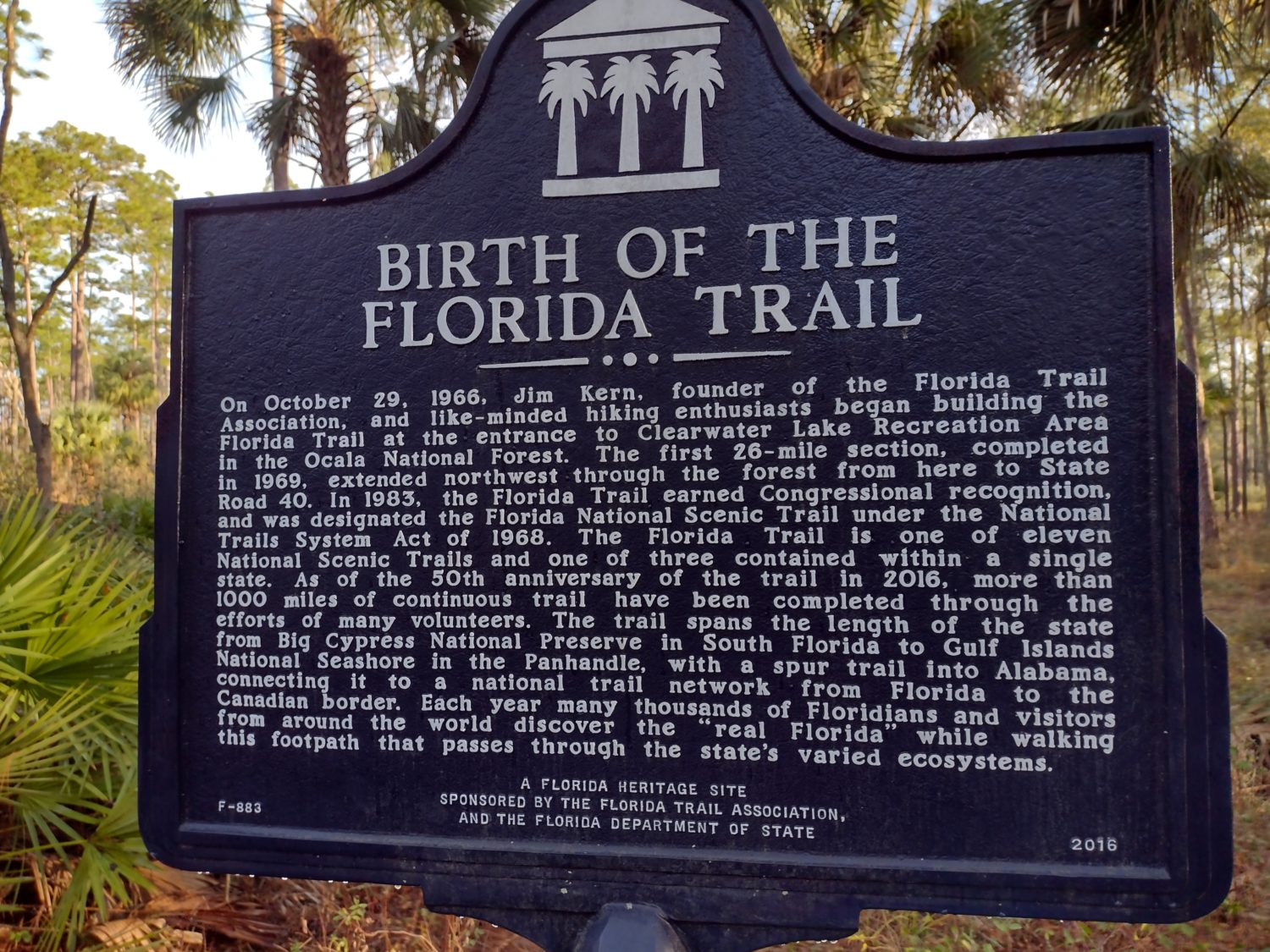 The morning goes quickly, but by 9:30 I'm already getting tired. I take a 30 minute break at 10:00 a.m. just to rest my feet and catch up on my energy. I ate an ice cream cone and a protein shake in Paisley so I'm not sure why I feel so tired.
I have a little more energy after my rest, but it seems to last only an hour. The sun is out with only a few scattered clouds, so it is getting pretty warm. I want to try to go until 1:00 or 1:30 before I eat second lunch. But by 12:30 I need to rest.
I make a tuna wrap and snack on some other food that I bought in Paisley. The shoes and socks are off and the thin mat is rolled out. If I was to fall asleep and take a nap I would not be disappointed.
I get rolling again at 1:30 and I have more energy now. The miles click away effortlessly. I still have energy from my lunch.
Shortly after 2:00 is when I start in on my afternoon coffee. I like to start drinking it at 2:00 with the plan of finishing it by 3:00. This should give me plenty of energy up through 6:00.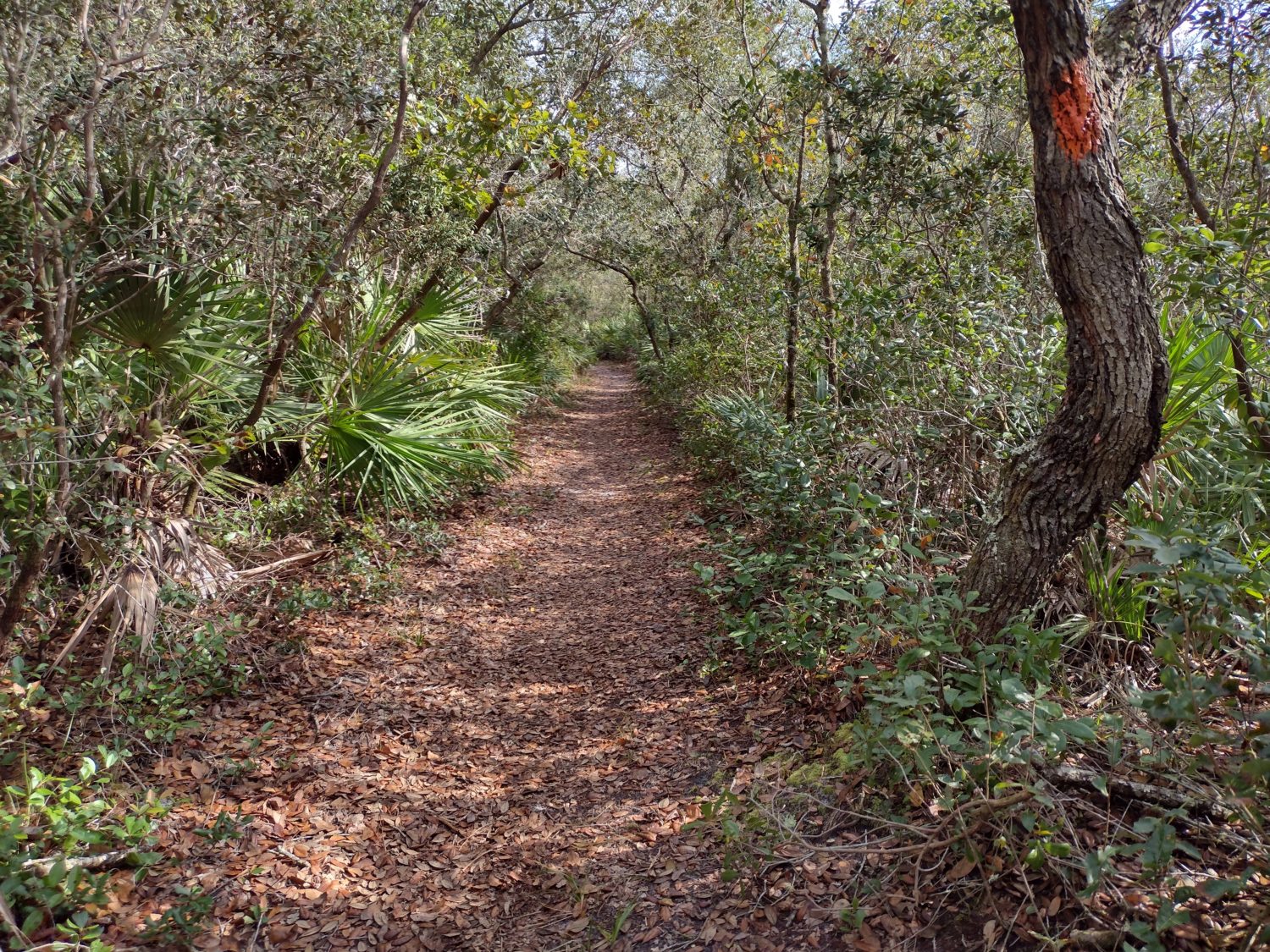 I have hiked this section a few times before, and many things look familiar to me. The whole National Forest itself has a vibe that is easy to connect to. The vibe feels the same as it always has.
Time to Find a Campsite
I know that I should hit Farles prairie sometime between 5:00 and 5:30. There's a huge camping area there with a water pump and lots of picnic tables. But it will be a little bit early and I know I will want to keep going and find a campsite on the other side of the prarie.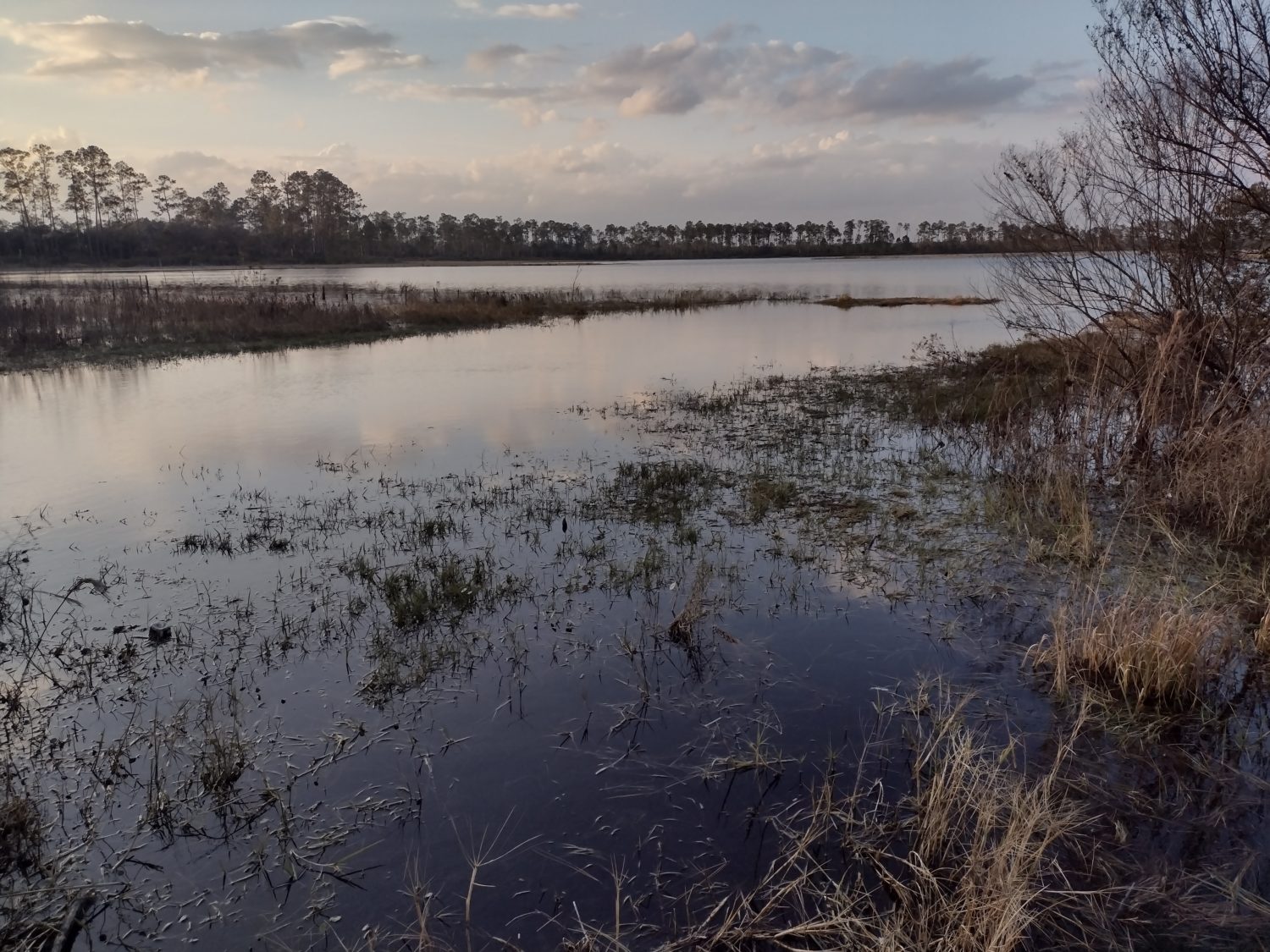 This prairie has multiple lakes that are pretty good in size. The map indicates that there should be camping areas about every mile all along the shorelines. I will pick whatever one I come to when it is near 6:00.
When I get to the lake, I find that the water pump has no handle. But the ground around it is wet so it must be operational somehow. I fiddle with it a little bit and find that you can manually pull the rod up and get it to spit out water.
Luckily, my water filter bag has handles on it that I can hook on the spout of the pump. This lets me use both hands to pull the rod up and it requires two very strong hands to do so. I am able to filter 2 and 1/2 liters of water which should get me most of the way through tomorrow.
For some reason I have it in my head that the trail goes left around the first Lake. But the blazes clearly indicate it goes to the right. Looking at the map confirms I need to go right instead of left.
The lake is high enough that some of the sections of trail around it are very muddy or under water. I can see that people have been blazing trails through the brush to not have to walk through the mud so I follow their lead. My shoes do get a little muddy, but not too bad.
Just before 6:00 I do find a clearing towards the lake that looks like it would make a great campsite. I decide this is where I will stop for the day. The trees at the campsite are pine trees which are no good for bear bags. 20 yards away are some oaks that I can use for this purpose.
Emotion of the Day
I think I need to pick exhaustion.
I have plenty of food, so I shouldn't be tired for lack of food. I am doing only one coffee in the afternoon but maybe I need to have a morning coffee as well. It is possibly the quality of food that is contributing to the fatigue as well.
In Paisley I bought some cheese and your typical junk food as walking snacks, a roll of cookies, a small bag of Cheetos, and a tube of Pringles. These are all simple carbohydrates.
I have been eating keto for so long that maybe my body really doesn't like trying to go back to carbohydrates. It is almost like an egg timer. For 30 minutes after I eat a high carb snack I have decent energy. But after that 30 minutes, I might as well not have eaten for hours.
When I did eat cheese this morning, that did seem to last for an hour or more. Maybe I need to try and focus more on high-fat foods rather than palatable foods.
Whether it's coffee, fat, or sleep, I need to figure out a change to my routine if I want to try and do 25 miles every single day. And that is my goal from this point onward.