Crossing the St Marks River today was phenomenal. I paddle boarded across it. I am still 100% human powdered on this hike so far.
Another Sunrise
Being out in an open estuary has the advantage of giving you both sunsets and sunrises equally. This morning was another nearly cloudless day and an awesome sunrise.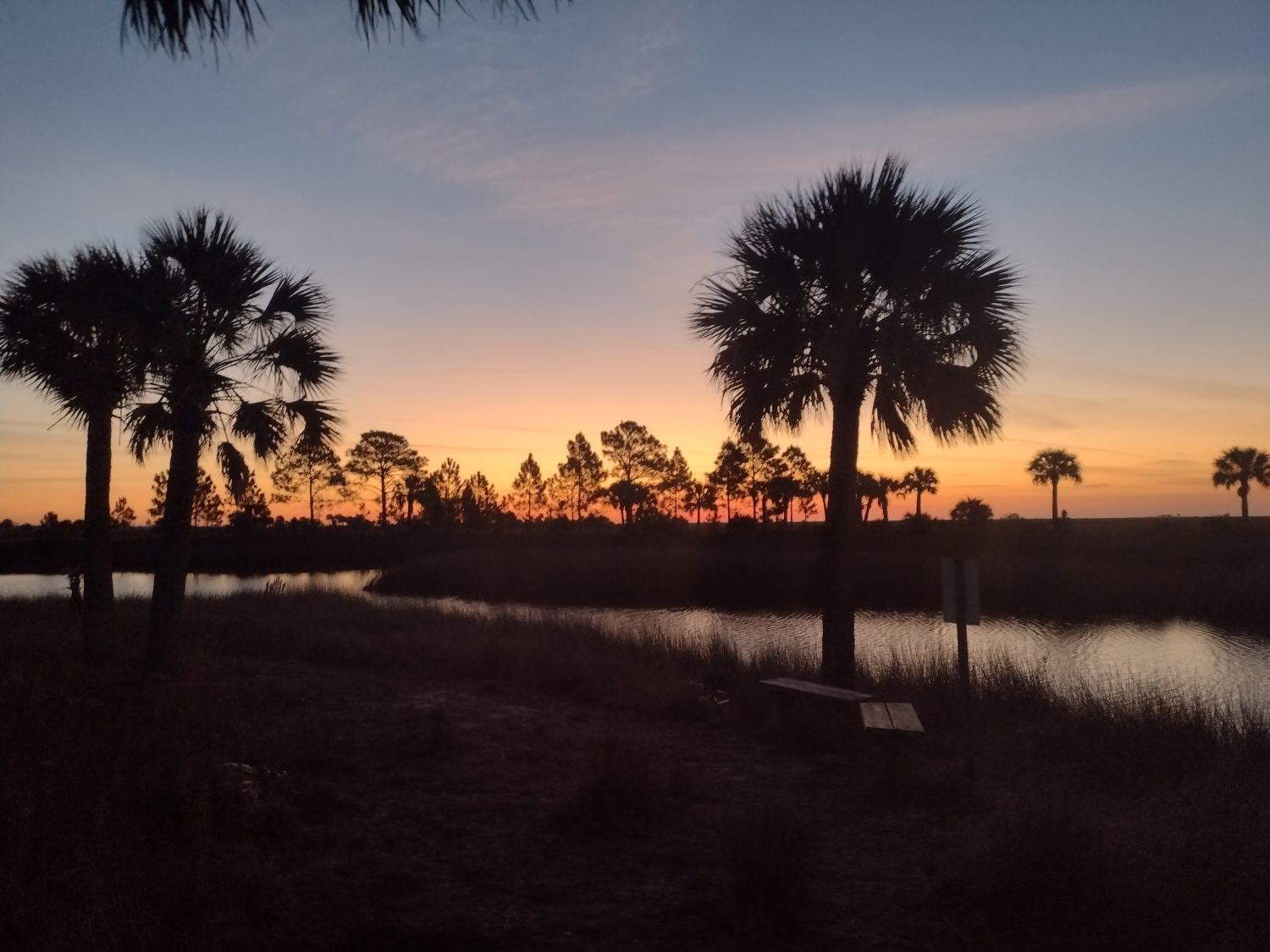 I was out of camp by 7:00 a.m. which was my goal. Jack and Mickey left only 5 minutes before I did. But they are far faster hikers than I am so I didn't see them for at least an hour.
I was stopping every 5 minutes after leaving camp just to spin around and take the views in. Sunrises and sunsets change very quickly. Every time I would stop to look at it it would look different each time.
The trail all morning was still on levees above the estuary. There was a section torn up by hogs but other than that it is very easy hiking. And the grass was low enough that my feet did not get wet with dew.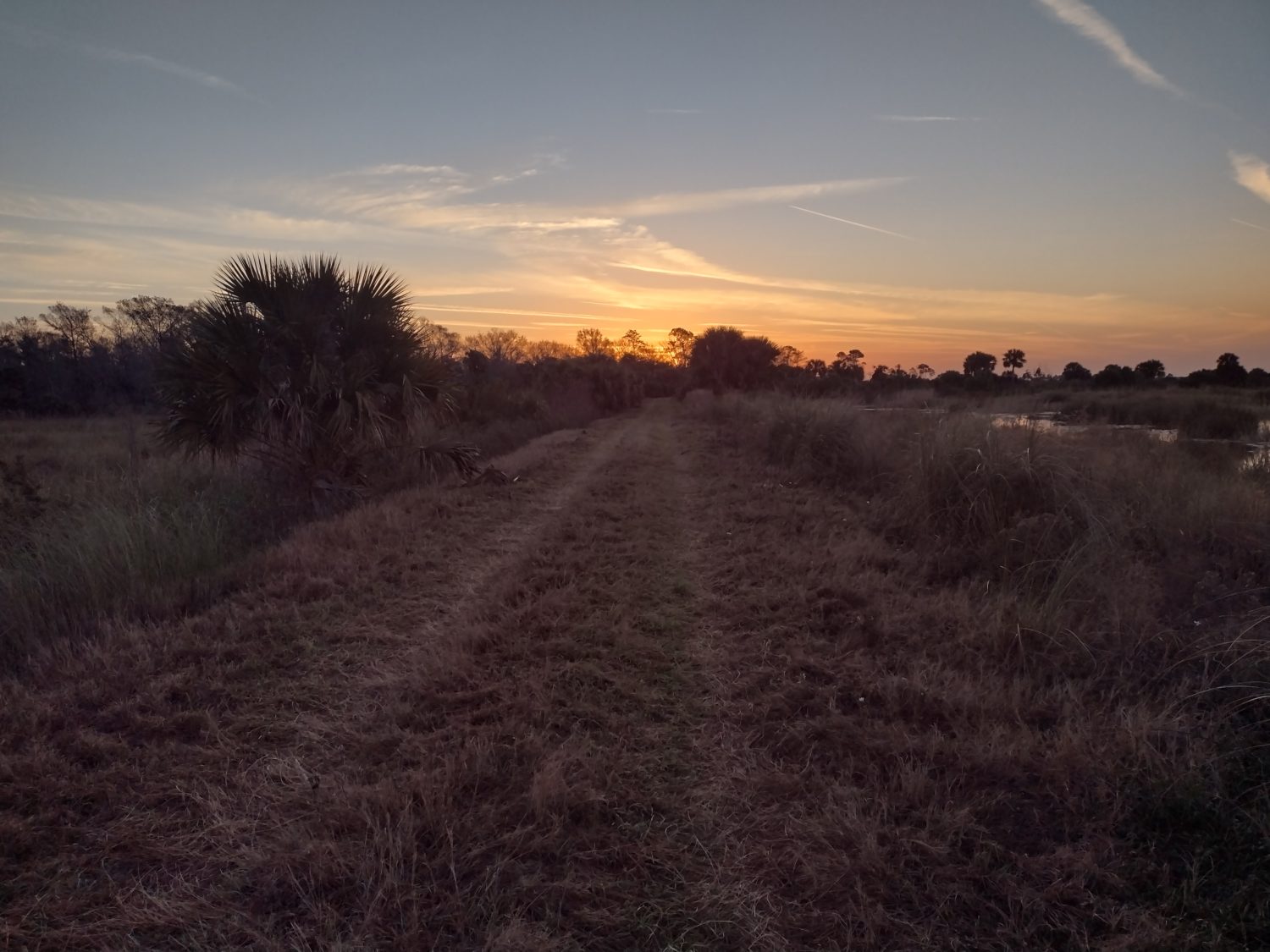 Shortly after crossing Lighthouse Road the trail goes into a wooded area again. It is still on a double track Forest Road so it is still easy hiking. And it is straight as an ERA with not a single curve for at least three or four miles.
Once I know I am halfway to the river and can accurately predict when I will get there, I go ahead and text laughing bear that I should hit the river at 10:30. The only stop I need to make this morning is to make coffee around 9:00. I know there is a campsite I will hit about 9:30 so I will just go ahead and go there to make it.
When I get to the campsite there are two hikers there packing up and getting ready to leave. One of them has very bad shin splints and they are going very slowly for the last week or two, possibly even longer.
We talk about trail conditions while I make my coffee and drink it down. They are basically doing less than 10 miles a day going from campsite to campsite.
Their major concern going this slow is running out of water and possibly food. This stretch of trail has no natural water sources since it is two brackish from the Gulf of Mexico water to be able to drink. They are headed to the visitor center to top up with water before moving to the campsite that I just left this morning.
Let's Hit the River
I am still a mile and a half from the river so I need to get going quickly. I see that the trail leaving the campsite goes through a creek that looks too wide to jump across so I decide to take the alternate trail that goes towards Port Leon since it is on the roadway.
When I get halfway through the alternate I notice that it says I need to cross a creek. Then I noticed the big lake that feeds that Creek and now have figured out why the official Trail does a weird reroute around this corner.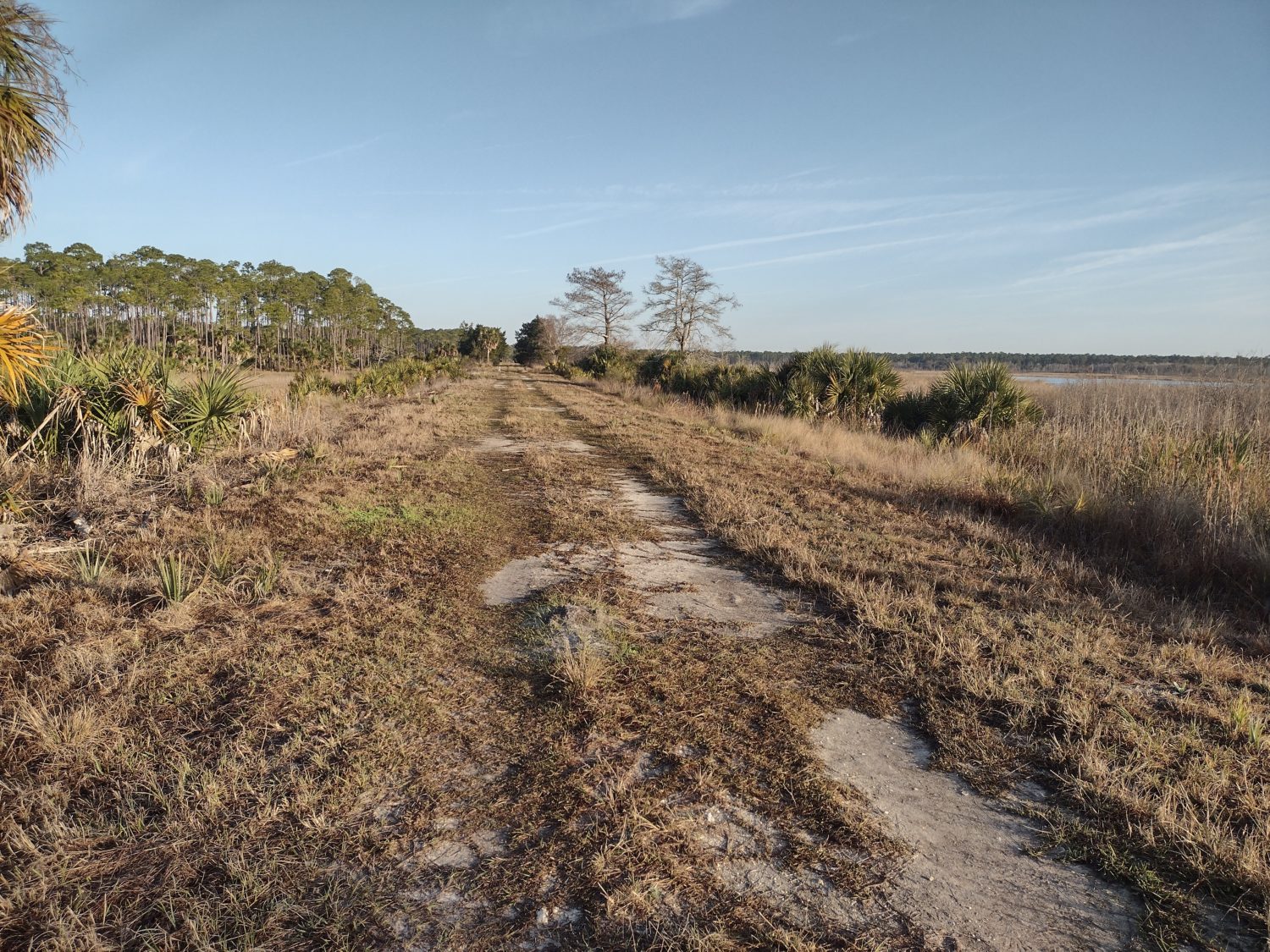 At this point I think that I may have made a mistake taking the alternate trail. I may have traded a small puddle for a giant river. It is too late now I am committed to this path.
As I get closer to the crossing, I can see that it is a very large lake and the chasm ahead looks like a major river. This could get ugly.
But when I actually get there I am relieved to see that it is low tide and the entire riverbed shows exposed rock that I can easily hop across. As long as none of them move or wiggle too bad it should be a super easy crossing. The only hard part is the bank on each side is very very steep.
but I am easily able to manage getting down across and back up without getting wet or muddy. If it had been high tide the creek would have been 4 ft deep. I dodged a bullet with this one.
The other bullet that I dodged is that if I had planned on swimming across the river at low tide the river flow would be at its fastest. So what is good for crossing this Little River would have been really bad for crossing the big one. God is on my side with this one.
I can tell I'm getting close to the river when I start to hear boat traffic. I pop out at the river at 11:24 with 6 minutes to spare and laughing bear is already standing on the shore with his paddle board and kayak. Today is going perfectly.
I get my shoes off and tie them to my pack. I then take out all my electronics and put them in a ziplock and bury them deep in the pack. But I take the waterproof camera and rig it to the pack so that it can record the entire crossing.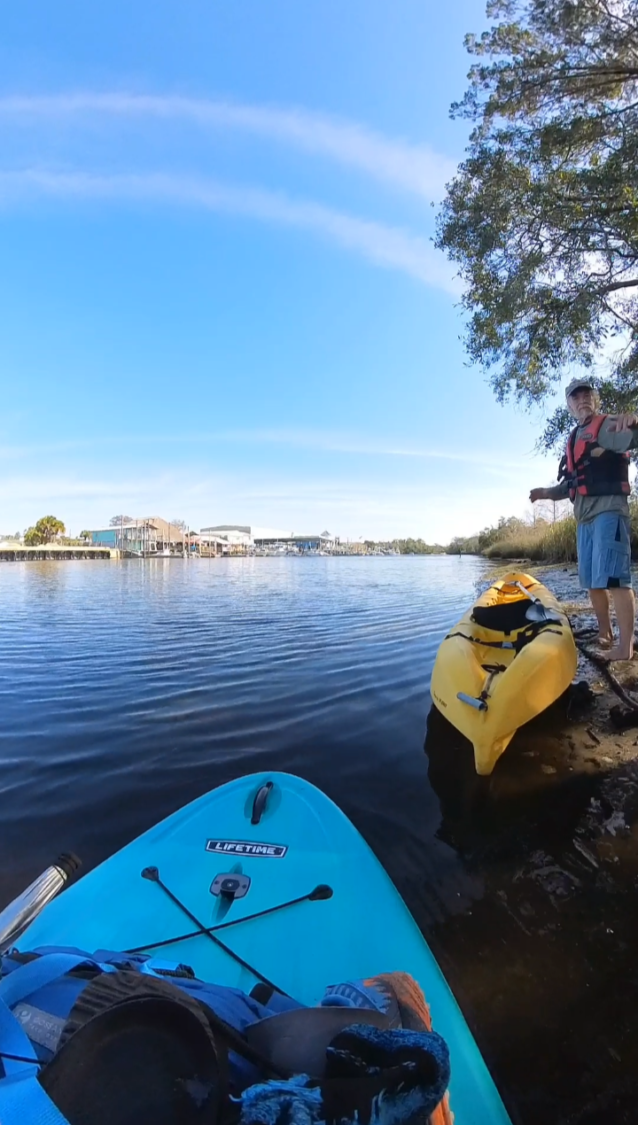 The width of the river looks much narrower than I remembered it from being here last year. I do feel confident that even if I did try to swim the river as initially planned it would still be an easy swim even with a low tide current.
But I am relieved to have a paddle board instead. I get the pack loaded up and strapped down and then hop on the board itself.
I have never done stand-up paddle board but it looks pretty easy. It is a pretty stable and wide platform.
I push off the shore and start paddling across the river and the only difficulty I have is keeping it straight. The wind is quite strong so I can't paddle straight across I need to go at an angle. I'm keeping the angle consistent is harder than it looks.
Instead of trying to do a j stroke like I would in a canoe I just keep alternating the paddle on each side as needed to go in a zig-zaggy course in the direction I need to head to.
The crossing takes less than 2 minutes, and I had a total blast doing it. I help Laughing Bear load the boats into his van and within minutes he is headed back home to South Carolina.
I am now in the bustling metropolis of downtown St Marks, Florida. It will take at least 3 minutes to hike all the way across the entire downtown section. In other words, it is very small.
In Town at Last
I head up to the main intersection of town and see that Jack and Mickey are there talking to Wingman. Wingman is a trail angel that lives near St Mark's who I had met yesterday morning while walking to JR's convenience store.
It is only 11:00 and we are not likely to be able to check in to the bed and breakfast until 2:00 p.m. or possibly later. I am unsure if the laundromat is open or closed. Nothing in the hiking app says it's closed but it is no longer on Google maps.
wingman drives me down to the laundromat so we can check to see if it is still open. When we get there we can see that it is closed. They have signs on the window saying they are closed because of excessive vandalism. So no laundry today.
on the way back he stops by the post office so that I can pick up my box. The Post Office closes at 1:00 p.m. and it is already noon. I can see my box on a stack of three right by the counter so it is an easy pickup. In fact all of the PO pickups on this trip have been very easy.
The postmaster wants to chat and I can tell we could probably talk for hours but I have wingman waiting in his truck outside.
Jack and Mickey head out with wingman to go by their resupply for the next section. I have enough between what I still have and what's in the box to last me to the next convenience store. So I head down to the water to go have lunch at the restaurant.
A blackened grouper sandwich and coleslaw is what I order. And they have Apalachicola brewery beers so I have one of those too. It is very peaceful sitting at the dock watching the birds and the boats go by.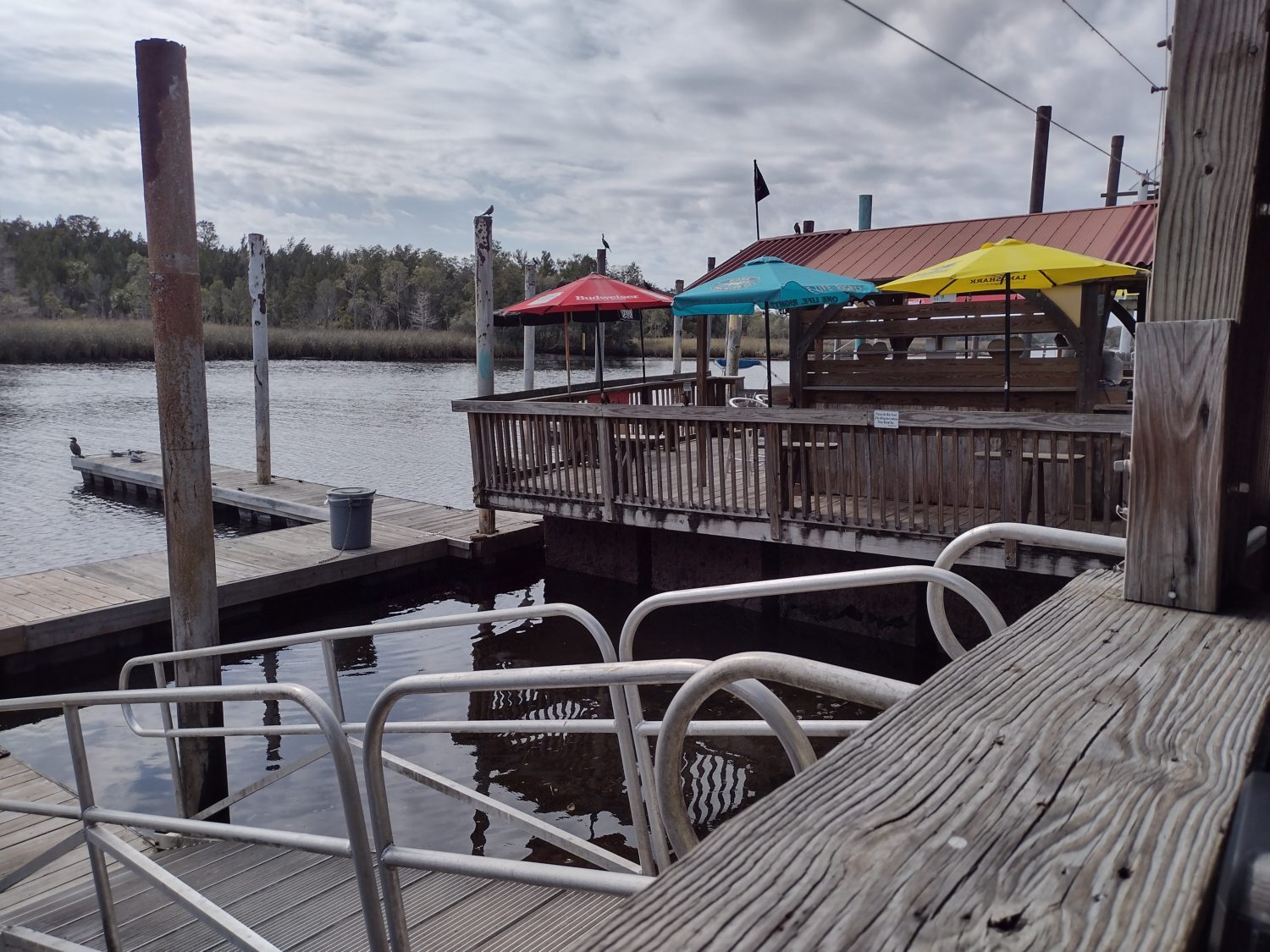 After I finish my sandwich, I'm actually still hungry so I decided to order some chicken wings as well. The other crew comes in about the time I'm ordering my chicken wings so I go over to sit with them when I am finished.
It is a nice sunny day but with the breeze it's a little chilly. I had to put my long sleeve shirt back on.
We go back out to the grassy area to kill more time until our rooms are ready. It doesn't take long before we both get texts that our rooms are ready. A shower at last.
Bed and Breakfast
We get there and check in and get our keys and the owner informs this that he has to fix a plumbing problem in one of the rooms so the water will be off for the next hour. Okay, so the shower will have to wait. Bummer.
The B&B is really nice. The rooms are nice and they have a huge common area that has every snack you could think of and so many drinks that I've never even seen some of them before. You could practically eat a whole meal here. So I find it odd that this B&B doesn't actually serve breakfast. They have a mountain of snacks instead.
They also have a massage chair. I normally don't like massage chairs because they are usually just a mediocre vibrating machine. But I go ahead and check this one out anyway. And oh my God is it amazing. It is such a good massage chair that it actually causes significant pain. I need to find out who makes this chair.
At 4pm the water is finally on. Hallelujah. Shower time. Have I mentioned before how amazing showers are?
The rest of the afternoon is chores until 6:30 when it's time to head back to the restaurant for dinner. Jack and Mickey join me and we have a nice evening talking about hiking.
They were hiking southbound on the AT in 2020 when I was hiking northbound. Mickey looks so familiar to me that I am certain we actually met on that trail two plus years ago. We are not really sure if it actually happened, but something in the back of my mind is absolutely positive.
We are all three planning on going to the coffee shop up the road that opens at 9am. That is likely the last time I will see them since they hike so much faster than me.
Emotion of the Day
I think it is excitement for today.
Even before getting out of the tent, I was excited to see an awesome sunrise. I knew the first half of the morning was going to be out in the open estuaries and I was excited about that too.
And not just crossing the St Mark's River, but being able to paddle across it I have been looking forward to all morning long.
Checking in to the B&B and being able to take a shower had me excited all day long. It was a bummer to have to wait 3 hours to check in and another 2 hours to shower, but it got done.
Yes, today was an exciting day.