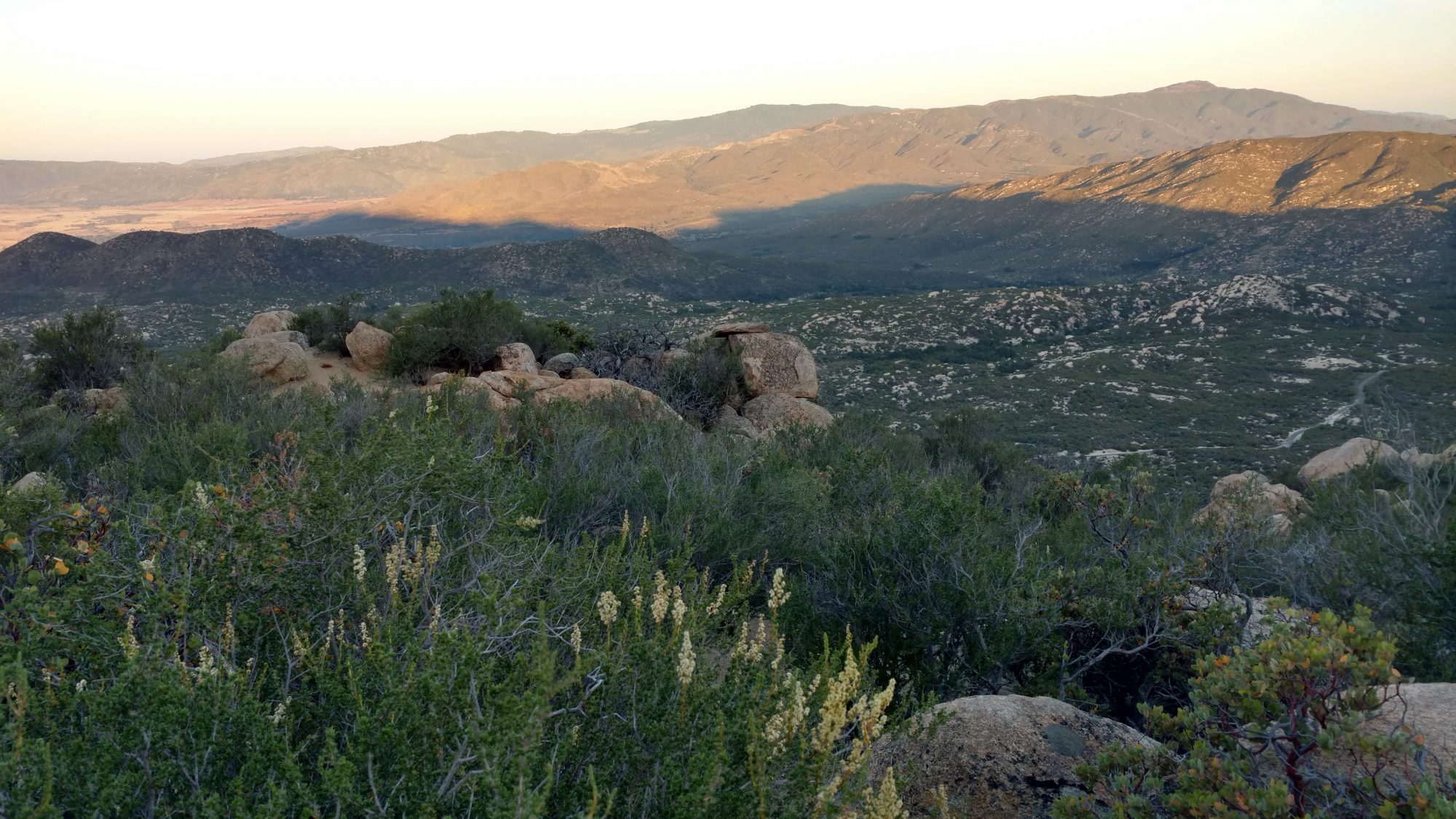 6-02-2016
I can't think of anything cutesie to call today, so it's just a day without a tagline.  A hot day again.  I got an early start at 5 am but another pair of hikers passed me about 4 am getting an even earlier start.  I ended up seeing them at 8 PM as they made camp.  I went another 2 miles or so to be able to camp higher.
It was another day of canyons all day long.  Some of the westward faces has nice cool breezes but the eastward and southward faces were just plain hot, even by 7 am.
I was trying to make the water cache before 1 PM so I'd have water while I waited out the heat.  But pictures of the cache site indicated that there would be no shade there, but a campsite a mile before did.  The cache site was at a dry spring, and Springs usually have trees.  There were some trees on the way there, but the site itself would have been very hot.
Where I stopped was adequate, but the trees were very small and hard to find good shade under.  I started out under a small tree that looks like a Holly tree with tiny leaves less than an inch long.  The tree worked well, but was dead or dying and every time the wind blew, it lost more leaves.  After an hour or so,  I had to find another tree.  That one worked for two hours until the sun shifted enough that I had to find a third tree.  All in all, it was a miserable five hours laying on the ground sweating.
I did make myself cook and eat lunch, but it was all I could do to force myself to eat.  Zatarains dirty rice is good, but not when it's 102 and you are sweating.
When I started back up at 6 it was quite a bit cooler and by 7 was actually not bad.  I hit the water cache, I filled up to four liters for the 14 miles to the Paradise Cafe, which is one mile off the trail.  I hiked 6 more so the café is only 8 miles away.
From the café I have a few options.  There is a section of trail just after it that burned in 2013 and has been closed ever since.  There is a rumor on the trail that it reopened last week.  No one has been able to confirm.  We are hoping the café will know.  If it is open, option 1 is to just hike the trail to Idyllwild.  If it is closed, option 2 is to use the suggested bypass which involves coming back to the same road the café is on.  It's about 17 road miles to bypass about 10 trail miles.  Option 3 is to just roadwalk from the café and join up with the road portion of the reroute and just finish that as normal.  Option 4 is to just road walk from the café straight into your Idyllwild which would be 12 miles. Option 5 is just to hitch from the café to Idyllwild.  All roads really do lead to Idyllwild. I think the section is still closed, so option 4 is looking like the clear winner.  There are enough closures and reroutes that no one ever gets to truly hike all miles of the PCT and in my mind,  as long as I walk to Canada, no matter the route, that counts as not cheating.  If the trail is open, I'll take option 1.
I am considering taking a zero day in Idyllwild Saturday to do true laundry and shower and tend to my feet a little bit.  I have not been able to wash them except for the hose bath yesterday and today I did get my actual first blister.  Some AC would be nice on the hottest day of the heat wave, too.  There's also a beer festival in Idyllwild on Saturday.  That should be reason enough to take a day off.  Hiking 179 miles the first week should be another reason.