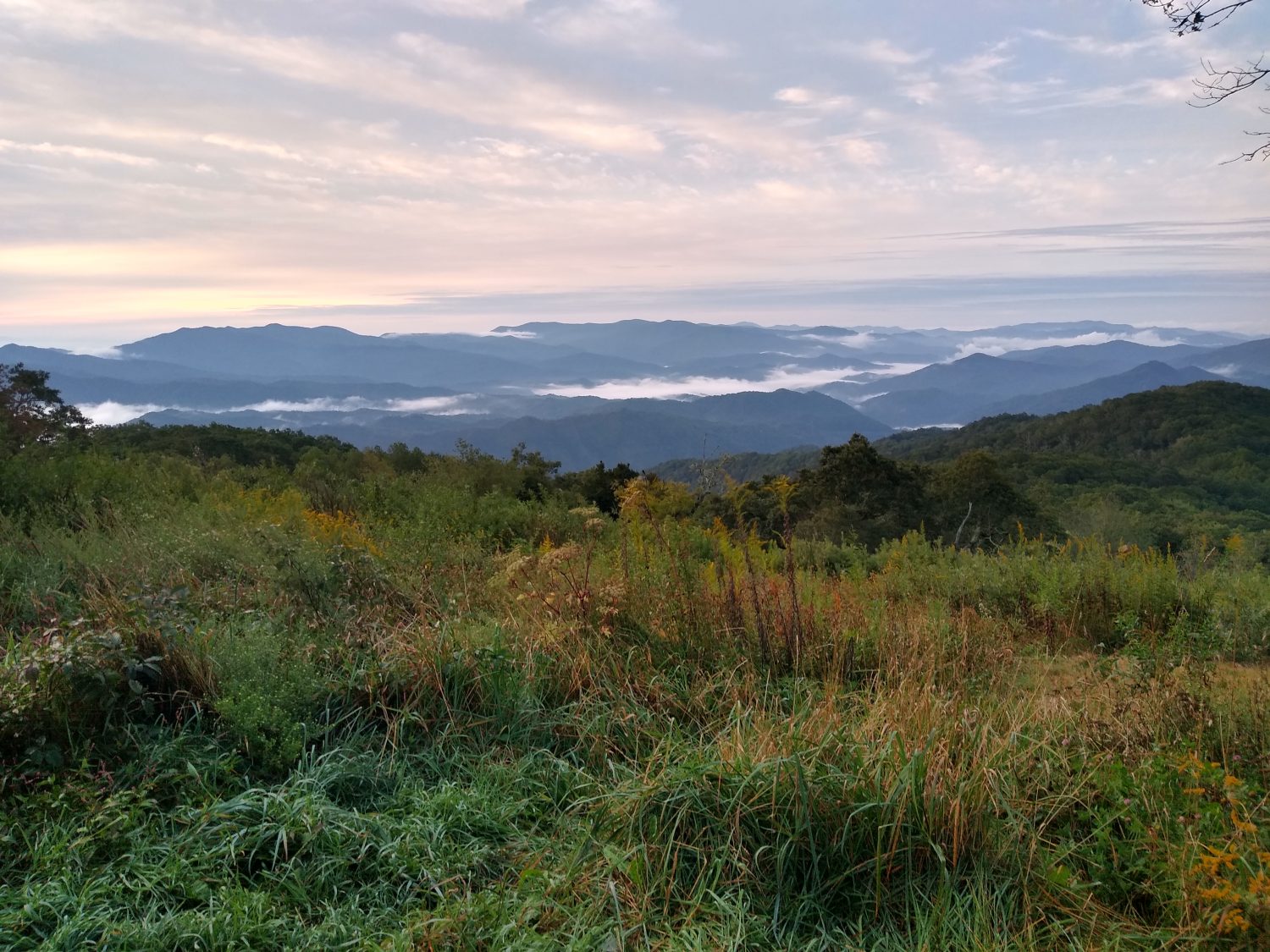 Barely is the operative word. I made it down to the marina at 7:00 like I was estimating but when I got there everything was closed. The signs indicated that the lodge would not accept hikers but I was determined to get a room so I made the two mile trek up Highway 28 in dwindling light and at the end of exhaustion. I made it about 8:00 p.m. and was able to get a room so all is well for now.
Most of the night camped out in the hammock was cool and breezy. The tarp to the hammock sags when you sit in it and the breeze was enough to make it flap all night long and for the first 30 minutes I kept thinking it was a bear stealing my food. Four or five times I stuck my flashlight out of the hammock, pointed at the bear bag, and every single time everything was fine. It took me a while to realize that it was just the tarp flapping in a particular way that made it sound like the bear bag.
I woke up about 6:00 and was able to get hiking at about a quarter till 7:00. It was dark enough that I needed to use my headlamp to illuminate the rocks that were hiding under the overgrowth of brush. I only needed to use the light for about 10 or 15 minutes though.
The way the mountains were arranged and the way I was climbing I actually got two sunrises this morning. They were not epic California sunrises but they were good nonetheless. The next mountain after my campsite, which was less than a mile away, there were two different groups of people camped on top. It was barely after 7:30 and they were already awake which is unusual for weekend campers even though this is in the middle of the week. They had a cool and breezy night as well.
Most of the day was pretty uneventful. The hiking was mainly ridge walking which means they take you up and down every little peak whether there's a view or not. Some of them were pretty overgrown with rhododendron and it was pretty rocky. The combination of the two slows you down quite a bit. I did get some good views on a few of them though and it was a little bit cloudy but also sunny later in the day. The temperature was perfect for hiking.
I used the second shirt which was clean at the time because the first one was so smelly I just wanted a change. It stayed pretty fresh until 1:00 or 2:00 when it also was pretty saturated but being a thinner shirt it doesn't retain as much sweat as the first shirt that I was wearing. I'm glad I bought the extra shirt in Wesser and may end up ditching the first shirt completely.
All of my stops were brief because I knew I wanted to still have the option to make Fontana tonight rather than tomorrow night. I was able to find picnic tables and trash cans to have lunch at 11:00 so that was a nice break. There was another weekend hiker there who was feeling some pain so he was trying to get a shuttle to take him back to Fontana.
I was snacking most of the afternoon and mixing energy drinks to try to keep my speed up. It worked pretty well. I had good energy most of the day even when I was tired. There were lots of ups and downs but the last three miles into Fontana was mostly down. It was a little bit rocky and had a few steps but nothing too bad so I guess it was about average.
I made it to the marina at 7:00 and started reading the signage that said you could get a shuttle from the marina but the marina closed at 4:00. It also said everything was shut down and they couldn't offer rooms for hikers which I knew not to be the case because their website said they had reopened August 17th. So I was getting mixed signals and getting a little nervous but I was pretty sure if I walked up the road to the village that I would be able to get a room. What made it worse is there is no cell service and even though they offer Wi-Fi at the marina they don't publish what the Wi-Fi password is so that was useless. I just had to trust my gut and hoof it up to the village before it got too dark.
Highway 28 is a twisty road in about 2 mi to Fontana village. I remember driving it many times in the Spider and I never once thought that I would want to walk it. But, well, good I did. The first half of the Walk was mostly downhill and still had enough light that I didn't need to use my headlamp to signal oncoming traffic. But the second half it was dark enough that I did need to use my headlamp to let drivers know that I was there. I only saw four cars and five motorcycles the whole way so it's not like there was a lot of traffic. If this was not a COVID effect, I would have easily seen a hundred cars.
it was completely dark by the time I got to Fontana village so I had to use my headlamp to illuminate the street signs to find the one that I knew went up to the lodge.despite them advertising their reopening it looks like they're still struggling for business as they were only about five cars at the lodge. Normally there would be 70 to 100 cars.
I was able to check in with no problems. I went ahead and booked two nights since I'm so exhausted and I'm still expecting tomorrow to be pretty rainy. The long road walk was easily three miles worth including walking around the village and my feet are sore. I was checking in at 10 after 8:00 and she told me that the only open restaurant was down the hill and closed at 9:00. So I only had time to give a really quick sponge bath put on a clean shirt and hustle down to the restaurant before they closed. I got a cheeseburger with french fries and a side salad and it was quite delicious.
Tomorrow I will have to pick up my resupply and repack everything for the next 6 days through the Smokies. I will also have to do laundry tomorrow and other miscellaneous items. I think booking the room for two days was a good idea because on the way back from the restaurant it started to rain on me. Even though tomorrow will technically be zero miles I still bet I will get 15,000 steps in just doing chores around town. I need to be ready for the Smokies since it will be 6 days without any kind of resupply or civilization. The weather forecast for the rest of the week after tomorrow looks great so I'm hoping to have a nice trip to the Smokies. And I'm thankful for a soft bed tonight.