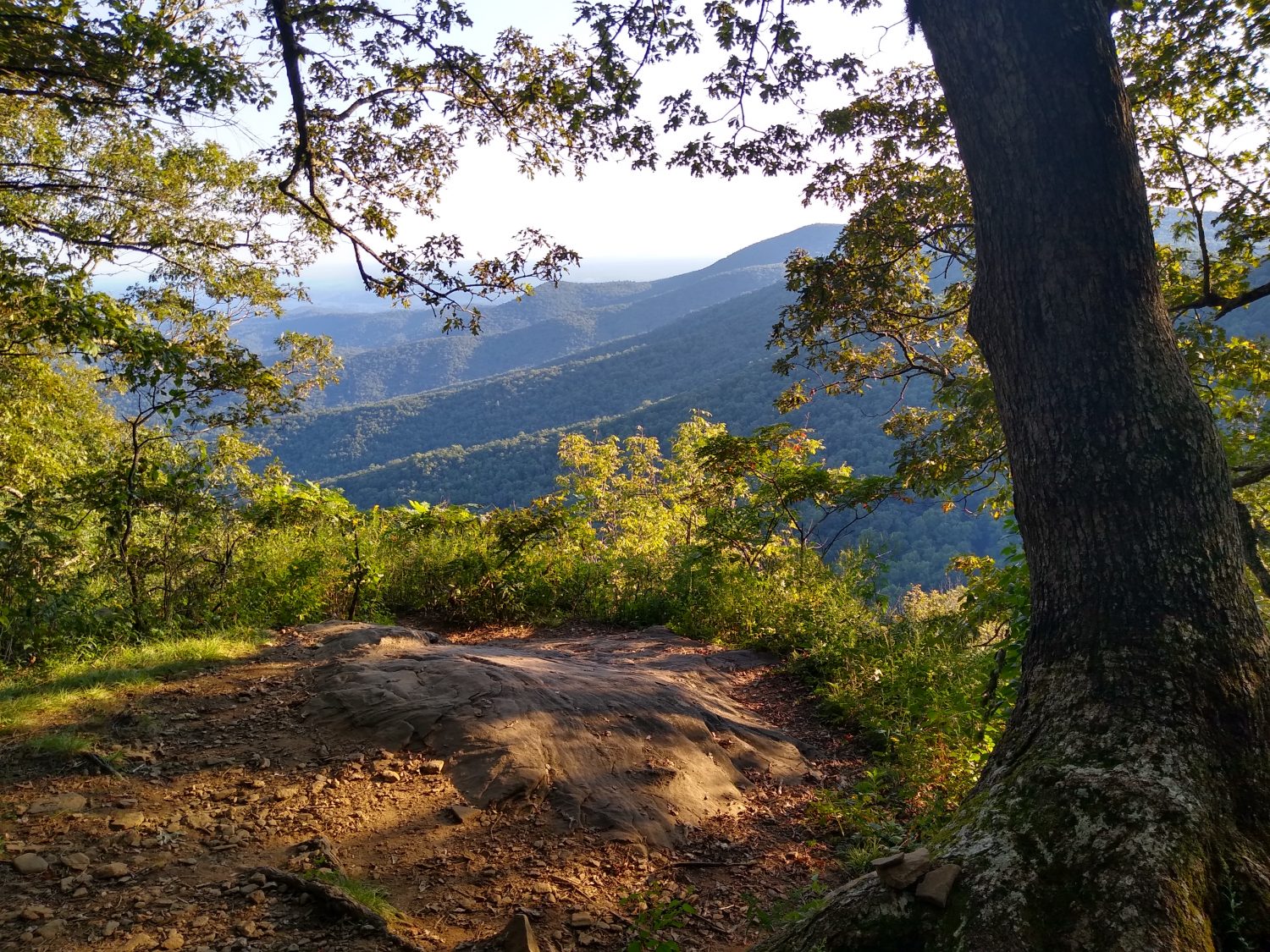 Today was a nice day. The temperature was pretty cool, but it got hot in the afternoon. I got a late start because I'm trying not to go too far today so I purposely laid in the hammock for an extra hour listening to music and then got up and took off around 8 a.m.
First stop was the falls at Long Creek. I remember stopping there 30 years ago with my dad and I remember them pretty vividly and when I got there they looked the same but they looked way bigger and the trail on the way to there did not look familiar at all. It's amazing how many things look the same and yet how many things look different. The trail leaving the falls also looked different and I thought I remembered that quite well.
I still can't get over how different it feels in Georgia in the summertime with everything green versus every other time I've been here it's been January through May and there's been no leaves on the trees . There is some tree that has a weird smell and I can smell that for about a mile at a time and it seems to pop up about every 10 miles I have no idea what it is but I'd love to find out. There are also a lot more rhododendron than I remember. North Carolina and Pennsylvania are the states I remember for Rhododendron tunnels but Georgia trees are shorter and have a different look. They don't arch over the trail the way they do in North Carolina but it's still a neat place to hike.
The shelters I passed today Hawk mountain and Gooch Gap are still there but the shelters are very different now. I think they both have been replaced. The old shelters I remember only sleeping 6 but these new shelters were two stories and could easily sleep 12. They were both in very good shape and look like they would be a good place to stay.
I didn't meet as many people along the trail as I did yesterday but there were still quite a few. I can tell this is still holiday traffic but now that the holiday is over I expect tomorrow to be pretty bare.
The stretch from Hawk Mountain shelter the Justis Creek is a little over 6 miles and there are signs and posts warning that there's no water and you need to carry plenty. I carried a little bit over a liter and a half and I made it, but I was basically Out of Water by the time I got there. I also got there later than I thought by almost an hour and I was pretty thirsty. I made my coffee at 3:30 which I'm used to having it around 2 but after drinking a coffee and half of a Gatorade I felt great for at least the next 45 minutes to an hour I need to make sure I can get my coffee between 2 and 3 so that I don't get tired in the afternoon.
I wanted to make about 15 miles for the day so I looked for a spot about that distance away and found that there was a mountain top that had a rocky out cropping and the comments said that there was campsites nearby. It was later than I wanted it to be when I got there maybe about 6:30 to 6:40 and the spots were not great but with a hammock you don't need a great spot. It's not too hard to make your own great spot. But it was hard finding a tree to hang the bear bag. But finally I found one even though it was a dead tree it looks to be strong enough as long as a bear doesn't get too determined to get my food.
I made my dinner out on that outcropping with the sunset going down behind the trees and it was a nice peaceful dinner.
I am only about 11 miles from Neels Gap and that's where I'm going to resupply. I counted the food that I have remaining to be prepared for tomorrow. I have two breakfast one dinner and three lunches so I need to decide am I going to try and make it all the way to Wesser which would require five and a half days of food or should I try and stop in either Helen or Franklin and make a shorter trip out of it. I haven't decided tonight but I'm sure by the time I get to Neil's Gap I will have made up my mind.
I feel pretty good physically. I'm tired, my feet hurt a little bit, my hips hurt a little bit from the hip belt. But my shoulders are fine, my calves are sore but fine, my knees are fine, and my hip sockets are fine. Overall everything is pretty good. Only one toe is a little bit sore.
The weather forecast shows warm afternoons about like today 83 to 84 as a high through about Friday and then a higher chance of rain Saturday and Sunday. Maybe I will be farther enough North and have a better luck of weather for the weekend. But the weekend is a long way away. Let's just worry about tomorrow for now.