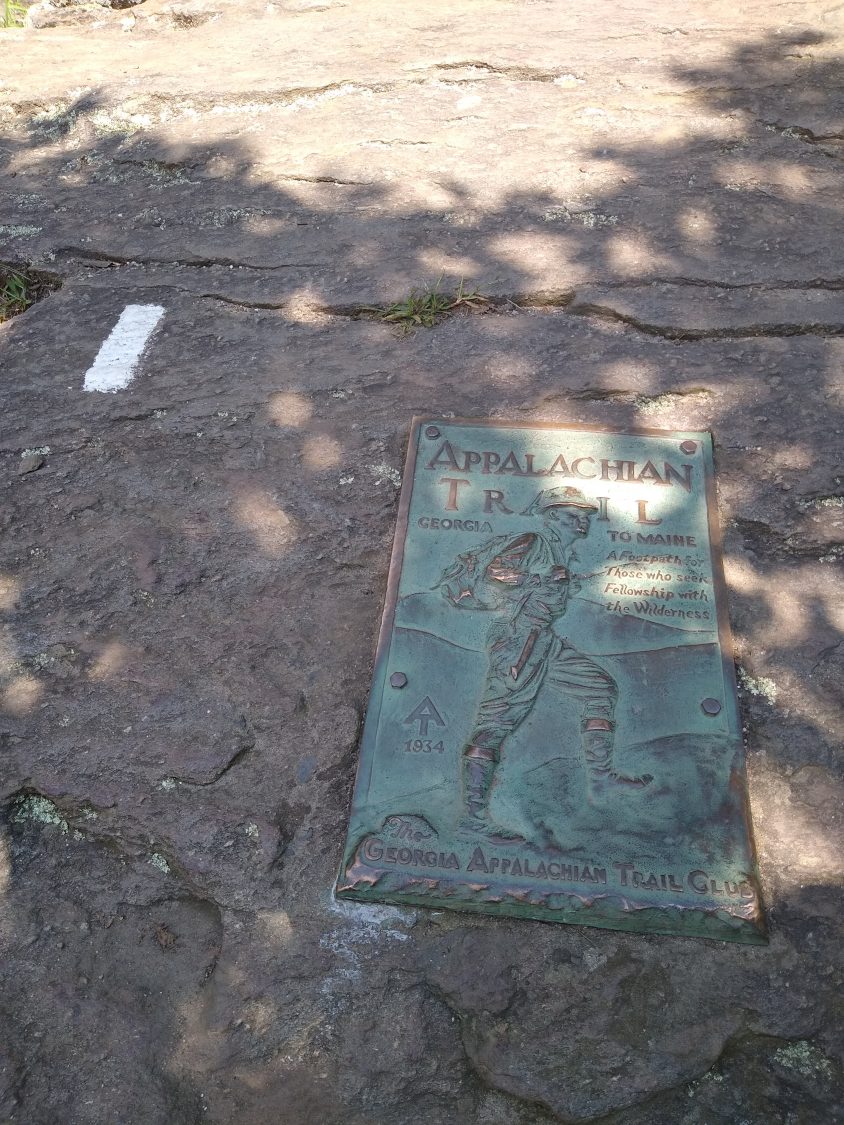 What? Only four and a half miles? Yes, but what is not told in the story is the eight mile approach trail. I'm not counting the number of this trip yet, but there are always numbers to count. I am purposely trying to limit my miles the first three days to 13 to 15 just to make sure I don't overdo it too early in the trip and injure myself.
The day started at the hotel with a leisurely wakeup, a quick shower, and a brown bag breakfast since the hotels don't want to deal with a buffet line during covid. Suits me just fine.
I got on the road and hit a Starbucks since the hotel coffee was horrible. Driving through the mountains was nice. We ended up getting to Amicalola Falls about 10, hit the bathrooms, then sent Karen on her way about 10:30 and I was off.
The first excitement of the day started before I even made it out of the lodge parking lot. I walked under a zipline and watched the people zoom overhead. It looks fun. I've never done it but would like to try it some day.
Since I started at the falls, I did not go through the arch at which you see everyone taking their picture. I don't even remember there being an arch thirty years ago.
At the top of the falls there were quite a few people milling about taking pictures. I squeezed in and took a quick one and was on my way.
The morning was quite pleasant. The temperature was not hot and a gentle breeze now and again kept me cool, but the uphill nature of the trail kept me sweaty most of the day.
I decided to try some cold soaking of ramen noodles for lunch. I added dried shitake mushrooms and TVP and it dually improved it. Twenty minutes is all it took. I stopped to soak them then kept hiking and stopped again later on Frosty Mountain to eat them. I will definitely be doing that more.
Later in the afternoon it got a little bigger but I took a break at the "new to me" Black Mountain shelter. It looked just like the one I remembered being at the top of Springer. After reading a bit, I found out it was the same shelter. At some point they removed it from Springer in a disassembled state and reassembled it at the new site. They also painted it a darker brown. It is in a good location in it's new home.
When I got to the top of Springer, it was not as I remembered it. It seemed smaller, more closed in, and more forested. The trees have grown for sure, but the rock itself looks the same. I took a quick picture, talked to a previous thru hiker from 1992 and headed on.
I took the side trail into the new shelter down from the peak and it was a nice two story shelter that looked like it could sleep at least twenty. One person was camped nearby and a couple I met on the trail had just arrived and were about to set up camp there.
I moved on and made it to the parking lot at the forest road and it had been expanded way larger than I remembered. I remember it being large enough for only six or seven cars, but now it could hold at least thirty plus lots of parking along the road. There was a guy all spread out there looking for a lighter. He spooked me so I told him I did not have one and moved on.
From this point onward, the trail should be more sparse. I was seeing a hiker every five to ten minutes up until this point. Three Forks is where intended to head and there is road access there, but I don't expect to see many hikers, just campers there. My guess was right, as there were three large groups there at the forks. Just a quarter mile downtrail, I could not hear the screaming kids, so that's where I stopped for the night. It was about six thirty, so I made camp quickly, got dinner cooking, and washed with the ample water from the stream.
One other unsuspected thing was finding out that Stover Creek shelter is no more but has been replaced by a nicer and bigger one. I met another hammock hiker there who was fixing dinner, so I chatted a bit and had some water then moved on.
All in all it was a good first day and I am glad that nothing went wrong and the weather was good. If I can keep a slow and steady pace for a few more days, then I should be ready to start pouring on the speed if my body will let me. It is neat that I am camped at essentially the same exact spot I camped at thirty one years ago. On almost the same day of the month too. It is now September 6th versus May seventh. It will be neat to compare how far I went each day back then with this trip. I have a feeling this one is going to go much faster. I am older, but also more experienced and have a much lighter pack and much better shoes. It is going to be an interesting comparison.