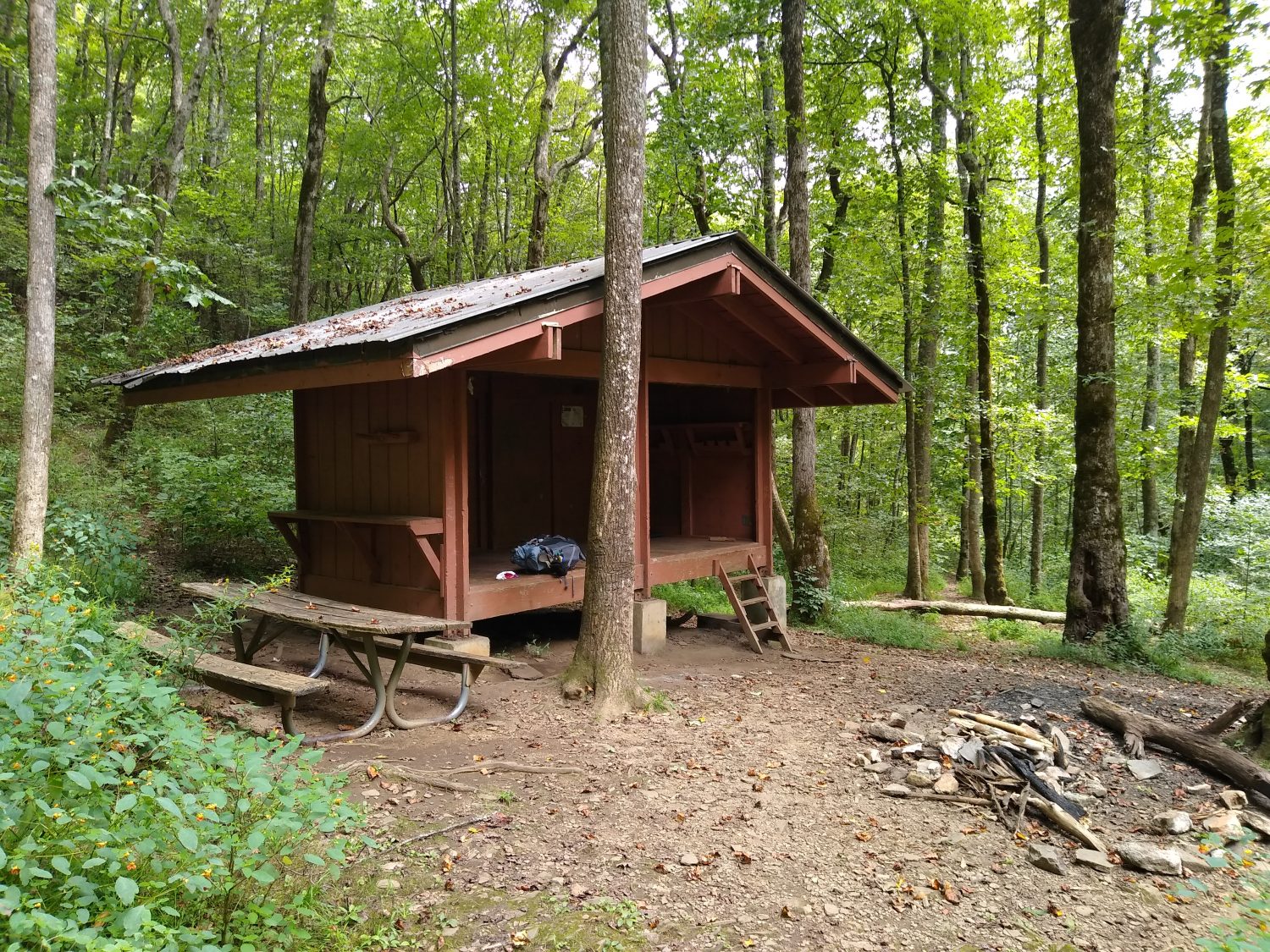 Today was the day I had to climb Tesnatee Gap. It was one of the memorable climbs in '89 for being really steep out of nowhere, and it was exactly as I remembered it, but maybe not as long. Even the road that went up to the Gap was really steep. That should be a warning that the trail is also going to be just as steep.
I got a decent start in the morning. I woke up about 6:15, was out hiking by 7:00, and was easily hiking for 30 minutes before the sunrise. It wasn't too cold. There was a nice cool breeze and a little bit of cloud cover made sunrise take a little bit longer than I expected.
The day as a whole was pretty uneventful. There was some climbing; there was some descending; there was quite a bit of level hiking that I didn't expect, so that was a bonus in the middle of the day. But the end of the day had a really rocky and treacherous stretch about a mile before the shelter where I was going to stop to see if I wanted to camp there. I slipped on a rock and fell and banged my knee a little bit but nothing too bad, just a little bruise.
A mile before the shelter there was a spring, so I stopped there and filled up and washed off my legs, took a quick little bath, and then headed up to the shelter. There was a couple up there who saw a bear about an hour ago, so I decided I better go ahead and stop here and use the bare cables instead of risking not finding a tree to be able to hang my bare bag.
I tried the Peak dehydrated dinner that I bought at Mountain Crossings and it was pretty good. I was surprised that it only took one cup of water. I didn't get my water boiling the first time so I had to restart the stove to get it hotter. After letting it set 10 minutes to rehydrate I stirred it and it was not very hot and a few pieces were a little crunchy so I stirred it and let it set another 5 minutes. A few of the whole beans were still not fully rehydrated but it was good anyway. It was a sweet pork dinner and the sweetness had a bit of spiciness to it as well. It reminded me of a Thai Sweet Pork dish. At $14 a meal I doubt I'll buy any more but if I could get them at a cheaper price I would definitely eat them again. They were very high quality.
I haven't looked yet to see where I want to try to end up tomorrow. Today's 18 miles was a decent distance to go. I wanted to go a few more but the bear being here and the trail only leading to Unicoi Gap would have made it a really long night so I decided I would cut today a little short and I'll see if I can add a few miles tomorrow. Tomorrow is supposed to be cloudy with a small chance of rain but by Friday it's supposed to start raining and rain for three straight days and nights. I need to make sure I'm in good shape and in good health before I try to push through rainy days.