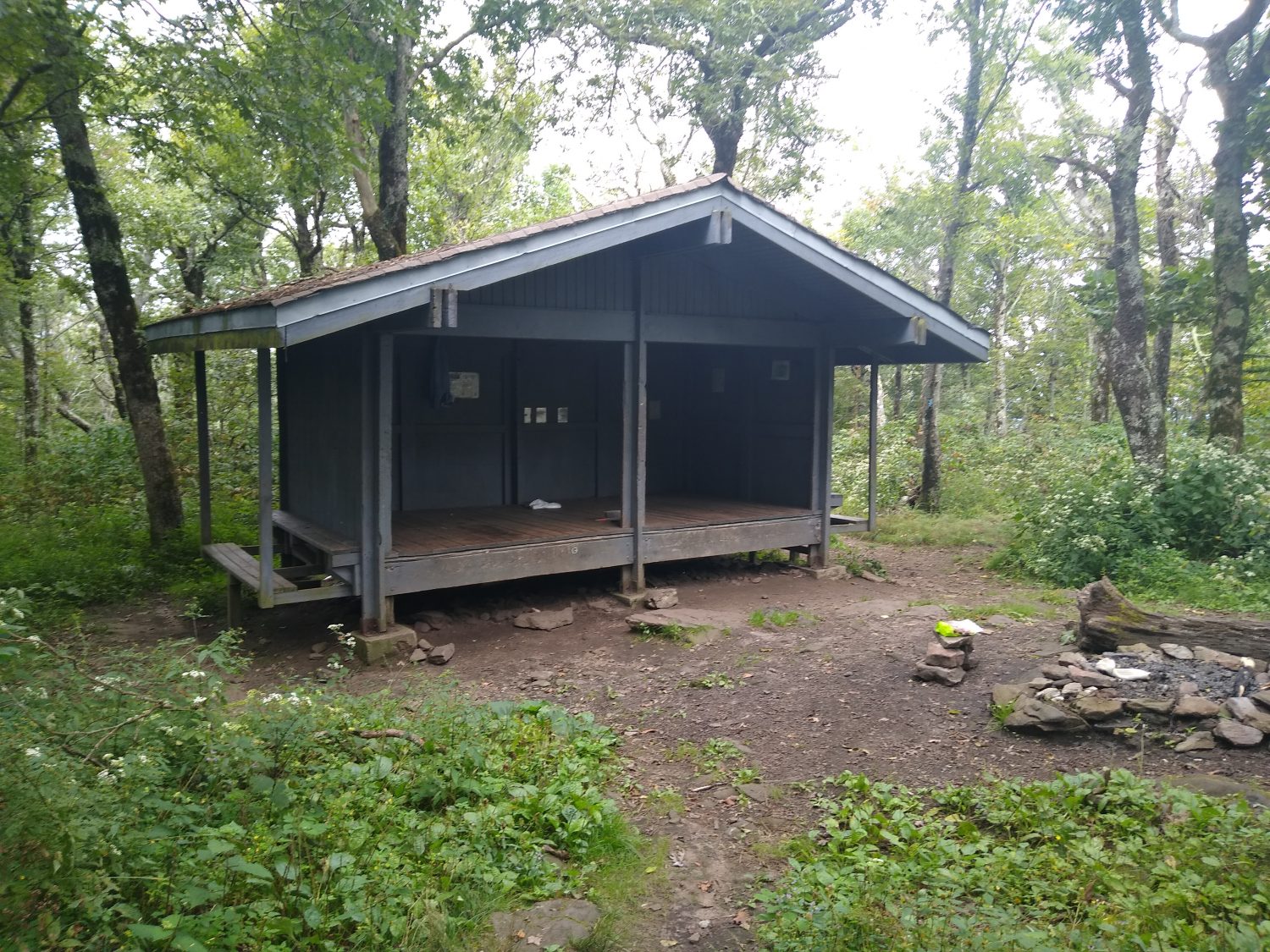 Today I finally got real rain for the first time. I wasn't expecting the rain to start until tomorrow but it went ahead and started today.
I didn't sleep that well in the shelter last night. I tossed and turned quite a bit. I didn't think I was sleeping but the time was passing faster than my brain is telling me, so I must have been sleeping. I woke up 45 minutes later than I wanted to but since I was sleeping in a shelter I was able to pack up and leave about 15 minutes faster than normal. I didn't leave the shelter till after 7:30.
The morning went by quickly. The temperature was nice and cool. There was a little bit of fog and clouds so everything got a little damp. I was able to make it to Tray Mountain shelter for lunch about 12:45. I passed the caretaker on the way to the shelter. He was clearing the brush by the side of a trail with hand hedge clippers. I stopped and chatted with him for about 5 minutes. He was mentioning that in the peak hiker season a lot of betrayal shuttles were closing down because of COVID. I don't blame them. I wouldn't want a stranger from who knows where in my car for 30 minutes driving into town especially if they stink like a hiker.
I finished my lunch and moved on in about 30 minutes. After I left the shelter it began raining. It wasn't a very hard rain but I did get my umbrella out and use it for about 15 minutes. Dwayne finally stopped and not very much got wet. The pack was a little damp. My feet were a tiny bit damp but not soaking wet. About an hour later it rained the same way again for about 10 or 15 minutes but this time I didn't bother to use the umbrella.
At about 5:00 it finally did rain and it rained hard. It rained for over 45 minutes and it rained so hard that everything got soaking wet. The trail was a river and I had to step right through it. In less than 5 minutes my shoes were sloshing wet.
My coffee kept me fueled but I needed a little extra kick so I made an energy drink as well at about 6:00 after the rain stopped. I had to keep my pace up to get to the spot where I wanted to camp before dark. I was cutting it very close. I found a ridgeline that had some big trees that I could hang from. It was just before 8:00 when I got there and it was a little bit darker than I really wanted. I had to use the light to set up the hammock and cook my food.
Now that I'm finally in the hammock I'm still a bit miserable because there's zero breeze at all and it is very very hot. I cleaned myself as best I could before I got in the hammock but I'm still so sticky and clammy from all the sweating today. It's not very comfortable laying here with no breeze. I'm just hoping that one picks up soon so I can cool off and go to bed. I haven't figured out how far I want to go tomorrow but I guess I've got to figure that out now.