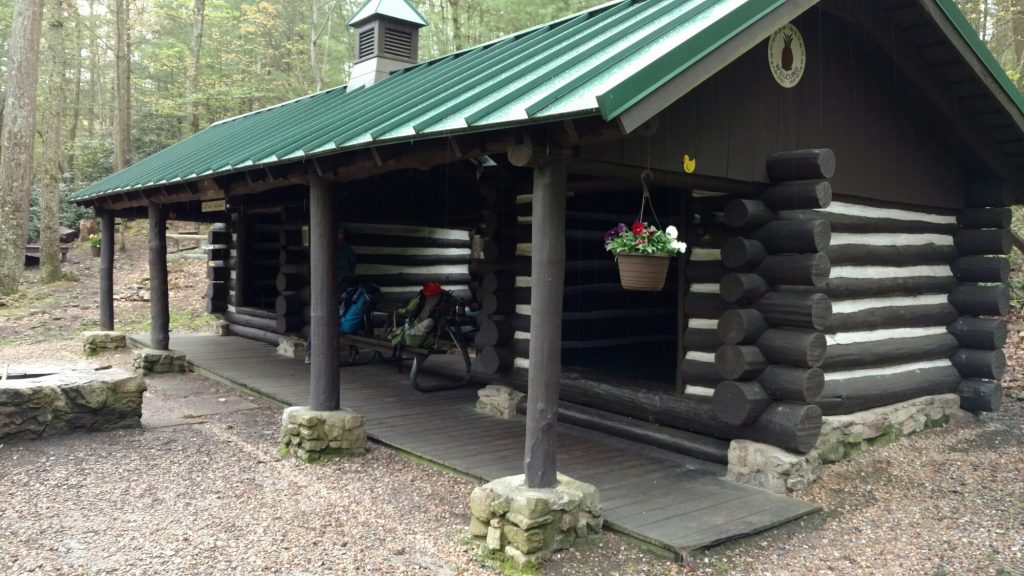 Today was a very challenging day.  We knew it was supposed to rain all day but I don't think we were mentally prepared for the cold.  It rained a few times in the evening but we were snug in our shelter with four other hikers and slept pretty well.  We set out early while it was not yet raining and three young hikers that starter in Georgia in March passed us like we were standing still.
We made the quarry gap shelters by 10 am just as the rain began.  These two shelters have a semi permanent caretaker that calls himself the innkeeper.
The innkeeper has flowers planted around the shelter and hanging baskets and really makes it seem not like an AT shelter at all.
We ate peanut butter and jelly and decided maybe we should cook a double batch of noodles since we would not want to stop in the rain.  That turned out to be a very wise decision.  It was another 7.5 miles to the next shelter and the rain was constant all day long.  We managed to keep our feet dry for about thirty minutes but that was all.  After they get pretty soaked you don't really care where you step and be basically went straight through all the puddles just to keep going.  Luckily there is a cabin about five miles away where we could sit on the porch and have a quick snack before heading on.
We did finally make it to the birch run shelter at about 4:30 and we were both chilled to the bone.  I'm not sure what the temperature was but I am guessing about 50.  The shelter is quite new, quite large, and quite nice.  And it's dry.  The picnic table is covered so as soon as we changed into dry clothes we immediately began cooking.  Mashed potatoes with tuna and chocolate pudding for dessert.  Another hiker gave us a cliff bar so that was second dessert.
We will likely have to have one big day either tomorrow or the day after in order to be able to hike across the Cumberland valley which is a 14 mile stretch with no water and no camping.  We also need to resupply in Boiling Springs.  We will see how the weather goes tomorrow and make our decisions then.  But for now it's off to bed at 7:30, not quite yet hiker midnight.