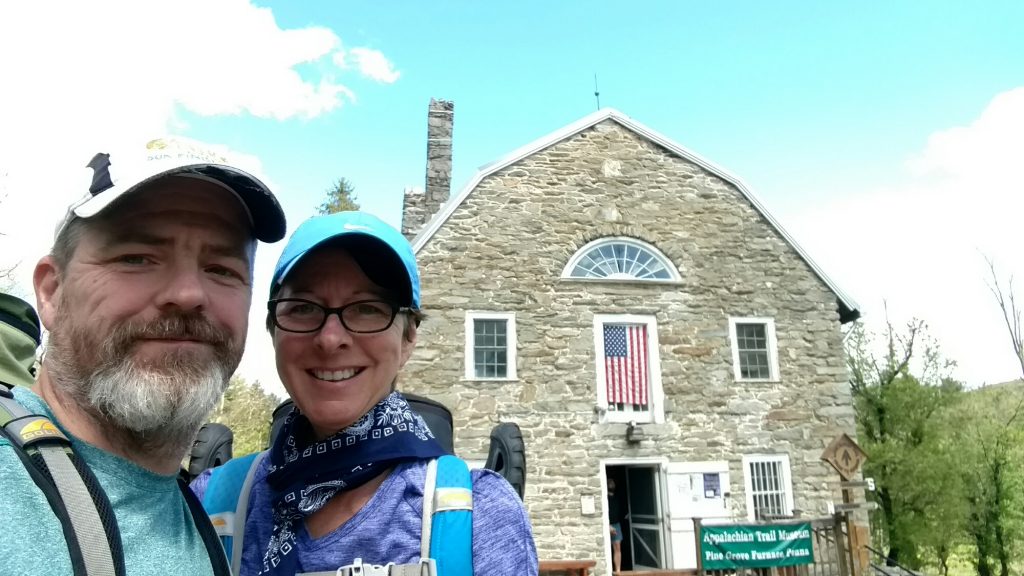 After the crappiest day of the trip yesterday we probably had the best day of the trip today.  The cold rain of yesterday had us really bummed and if not for the nice big shelter our spirits today probably would have started of sour.  The morning was misty but not raining and pretty chilly.  We made good time to get ten miles to Pine Grove Furnace Stage Park for lunch at 1 PM.
This park is special to me because it is where my 2010 section ended and Karen's cousin in PA picked me up.  It is also where I started in 2011 and my 1989 hiking partner, Donald, dropped me off and hiked with me for a day and a half.  It was weird because even though we had spoken a few times, we had not seen each other in over two decades yet it felt as if we were picking up a conversation from just a few weeks ago.  Since we are near where he lives outside of Harrisburg, we are planning to see him in Boiling Springs tomorrow.
Once we got to the state park, we dropped our packs and headed straight for the park grill.  It's only open on weekends so we timed it perfectly.  Karen had a cheeseburger and I had a hiker burger which is a cheeseburger with a fried egg and bacon.  We shared a large order of fries and could not finish them all.
We were so stuffed that we did not even eat dinner tonight.  We just had two cookies and some cheese and cracker crumbs.
The park is also home to the official Appalachian Trail museum.  They have interesting artifacts from key figures from the trail.  One of the artifacts they have is a pair of Keds sneakers that Grandma Gatewood wore in the 1950's.  They were huge!  They looked like a men's size 12.
We are now camped beside a creek after about 17 miles today.  Tomorrow will be a shorter 11 miles to meet up with Don.  We have our hammocks set up facing each other again and we are in our cocoons texting and e-mailing home as a gentle rain is beginning to fall.
Cell service in a valley in southern PA in a dry hammock with a full belly.  It doesn't get any better than this.
The weather forecast for the next two days is mostly sunny with very little chance of rain.  I am looking forward to tomorrow and seeing Don and Karen is looking forward to the day after where we walk 14 miles across the Cumberland valley through farmland.