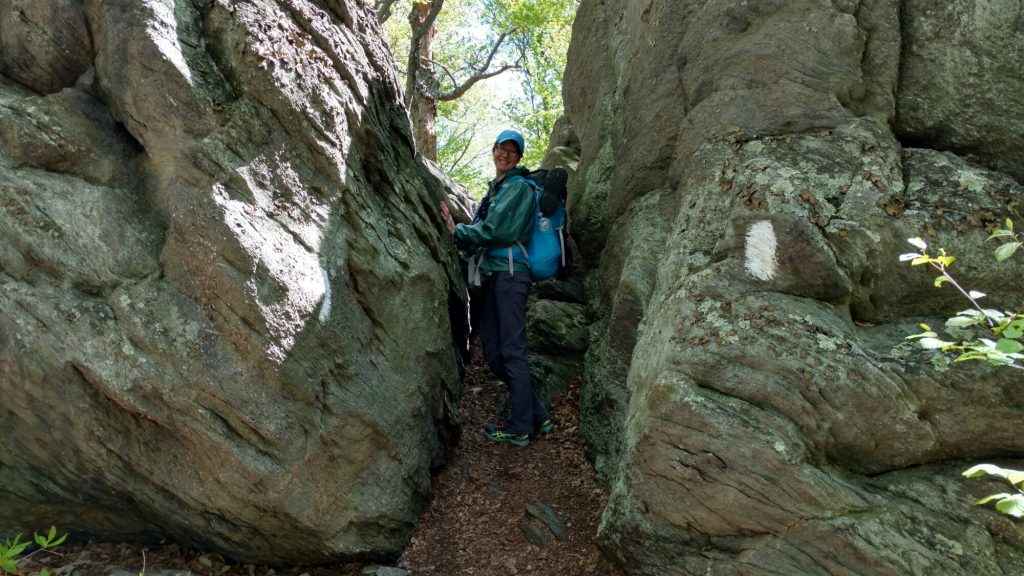 Today was a long day.  We had a great campsite last night and got a late start at about 8 am.  The terrain started off pretty mellow but quickly got steep and rocky.  Our intent was to try to meet Don in Boiling Springs between two and three but the terrain slowed us down more than expected.
Even though I have hiked this section not too long ago and thought that I had remembered it pretty well, I don't remember there being stiff climbs up to the rocky mountain tops.  Being a weekend, there were lots of day and weekend hikers out as well as two separate groups of kids bouldering on some of the bigger rock outcroppings.  They had brought giant pads with them and all of them fell repeatedly.  We sat and watched them for about fifteen minutes.  Both groups were doing negative climbs.  They were basically hanging upside down from the rocks.  I have no idea how they even got as far as they did.  We had a hard enough time just navigating the maze of the trail in-between the large rocks.
The weather was quite warm today and hardly a cloud in the sky but the breeze at the mountain tops was quite chilly and had us donning out rain jackets several times.  By about two in the afternoon it was finally warm enough to ditch the jackets for good.
We made it into Boiling Springs by 3:45 and Don was sitting on a bench by the lake waiting for us.  There were tons of people walking around town.  There either was some event going on or just mothers day celebrations.
Don took us to Walmart to resupply and get some foam and Gorilla tape to rig Karen's pack to make the hip belt fit better.  Her waist is so narrow and the hip belt only goes so small because of the pockets on it, that it has been riding a little low on her and pulling down on her shoulders.  We put another layer of foam inside the belt to make it ride higher.  We have one more layer of foam and are keeping the Gorilla tape in case we need to add a second layer.  If this does not work, we will have to hit an outfitter to see about getting her another pack that fits her better.
Dinner tonight was at Chili's and we had a good talk with Don.  He has started taking his boys hiking and backpacking to one of the shelters near here.  After dinner he dropped us off near the hikers campsite where we repacked and are ready for a day of hiking through farmland tomorrow.