It is nice to be on real trails again. But I will miss having a toilet and a shower.
Waiting out the Rain
The forecast kept changing a little bit, but early in the morning the expectation was that it would start raining at 7:00 a.m. and end shortly after 10:00. This would be absolutely perfect for my schedule, as check out time is 10:00.
I woke up and started getting things ready about 6:30. Packing the food bag was the hardest of all. I have so much food that I can't close the bag properly. I have to leave the food that I will be eating today outside of the bag.
I have eaten on my leftovers, drank all my smoothies and milk, and I have everything packed and ready to go by 9:00. There is nothing left to do but wait out the rain. An hour of television will help that. HBO just happens to be showing Dune so I watch an hour of that.
The entire trip so far I think I've only watched about 20 minutes of television. It's just so horrible these days. But an hour of a movie I can deal with.
At 10 minutes till 10:00, the rain has stopped. Time to make a break for it. There is water dripping from the trees but it is no longer raining.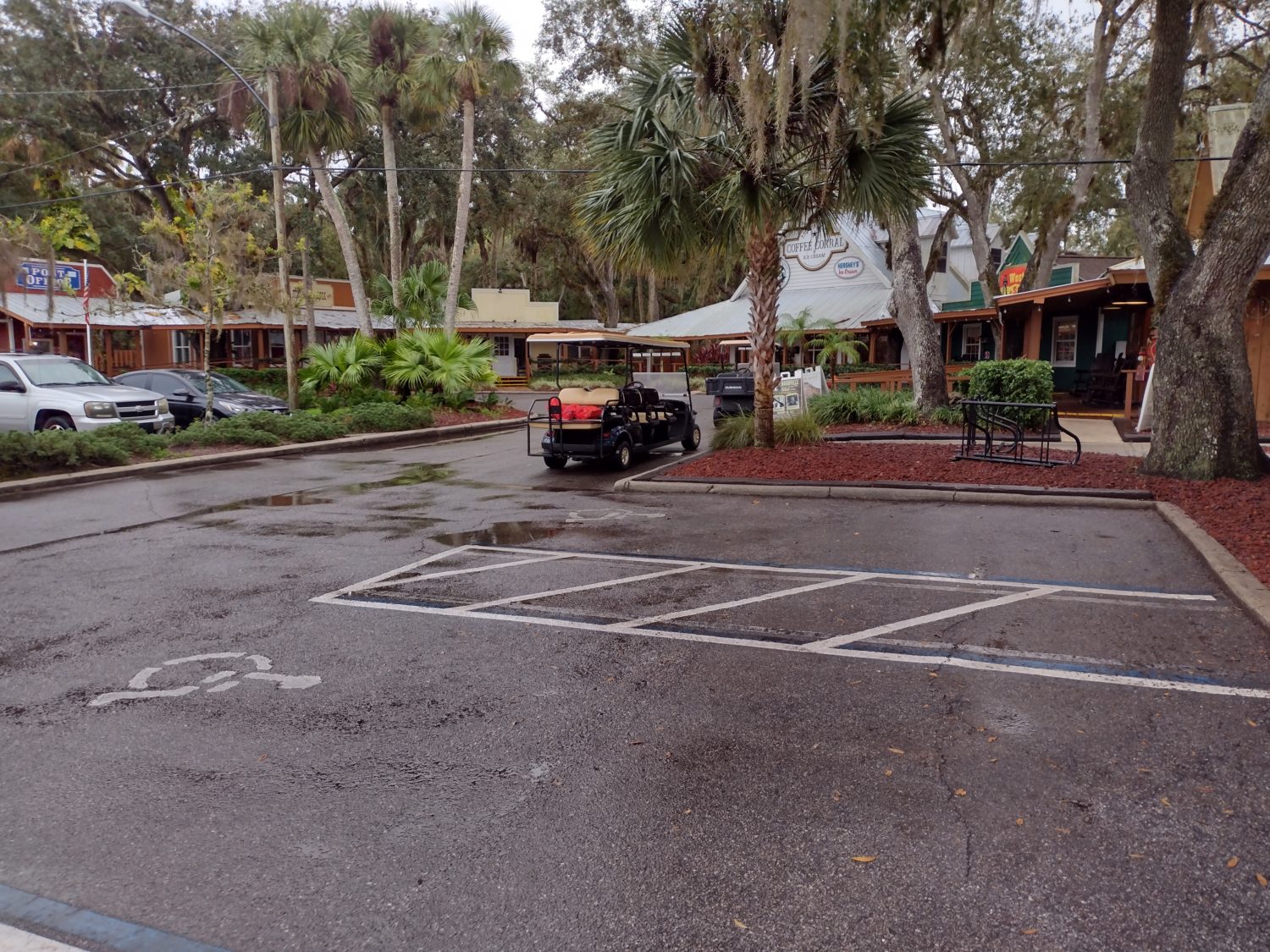 I go and check out then run by the general store to grab a croissant to go. I am finally leaving the resort.
Road Walk Number One
It takes about a mile to just get off the resort campus and through the main gate.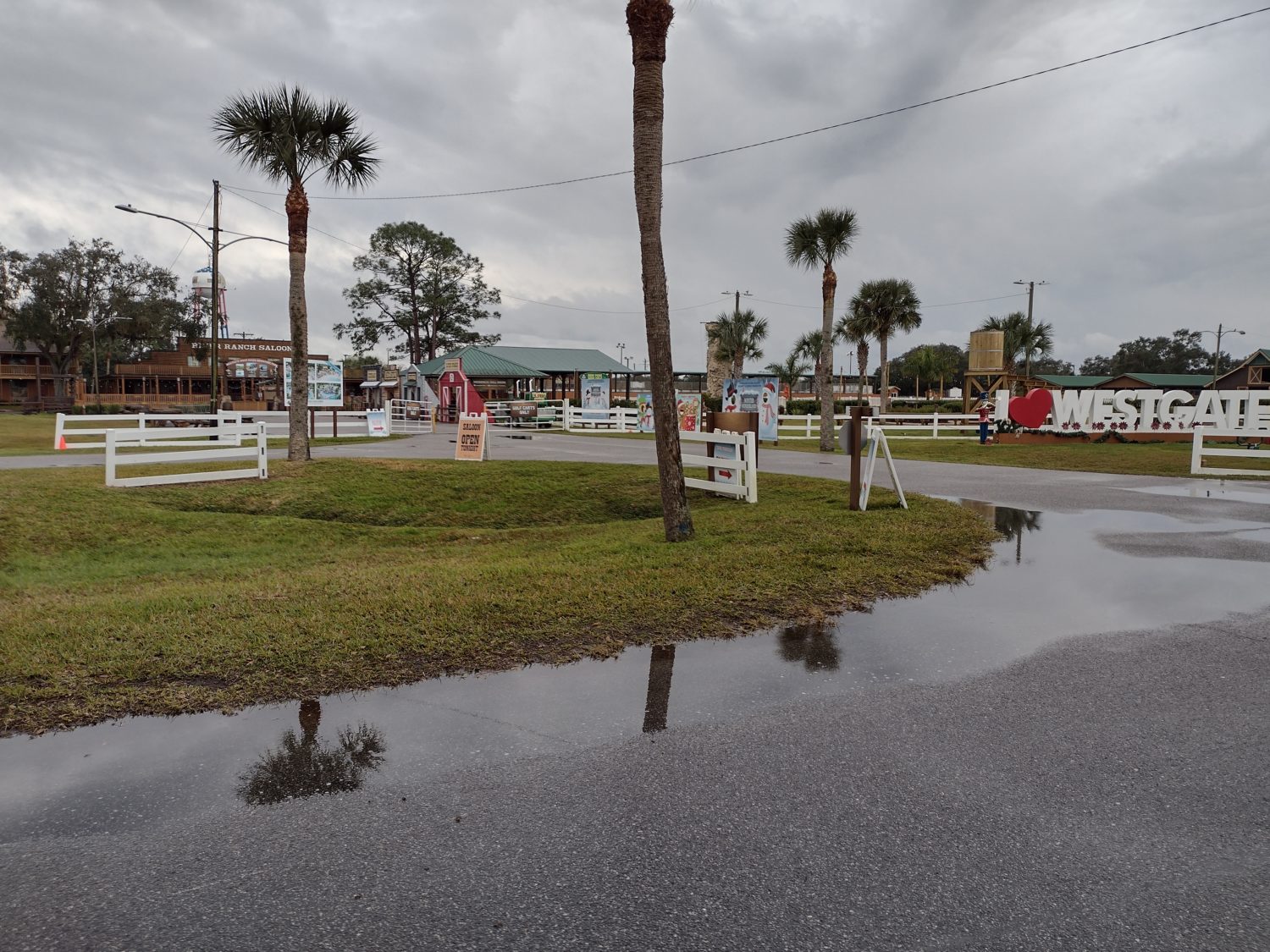 The next 2 miles will be on the same road. The trail then turns into a managed area for another 2 miles. This will be the last wooded trail I will see for a while today.
Road Walk Number Two
Once the two mile wooded trail ends, this time for the big road walk. I have about five and a half miles to walk on State Road 60. This is a very high speed and heavy traffic Road.
The first half mile is just getting to the bridge that crosses the Kissimmee River for the last time. Luckily there is a pedestrian walkway on the north side of the bridge.
Other than this walkway over the bridge, I will be walking on the grass shoulder for 5 plus miles. It is somewhat sloped but it is not as bad as some others. The grass has been mowed fairly recently, so it is not terribly unpleasant.
It is a little bit cloudy and quite breezy during the walk. I am cool when the sun is covered and I am warm when the sun is shining. It is too windy to use the umbrella and I don't want anything to block my vision of the cars. The hot and cold cycle is perfect.
It takes about 2 and 1/2 hours to complete the road walk with two small breaks along the way. When the road walk ends another one begins.
Road Walk Number Three
I enter the Wildlife Management area on a dirt road. I have to follow this road for another three or four miles.
When the road comes to a hunting check station, there is a hand pump so I stopped for water and decide to eat lunch. It's a late lunch as it is about 2:30 in the afternoon.
The trail begins behind the check station. I will be hiking trails that zig zag across this road for the next 40 mi or so. But tonight I am only worried about 10 of them to the campsite.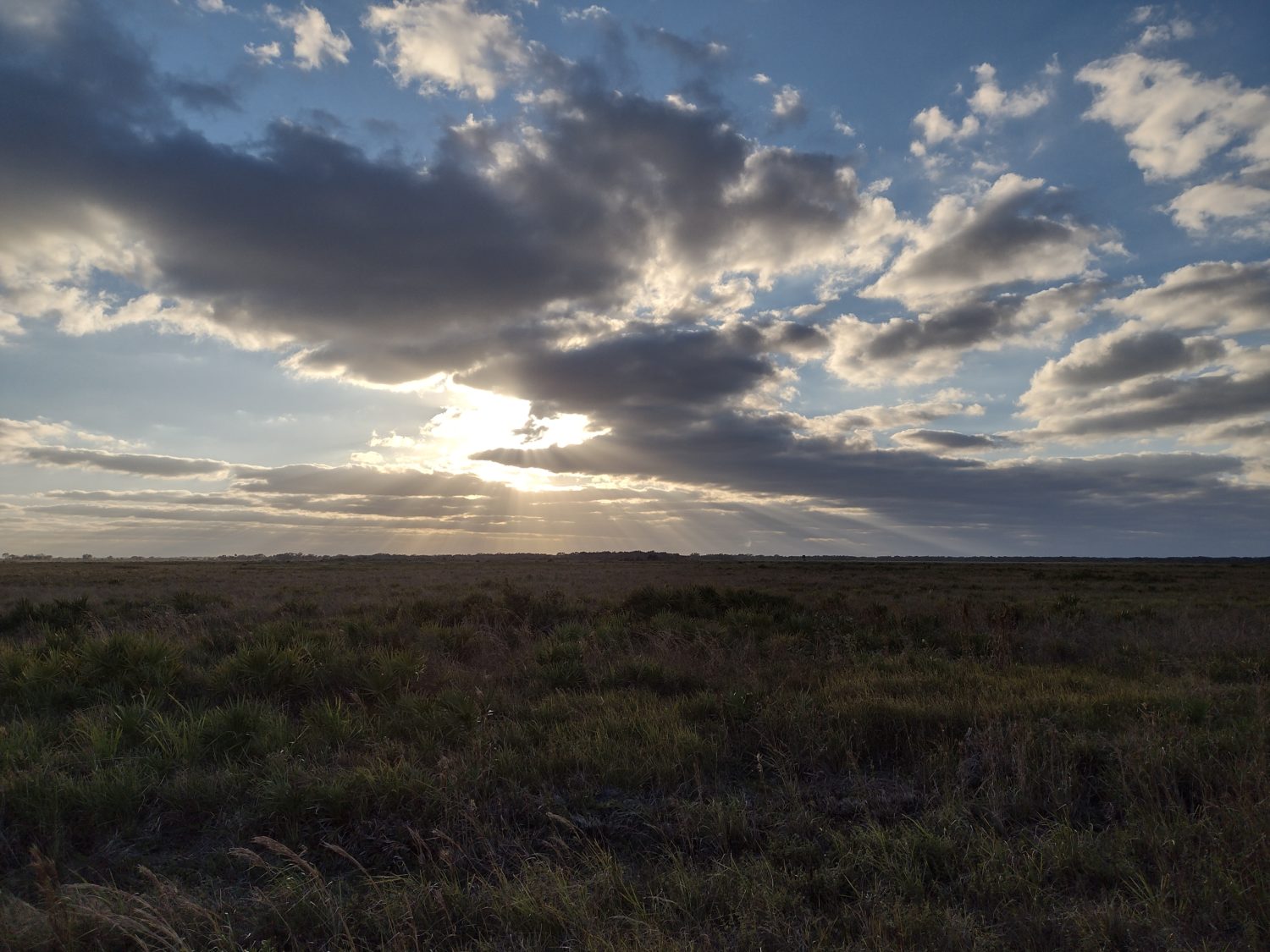 After doing a little math, I figure out that it's going to be dark by the time I get to the campsite. Oh boy. There is one campsite just ahead of the trail but it is way too early to stop hiking.
Future Road Walk
There is another really bad road walk that I have coming up in about 3 days. I am timing the next 3 days so that I can camp at the very last campsite before that road walked begins. This will give me the maximum amount of daylight to finish that road walk.
For this reason I can't stop at the close campsite. If I stop now it will just make tomorrow and the next day worse. I need to try and push on now to see how far I can get.
The trail in this area is very wide open grasslands much like the Kissimmee Preserve State Park was. The difference being that these trails are not flooded like the state park.
The wind is quite strong because there are very few trees. And with the cool temperatures and the cloud cover I am getting a little chilly. The only thing I have convenient is my rain jacket which would absolutely cook me if I put it on. In this case it is better to hike a little cold than to get all sweaty for nothing.
Time to Camp
At about 5:30, I am still more than four miles away from the campsite I am aiming for. In the Wildlife Management areas, you're supposed to camp only at designated sites during hunting season. It is still hunting season here until January 26th.
But I spot a very thick tree line of oaks and palmettos. This will provide lots of protection from the wind and the dew. This is an ideal place to stop and camp so I decide to go back away from the trail 100 yards and stealth camp.
It is already starting to get dark, so they set the tent up very quickly behind a set of palmettos to block the wind. After that is done I go away from my tent to cook dinner.
By the time I start cooking, it is already dark enough that I need my flashlight. I have one of the OnTrek meals that I decided to try for this trip.
This particular brand requires you to cook the meal in the pot. Most dehydrated meals you just pour water into a bag and eat out of the bag. That is one thing I really don't like about this brand.
Another thing that I don't like about this brand is that this particular meal is horrible. It is called Shepherd stew. It is basically just potatoes with some flavoring and vegetables added. I don't think there is any meat in it at all.
It requires a large volume of water which is really beyond the comfortable limit for my pot. There is a vegetable bag that needs to be boiled for 2 minutes. Then the rest of the ingredients go in the pot.
It is nearly impossible to get everything in without having some spill over the edges. I am careful to capture anything that has spilled. This meal takes up valuable propane for no return. I am never buying this brand again.
Once everything is cleaned up it's time to crawl into the tent. It is still quite windy and it is starting to get chilly. The forecast says it will get down to 37° tonight. My bag is rated at 40°.
This means I will be wearing the long johns and the down jacket to bed. As I am changing it is quite cold in the tent. But once I get all my layers on I am very toasty. Let's hope I am still toasty at 6:00 a.m.
Emotion of the Day
Today's emotion is dread. But it is probably not for the same reason you are thinking of.
I am not a fan of the busy highway road walks. But these three today did not cause me dread.
The temperatures in the 30s for the next four nights are not causing me dread.
What I am really dreading is having to eat five more meals made by the same company. I don't know how many I have on this stretch until Orlando. I will have others scattered throughout other boxes for the rest of the trip.
Most of my boxes have extra freeze dried meals in them to extend the food I will be buying locally. As I encounter these in the future, I may end up pitching them unless they look really good. Or I may just end up buying additional food as back up.
The thought of having to buy additional food that I may or may not need and carry it causes me dread.