The weather has definitely changed. It was cold last night and chilly most of the day today. Not the best and days to have headache.
Brrr Chilly
The temperature was supposed to be 37 last night. My sleeping bag is only rated for 40°. So I wore additional layers to sleep. Except for my nose, I was toasty all night.
But getting up in the morning was another matter. It wasn't as bad as I thought it was going to be to change clothes, but it wasn't super fun.
The cold made it take a little longer to get going. I think I was finally hiking just before 7:30. But I started getting ready around 6:00.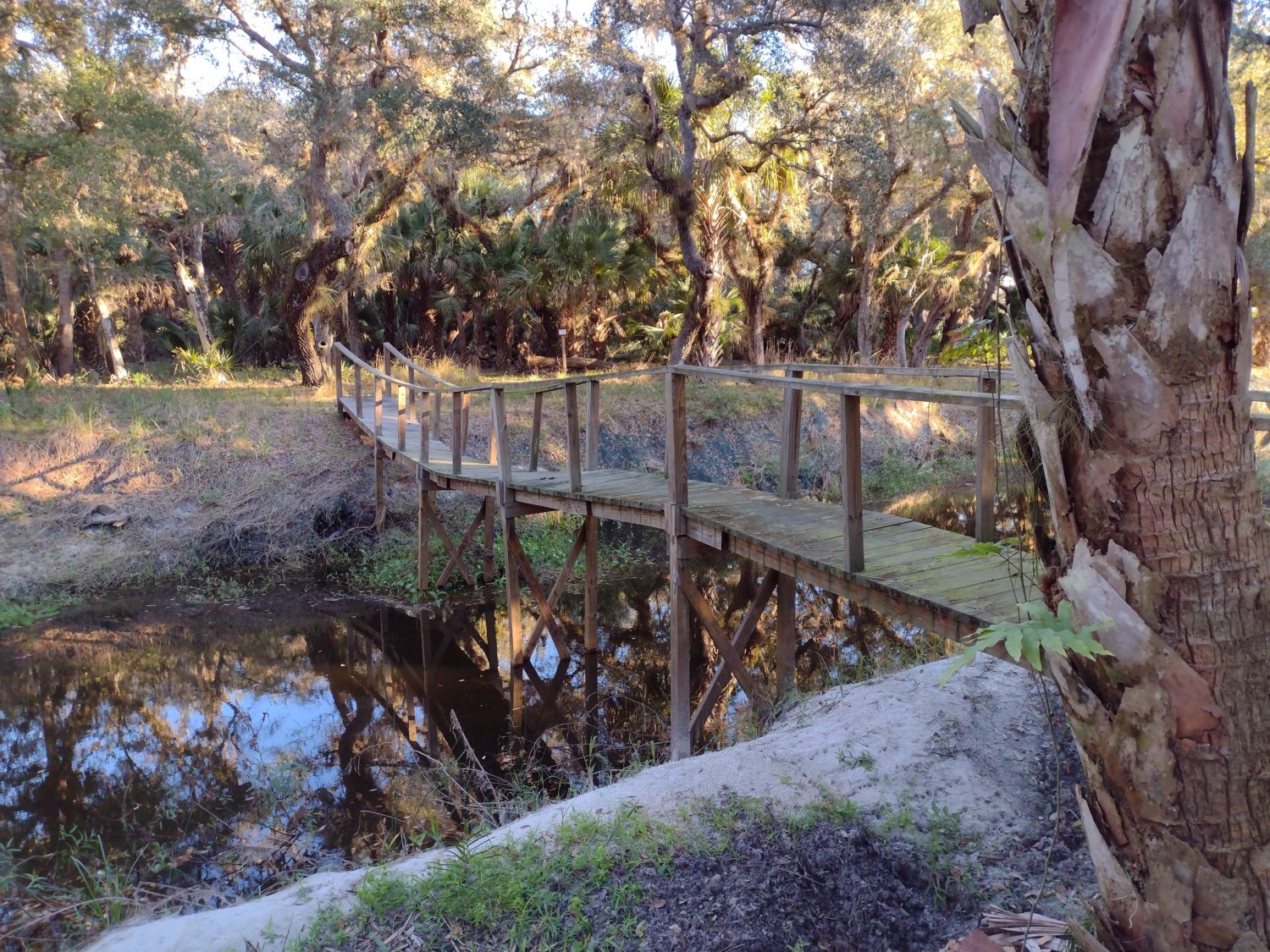 Breakfast was coconut granola by the same OnTrek company that made my horrible dinner. How can they possibly screw up granola? The answer is by using a creamer that won't dissolve in cold water. It was a fatty gooey mess. It didn't taste bad but it was very unpleasant to eat.
The trail all morning was in and out of fields, oak hammocks, and palmettos. It looked like typical Florida.
Headache
I started getting a small headache as I was getting ready to start hiking. I was drinking coffee every morning at the resort. And now I'm faced with a caffeine withdrawal headache.
I purposely drank coffee yesterday afternoon to try and combat the inevitable. I also tried drinking some more this morning. But when these things start, there's just no stopping them.
By 10:00 in the morning when I stop to have a snack break, It was throbbing pretty good. I was headed to a campsite that I should reach by 1:00 to make lunch.
The last hour to the campsite the headache was so bad I was actually feeling nauseous. And when I got to the campsite I had to cook Pad Thai and force myself to eat it.
I was definitely not feeling well.
I went ahead and left the campsite at 2:00, but by 2:30 I just couldn't go any further. I found a nice sunny spot in the trail and just laid down on the ground for 30 minutes and took a nap.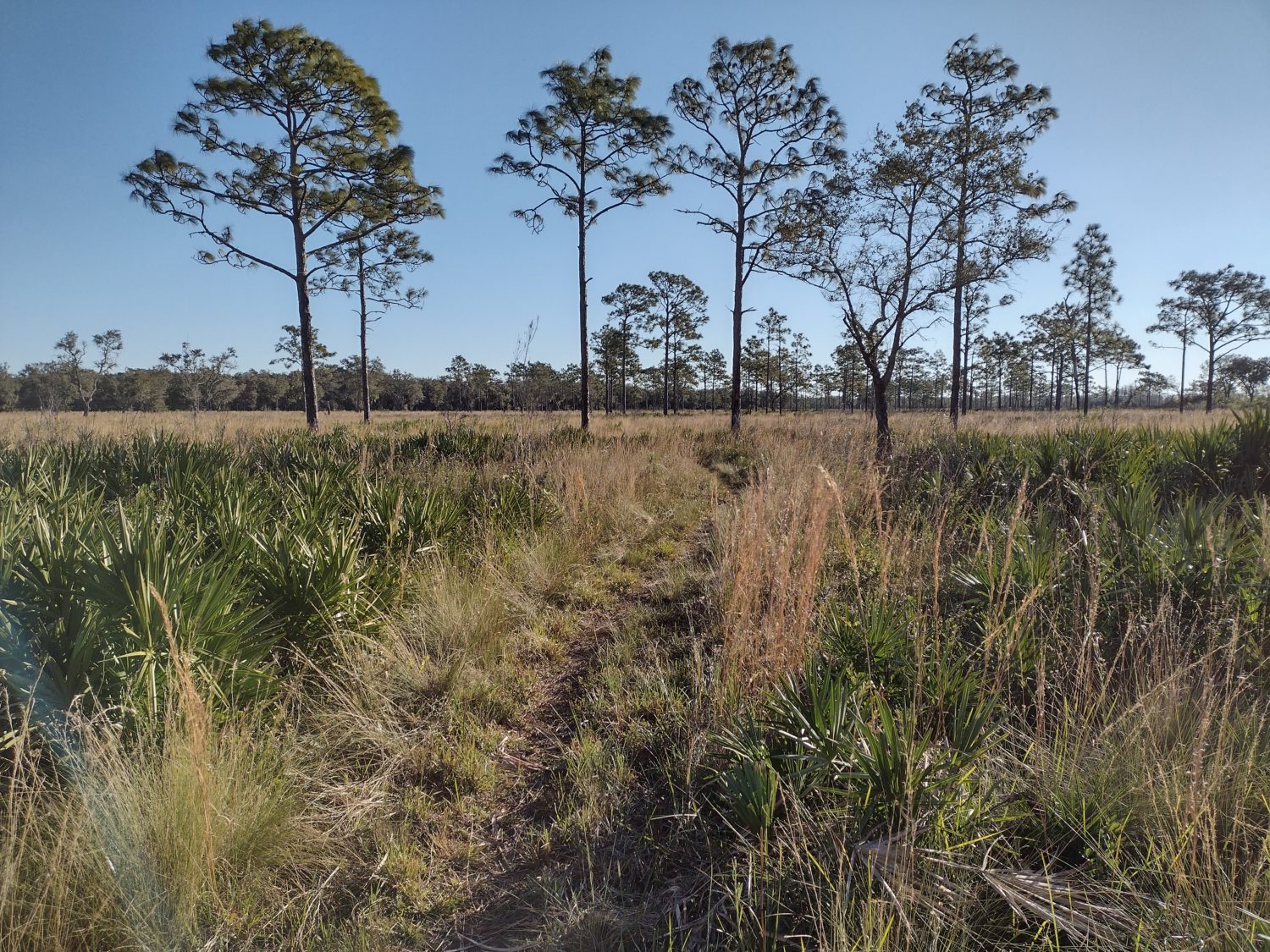 When I woke up from the nap it was as if a light switch had been flipped. I no longer felt nauseous and I actually had energy. That's a good thing, cuz I still have plenty of miles to go today and I can't afford to stop short.
Can't Slack off Today
The day after tomorrow I start a very long road walk. It is important that tomorrow night I camp at the very last campsite before the road walk begins. Today needs to be a longish day so that I can be close enough to that last campsite to be able to rest a little before the big day after that.
It's already too late to make the campsite I wanted to make, but there should be opportunity to camp in some of the woods on the side of the trail. I will just hike until 6:00 and then try and find a place to camp.
There are also two major road events for today. The first one is crossing under the Florida turnpike. That one is uneventful as I'm just passing through a single lane underpass under the rush of traffic above. They never even knew I was there.
The second one is a two and a half mile road walk on highway 441. This one is not very long but it is at the end of the day when I am tired. I started just after 4:00 p.m. and finish at about 5:15. That'll do
Find a Campsite
There is a creek where I can filter water from right as the trail enters the woods again from the highway. I go ahead and filter a liter and a half because I will be camping at some random spot that won't have a water source.
Shortly thereafter, the trail passes by an animal rescue. I can see that the compound is very large but I can't see very many of the animals. One that I do see is a male lion. I am glad there is a fence between me and him.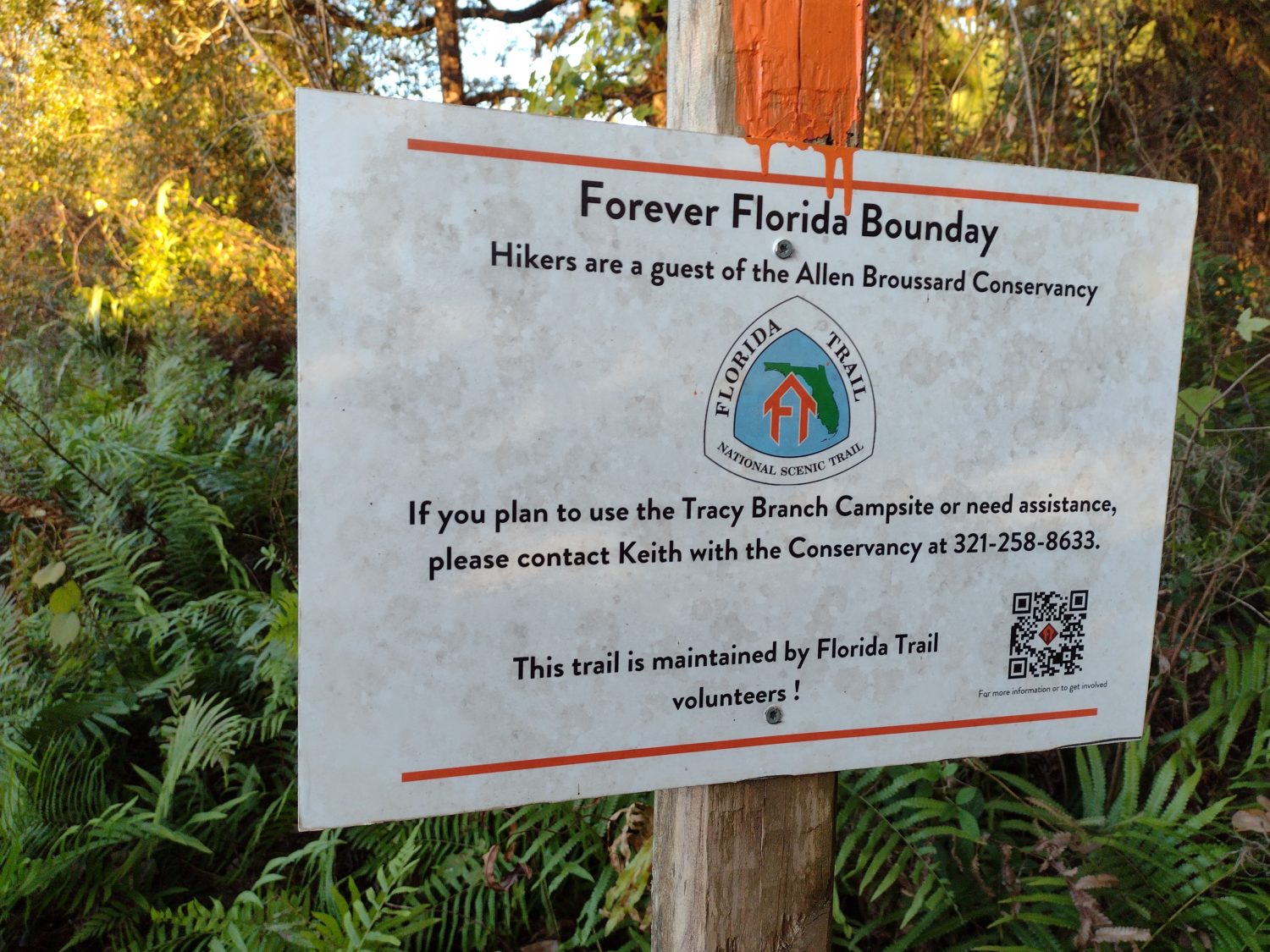 He and some of the other animals start to make a ruckus as I pass by because they know I am there. They're not your normal Florida animal sounds. These are all exotic cats.
Shortly after 6:00 p.m. I do find a place to stop and pitch my tent. It is not been as easy as I expected because the ground here is fairly marshy. But the site I select looks like it will be nice and dry and under an oak tree.
I dig through my food bag to see is what for dinner tonight. It is definitely not an OnTreck meal. It is Mountain House Chana Masala. I have never had this flavor from this company before, so I hope it does not upset my stomach.
I eat my tuna while I wait for the Chana Masala to rehydrate. The tuna fish is still very good and satisfying. The Chana Masala is not fully rehydrated and overpowering in cardamom. That is a very pungent spice. This will be the last time I buy that flavor too.
It is supposed to be 32° tonight. I will wear the same garb as last night and hope that the extra toastiness is enough to keep me warm tonight.
All day I was cold until I took my nap. But after then I have been warm. But now that I have changed and I'm ready to go to bed the temperature is dropping very rapidly. Let's hope I can sleep well.
Emotion of the Day
It's not a word I would have dreamed to pick for a daily emotion but it's going to be nausea.
Getting caffeine withdrawal headaches, I am used to. Getting one so bad it makes you nauseous, I am not used to. Today was a really weird day.
The headache was bad enough. But the nausea made me not want to eat. And not eating means you can't hike.
I am very thankful that the nap in the afternoon actually made me feel better. Because without that I doubt I would have even been able to finish the road walk along 441.
No more morning coffee for the rest of the trip. It's going to be decaf only before noon just like at home.