This was a surprise of a day. The State Forest was very interesting. I was not expecting a trail on a bluff way above a river. I was also not expecting so much road walking.
Bye Bye, Palatka
I was in no rush to get out early this morning. The internet was just too good and I had many posts to upload. The pictures were uploading faster than anywhere on the trail so far.
Breakfast was scrambled eggs, sausage links, and yogurt. It's better than dry granola. It was too early for regular coffee, so I had a cup of decaf.
To my amazement, I was able to schedule an Uber ride out of Palatka back to the trailhead. I sure could have used it last night.
What Uber said would take 7 minutes to pick me up ended up being nearly 30 minutes as the driver was driving all over the town probably with other fares.
I knew I had time to run across the street to the gas station to grab a sandwich for the road. Sometimes delays can have perks too.
The Palatka Lake Butler Trail
This is a rail trail that I have ridden many times with Karen and her sister. We usually start in Keystone Heights and then ride out towards Palatka. For the next 3 miles, I will be traveling on this trail before turning north to go to Gold Head Branch State Park. I will return back to the same trail sometime tomorrow as I make my way through Hampton towards Lake Butler.
I will probably end up spending 3 days on this trail.
Much like with road walking, the camping opportunities will be very limited.
The trail turns north away from the park on some back country roads between Forest Land and Private timberland. After three or four miles it enters Etoniah Creek State Forest. I am not sure if I have hiked in this state forest before.
The trail itself is along a creek. It starts out at the same level as the creek and there are many little wooden bridges to cross. Some of them are pretty slippery with mold and slime on them.
If they go over a dry section I choose to walk around the boards instead of risk slipping and falling. But some of them are over water where they need to be used.
As the trail progresses, a bluff begins to form. Within about 2 miles the bluff is easily 50 ft above the creek. It reminds me of the Ravine Trail at Gold Head Branch State Park.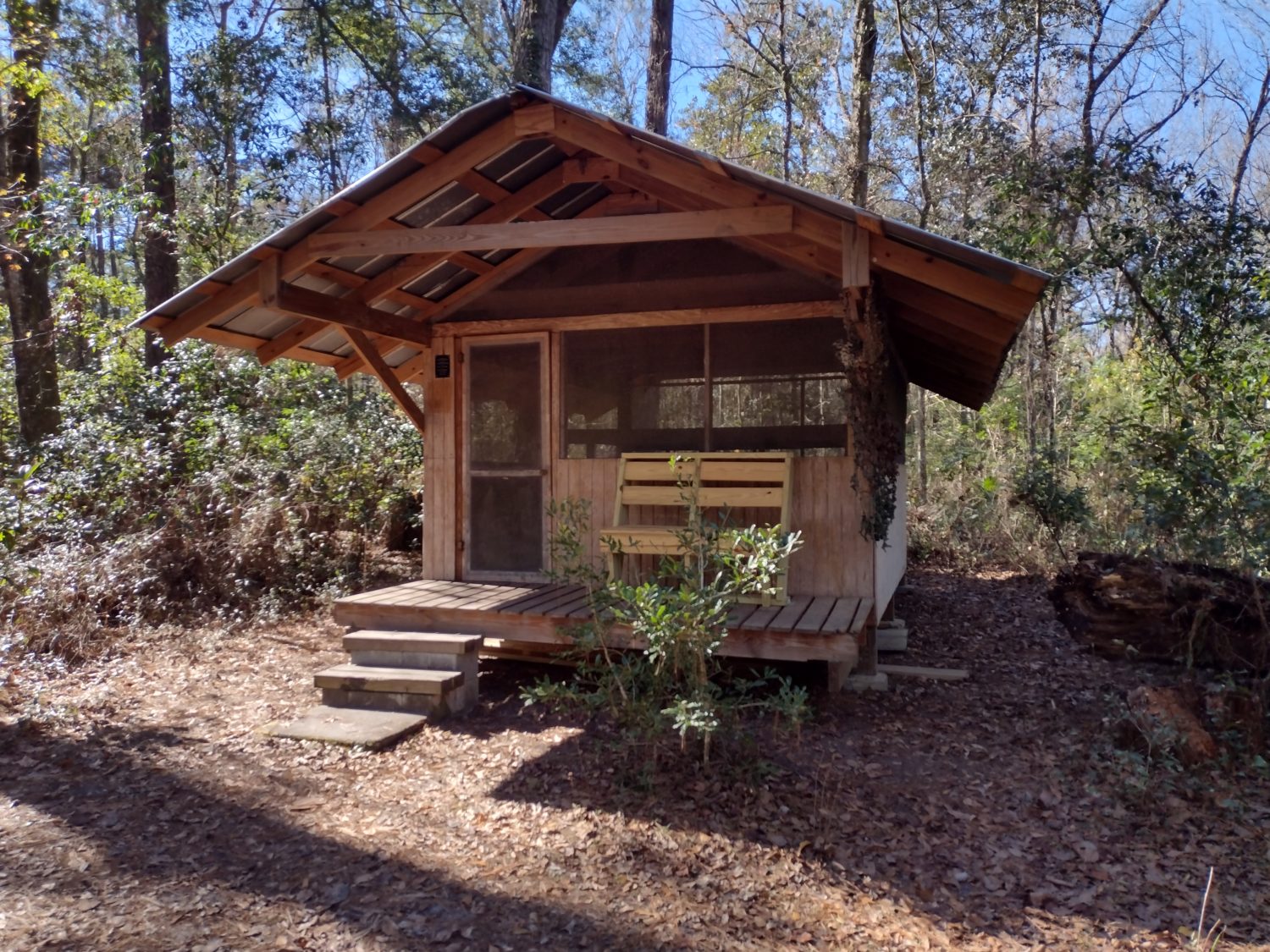 There is a shelter in the middle of this park called Iron Bridge shelter. I should reach the shelter at about 12:45, so it is the perfect place to stop for lunch. When I arrive, there is already another hiker there. It is the hiker I saw coming out of Palatka as I was going in named Chuckles.
I'm glad I caught up to him, because we have a good 30 or 40 minutes to chat over lunch. He has done the PCT and CDT but not the AT yet. So we have lots of things to talk about.
Shortly after we leave the shelter, we see a southbound hiker named Yak, who gives us the low down on the trail ahead and we do the same.
The Road Walk Before Gold Head Branch State Park
As far as mileage goes, where I should be stopping is about three or four miles short of the State Park. But the last eight miles before the state park are all road walking.
There is a campsite within a mile of the road walk but by the time I get there, it is only barely after 3:00. This is way too early to stop for the day. I have barely enough sunlight left to be able to make the road walk to get to the State Park so I decided to press on.
The road walk starts out with a 1 mile neighborhood road. But then the next walk is Bellamy Road, which is more traffic and a longer 4-mile stretch.
The next road is a county road with the same amount of traffic, but more curvy, so it's at least a little more interesting. The sun is about to set so I am anxious to get to the last road.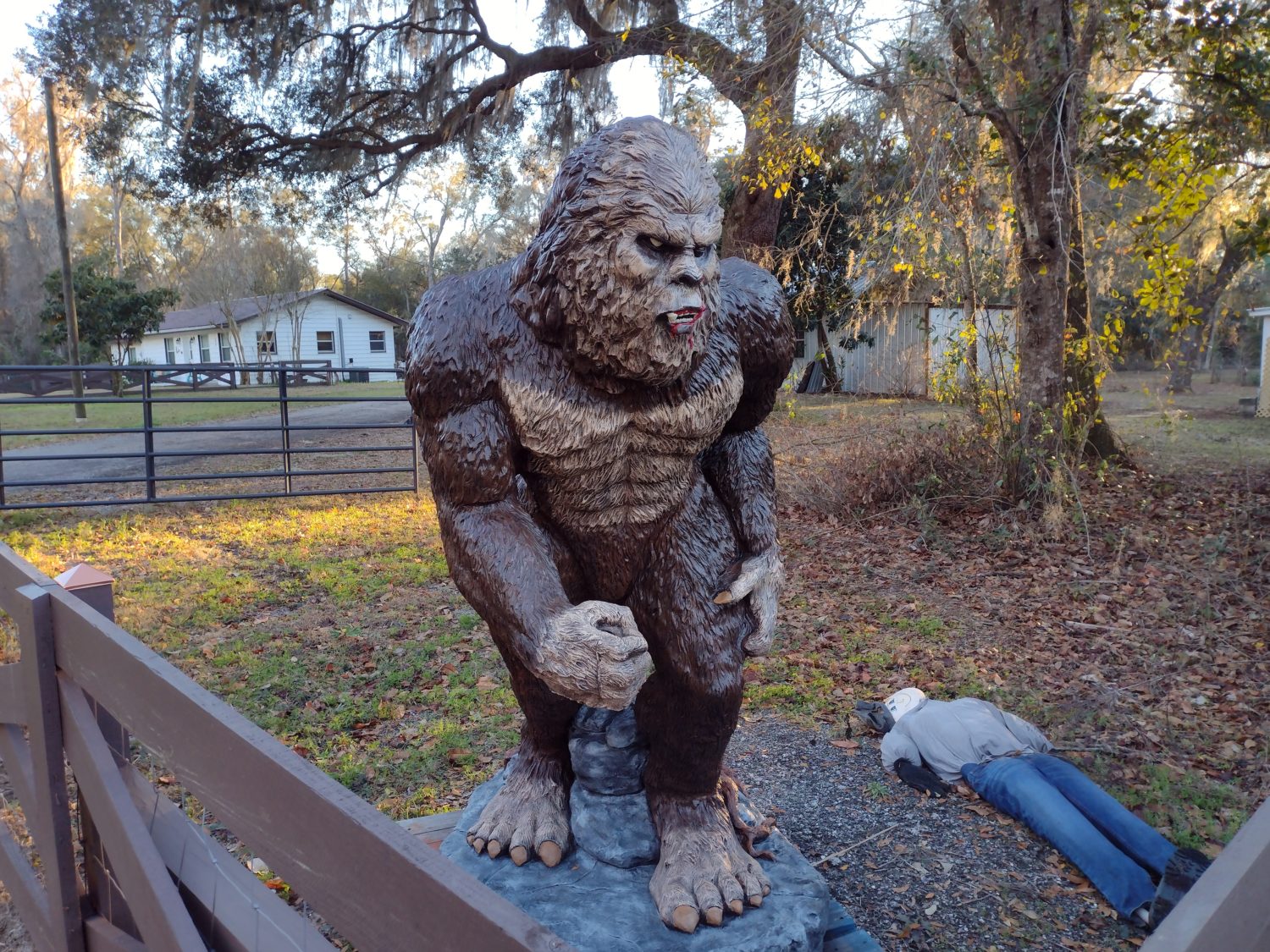 The last road is Christian Camp Road and it is a dirt road that leads all the way to the park about 2 miles away. At the beginning of this road is a large forested section that doesn't have any no trespassing or posted sign. Since the sun has set and my daylight is limited I decide this might be a better place to camp than trying to go into the park and camping there.
I am able to find a very good spot that is about 75 yards from the road. I have enough light to be able to set up my tent and cook dinner all before it gets too dark. By the time I begin to eat my dinner it is dark, but I don't need light to eat food from a bag.
From where I am camped, I can barely see headlights of cars as they pass by the road so I know I have good spot. I only need to use the flashlight a few times to locate things in the tent. The moon is up but only about 10% full so there is some light but not a lot.
It is supposed to get down to 35° tonight, so I am bundled up with extra layers. It's not quite as cold as it got further south so I should be fine. As long as I don't have to wake up and blow up the air mattress too many times that is.
Emotion of the Day
Today's emotion is camaraderie.
Between spending a few hours with Chuckles, and talking with the southbound hiker, I actually felt like part of a community today.
The Florida Trail is a fairly solitary trail just because of the low number of hikers. But the neat part is that it is generally more experienced hikers that are hiking it. No one I have met yet is hiking the Florida Trail as their first through hike. Everyone that I have met so far already has at least two national trails under their belt.
I don't know what the completion rate is for people on the Florida Trail, but I bet it's very high. Possibly one of the highest of all the National scenic trails. And I think that's probably because of the experience level of people hiking it.
Most of the people hiking the AT it is their first trail. And it is a brutal one so I think the AT will always have the lowest completion rate. The PCT had a lot of first-time hikers but not nearly as many as the AT.
These are the kind of things I think about while walking in the woods staring at my 10 millionth oak tree.