Gold Head State Park has always been one of my favorite spots. The Ravine Trail is awesome. I also have memories for my childhood being there and catching my first fish out of their pond.
Late Start
Since I am in no rush to get to the park headquarters, I get started quite a bit later than usual at 8:00. It was 35° last night, so a little extra time bundled up in the bag is just fine by me.
I really like the camping spot that I found last night. I felt safe and secure nestled away in the pine trees and behind palmetto bushes. I could barely see the lights of the cars on the road as they passed by.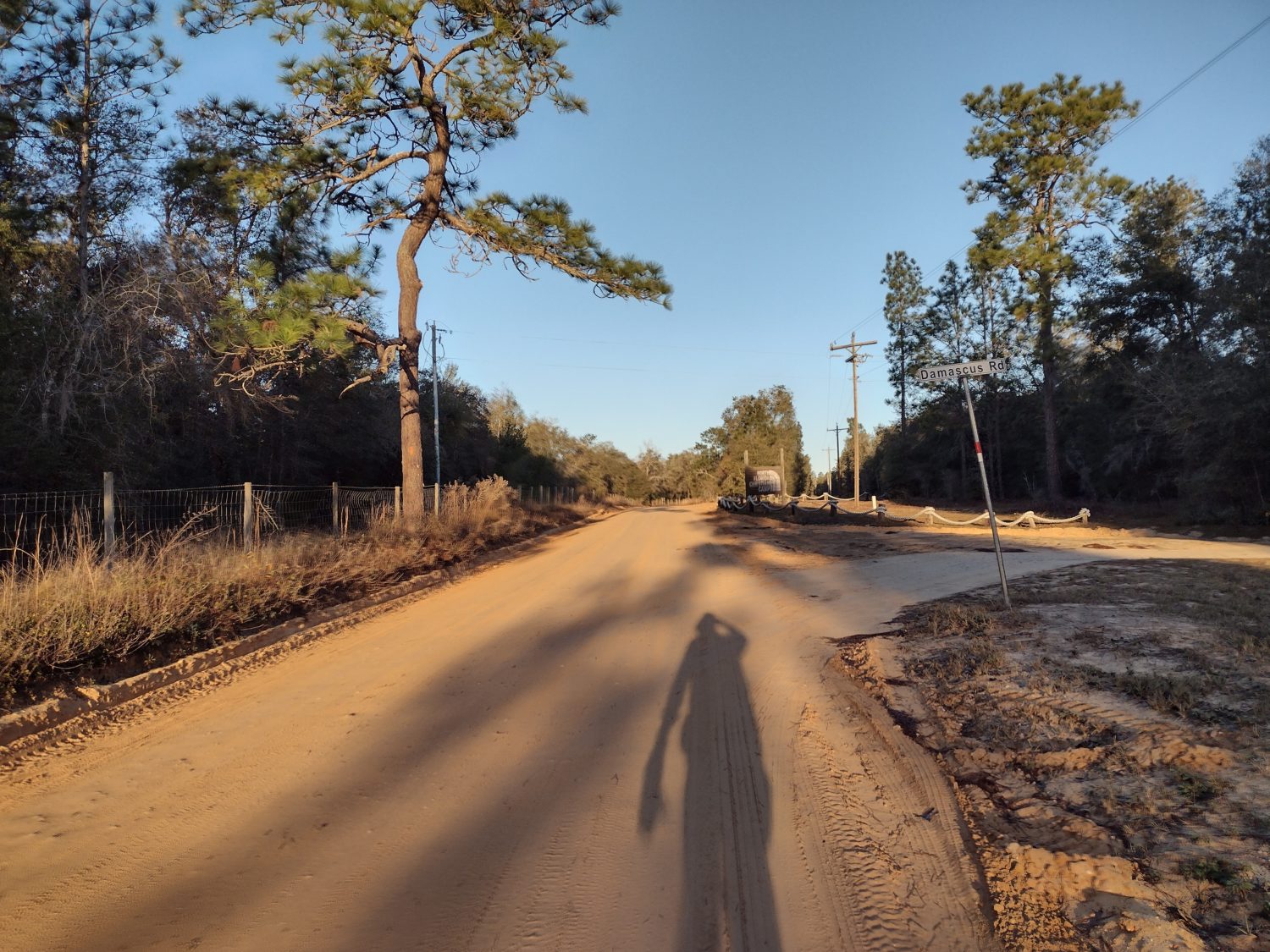 Gold Head Branch State Park
The entryway into the park is unceremonious. You enter at the maintenance buildings area and begin hiking a trail towards the first lake. There was a nice bathroom facility and I could see the canoes lined up along the beach for rental.
The trail inside the park was longer than I thought. I was expecting to maybe 3 miles tops to the headquarters. But I think it ended up being closer to 4 miles.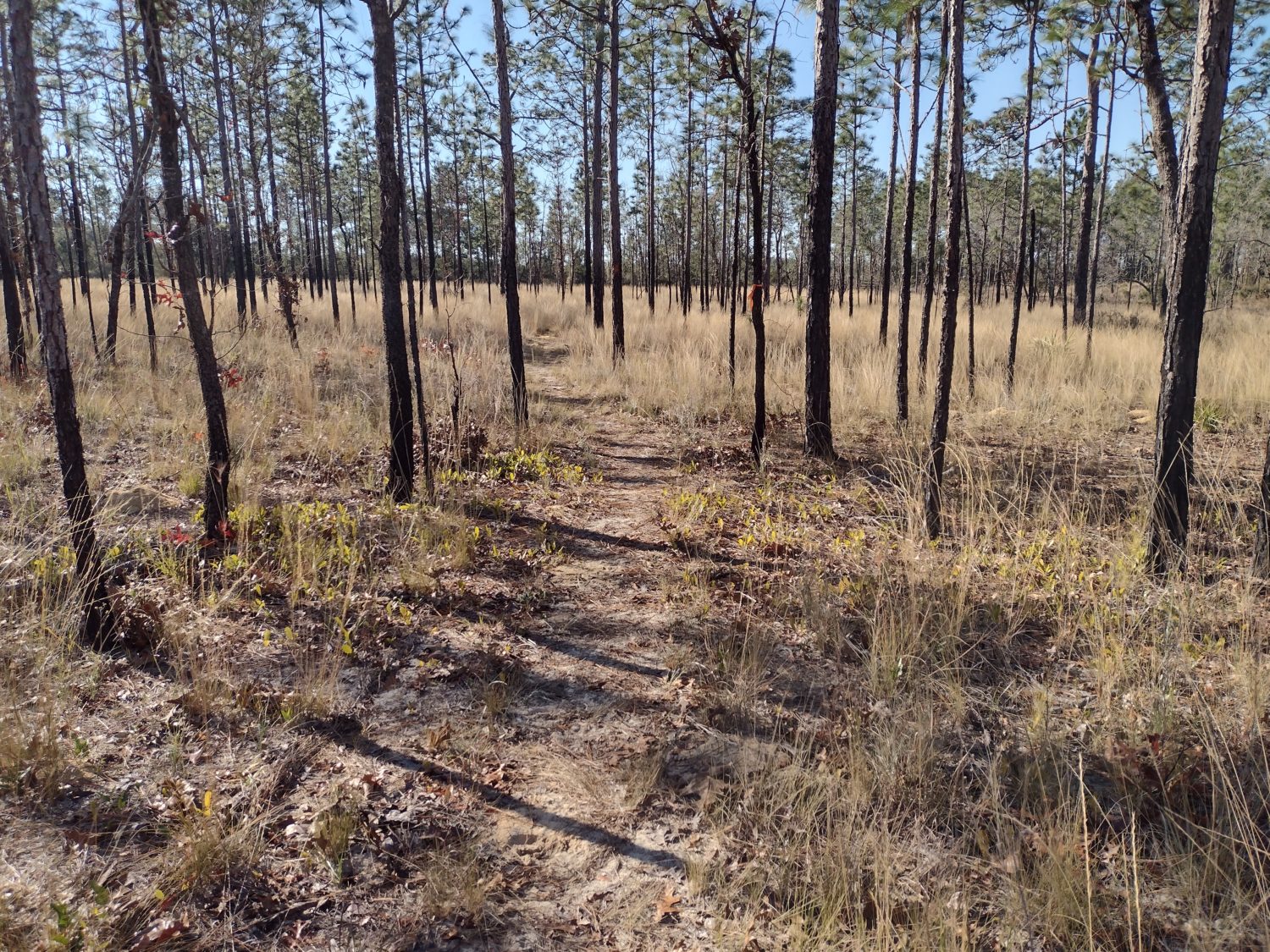 I did not take the side trail down to the ravine, but I did take the loblolly pine alternate trail. I'm not sure it was any different than the regular trail, but I know I have hiked the regular trail many times before.
When I got to the park office, they had a fire going. It was still pretty cold and not even 10:00 yet, so the fire felt good. I paid my $2 day use fee and filled up one of my water bottles.
The trail out of the park was as unceremonious as the trail into the park. It looked like it was mostly blackjack oak scrub.
The exit of the park leads across the highway to Camp Blanding. Sometimes that trail is closed for maneuvers, but today it was open. The alternate around it along the bike trail is only 2 miles, but the Camp Blanding trail is 8 miles. I hope the extra 6 miles are worth it.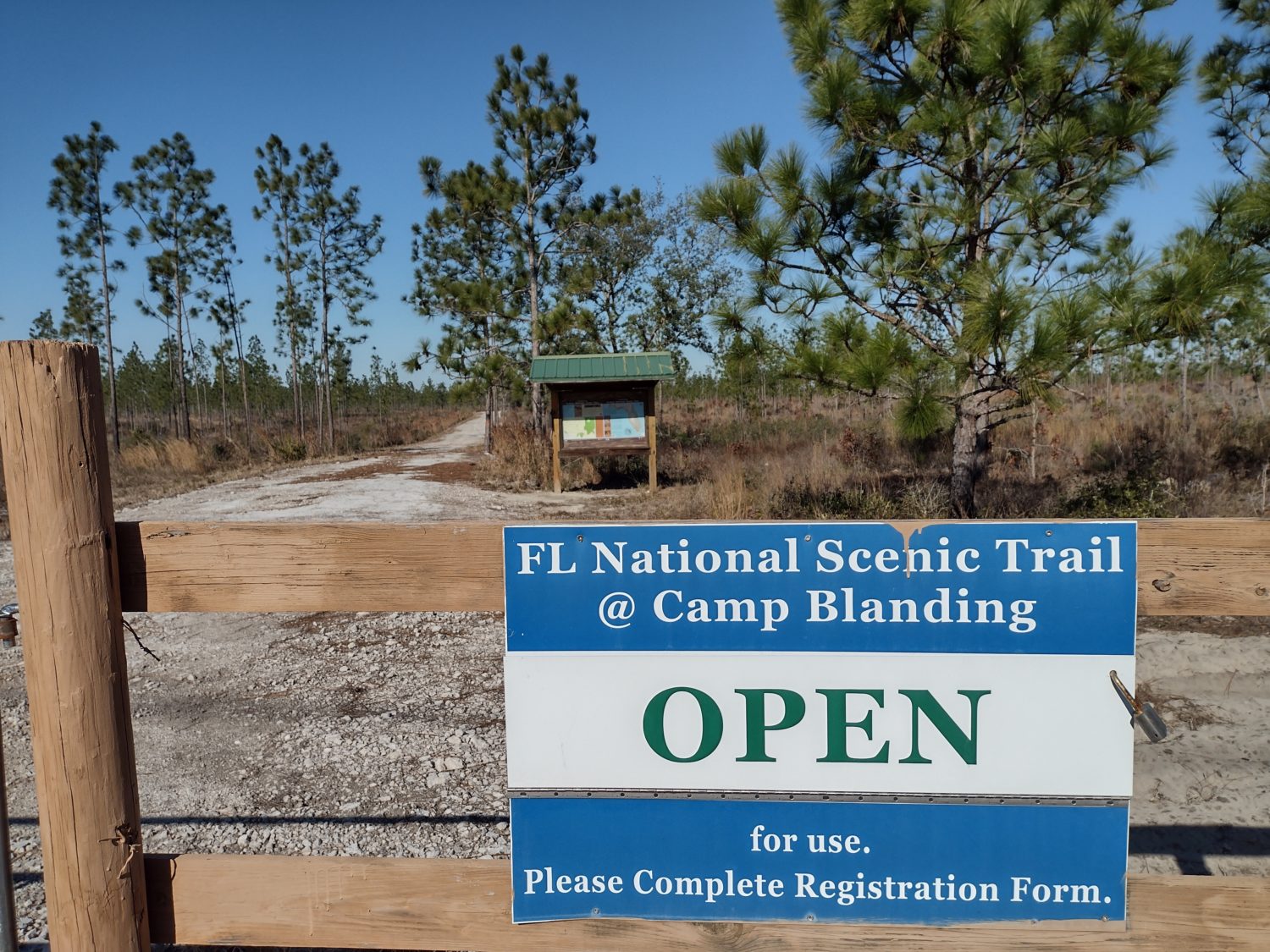 Camp Blanding
You have to fill out a registration card when you enter the park and keep a stub with you. Locals are all goo goo for the Camp Blanding section, and complain loudly when it is closed. I never really knew why until I started hiking through.
The trail is on roads for just a little bit and dedicated trail for most of it. It passes by three very large lakes. The trail stays pretty far away from the first one. You can get a good view of it but there is a row of trees in the way.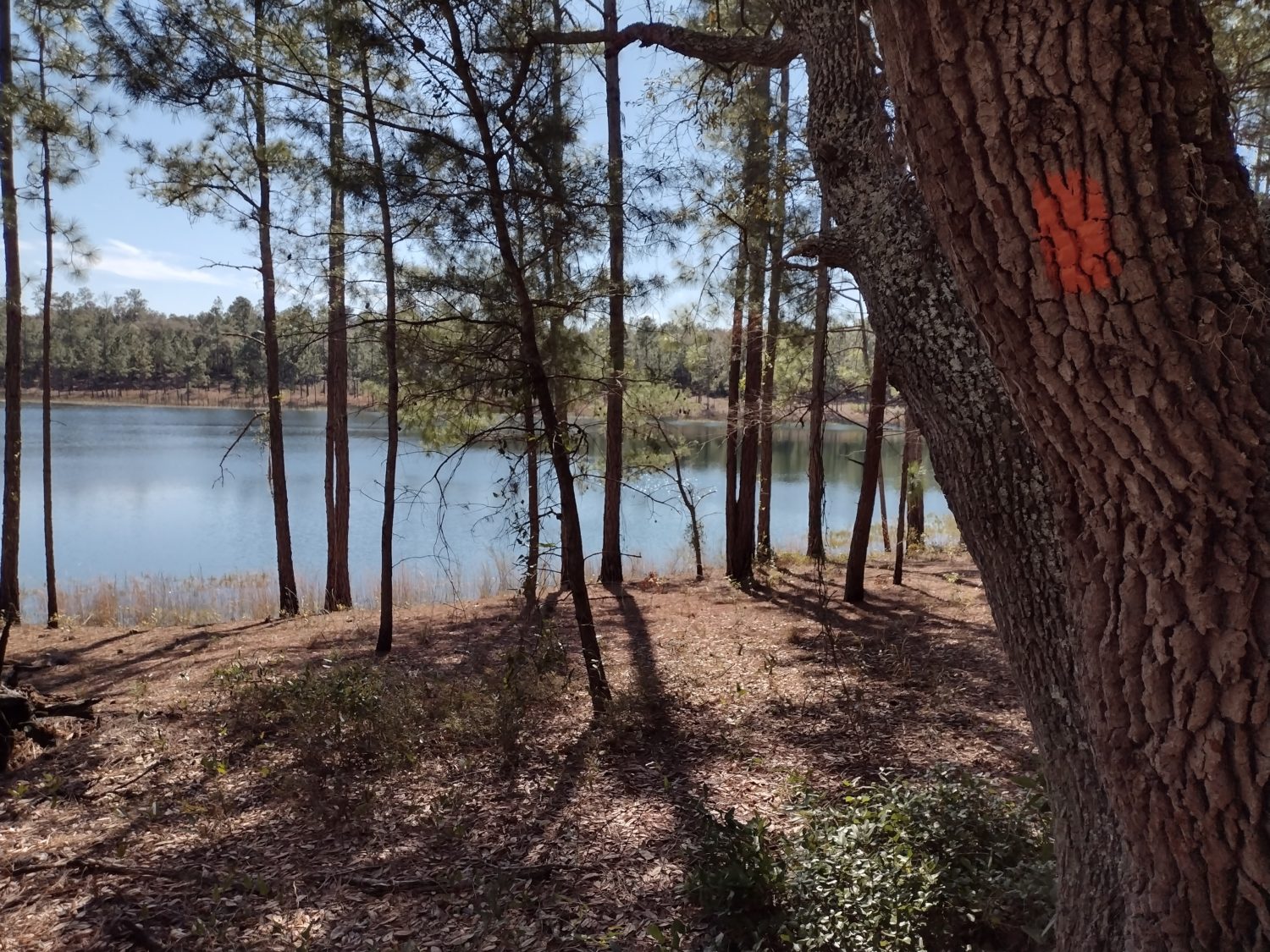 As you hit each new lake they become smaller and smaller, but you get better and better views of them.
There were several picnic benches along the way spaced out every two or three miles. The last one was at a former State Park called Magnolia Lake State Park. It was built during the period of segregation as a State Park for colored folks that were not allowed at Gold Head Branch State Park. The park was closed at some point and the land turned over to Camp Blanding in the seventies.
Reunited
As I exited Camp Blanding and turned in the stub of the form I filled out at the other end, I could see Chuckles was just passing me on the bike trail. He obviously decided to take the shortcut instead of going through Blanding.
I must say, I strongly considered the shortcut, too, but I'm glad I actually went through the Camp instead.
From this point it's about five or six miles of road walking on back country or dirt roads. We hiked together for the next several hours on those road walks.
The roadwalks are taking us back to the Palatka Lake Butler bike trail. And just before we finally reache the trail, we come across another convenience store. We stopped to buy some snacks and rest a little.
Chuckles, like most through hikers, hikes a slightly faster ground speed than I do. I am just wanting to make it to at least Hampton before finding a place to camp along the side of the trail.
He went ahead and took off before me and I could see that he was slowly pulling away from me the entire time. By the time we hit Hampton, he was a full half mile ahead of me.
I never saw him again after the last turn into Hampton. He was talking about stopping at the convenience store in Hampton, but I was planning on just walking through.
More Hikers
While I was hiking with Chuckles, we met several south bounders. The first two we met early in the day while on the bike path. They were heading southward on the Eastern Continental Trail. That goes from Cape Gaspe in Canada, all the way to Key West
Later on while in the road walks to get back to the Lake Butler Palatka Trail, we met Sawgrass. She is another hiker that is blogging about the Florida Trail for TheTrek. She started in Pensacola shortly before I started from the Everglades, so I was able to read her first few posts.
While on the trail, I don't really read much. I spend nearly every free moment writing either these blog posts or my own blog posts for TheTrek. I have a lot of catching up to do when I get home.
Time to Camp
Once you pass the town of Hampton, the trail goes from paved to grass. Now it feels like a special trail in the woods. They have already removed the rails and railroad ties so it is actually very pleasant hiking.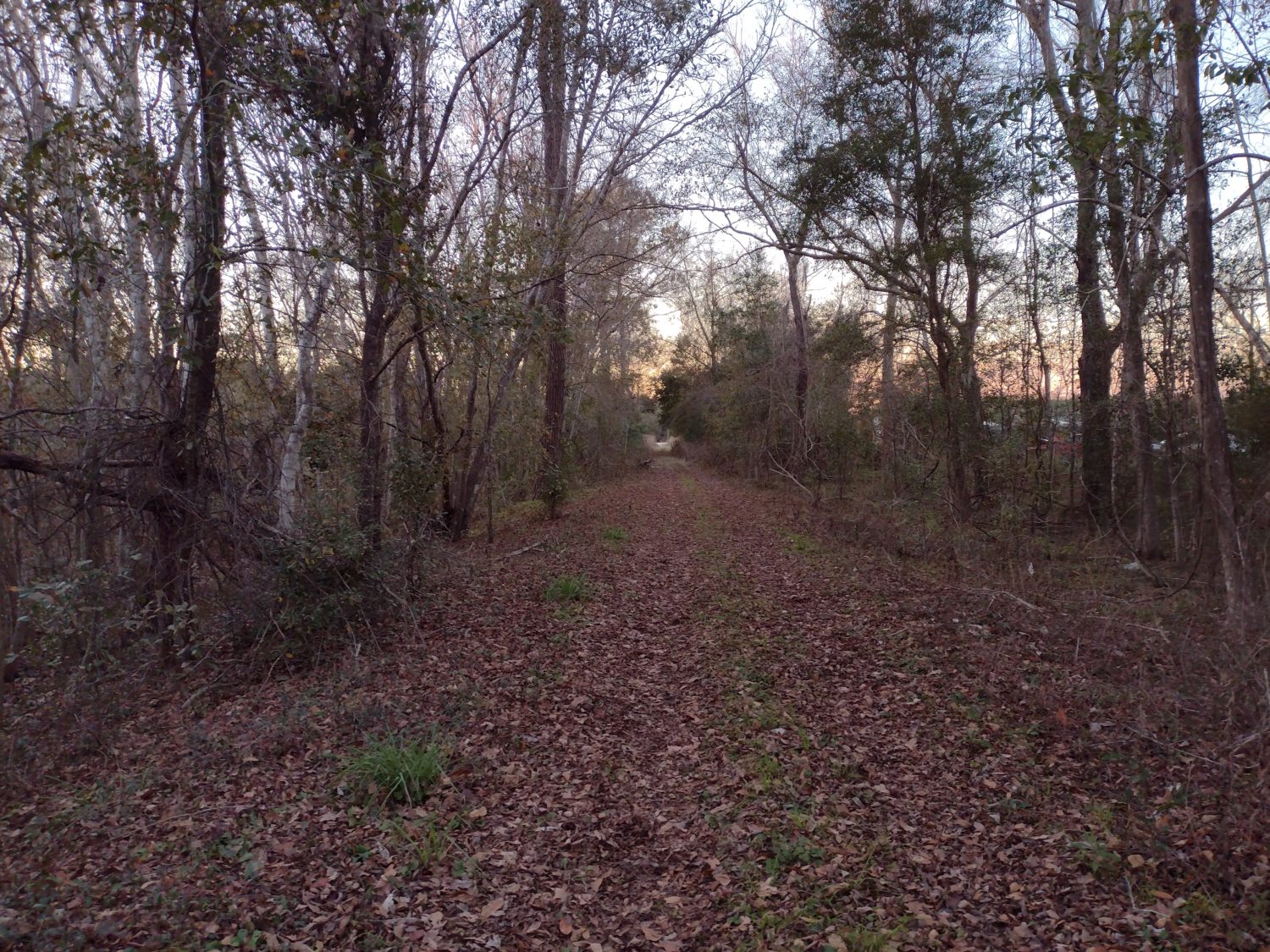 I know that I want to hike until about 6:00 p.m. so I start looking on the maps to see what the terrain is like where I will end up at that time. I can see several spots that are heavily wooded and they look like they will make good camping spots.
Ever since leaving Hampton, none of the woods along the trail have been posted as no trespassing. As long as this trend continues, I should be able to camp where I intend to stop.
As I near my destinations, I see that what I thought were woods from the satellite images are actually swamps. These do not make suitable camping spots.
I end up finding a field that has been recently planted with pine trees and is still open with grass instead of choked out with palmettos. There are no signs indicating no trespassing or posted so I wander off into the pines to try and find an open spot.
I find a good spot of far enough away from the roads but the grass is very lumpy so it takes a while to crush down the grass with my feet to make a space large enough for my tent.
And the very first tent stake I put in the ground pulls up and I lose it in the deep grass. I have lost more tent stakes on the Florida Trail than I have in my entire life combined. I am probably going to have to get more spares before this trip is over.
Despite searching the area for over 5 minutes all the way down to the dirt, I never find the stake. This pisses me off.
The highlight of the night is when I decide to cook another one of the brand of meals that I don't like. I don't like them because two of them have tasted horrible and they require me to cook in the pot instead of just pouring boiling water into the bag.
But this one is chicken risotto and says it only needs to cook for 1 minute. This seems like a good time as any to see if I can get it to rehydrate in the bag. To my delight it does rehydrate quite well and the meal itself is quite delicious.
So I should probably stop bashing this brand even though I will probably never buy any more ever again. At least I know there are two flavors I like. I just can't remember what the first flavor was.
Emotion of the Day
Enthusiasm is the word I pick for today.
Even though I purposely got up late, the 2 mile road walk into the State Park was quite pleasant and I was in good spirits.
And even though the hike through the park wasn't as exciting to me since I've been there many times before, I was also still in good spirits. I also had fun talking with the ladies in the Park office.
And even though I knew the route through Camp Blanding was 6 miles longer than it needed to be, I was very upbeat while I was hiking through it. It really was a nice Trail.
And then meeting up with Chuckles again and having several hours to talk with him was also very uplifting.
And then the last three or so hours of the day hiking solo again on the paved trail was also uplifting. Even though my left foot is not in 100% health, I am still able to hike quite well on it with very little stopping. Other than meal breaks, I didn't really stop at all today.
I hiked 26 and a half miles today. If not for the lack of daylight, I could have gone many more. To know that I now have my hiker legs back is very uplifting.
The cool temperatures probably have a lot to do with my energy levels today. If it were 80 degrees, I doubt I would have made it past Hampton.
Tomorrow is supposed to be cool as well. Let's hope tomorrow is as good as today was.