I am now in the middle of a 40 mile road walk. The only way to make it work is to walk from church to church along the road. They are spread out every 8 to 10 miles. I stopped at one last night and I stopped at one again tonight.
Let's Get Going
I wanted to make sure I was back on the trail by 8:00 so we got up at 5:00 with the intention of leaving by 6:30. Having real coffee and a real breakfast really does make a difference. And we were able to get out by 6:35.
There are still a few food items that I need so we will have to make a stop on the way. I remembered a really nice fairly new truck stop called Busy Bee near Live Oak. I need a specific kind of Smart Water bottle to replace my coffee bottle and this place is likely to have it.
I topped off my snacks and get a new bottle but it's not exactly the one I wanted but it will do. Buying water in bottles may be wasteful but it's handy when you need a new bottle quickly.
We got to the dropoff site a little later than I wanted but I was still on the road before 8:30.
The first 3 miles is just hiking back to the interstate where we just came from. This should take only an hour. There is not much traffic so the hiking is pretty easy. It is cold so I have to wear my long shirt and gloves.
The first stop at the interstate is Ragan's Family Campground. I stop at the RV park right at the interstate not realizing it is not the place I'm looking for. But I am able to get some water and use their bathroom.
The campground I'm looking for is actually a mile and a half further down Old St Augustine Road. And when I get there it is very nice.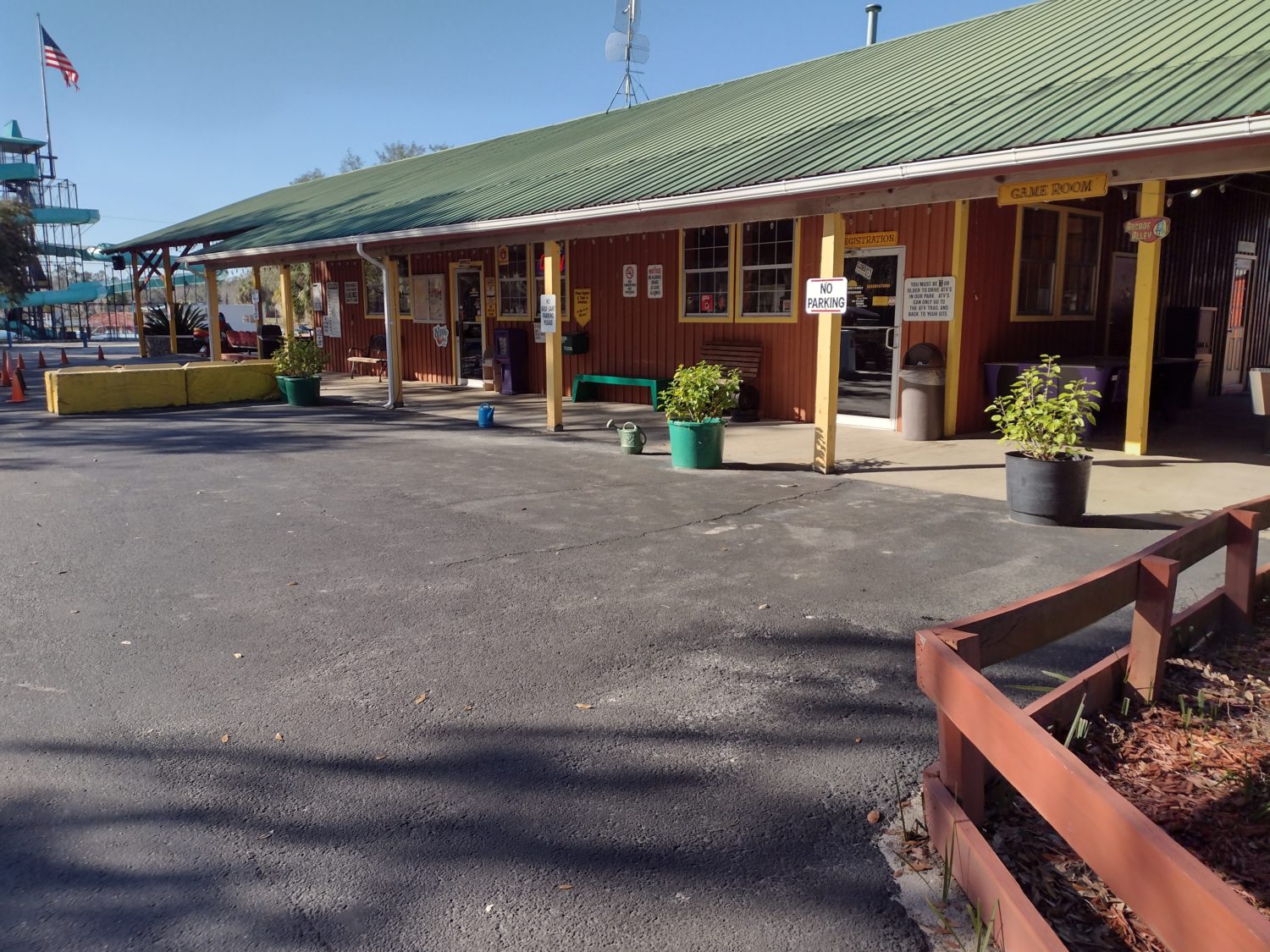 I go to the campground store and buy a few walking snacks. It would not be a great place to try and resupply but they do have snacks to go.
Walking by Pastures
The first road is by cattle and horse country. There is a huge field planted with winter rye. But the cows and horses are not allowed in that field or they would eat every blade.
There are many houses along this road but it is still rural country. The road eventually turns to dirt and then gives way to timber and planted pines.
There is plenty of shade and it is easy walking. But with the temperature still on the slide cool side the shade isn't really needed. I am still wearing my gloves but I have stripped down to just a short sleeve shirt by now.
The pines give way to live oak trees that tower over the road. It is very picturesque and reminds me of home. There are still cattle fields off in the distance.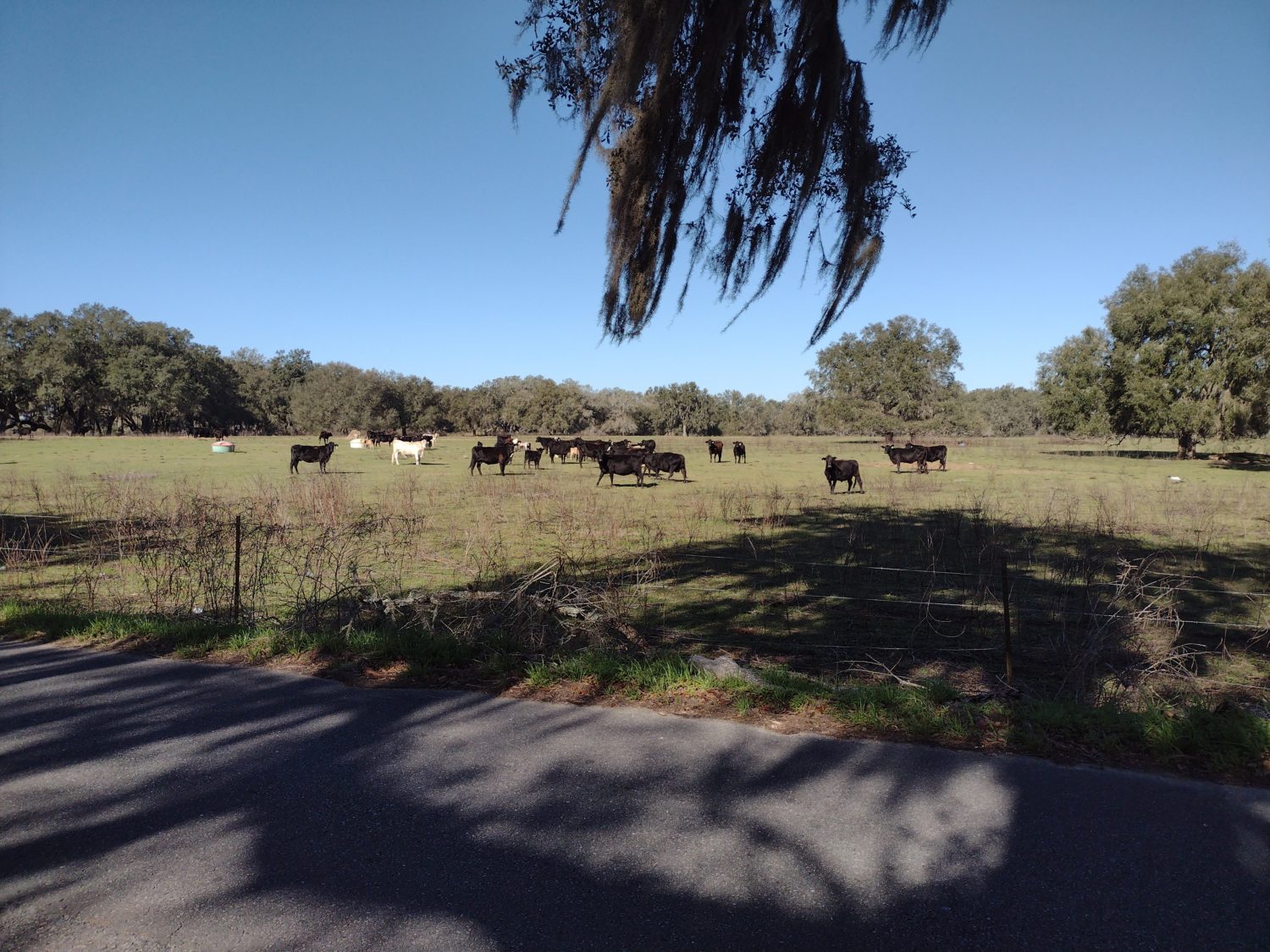 County Road 360
After 5 or 6 miles the road turns onto county Road 360 which is a paved road with a fair amount of traffic. The shoulder is not terrific but luckily the traffic is only a car about every 5 minutes.
I think I will be on this road for 14 or 15 miles. And every four or five miles the road changes character. At one point it merges with county Road 14 and becomes much busier.
But a few miles later it splits away from 14 again and becomes almost deserted but it is still paved. At this point I am only seeing a car about every 15 minutes.
It is still rural country with farms and timber on both sides of the road. The shoulder is still narrow but I'm on the roadway most of the time anyway.
I get to New Home Baptist Church at about 2:00. There are a few people there so I asked where I can get some water. This church allows camping out back but it is way too early to stop.
My destination for the evening is Sirmons Baptist Church, which is another nine miles away. By the time I have a little snack and start moving again I should be able to get there by 5:30.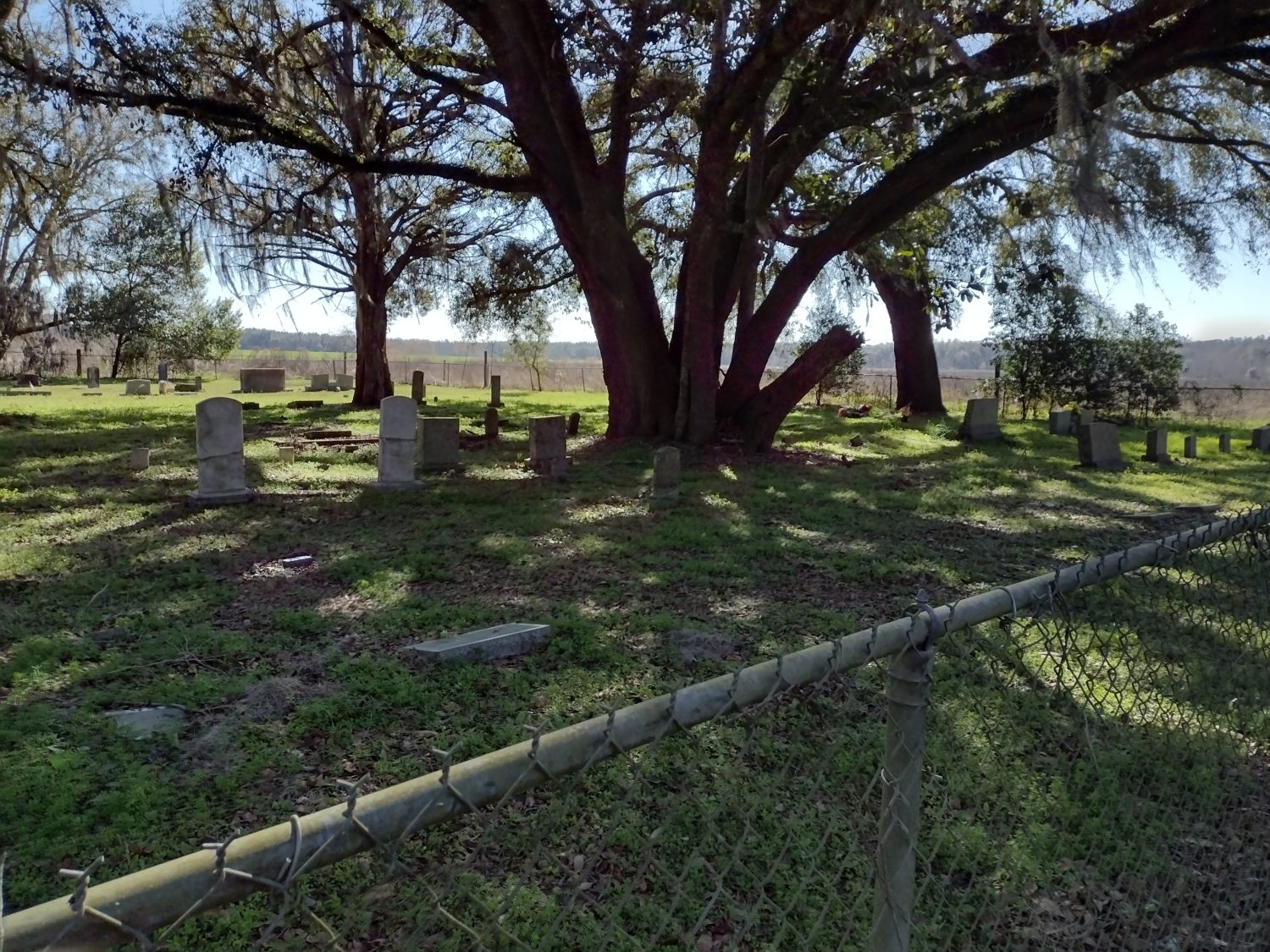 Church Bound
After my Starbucks doubleshot at 2:30, the afternoon is going swiftly. I do stop a few times to grab some snacks but just for a few minutes each.
Before I left the previous Baptist Church, I counted the number of turns in the road on the way to the new one. I counted 15 on the map. I decided instead of trying to calculate miles or look at the time I will just count turns and know that when I get to 15 I should be there.
The plan actually worked even though five turns in doesn't mean you're a third of the way there. It kept me mentally entertained and made the afternoon go by faster.
I get to the church right on time at about 5:35. No one lives at the parsonage and there is a number for a deacon that you call to get permission. I called but there was no answer.
So I Scout around the back of the church and it looks like there's a decent spot between two utility buildings. I will get a lot of dew tonight but at least I will be hidden from the road and the neighbors and the street lights.
And let me tell you there are a lot of neighbors. People just hanging out in their trucks listening to music and kids running around screaming like kids do. And people arguing.
I don't like camping out here without explicit permission, but I don't have much choice as there is no public property for the next 10 miles. This is home for the night.
I go ahead and do various chores like cooking and eating while it is still daylight but I won't set up the tent until after dark. And it is already getting cold so it is going to be a chilly night tonight.
Emotion of the Day
I think confidence is a good word for today.
I wanted to get an earlier start because I had a very long day today. But because I was refreshed and rested from taking yesterday off I knew that I should be able to do it without stopping too much.
And since it was all walking on roads it should go quite quickly, which it does.
I could have stopped at the church before and had an easier day, but that would make my plans to get to St Mark's harder.
I had to submit my permit to St Marks before leaving and they want to know specific dates and specific campsites where you will be camping. If I had not gone all the way to this particular Church I would have had a very difficult time making my intended campsites.
Knowing that I can bust out 24 miles with a shortened hiking day just gives me more confidence that I can do these kind of days whenever needed. And I am sure more will be needed.