The second half of the Econfina Creek area was far less impressive than the first half. And Titi swamp was not that great either. But what I found in the swamp is amazing. Keep reading to find out what it was.
Chilly Evening
The temperature was supposed to be about 40° last night. It felt a little colder but there is no frost on the ground. And speaking of the ground, have I mentioned that my air mattress won't stay inflated more than an hour?
I don't want to start walking in the dark so I wait a little later to start getting ready. It is nearly 7:00 before I actually get packed up and leave. This is an hour later than my usual time. And the Sun is already high in the sky to greet me.
When I get to the actual Rattlesnake Lake campsite, the gate has been locked and there's a closed sign posted outside. My suspicions are correct and the entire campsite is permanently closed.
I am betting it is because it flooded and there was a porta-potty in the area that also got flooded. Nothing says closed to camping like having human waste spread all around the campsite and lake.
The Sad Econfina
Even though this is still the Econfina watershed, the river is nowhere near where we are hiking. We are hiking in hilly areas with scattered lakes. And every single pine tree for as far as the eye can see has been destroyed. It looks like a nuclear wasteland.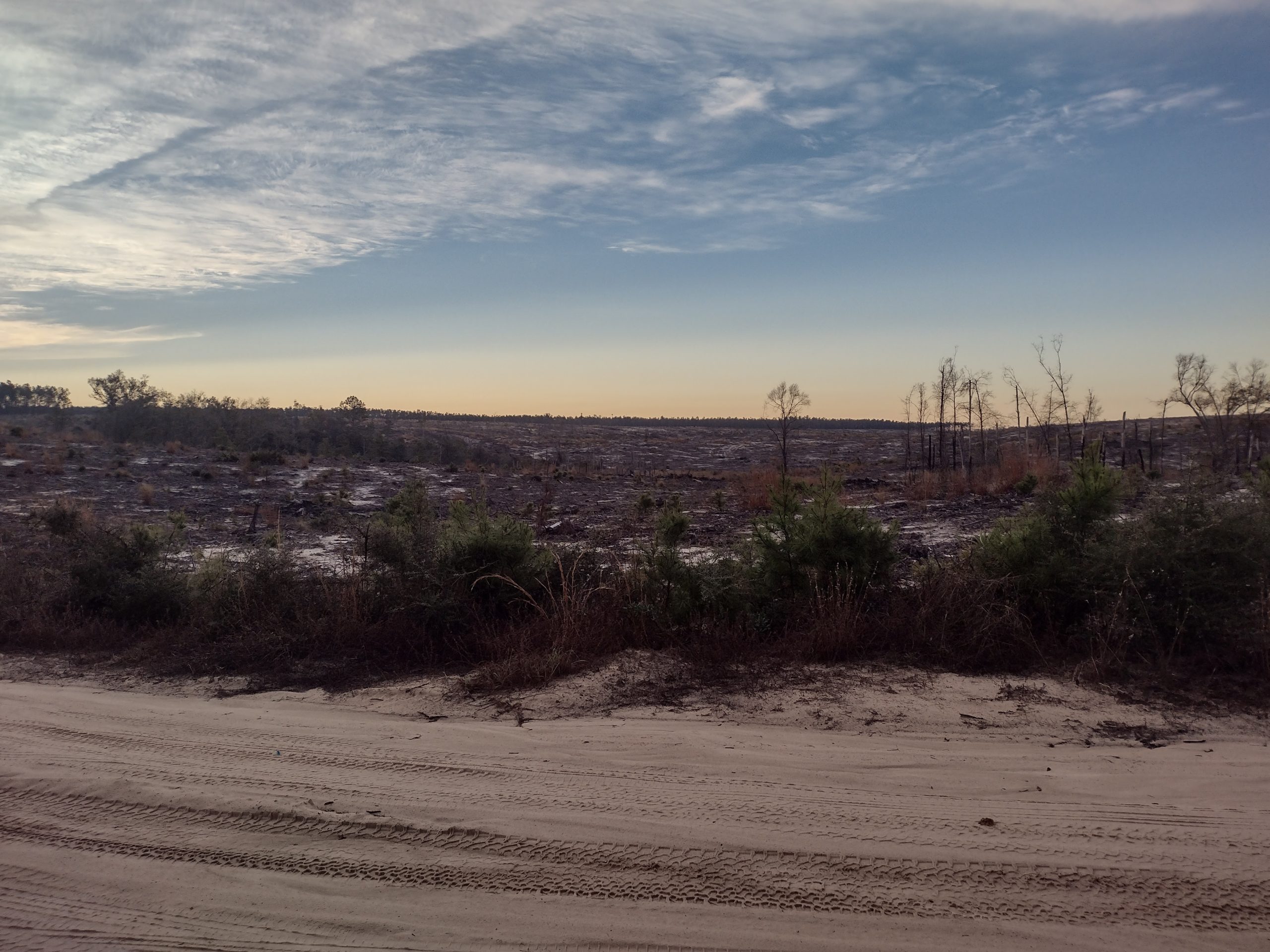 There are grasses and other small vines growing up amid the destruction. Together they both soak me with dew and scratch up my legs. Nothing says fun like wet cuts on your leg.
When the trail is in bad shape like this and there are Forest roads around, I will sometimes elect to take the roads and just connect back to the trail later on. But these roads are really sandy and don't really go in the directions I want to head to.
The map shows a road that will bypass a small section of trail right at the exit of the area. But when I get to that spot the trail looks amazing. It is a very wide open area of soft grasses and pine trees that are even nicer than the ones in Ocala. It looks like the trail goes right through a wheat field. I must take this trail.
But the trail is very short and eventually I come to the parking area. And a parking area means is roadwalk time again.
Road Walking
This road is State Road 20. It has a fair amount of traffic on it and it has just been freshly paved. The shoulder is pretty wide and nearly flat in many places so I spend more of my time walking in the grass than trying to walk on the road.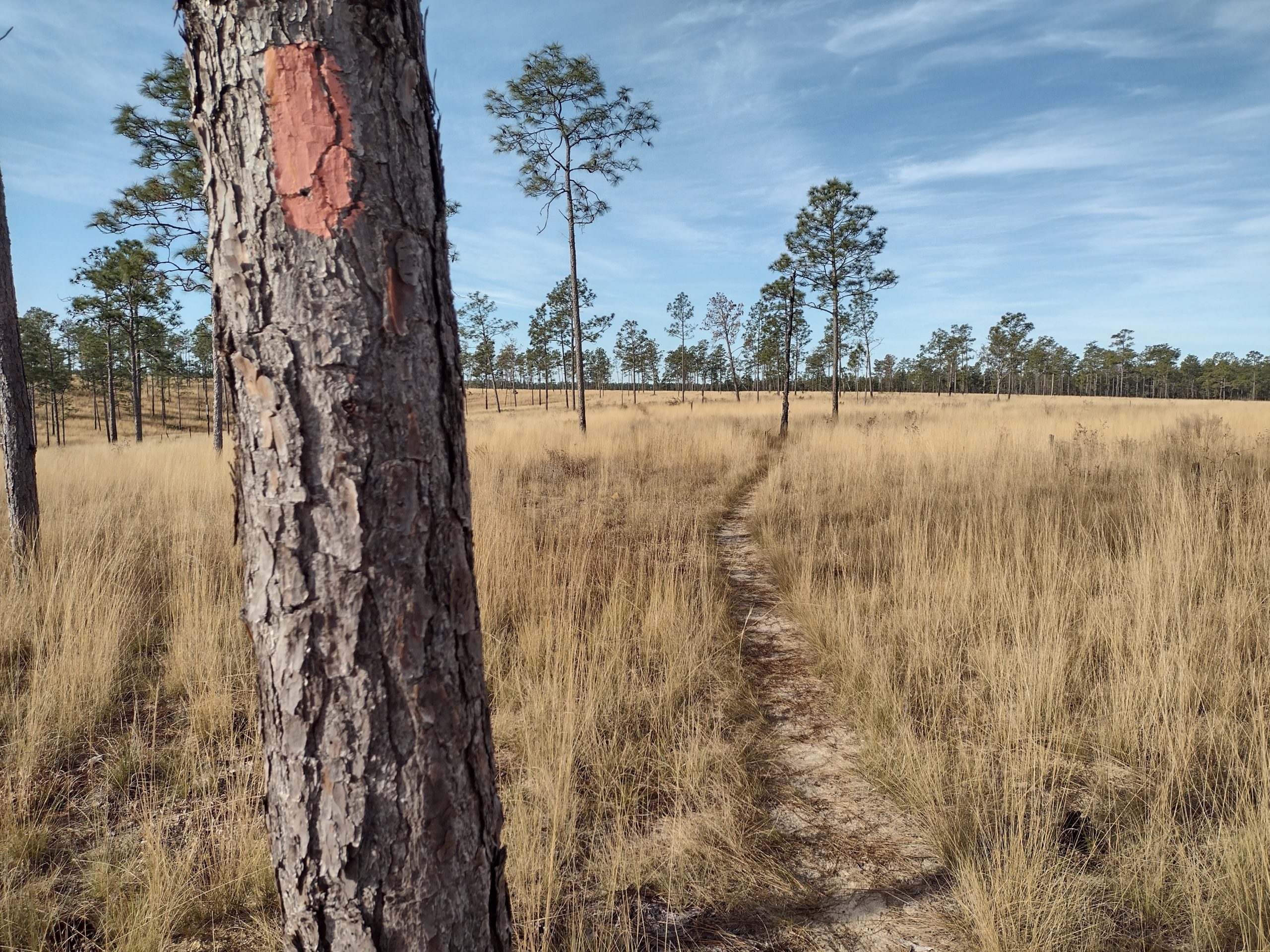 It is about five miles to a convenience store. The walk goes quickly and the temperatures are still nice and cool.
The store itself is a Chevron and they have a pretty extensive selection of fried foods. Chicken wings and a corn dog will be lunch today. They also have a nice picnic bench to eat lunch on. But of course I need to get ice cream before I leave.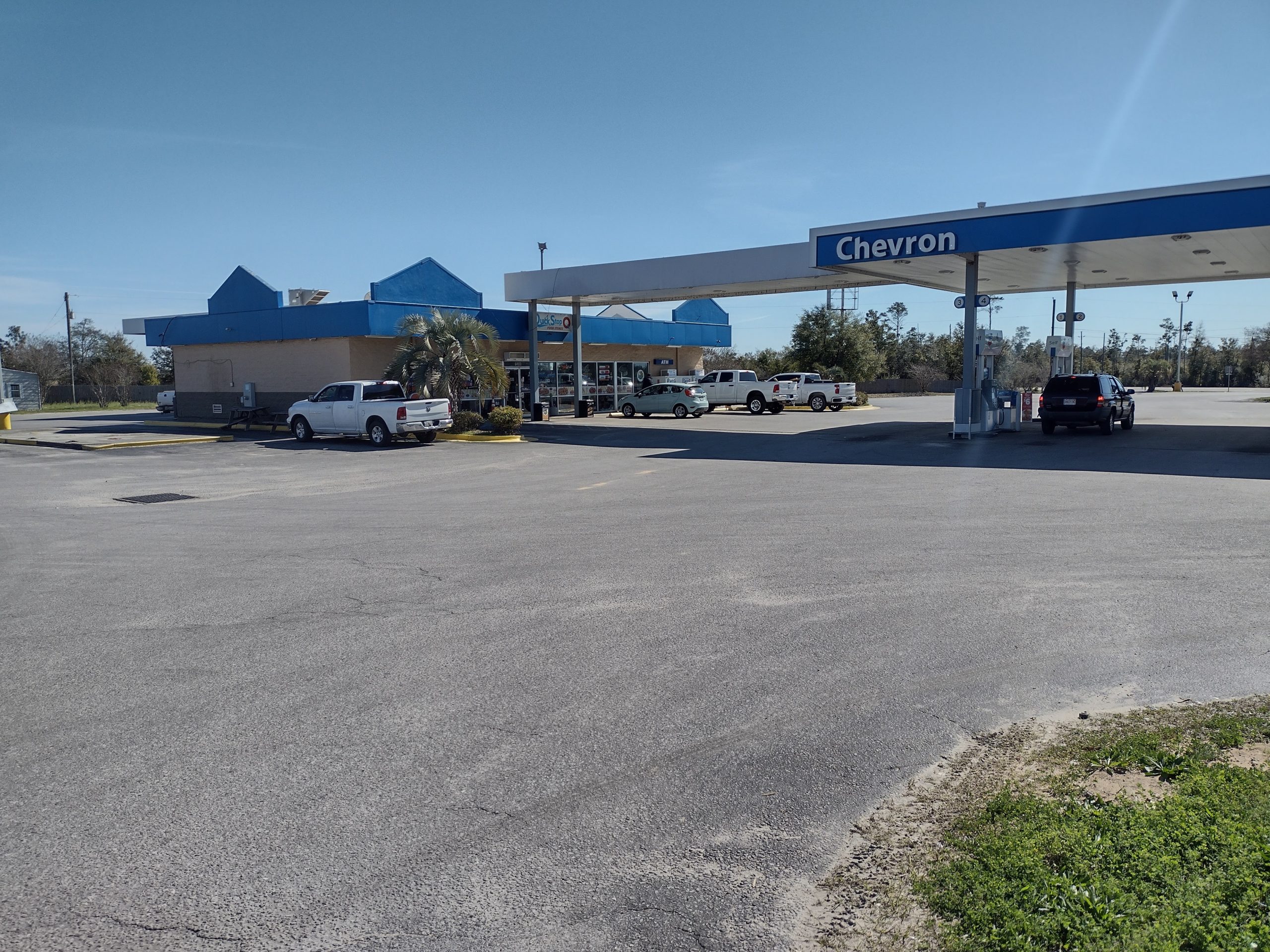 Now it is another 9 miles on the same road. This side of the road seems to have more traffic. The shoulder is sometimes wide and sometimes narrow and steep. So it is a mix of walking in the grass and walking on the bicycle lane for the rest of the walk.
It is also starting to get warmer. I am drinking a lot more water and feeling more tired than yesterday. I think it is partially from the temperature and partially from the boredom of this road. The sad part is there is still much more road walking ahead on this trail.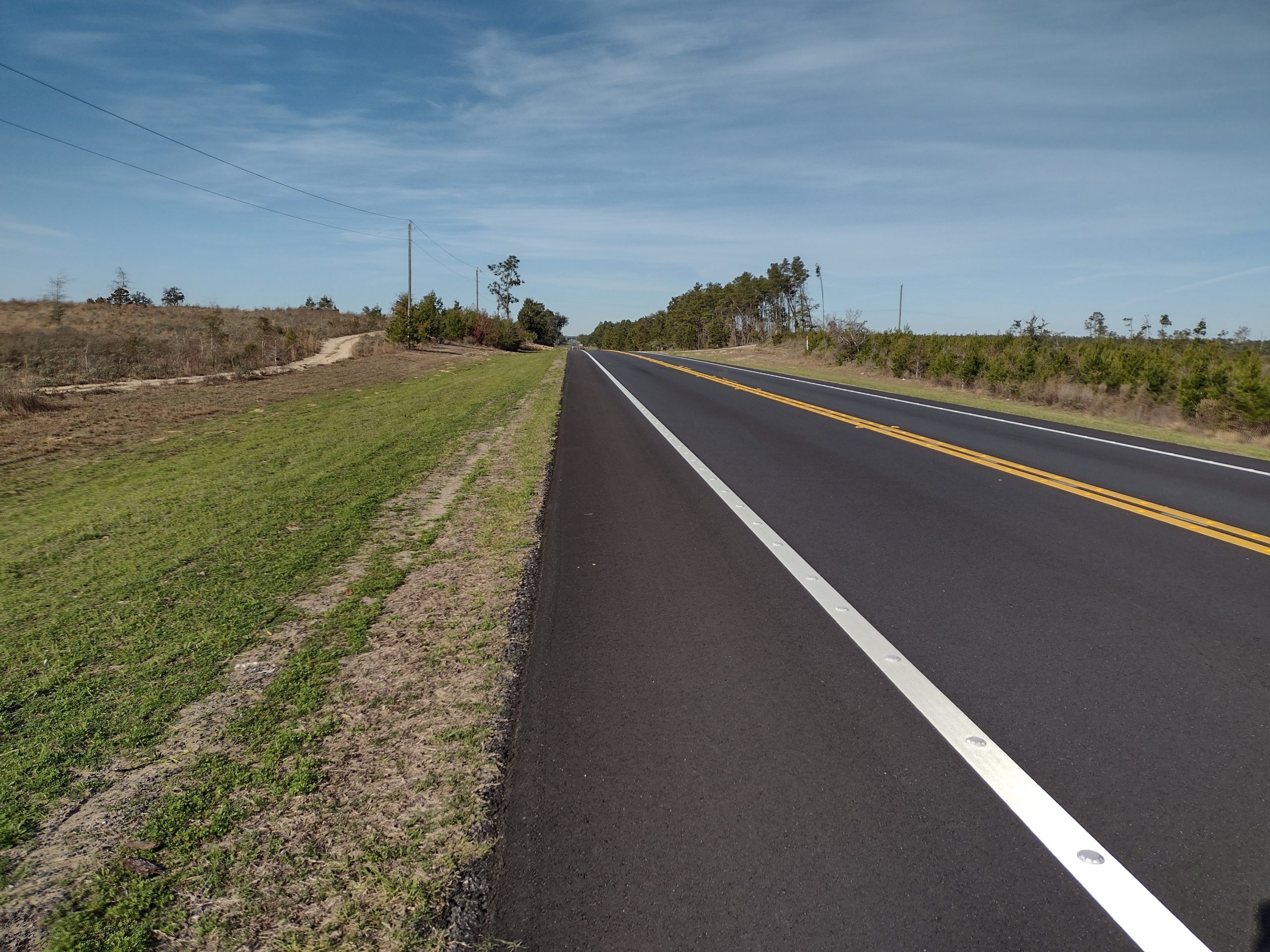 Titi Swamp
When the road does finally end it begins with a dirt road under power lines. Not exactly sexy but there is no one passing another car from behind me and four feet away from me going 90 miles an hour either.
Yes, that happened to me three times today on County Road 20. No courtesy honk. No beep beep. Just a massive rush of air and a few skipped heartbeats. Jackasses. And one of them was a log truck.
The trail eventually makes it into actual woods. It starts out as pine trees but makes its way to a small creek in an area called Titi swamp. This is supposed to be one of the nice areas again.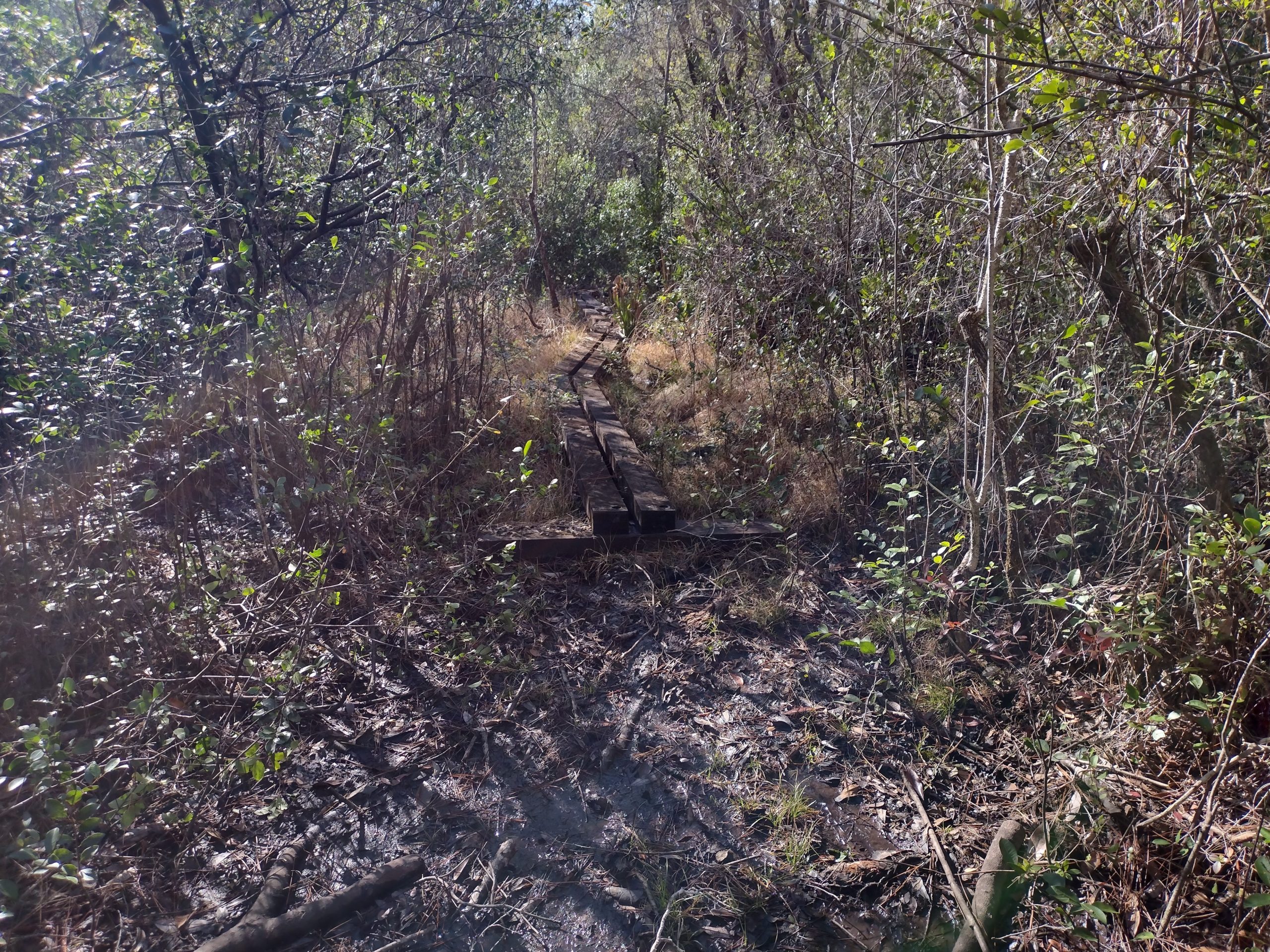 To me it just looks like thick woods and swampy trails. There are boardwalks over most of the wet areas and some over areas that are quite dry. I get my feet just a little bit muddy as I misplaced my feet on a few steps and sunk into mud a little deeper than I would have liked.
I can't say that I liked Titi swamp, but I liked what I found within it. Remember me mentioning many times about my lovely air mattress? And remember me mentioning that I normally use a closed cell foam pad called a Ridgerest?
Well right there in the middle of the trail in the middle of Titi swamp, I found an abandoned Ridgerest pad. It is a full-length pad exactly like the one I used on the Pacific Crest Trail. And you bet your ass I rolled it up and strapped it to my pack.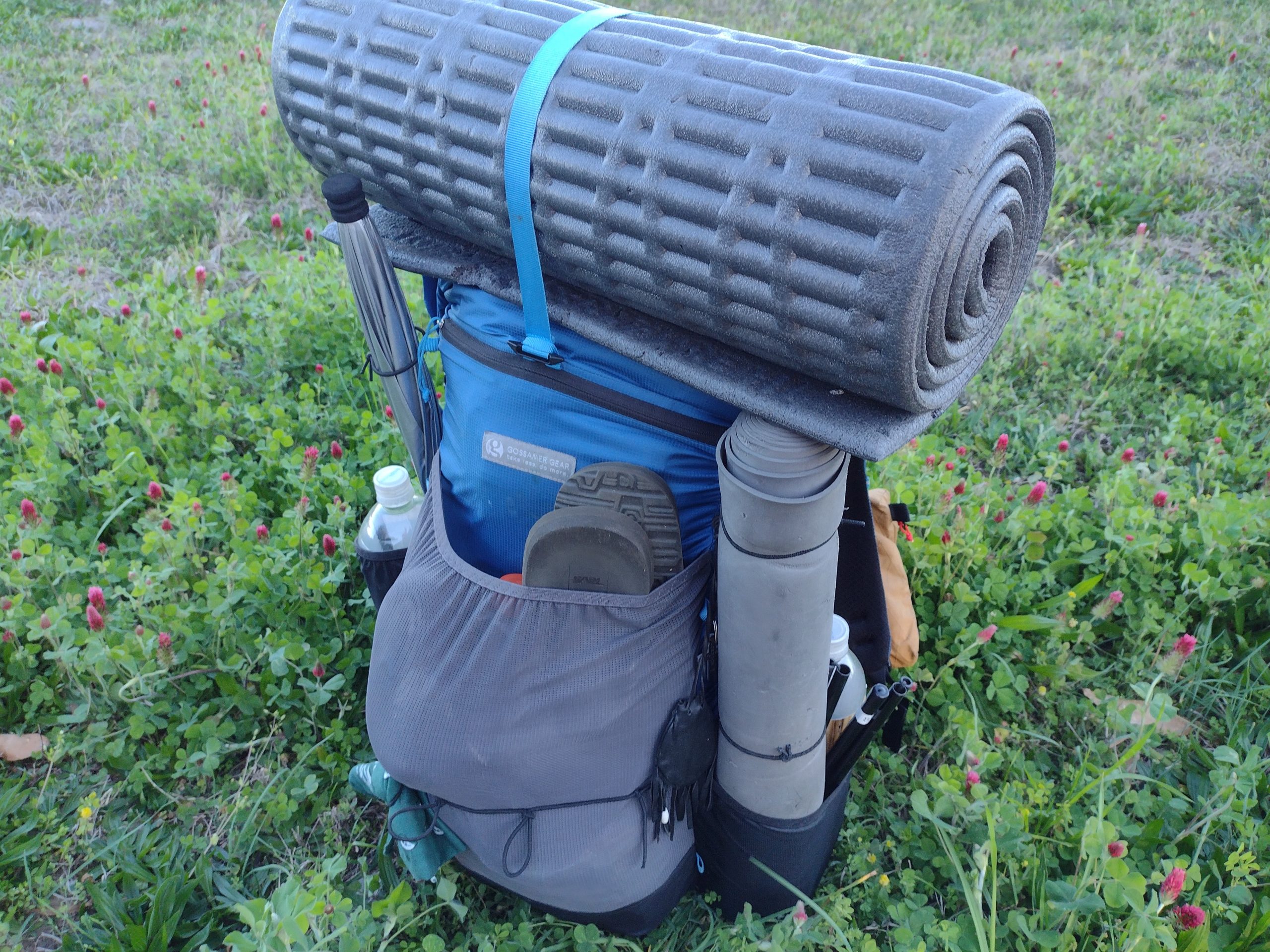 On to Ebro
My last resupply box is waiting for me in the post office is only open from 8:00 a.m. to 12:00 p.m. Monday through Friday. My original plan was to Camp only 2 miles outside of town and then head in about 7:30 in the morning.
But I am only 3 miles from town and it is only 3:00, so I might as well just go into town and hit the post office in the morning from there. I called the only hotel in town and it looks like they have a room available so off I go.
The road walk into town is not too bad. It is a four-lane highway so the traffic is more spread out. The shoulder is also very wide. And halfway into town it turns into a sidewalk.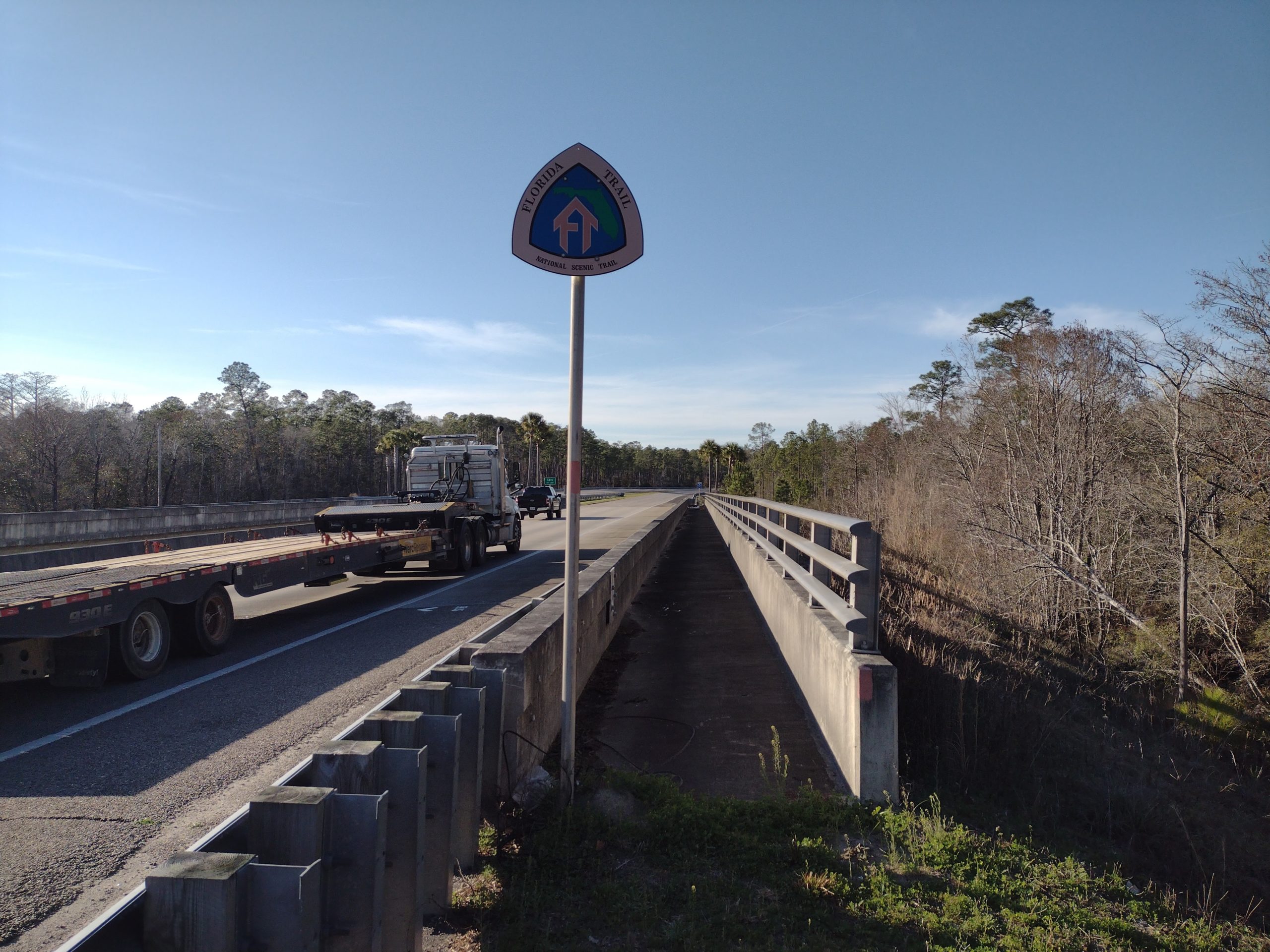 The walk is easy and I make it to the hotel by 4:00. They have a special hiker rate and the room has a bonus. It has an actual tub instead of a shower.
So not only do I have the closed cell foam pad to use tomorrow night, but I also have a bathtub that I can use to find the leak in the air mattress tonight. Today just keeps getting better.
And it does get a little bit better. I thought there was only a dollar general and a gas station in town. But the gas station also has a Subway inside of it. Even though I am not fond of Subway, they're toasted sandwiches are far better than anything you can buy at either Dollar General or a gas station.
The normal priorities ensue. Take a shower. Dry out wet things like the sleeping bag and tent. Go eat dinner. Repair air mattress. Blog.
I ended up finding three holes in the air mattress. To a right at the very top in a similar place where the other one was punctured. But this one is also leaking from the corner of the valve.
This model has a crazy wing lock valve. The air mattress is glued to a hard section that houses the valve. That section has sharp corners. And those sharp corners look like they're puncturing the air mattress itself.
I consider this a design defect and will be letting Thermarest know about my displeasure. They have over engineered something that wasn't a problem and created a new problem.
I was able to repair the two punctures at the top, but I have run out of repair tape and cannot repair the valve. The box that I will be picking up tomorrow morning as a large quantity of additional repair tape. I will finish the repairs tomorrow.
And if I am lucky, tomorrow night I will sleep comfortably on an air mattress on a Thermarest pad on 1/8 of an inch foam pad. That sounds like heaven.
Emotion of the Day
I'm not sure whether to pick joy or delight. I think joy is probably the one to pick.
Neither of the roadblocks were full of joy today.
But I was very happy at the convenience store, so that counts as joy.
I was very happy to find a Thermarest in the middle of the woods which is exactly the item I need in case I cannot repair my air mattress. I am 950 mi into this hike and have found two foam mattresses. They are the only two I have found in about 7,000 miles of hiking.
And to find out that the hotel had a bathtub where I could find three leaks in my air mattress also fills me with joy. I have had some leaking pads in the past where I never found the leak.
The only thing that could fill me with more joy is finding a barbecue restaurant right next to the hotel.