I might as well not carry food around lake Okeechobee. So far every 12 miles has been a town with great food. I am just carrying dead weight.
Leaving Clewiston
The traffic was not as loud last night, so I slept better than the night before. Either that or I was more tired or more used to it.
It did not take long to pack everything up and head out to breakfast. I ate at common grounds again because it is on the way out of town and I enjoyed the coffee. I had an omelet and an Americano this morning, both delicious.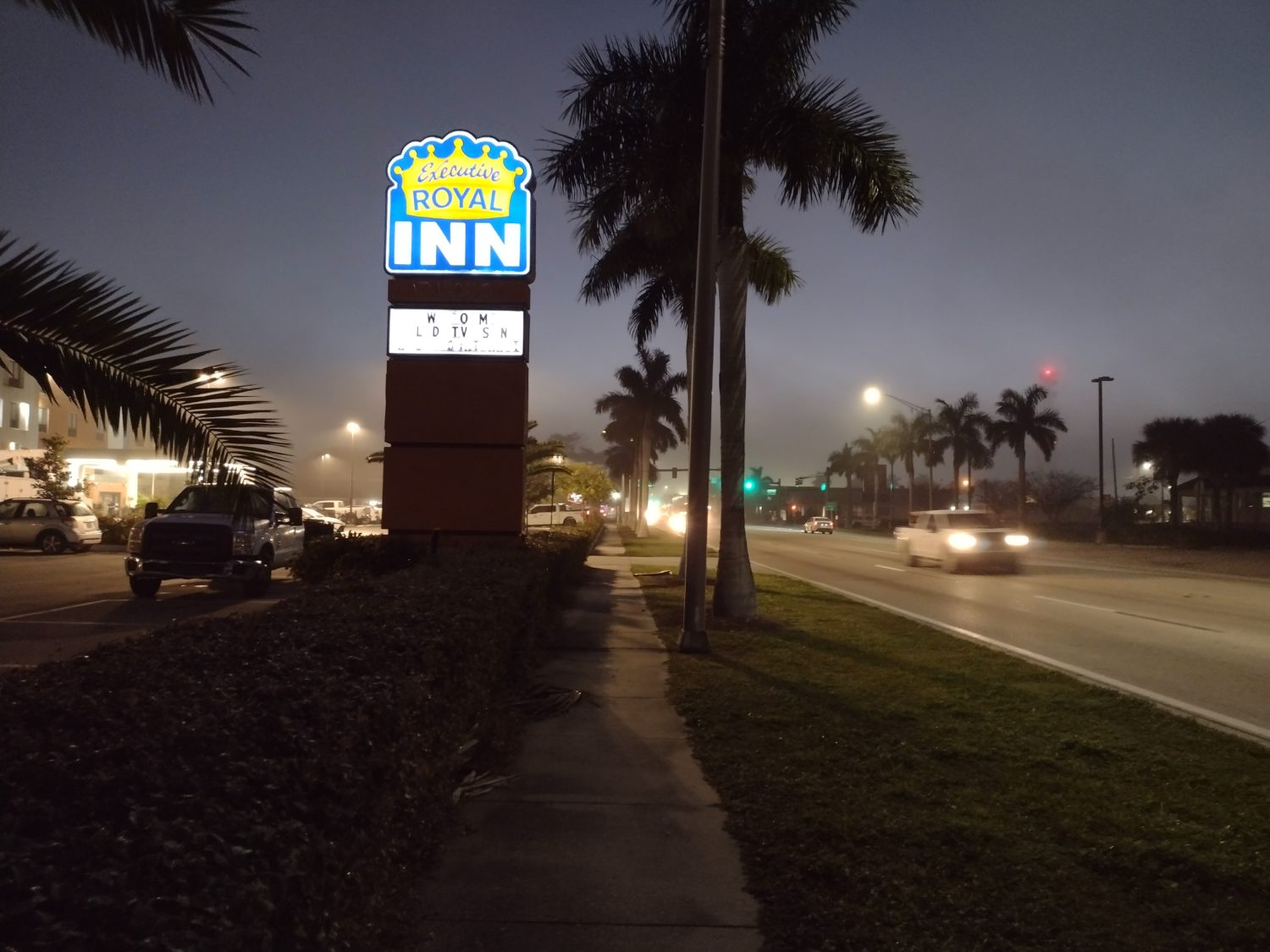 The walk back to the trail was cool and breezy. I am not sure I saw a single blaze within the town of Clewiston. Having an app with GPS coordinates definitely makes it easier to navigate.
Back in the day when all I had was a description via words and an out-of-date map, I was always getting lost. That problem has taken care of itself with technology.
Back the Trail
Back up on the embankment, the fog was obscuring many things that I would have liked to have seen. For instance I could hear the sugar Mill but I couldn't see it. I like seeing things like that.
There were a few people walking on the trail on their morning walks. But still no other hikers yet.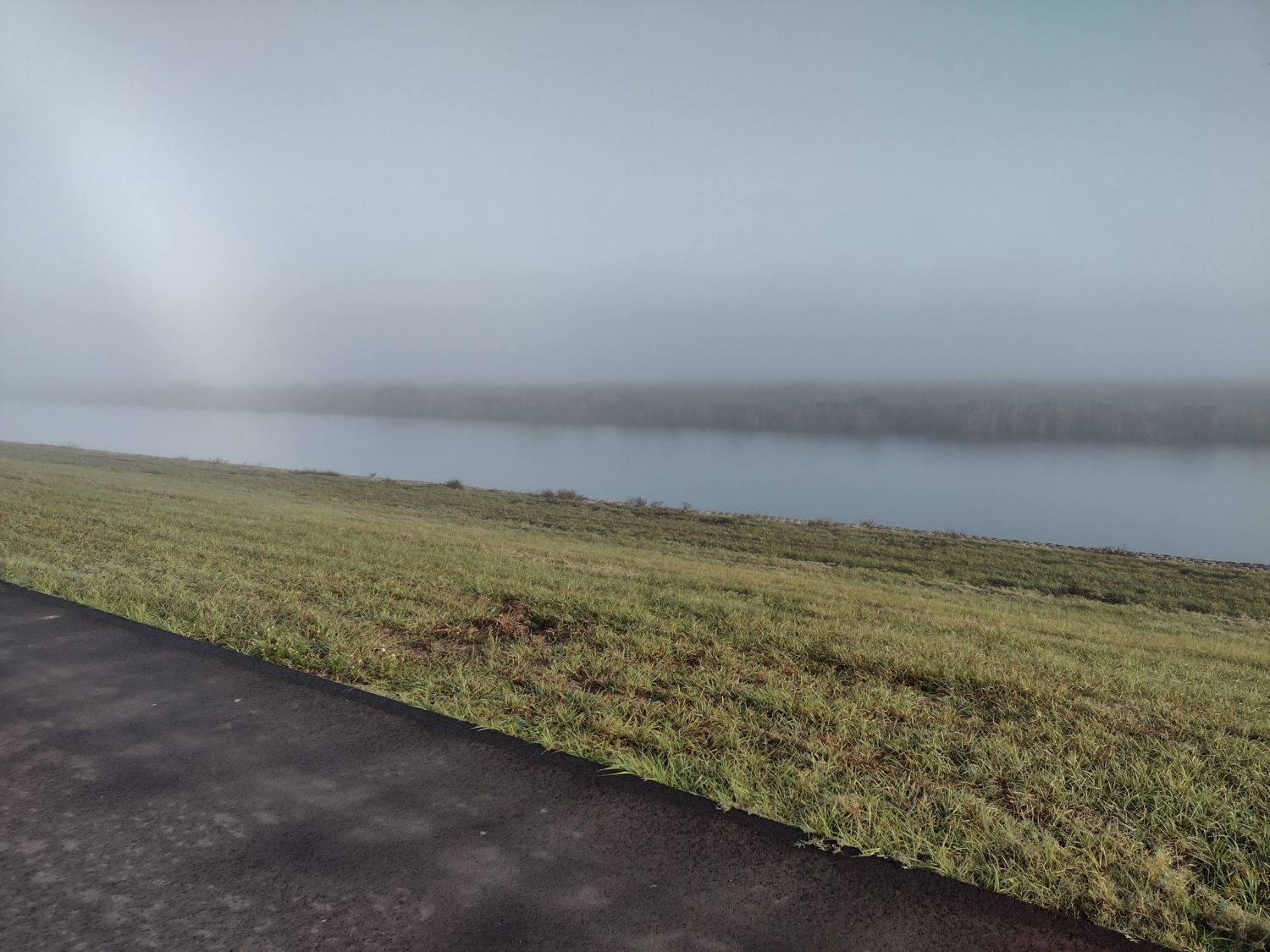 It took several hours for the fog of to finally break. It was a fairly cloudy day so the sun was obscured somewhat, but I was wearing my long pants just in case. As it approached the noon hour I began to regret that decision. I was getting hot but the sun was still not terribly strong.
I did learn one thing today. I was unsure as to the proper nomenclature for what I was walking on. Is this a dike, a levee, a dam, or just an embankment? Since it is called the Herbert Hoover dike, the official term must be dike. It makes sense to me now, because I can see that the lake level and canal levels are about 8 ft different.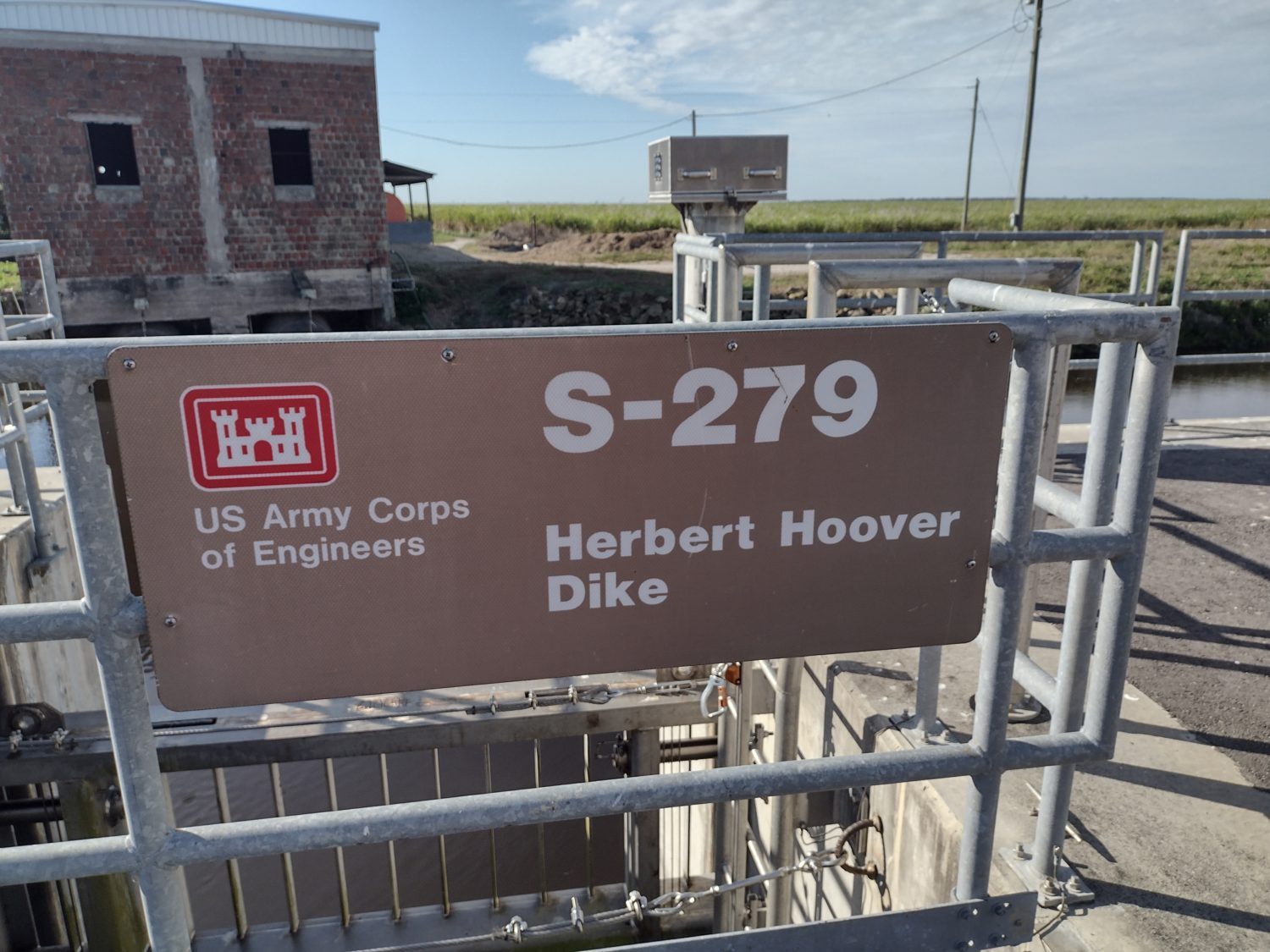 Arriving in Moore Haven
All of these towns are situated on outflows from lake Okeechobee. When you come to a town the trail breaks away from the lake and goes into town to a bridge across the outflow then back around to the trail again.
Approaching Moore Haven, there is a park which is essentially a boat ramp and bathrooms. I decide to duck in to refill water and switch to my shorts. Just having shade is so nice. I guess I am getting hotter than I think. This is not a good sign because I have a long road walk ahead of me.
The bridge over this river is a very long and elevated bridge. It has to be well over a half mile long. Which means that we have to hike a quarter mile to get onto it and another quarter mile to get off of it as well.
I was hoping to get good views once I hit the top of the bridge. But it was a little disappointing.
What was not disappointing was the Mexican grocery and grill the other side of the bridge. I didn't need any supplies but I definitely needed some tacos. I ate behind the building in the cool shade and they were delicious. I felt rejuvenated now.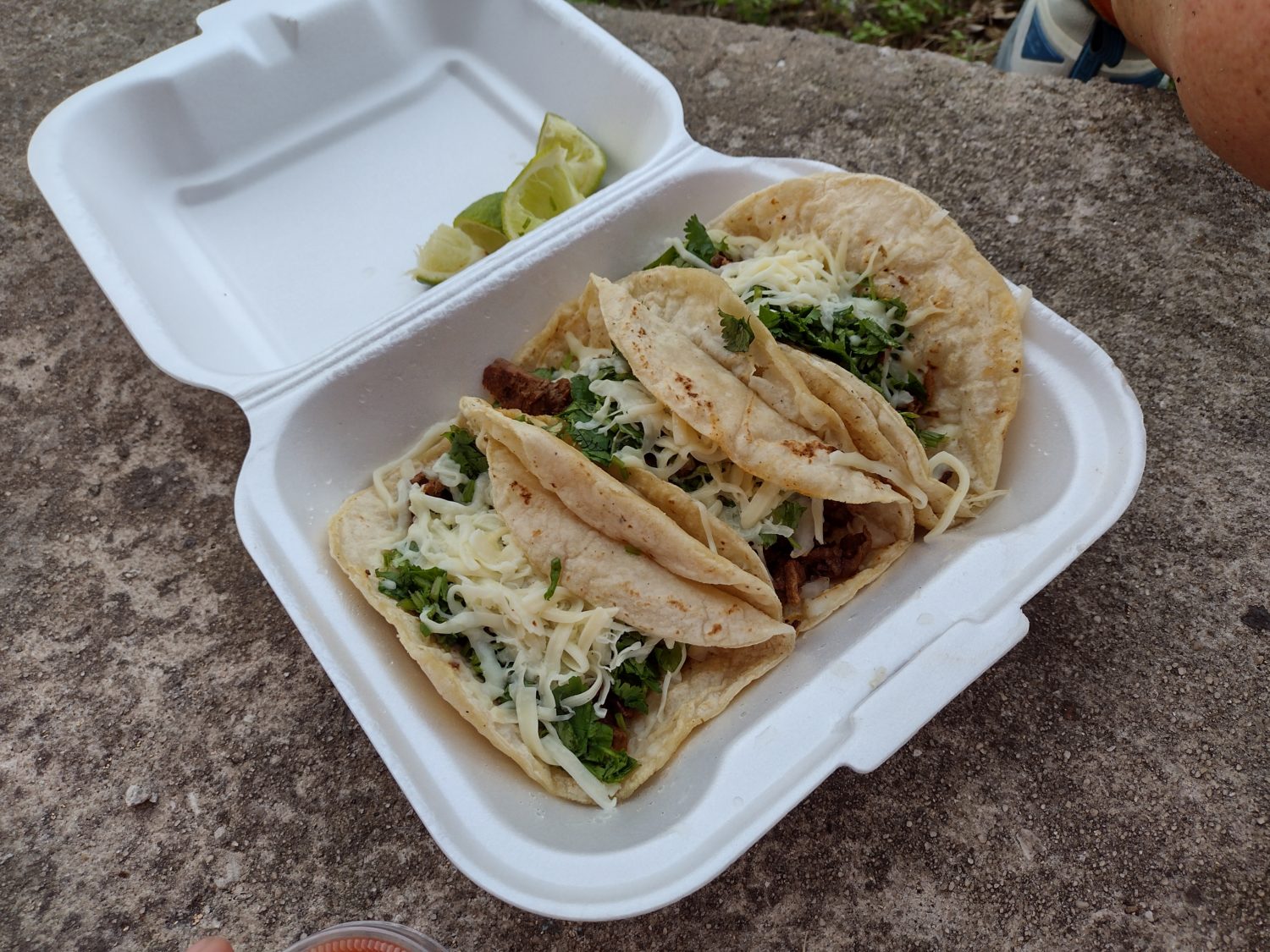 A Long Road Walk to Bypass Construction
The trail around the lake has been undergoing construction for the last several years. Road walking has been a common theme.
As best I can tell the next four miles is the only section that I will go through that is still under construction. It is replaced with a five mile road walk. The first two miles around a back road next to a sugarcane field.
The last 3 miles are on a high-speed 60 MPH highway. This part sucks. There is a guardrail on the side facing traffic which means I only have about 8 ft to the high-speed traffic. The good part is that the entire shoulder is paved.
I always walk facing traffic so that I can look at the drivers in their eyes to see if they are paying attention or not. These drivers are all good girls and boys. But some of them are going 80 plus.
I am getting pretty tired on this section, so I look for entrances sugar cane fields where I can get further away from the road and take quick breaks.
Walking on asphalt all the time it's hard on your feet. The trailer around the lake is asphalt, so it's not like the roadblock is any worse. But for some reason my feet are really bugging me today. I am wearing a different pair of socks so I think I'm going to switch to my usual pair tomorrow.
Once I make it back onto the trail, I feel great relief. Relief of not having to walk next to you crazy drivers. Relief of knowing I can stop and rest whenever I want. Relief of knowing I have an endless water supply 100 yd from me.
Let's Make Camp
It is now about 4:30 when I get back on the trail. There is a campsite right nearby, but it is too early to stop. The campsite looks decent.
There is another one 3 mi ahead near a boat ramp. I should be able to get there in an hour. That would be a good time to stop.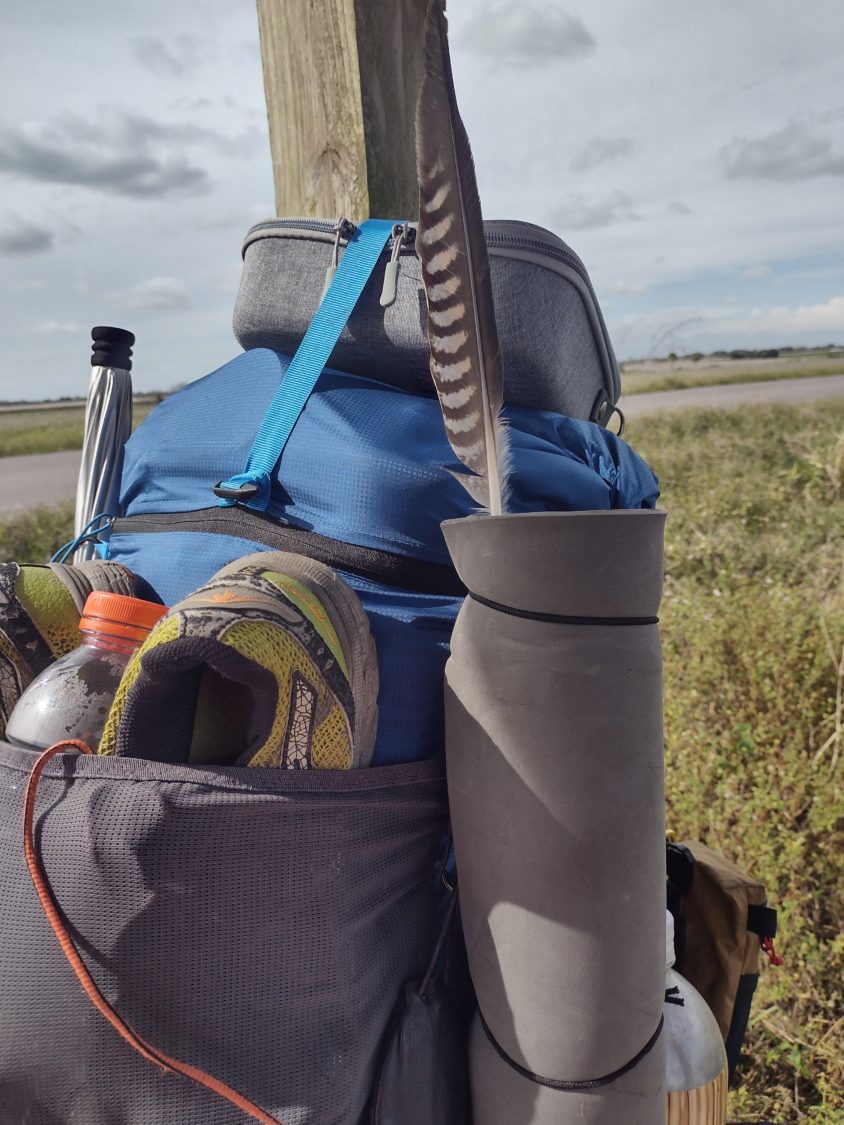 I do take one break to take my shoes off and lay directly on the asphalt. It is not hot at all and in fact slightly cool so it feels good. I take my shoes off to let my feet air out somewhat.
An hour later when I get to the next campsite, I can see it from the trail. I can also see a ton of boaters. This looks more like a party spot than a campsite. There is also a no camping sign right out front.
The register in the app indicates that people have been camping here but it does not look very inviting to me. Let's look further down the trail on the app. Only 3 miles away is another hotel. Let's give them a ring.
I find out that they do have a room available for one night, so this is my new destination. It is an hour away and I have 30 minutes of daylight left. I can deal with 30 minutes of night hiking.
My pace is good. I use my watch to check and I'm doing 16 to 17 minutes per mile. Air conditioning motivation can make you hike quite quickly.
The only thing that makes section of trail unpleasant, is it every time it crosses a bridge the trail ends. You are basically just having to walk on the shoulder of the highway across these little creeks. It reminds me of the road walk.
In daylight, the bridges are not too bad, but after dark, it's a little sketchy. I don't need to hike with a light but I get it out anyway. Every time I come to a bridge, I shine it on the ground in a waving motion so that I am visible to the drivers. I also have reflective strips on both my pack and my hat.
There must have been at least a dozen of these little bridges on this last three mile stretch. When I get to the last one where the trail turns right at the hotel is straight, I can see that this is a long one.
It is now past 6:30 and fully dark. On the map, the place I am going looks like it's just across the creek. But in reality I have to go well over a quarter mile along a guardrail to get to an opening that brings me back to the creek where the motel is. This is an extra half mile I was not expecting.
Air Conditioning
The place I am going to is actually an RV Resort that has a few hotel rooms. The Aruba RV Resort. They have a restaurant on site too. Sounds like a perfect stop.
After I check in take a shower I head over to the restaurant. It seems to be a combination of Mexican and Cuban. I like them both. I get a quesadilla with black beans and rice and plantains. A perfect combination.
A quick check of the map shows that I am 20 plus miles from the end of the Okeechobee Trail. This means that tomorrow night I am likely to be staying in a motel again. Am I hiking or touring? Both, I guess.
I was worn down coming into Moore Haven, and run down on the road walk. But other than that, I am in pretty good spirits.
But I keep eating food that I encounter along the way instead of eating the food that I am carrying. That is a love-hate relationship. I love fresh food. But I hate that I have been carrying extra food this far and will continue to carry it even further. One positive is that this restaurant is not open for breakfast. I think I will have a feast of my own just to eliminate food weight.
Emotion of the Day
Relief would definitely be today's emotion.
Relief that I am out of Clewiston. Relief that I have air conditioning in the shower tonight. Relief that I have had three great meals today. Relief that I shouldn't have any more road walks coming up soon. Relief that I will probably have a hotel tomorrow again. And relief that the clouds kept the Sun from grilling me like the past few days.