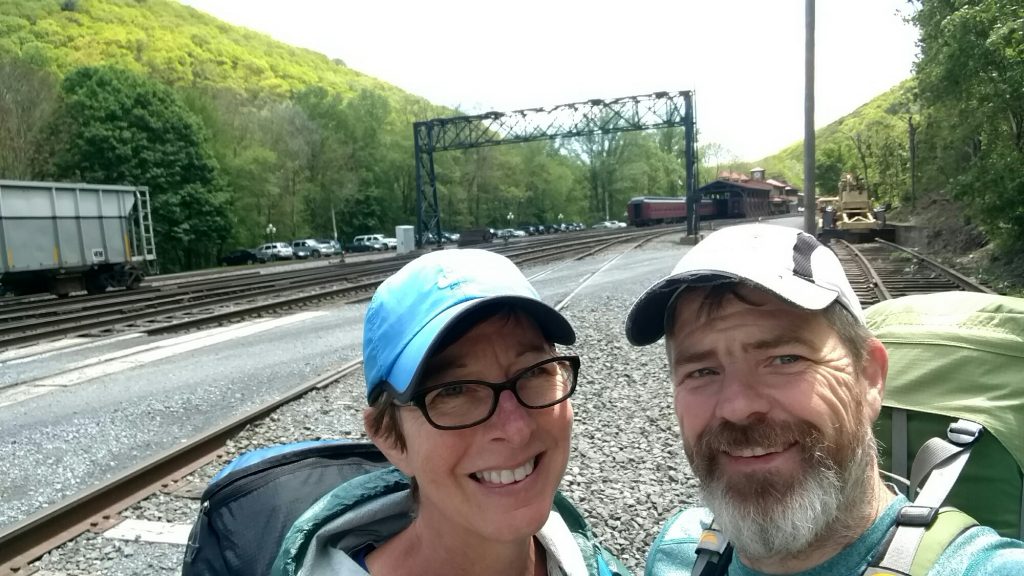 Today was a very trying day and we had to make a tough decision to quit the trail today.
Last night was cold but we both weathered it well.  I wore an extra layer and kept the mummy cinched down tight and the 34 degree weather was conquered easily.  I slept quite warmly until daylight when my legs felt a little cold.  Karen's down bag kept her toasty all night.  Waking in the chilly air was pretty tough, though.  We did not have a cookable breakfast so cold granola bars it was.  And they were as hard as rocks in the cold temperature.
We started at 8 am and had 10 miles to get to Port Clinton.  The first few miles were quite pleasant and two hours later we had knocked out four of the miles.  And then the rocks hit.
Karen's heel bothered her quite badly on the rocks and there was no shortage of them.  We had already decided that we needed to take a day off in town to reassess the blisters and see what the true culprit was.  The blister bandages still were intact so we left them on.  Usually they start to come off after 3 days or so and these had been on about a week.
Each mile got progressively slower and more painful for Karen but we did end up making it to town by 1 PM and were able to hit the only open restaurant in town with another hiker before they closed at 2.  The fourth hiker we camped with last night was the one who really wanted to make the restaurant but he never made it into town.
After lunch we were able to hitch a ride into the next town that has a motel, as the hotel in Port Clinton is closed on Mondays.  Once we were showered and able to get the bandages off we discovered that she did not have blisters at all, she has a tendon injury.  Most likely tendonitis.  Either way, it is not an injury that is likely to heal in less than a month and we really can't realistically let that heal on the trail.  The rocks only get worse from here and there's no sense in pushing on and making it worse.
So this is the end of our trip, as we have already booked a flight back to Florida on Wednesday.  We had some fun in these last two and a half weeks and 195 miles of trail, but we must now return home.
I asked Karen what her favorite part about the trip was and she said hiking through the farmlands.
The Cumberland valley farms was one of my favorite parts, too, and I'm glad I was able to share that with her in a way that no one can experience from a passing car.  There's something about walking through the middle of it that makes it special.