Most of my day revolves around sunlight and food. Keep it simple Sam.
White Springs
The primary job in town tomorrow is to reach the post office when they open at 8:00 a.m. The one restaurant in town opens at 5:00 a.m. so that's no problem. I am about an hour away, so if I leave at 6:30 I can eat breakfast at 7:30 and pick up my package at 8:00.
The campsite I picked out ended up being a good one. Oak leaves shielded most of the tent from the morning dew, so it was barely damp when I packed it up. I wasn't able to get out at 6:30, but I was out at 6:45. This will have to be good enough.
It was dark enough that I needed to use my lamp when I was in the trees. But once I was out on the road, I didn't need it anymore.
It is harder to follow blazes in the dark because orange on brown doesn't show up well without a light on it. I got lost under the bridges, so I wasn't sure how to get up to the road. I would have done better just to take the access road all the way to the highway instead of following the trail in the dark.
The bridge across the river was not very long and it was extremely wide. It had ample space for pedestrians to safely cross with the traffic.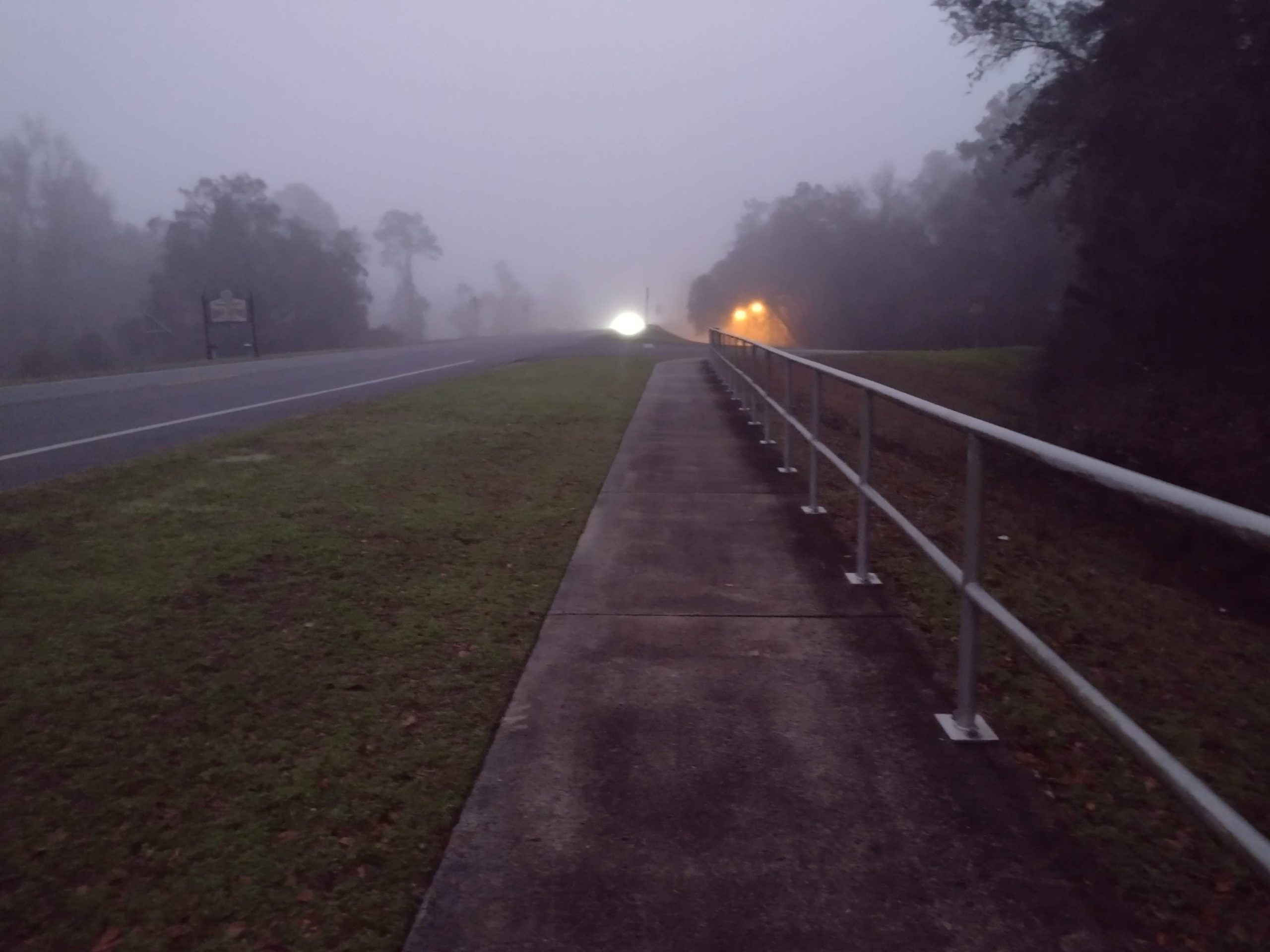 On the other side of the river, the trail snaked along the river some more before popping up into town from the south.
I was going to grab some cheese sticks at Dollar General, but they don't open until 8:00. So I just headed straight for the restaurant to eat breakfast. I was able to charge my phone and battery some while I was eating.
There is a laundromat in town, but I don't feel like waiting two hours to do laundry. There is a convenience store, so I stopped to get some coffee and a few food items I know are not in my box at the post office.
I finally get to the post office just a few minutes after 8:00. I quickly get my box and go to the lobby area and continue charging my phone and battery bank while I unpack my box.
The box was packed with supplies to get me another 200 miles. But I am only going to be going 70 or 75 miles so there are way more of certain supplies than I am going to need.
The pack was much heavier when I put it on and headed out of town. When I was already 2 miles away, it dawned on me that I was sitting at a post office and could have easily mailed a lot of the things I didn't need back home. This is why I need to write things down. I could have dropped at least 4 lbs right there at the post office.
Hiking Along the Suwannee
The trail exits town through the Steven Foster Center. The park is a ghost town in the morning, but that is just fine for a solo hiker.
It's only been a few years since I hiked this section so everything looks pretty familiar.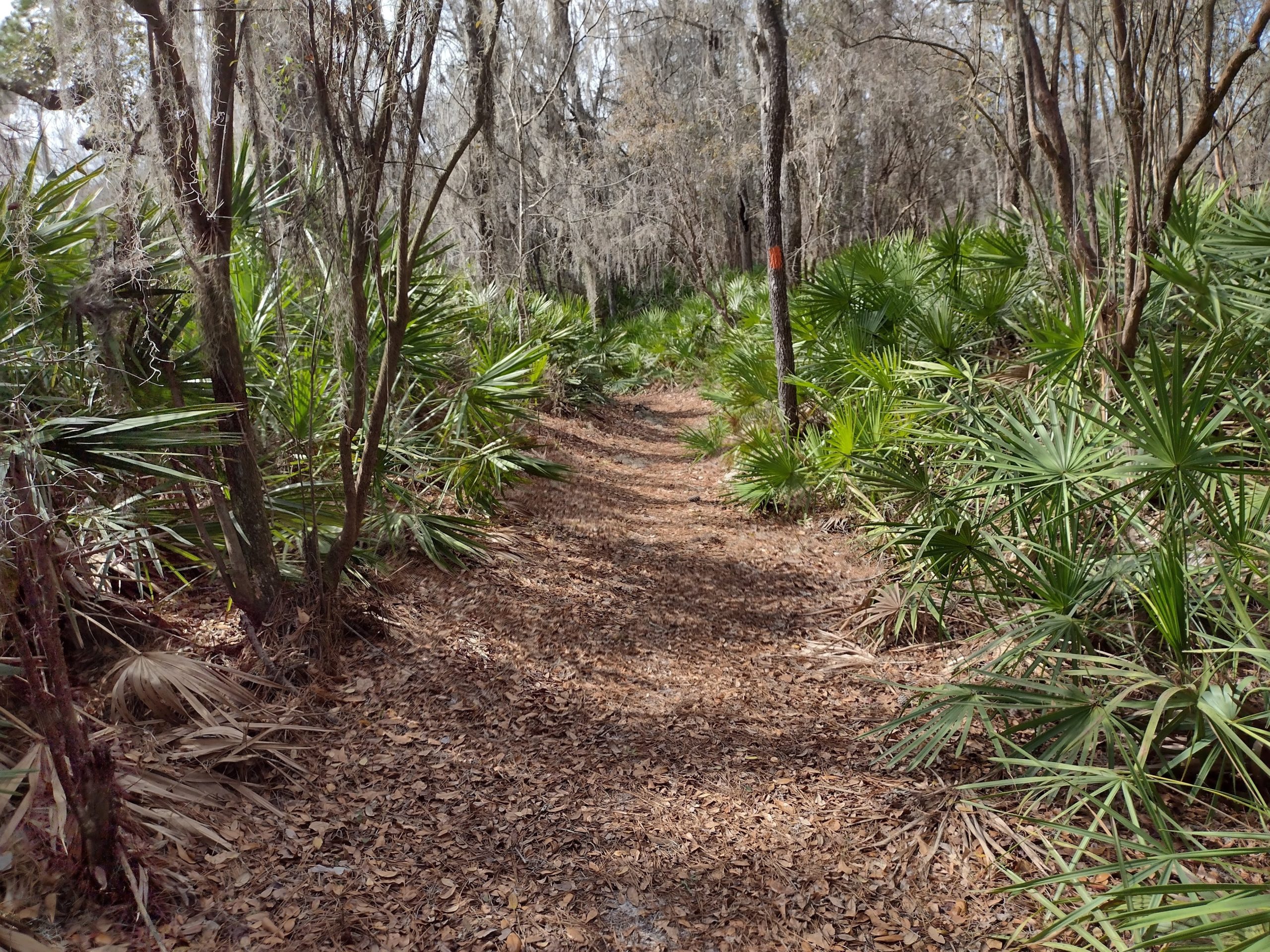 Once the trail gets out of the park, you are mostly walking on the bluffs above the Suwannee River. Because the trail is on the bluffs, there is a lot of up and down in the trail. And when it goes up and down it is usually steep. I am not going to be able to do as many miles today as usual because of the extra elevation.
The elevation doesn't slow you down because it's a long climb that tires you out. It slows you down because it's so steep it's actually hard to climb or descend. Some places are so steep I'm surprised it hasn't washed away years ago.
The trail doesn't always stay within sight of the river, though. There are private residences in certain sections along the river. 
Most of the time the trail will route away from the river to go around the residences. But in other sections, they actually go between the residences' backyards and the River itself. One resident even put a water spigot right at the fence line for hikers to fill up from. Thank you, resident.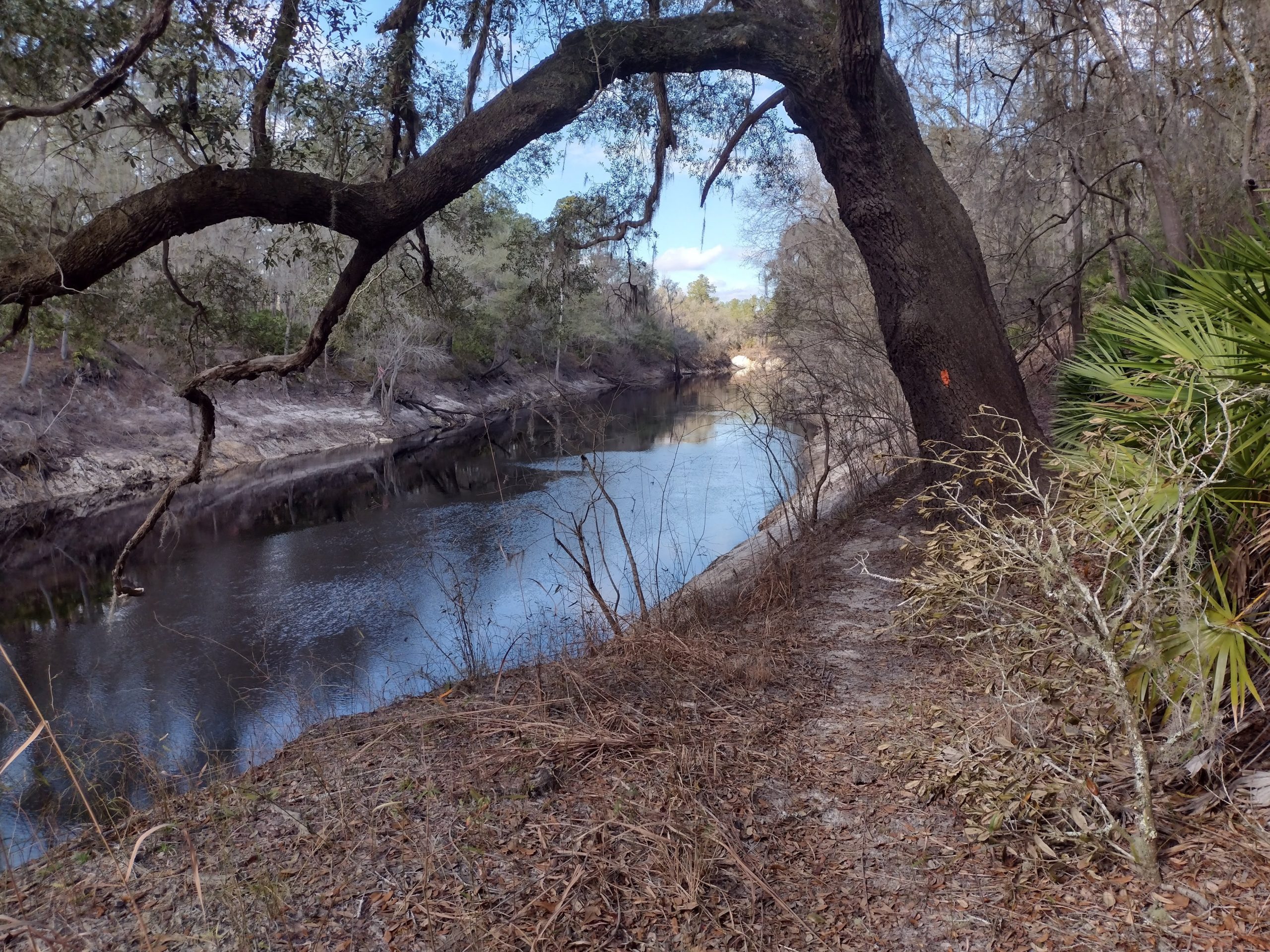 There were a few sections that I had forgotten about but remembered once I got there. One of them was a really high bluff that was far higher than the bluff on the other side of the river. It seemed like we were actually looking down on the treetops on the opposite shore.
There were also mountain bike trails and horse trails intermingled with the hiking trail. And in some sections, the mountain bike trail and the hiking trail were the same trail.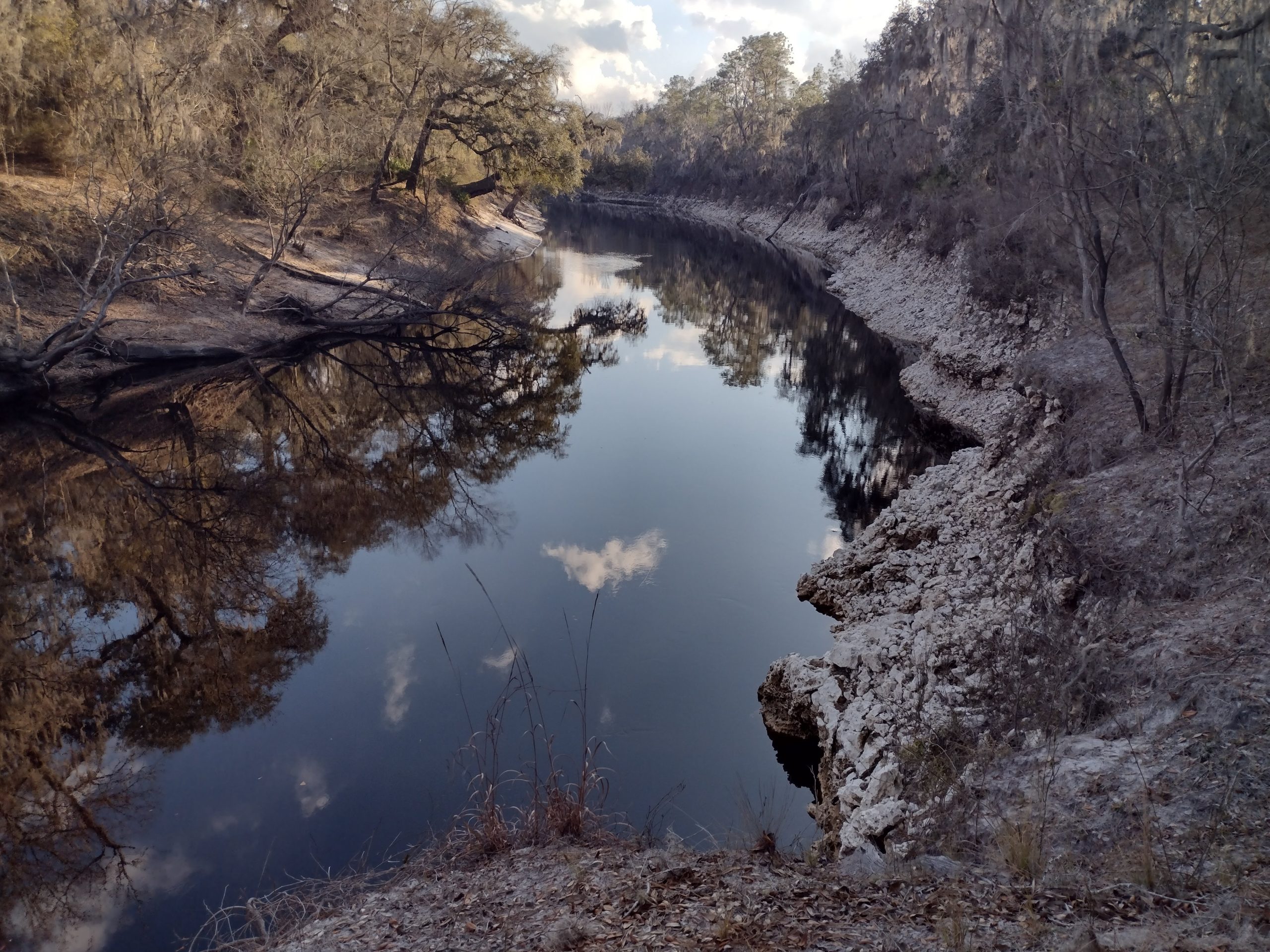 Hot Weather
The forecast was that it was supposed to stay in the '70s today. But the morning stayed foggy for so long that I started out pretty wet and damp. By noon it was quite warm and I was sweating pretty decently.
I am wearing a fresh set of clothes today in hopes that I can find a place to do a quick wash in the river where I can find a rocky section that I can scrub my clothes on. I find one at about 11:00 a.m. so I stop to wash out some things and filter some water at the same time.
I would later regret filtering water at this location. I didn't taste it when I collected it, but when I started drinking it afterward it tasted like green algae. Definitely not a refreshing drink.
When I stopped for lunch, I made a chicken salad wrap and ate some chips. Since I have so much food there's no point in trying to ration anything. If I have it and I want it, I should eat it.
What I really need is either some powdered Gatorade or better water. I know there is a stream that flows into the river coming up, so I decide I will wait until then and just get all new water.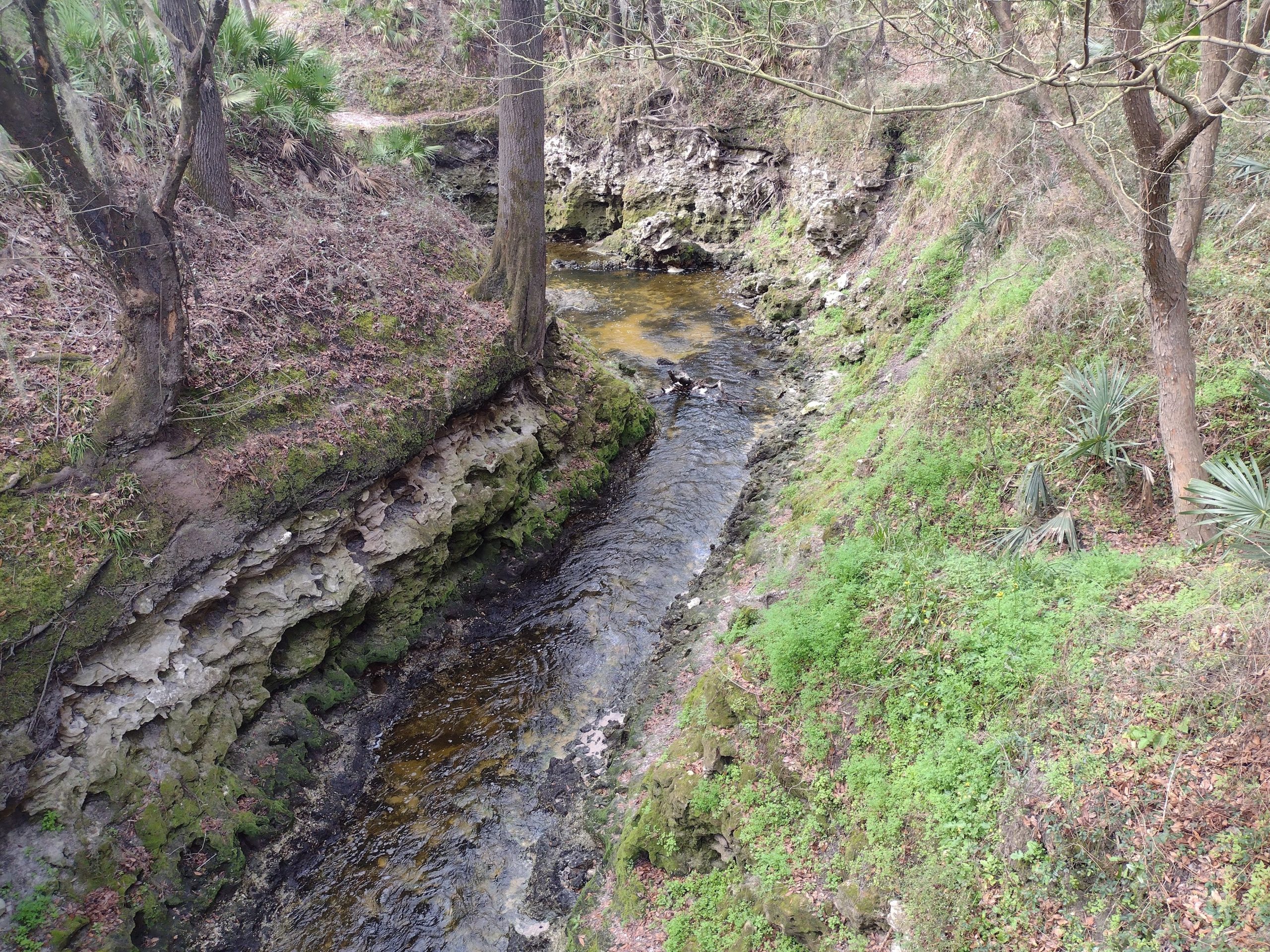 It wasn't until 2:00 when I found a stream that had what looked like really good water. I dumped what I had left of the algae water and filtered an entirely fresh set.
I also used this time to drink the rest of the Starbucks double shot I packed out from town. It's amazing how effective coffee is with hiking. It's like a three or four hour energy pill.
Where to Camp
I really would like to get a shower today. I have a few options available. There is a side trail to a convenience store across the river at the spot I should be at around 5:00. It is 5 miles from here to the town of Live Oak where there are several hotels. Or across the street is the Spirit of the Suwannee Park which has cabin rentals.
The plan is to walk to the convenience store and then see if I can get Uber service into Live Oak. If I can get an Uber ride, then hotel time it is.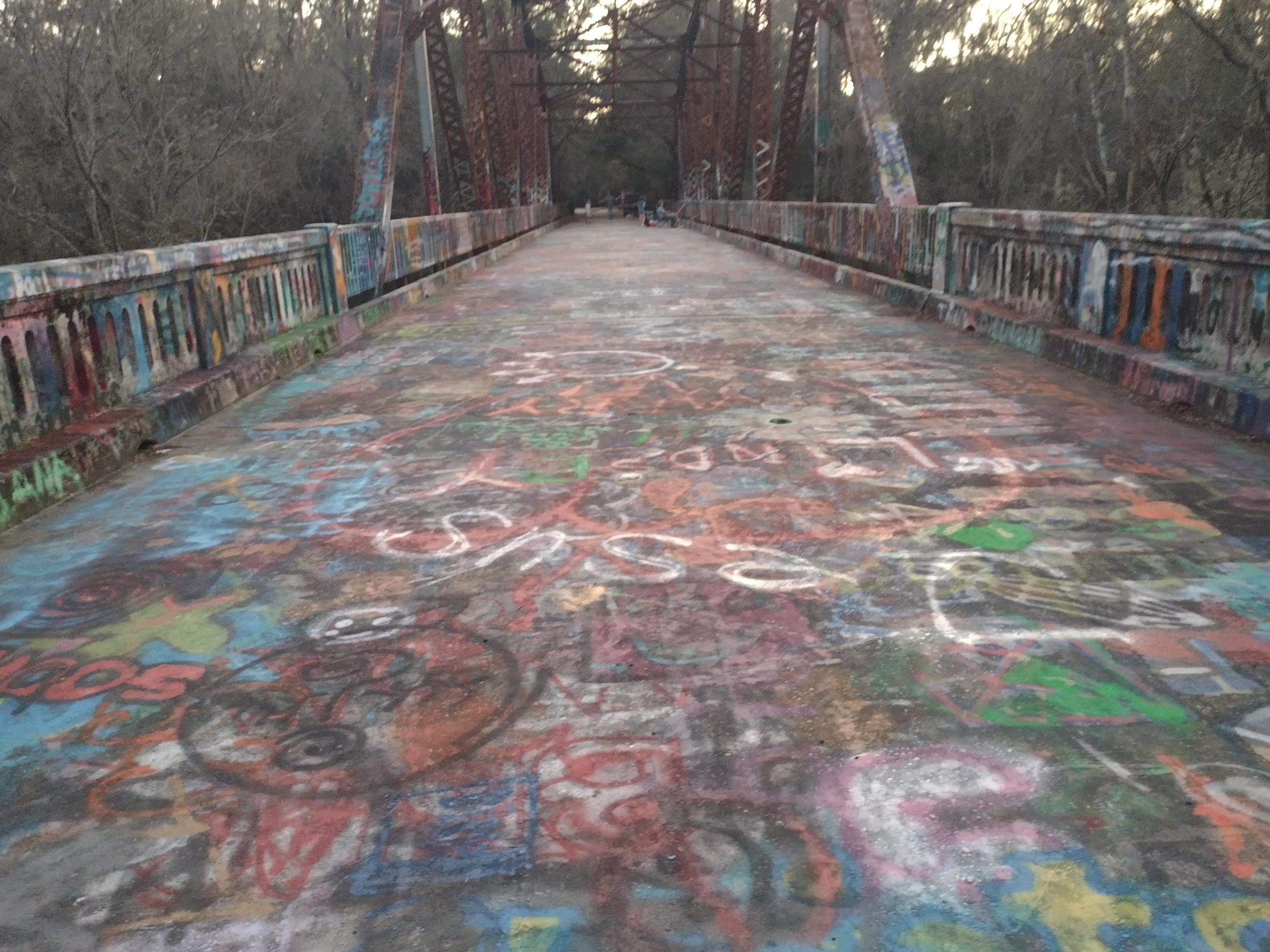 If I can't get an Uber ride, then I will call the Spirit of the Suwannee to see if they have any cabins. The worst case is they do have a campground with showers available.
As I expected, I cannot get an Uber into town even after trying twice. I am not going to road walk five miles and I'm not going to hitch five miles away without knowing I can get back easily.
So I decided to call the park across the street. It is not even 6:00 p.m. yet and the phone just goes to hold music for over 20 minutes. I hang up and call again and the same thing. I'm not even sure they are open.
So with both of those plans failing, I have no choice but to hike back out to the trail and just camp somewhere. I find a decent place between the old 129 bridge and the new 129 bridge. I'm only a quarter mile away from the new bridge so it will be a little noisy for most of the night.
After looking at the maps again, there will be a few options for showers tomorrow. I will be passing a paddler camp that has shower facilities that I can probably use. There is also another convenience store with an RV Park, and a county park.
 I know the county park has showers and the RV park should, too. It will be a very long day to make it that far so I'm going to have to get up early again just to have a fighting chance.
Emotion of the Day
Even though as I write this I am tired from the ups and downs of the trail, it is not the emotion that is sticking with me.
What is sticking with me is disappointment.
Disappointment with not being able to get into Live Oak to a hotel where I could shower and do laundry to be comfortable for the next two days.
Disappointment with staring directly at a facility that rents cabins but won't answer their phone. I could have just walked over there and taken my chances but that would have used all of the remaining daylight I had left to find a campsite.
I think there was also a little disappointment with the trail itself. I didn't remember as much of the trail being away from the river as their actually was today. Not that that's a deal breaker, it is just more boring walking through the woods with nothing but palmettos to look at.
But also disappointment of not thinking to mail back extra items that I won't need for the next three days. I had a golden opportunity to shed four pounds on the spot. But it is disappointing that it took me 2 miles of hiking to even think of the idea.
There's also some disappointment with the water. Here I am next to a river that I can bathe in but it's too cold and there are warning signs all over the place to not swim in it because of alligators. I can rinse my clothes out and beat them on a rock, but that's not the same as a washing machine. And that is disappointing.
All in all, it was still a good day. But it's disappointing that it wasn't a great day when it easily could have been. We will try again tomorrow to have a great day.