I think it was Forrest Gump that said something like the happiest day in a kid's life was the day he got a new pair of shoes. Well, the best day in a hiker's life is the day he got a shower.
Early Start
I have to try to go as far as I can manage today to chip away at the mileage for tomorrow. But there are two obstacles between me and wherever I will camp tonight. And that is two parks that have showers.
I have lost track of the days since I last had a shower in Palatka, but it has been many. The number of days since the last laundry is even larger. The last shower and laundry day was at the 88 store in Ocala. That was hundreds of miles ago.
I managed to get rolling by 6:45 in the morning which is good enough. It was dark enough that I needed to use the headlight for at least 15 minutes. It is much darker in the morning when it is foggy and it's definitely foggy today.
I am camped between the old 129 bridge and the new 129 bridge. The first obstacle is getting past the new 129 bridge.
The trail is difficult to follow as it goes on and off some dirt roads near the bridge. I end up taking off in the wrong direction. Instead of going towards the water side of the bridge to go under it, I start heading towards the ramp side that would take me over it.
And not only that but I also have a creek to cross. It is about 8 ft wide where the trail crosses it. There's no way I'm taking my shoes off this early in the morning. I start hunting for alternate crossings upriver because I thought I remembered reading about an area upstream.
About 50 yards upstream there are a few rocks but not enough to make it all the way across. So I keep looking. About 100 yards upstream I see the crossing with many many rocks. This one looks doable.
Normally I don't shy away from rock hopping across streams. But in this case, it is still dark and I am having to hold my flashlight. If I lose my balance I am likely to drop the flashlight and that would not be a good thing. I guess I better not screw up.
The crossing goes nice and easy. The trick to any kind of crossing is to keep moving and actually try and go as fast as possible. But you have to be able to anticipate a rock or a log that's going to move and change your trajectory. But your balance is so much better when you're moving than when you're standing still that it's worth the risk to go faster.
After the stream and the bridge across the highway are out of the way, it's easy hiking in the woods along the river. The entire morning should be walking pretty close to the river.
Holton Creek Paddler Camp
My first destination is the paddler's camp that I should be heading some time after 11:00. The state has set up these small campgrounds spaced out along the Suwanee River. They have several buildings that are basically just screened-in walls with wooden floors for sleeping in. I think the cost is only $6.50 a night.
But what I am interested in are the showers. They have free hot showers for the paddlers and hikers. When I get there one of the park volunteers is just finished cleaning them and let me know that only two of them have hot water and two of them only had cold water. That is good to know.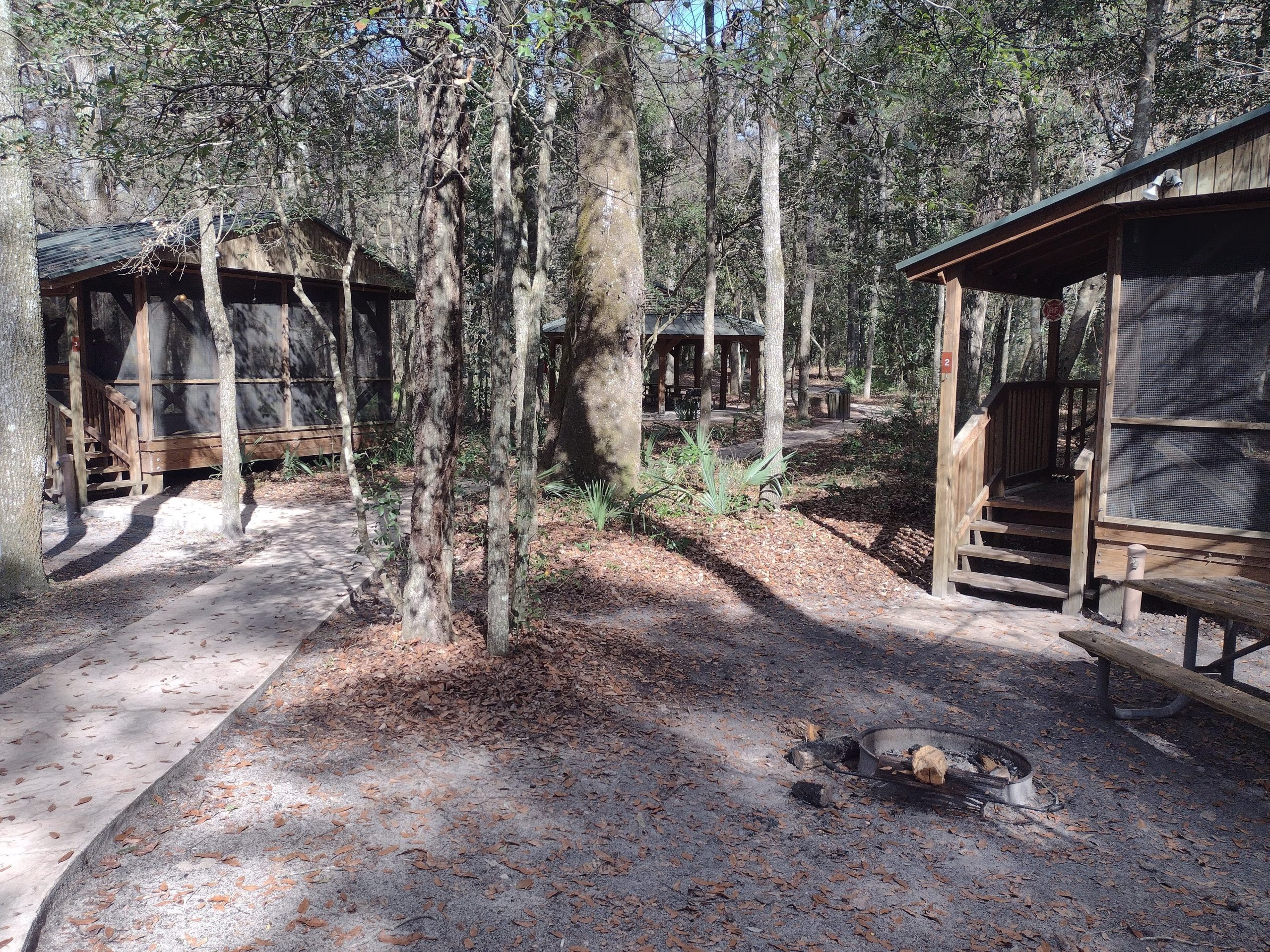 I pick one of the hot showers and immediately scrub days worth of funk off of myself. I always carry a small bottle of shampoo for just such occasions when you are taking a shower in a campground. 
Shampoo can work as a body wash and laundry soap, too. So I also take the time to wash a pair of underwear and a shirt to use for tomorrow. I will wear the pair I washed in the Suwanee River yesterday after the shower.
I noticed as I put them on that they also smell slightly like algae just like the water I collected from the same location. Let me tell you the smell of algae is way better than what I smelled like 20 minutes ago.
I grab one of the picnic tables and begin eating lunch. For some reason, I am very hungry today.
There is a new camp host just setting up for a 3-month shift at this campsite. They are a couple from North Carolina and they will be living in their small travel trailer for the next 3 months. Where do I sign up for this job?
Once lunch is done, it's time to head out. The trail is pretty much the same here as before. The trail is high on the bluffs and going up and down each ravine is actually quite challenging. But the view makes up for the extra effort.
The Alapaha River
Only a few miles past the paddler's camp there is a trail closure and reroute notice. There is no information about the reroute other than signs posted on the ground to go this way or to go that way.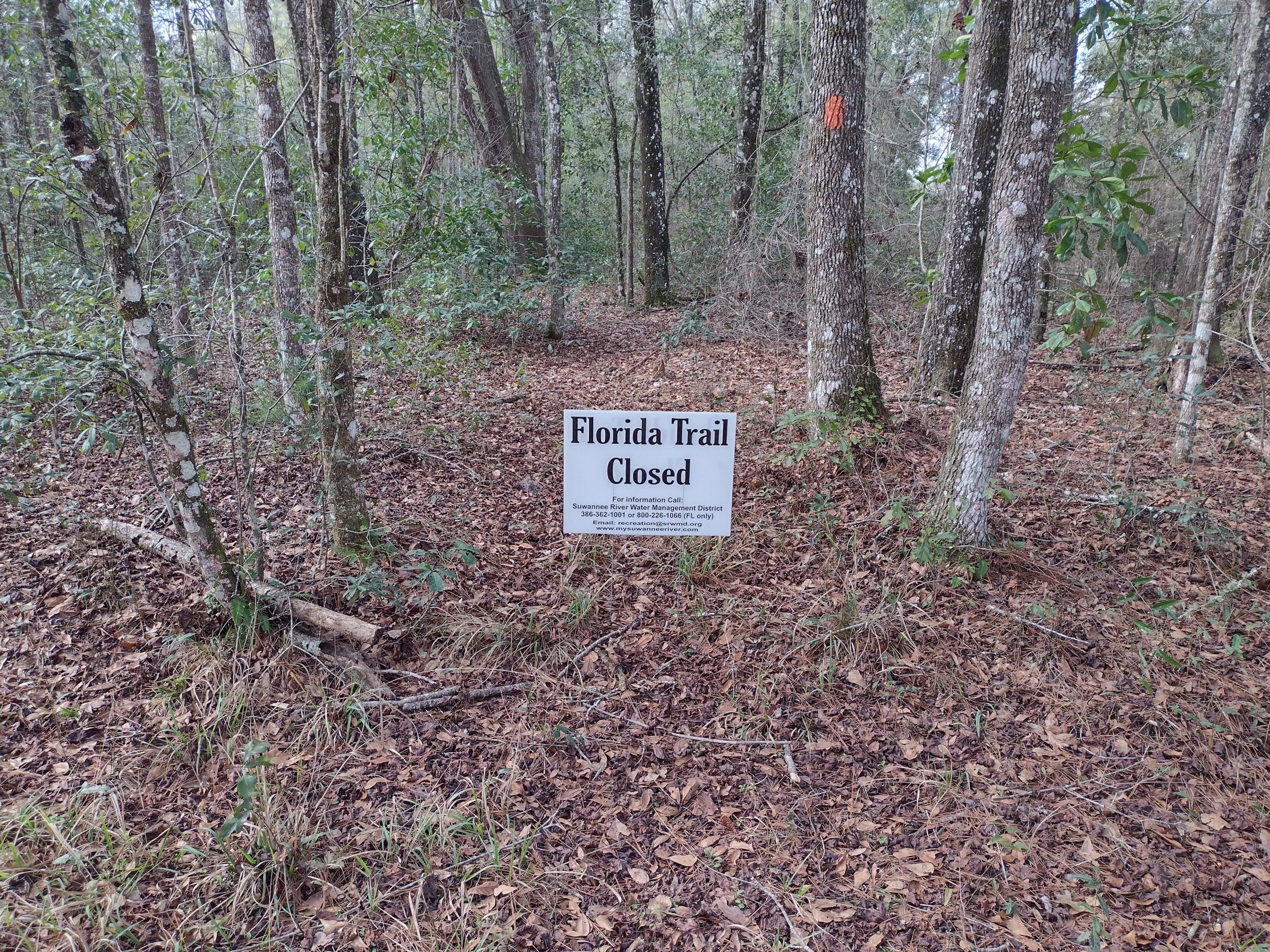 Halfway through the reroute, it is obvious this section was closed because it was logged recently and the trail has been completely obliterated.
It ends up being a road walk on forest roads in the same general direction and length as the original trail. The only difference is there are no trees so it is a hot walk.
I know that more road walks are going to get more frequent and longer coming up, so every place that I can get water I go ahead and fill up to the full capacity. I filled up completely at the paddler's camp and will fill up again at the next park, Gibson park.
I get to the park at about 2:30. This is a perfect time to use the restroom, fill up more water, and drink my afternoon coffee. They also have a shower, but they charge for it and it is locked. I am glad I showered at the paddler's camp.
This stuff is a quick one and I keep going on. The trail from the park is a short road walk across another river. This time it is the Alapaha River. It is a black water river just like this 20 but about half the width. The current is much faster than the Suwannee, too.
I remember this section well from when I hiked this six years or so ago. I know that the trail will be going by lots of homes and on and off back roads to get around private property.
After five or six miles around this new river the river eventually merges with the Suwannee. So now I am hiking along the Suwanee River again.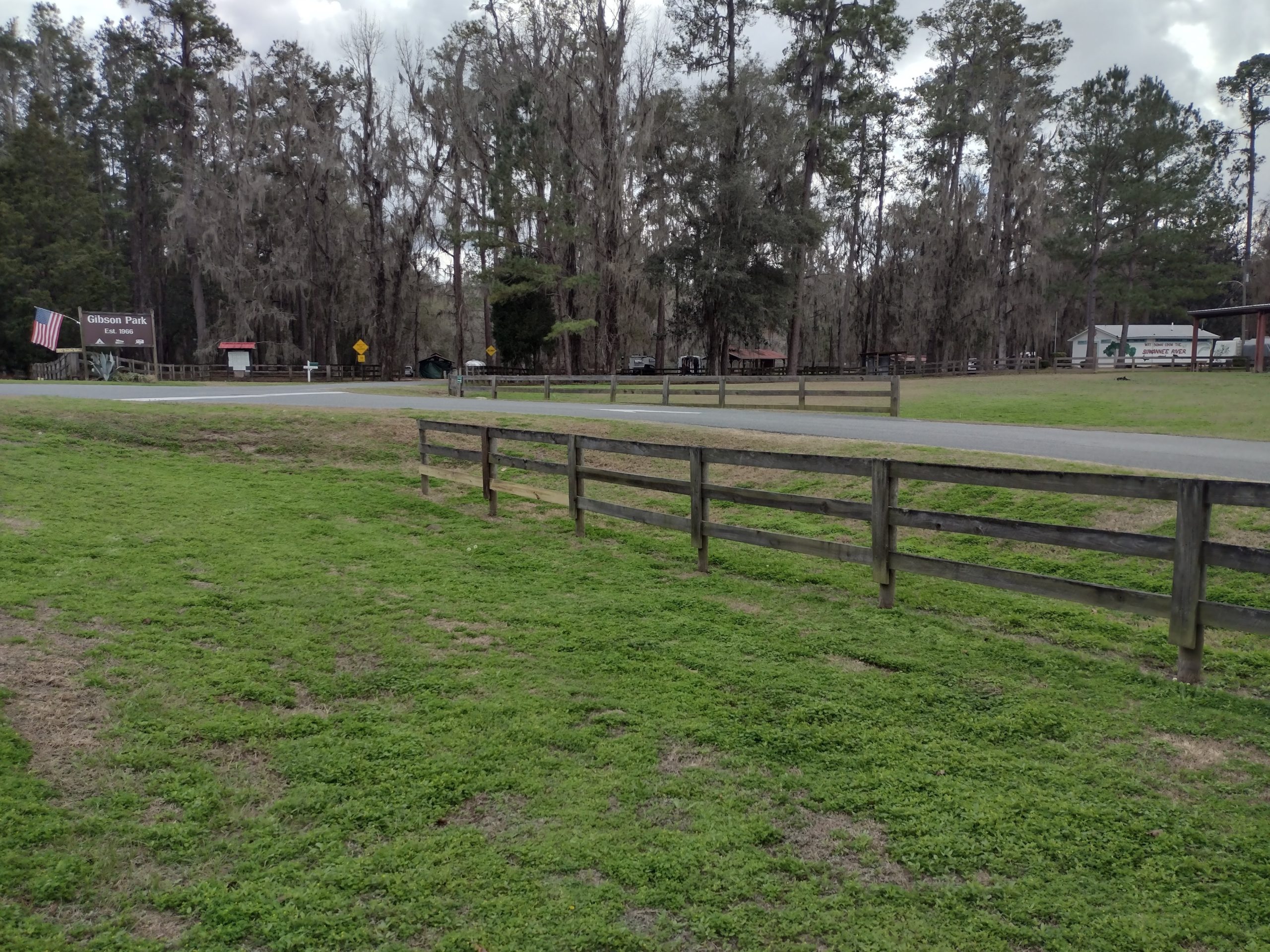 Where to Camp
I would love to be able to make the Jay Veer convenience store that is just on the other side of Ted Bundy bridge. But it is still many miles away and it would be after dark by the time I got there. There is an RV park next door that allows camping for $10.
But in my food bag, I have plenty of dinners. What I am short of is breakfasts. In fact, I am out of breakfasts.
Maybe a better plan is to just try and get within an hour of the store and head there for breakfast. I am sure they are open at 6:00 or 7:00 in the morning. They have a grill that serves hot food. People rave over the fried chicken but I'm sure their breakfast is good as well.
There is a campsite just a mile and a half from the store and this would be a perfect place to stop. But as I get closer to my destination I realize it be after 6:30 by the time I get there and it will be dark.
There is a short road walk just before that campsite, so I need to either stop a little early or push and try and make it all the way. I can hear traffic from the road so I know how far I can go before I run out of woods. If I can find a good spot before I hit the road, I will go ahead and stop.
As luck would have it, I did find a really good spot probably 4/10 of a mile away from the road. It has lots of oak trees which will protect me from the dew tonight. This campsite is even better than last night's.
I can hear a few mosquitoes, so I set the tent up quickly and begin cooking my meal. I will make sure it is a good one tonight because I am very hungry again. I select an Alpine Aire brand. It is a three-cheese alfredo and looks pretty good.
Once the meal is cooked and sitting for the required 10 to 15 minutes, I finish setting up everything inside the tent. I even take the time to take a little bath. I don't want that wonderful shower to go to waste.
I finally crawl into the tent and begin eating my meal. It is wonderful. It could use a little more sauce, but it tastes far superior to the brand that I don't like. Maybe I should have added some butter to it to bulk up the sauce.
It is a warm evening again and I doubt I will get inside the sleeping bag until well after midnight. I will get up and try and be out hiking by 6:30 or 6:45 again. I have two small sausages to eat for breakfast and that's about it. It will be a long three miles to the store but I am sure that the breakfast that awaits me will make it a trip worth making.
From where I am camping now it is 22 miles to the Baptist Church where Karen will pick me up tomorrow. An early start will be required to make it on time. And I Will not be able to spend too much time at the convenience store.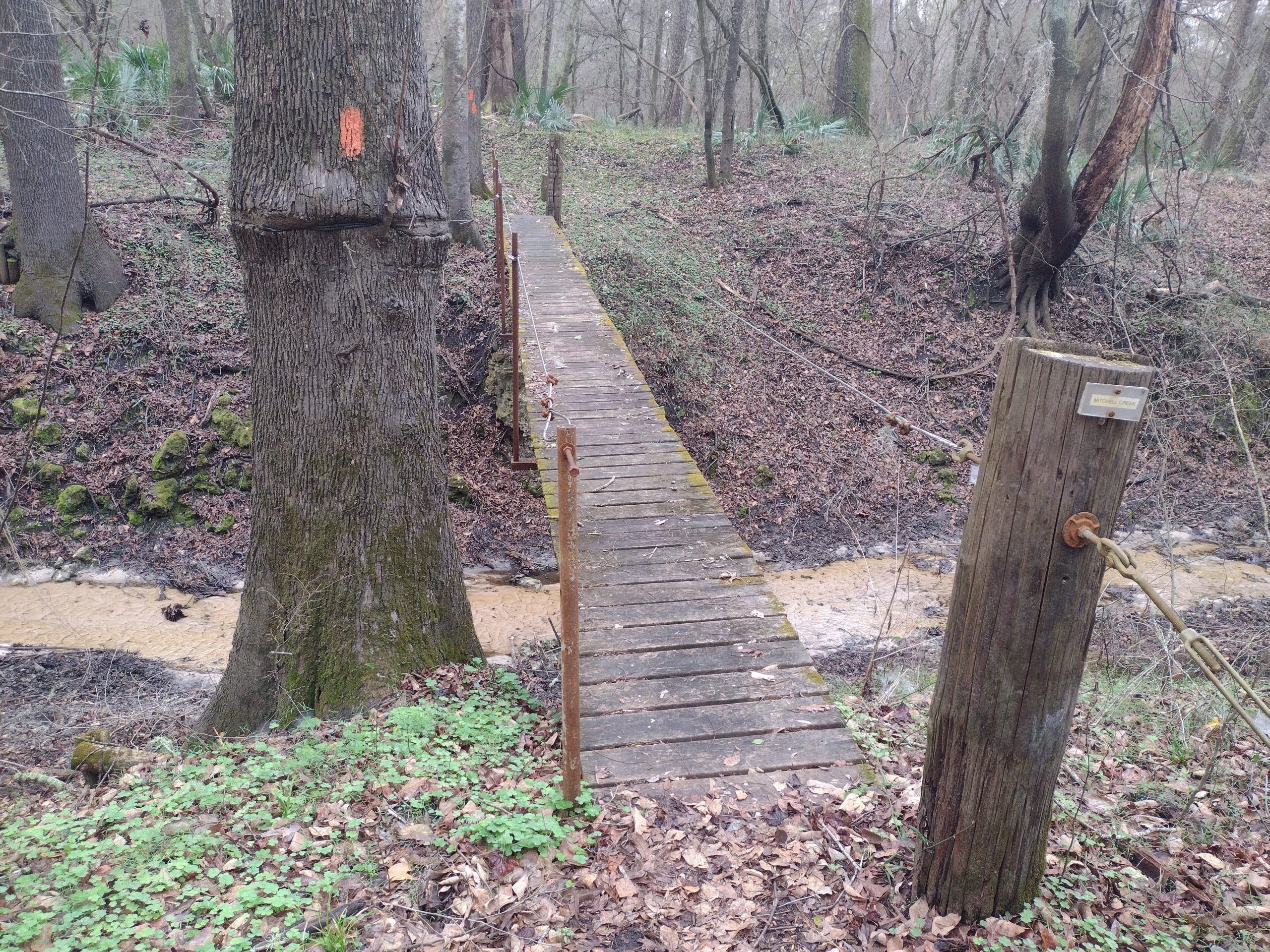 Most of tomorrow will be road walking so I should make good time. I will load up on as much water as I can carry because I know it will be long stretches without water and it is probably going to be hot tomorrow.
Emotion of the Day
I think I will choose Bliss.
You just have no idea how good that shower felt. Even though the clothes I put on afterward were not actually washed, they were at least fresh.
I felt like a whole new person after that shower. Shower and laundry would have been even better but I only have one more day until all the showers and all the laundry my heart desires.
And even though I am a mile or so short of where I wanted to end up tonight I am still within a striking distance of where I want to be tomorrow. And that is a good feeling.