Leaving the Suwannee is a bit unceremonious. You duck away from the river on forest roads, then duck back to it one last time before embarking on a 48.8-mile road walk. There is a stop near an I-10 exit to Marianna, but other than that there is nothing on this road walk except six churches. but the road walk will wait.
Another Early Start
Food is the first order of the day, and making it to the Midway Baptist Church as early as possible is the second order of business. This is the church where Karen will be picking me up today to spend a day off back in Gainesville.
The air mattress seems to be getting worse each day, so I will be eager to get home to switch out air mattresses. Because it is so uncomfortable, I have no problem getting moving early. I am rousting by 5:30 and moving by 6:30. The goal is to make the food store that is 3 miles away by 8:30.
But there are a few things between here and there. There is a boxed spring that I want to visit that outflows into the river. If the river is low, the spring is fresh. If the river is high, the spring is inundated with river water. It takes me perhaps 45 minutes to get there, and the river is a little high – perhaps eight inches above the outflow, but the spring looks pretty clear to me. Maybe the discharge is strong enough to keep out most of the tannic river water.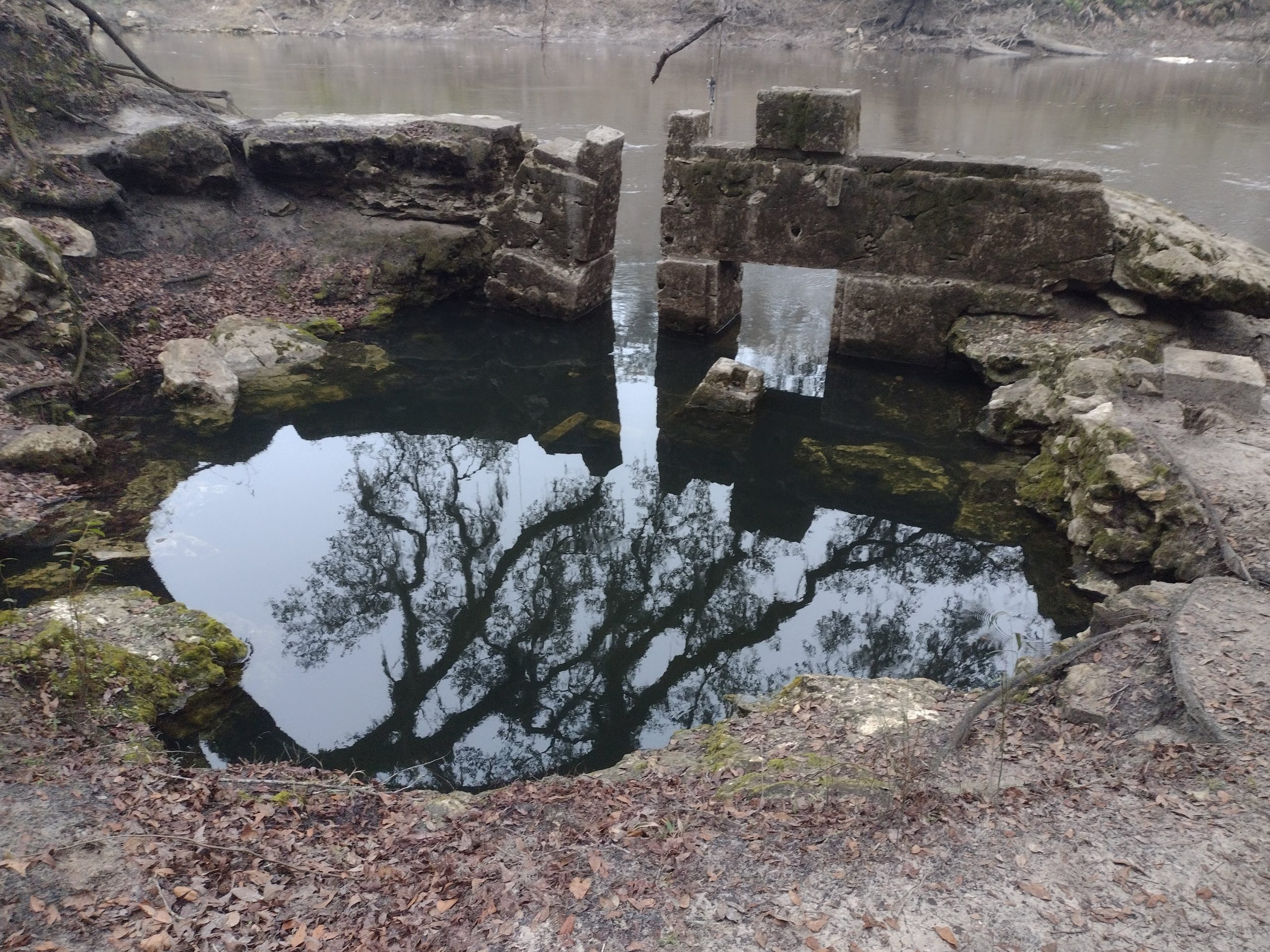 Where the spring is, there is an information kiosk that mentions the Jay Veer store I will visit. It says the store does not open until 8 am. That sounds ridiculous. What convenience store opens that late? That's not convenient.
I get to the store by 7:30 and they are indeed open for business. In fact, when I first enter the store, they are putting out fresh fried chicken! Mmmm. I will take two thighs to go, please. But I order the two-egg breakfast to satisfy my morning's hunger since I did not eat much for breakfast yet.
Breakfast is done, chicken is wrapped, and an ice cream cone as a walking snack. Life is good. Now it is time to hit the third obstacle of the day – the Ted Bundy bridge. There is supposedly some graffiti from Ted Bundy, the serial killer from the 70s on the bridge. There is a description in the guide as to where to find it, but the bridge is so weathered, that I think any graffiti from the 70s is long obscured. I never find it.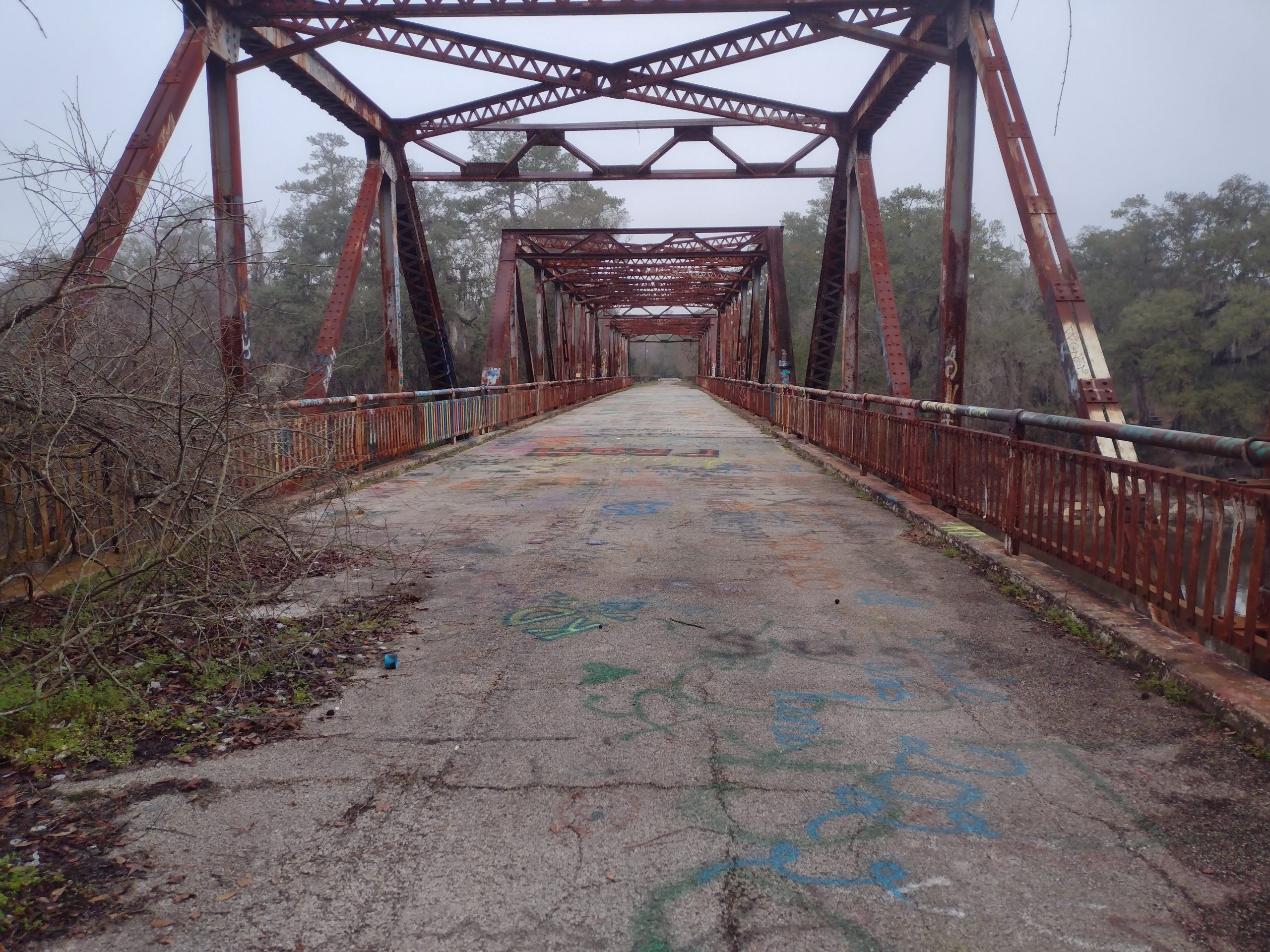 Now it is time to get hoofing to the destination for the day. The trail continues to bounce around the Suwannee river all morning. At one campsite that has a picnic table along the river, I stop to eat chicken thigh #1.
More Road Walking
By noonish, the trail has moved onto a lightly used forest road. It ducks back towards the river for a brief stint, but after just a few miles, it is back on the same road again, but this time for good. I have seen the last of the Suwannee River for the trip.
I shoudl also mention that I crossed I-10 again. The frist time was south to north in the Osceola National Forest. This time is it north to south. I know I will cross it again in Crestview, and I know I will get very, very close ten miles into this road walk. It get's me to wondering, just how many times will I end up crossing under or over I-10 on this hike?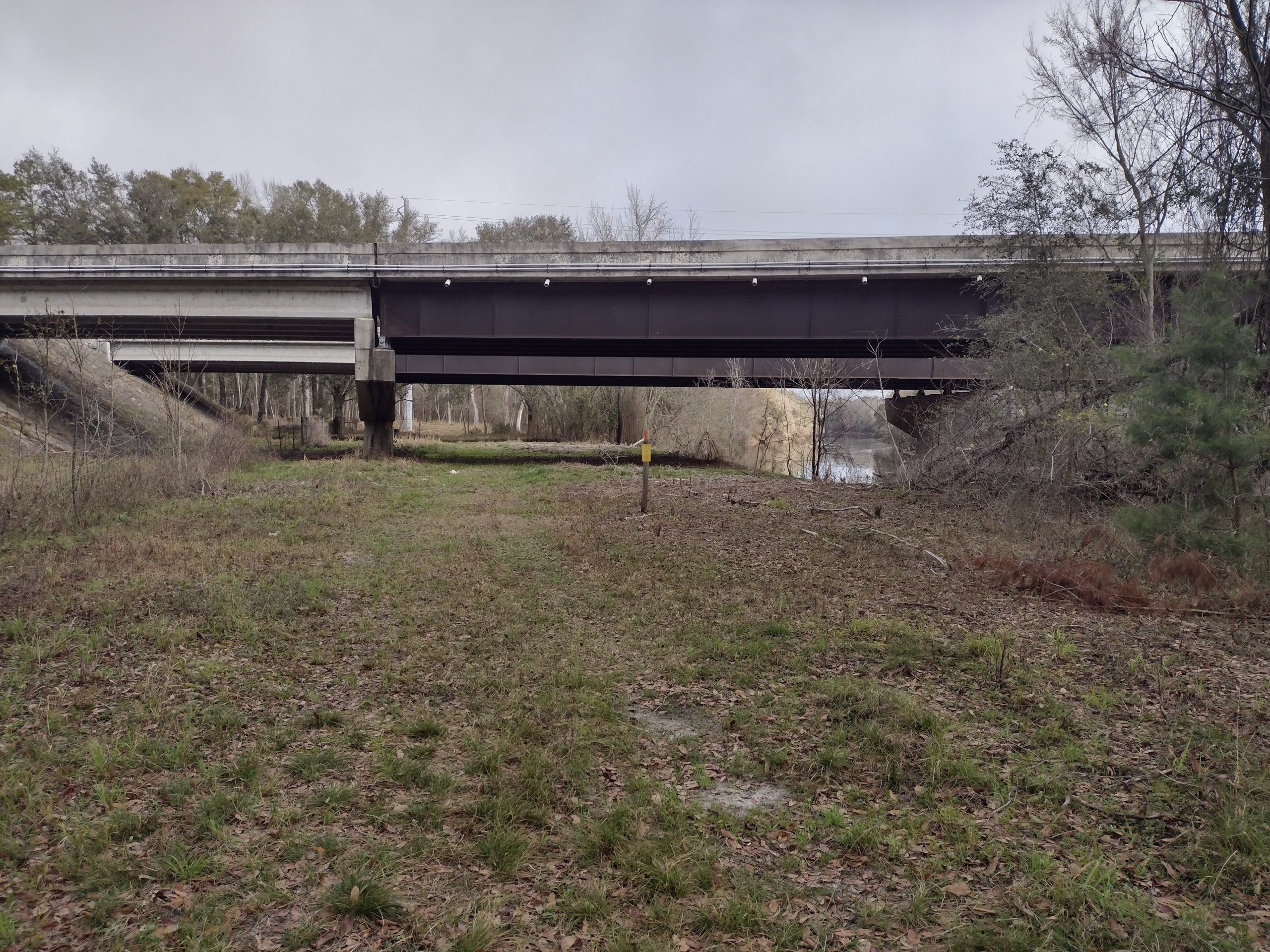 Just before beginning the road walk, I stop in the shade for chicken thigh #2. Yum. I still have plenty of water to make the rest of the day, as long as the temperatures stay down. And there is a cool breeze, so the temperatures indeed stay comfortable. There is some shade, but I use the umbrella for most of the afternoon.
About halfway through this dirt road walk, a local trail maintainer stops by and chats for a while. He mentions that the bay is closed, and I did not think to ask at the time, but I hope he is not referring to Bradwell bay because that is one of the main attractions of the trail. It is still several days away, so I guess I will find out soon enough.
He gives me options for the road walk that don't seem any shorter or easier, so I will stick to the marked route. The devil you know (or have guidebook for) is usually better than the devil you don't know.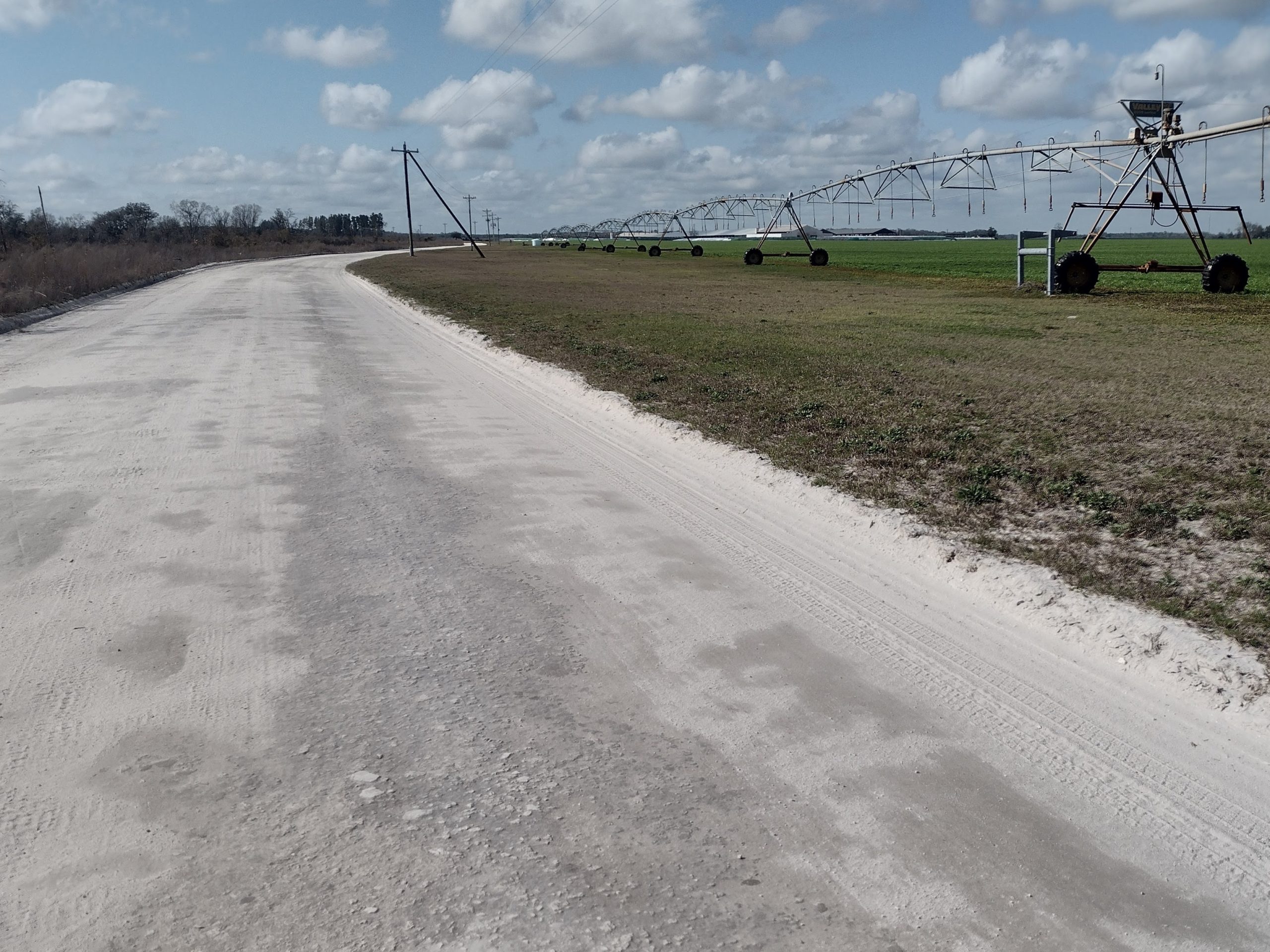 The dirt road ends into a county road, CR 53. This road has a fair amount of traffic, but I can spend 90% of the time walking on the roadway, so I'm not too upset.
By this time, Karen has already left Gainesville. I have only four miles to go, and she has nearly two hours. I will win. But she encounters an accident on the interstate on the way up, so she is delayed. I should get to the church a half hour before she will.
The next destination after the church is the campground at the I-10 interchange where CR 53 comes up to it. It is three miles away and would take me an extra hour to get to. I am better off staying at the church and waiting for her. Being able to sneak more miles in today is enticing because it means I can start later on Saturday. But only being able to get halfway there is not enticing enough.
When I arrive at the church road, there is an abandoned old-time gas station. There aren't any No Trespassing signs, so I decide to just plop down here on the concrete in the shade. The church is several tenths down the side road. There's no point in walking extra miles that don't get me any closer to Pensacola.
Right on time, Karen arrives, and a quick wash later, I have clean clothes and we are on our way home. With a pit stop in Alachua to hit my favorite pizza shop. The only problem is the shop has closed its doors. But luckily, my second favorite pizza shop in Alachua is just across the street. Pizza will be consumed.
Emotion of the Day
I think it has to be relief.
While I still have about 40 miles of road walking ahead of me, I am not worried about that today. What matters is that I have clean clothes, a shower, a comfy bed, a beautiful wife, and a home to go to.
I am relieved to know that I can get more tent stakes, a new air mattress, and replace other broken or missing items. A trip to REI will be in the cards tomorrow.
The day was not stressful, the road walks were manageable, and the temperatures were comfortable. It was not a bad day of hiking at all, but just a little boring.
I am also greatly relieved that I will not be walking through the rains that are starting to build. It will rain all night tonight and most of the day tomorrow. That does not sound like fun rod walking conditions.
So I am relieved that I am able to skip a bad weather day and get all the creature comforts of home for a day instead. Maybe I can also catch up on my blogging.